September, 18, 2014
Sep 18
1:35
AM ET
Check out the latest standings, playoff odds and upcoming schedules at the world-famous
Hunt for October
page.
1. This is how Mariners fans feel right now.
Mariners rookie
James Paxton
was filthy, matching zeroes with Angels left-hander C.J. Wilson into the seventh inning. Then came a one-out single and soft liner to right that Chris Denorfia let bounce past him,
Howie Kendrick
scoring from first. Then an intentional walk to
Erick Aybar
for reasons I don't understand. And then, with two outs, C.J. Cron blasted a loud and long home run off reliever Danny Farquhar. Just like that it was 4-0, the Angels clinched a tie for the AL West title (and later won it as the Rangers rallied to beat the A's in the ninth) and the Mariners' wild-card dreams took a hit as they fell two games behind the Royals.
C.J. Wilson was terrific in his own right, allowing just one hit in seven innings, although the Mariners are pretty inept against southpaws. It was the first time Wilson went seven in 14 starts -- and he went five innings or less in half of those 14 starts. So this was a much-needed strong outing from Wilson as the Angels look to line up their playoff rotation, especially with the iffy status of rookie sensation
Matt Shoemaker
, who will miss his next start with a mild oblique strain. (Shoemaker said on Wednesday that he's
feeling better
: "The positive part is it feels better every day. It's not getting worse. They said it's going to linger for a few days, and hopefully after a few days it will be gone."
The Angels clinched and they're also three games up on the Orioles for the best record in the league. Would you rather face the wild-card winner or the AL Central winner in the first round? I guess that depends on the opponent. Either way, they'll need Wilson to come up big.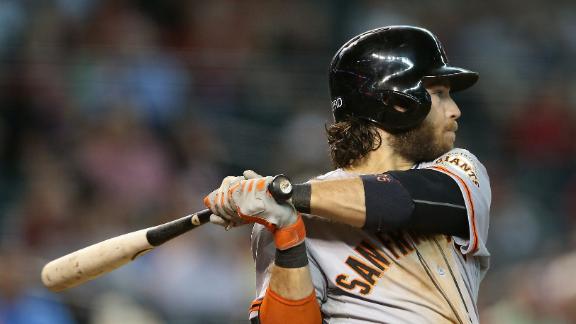 2. Here come the Giants!
Crazy day in the NL West as the Giants scored twice in the ninth to beat the Diamondbacks 4-2 -- pinch-hitter
Matt Duffy
delivered a two-run single -- and the Rockies pounded the Dodgers 16-2. Dodgers starter
Carlos Frias
, filling in for sore-shouldered Hyun-Jin Ryu, allowed 10 hits while getting two outs, apparently becoming the first starter since 1900 to allow that many hits while getting fewer than three outs. Ouch. The big picture: The Dodgers' lead is down to three games and they're suddenly scrambling in the rotation once you get past
Clayton Kershaw
and
Zack Greinke
. Before their huge series in San Francisco that starts on Monday, the Dodgers travel to Wrigley this weekend for four games and the Giants to San Diego for three.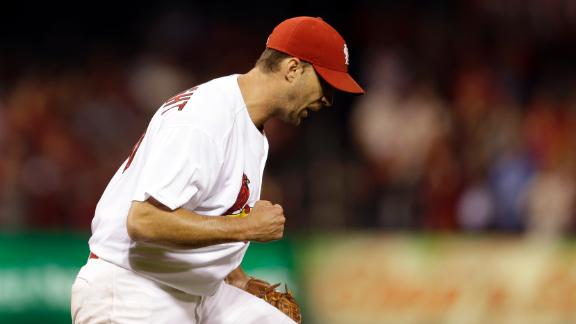 3. Maybe that Adam Wainwright guy is OK.
Is it time to stop worrying about that little dead-arm slump Wainwright was in? Locked into a great duel with
Mike Fiers
-- who took a no-hitter in the sixth before Wainwright singled -- Wainwright tossed a nifty 102-pitch, seven-hit shutout for his MLB-leading 19th win. Suddenly, he's Mr. Ace again: Two runs in 26 innings over his past three starts.
It was a tough loss for Fiers, who showed some mental toughness with a good outing after hitting
Giancarlo Stanton
in his previous start. He deserved better. With
Matt Holliday
on first in the seventh,
Matt Adams
hit a slow ground ball that bounced through the shift and center fielder
Carlos Gomez
bobbled the ball,
allowing Holliday to score
all the way from first when he threw the ball into second base instead of home.
With Pittsburgh winning, the Brewers dropped to 2.5 games behind the Pirates. Milwaukee has one more game with St. Louis before squaring with the Pirates in Pittsburgh this weekend. No matter the results of Thursday's game, the Brewers will essentially be in a "must sweep" scenario against the Pirates.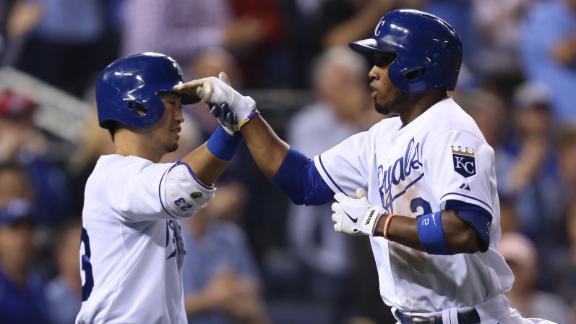 4. Chris Sale can be beat.
Which is good news for the Royals because they touched up the AL ERA leader (well, Sale is now second in ERA to Felix Hernandez) after giving up nine hits and five runs in five innings.
Lorenzo Cain
, who a week ago was batting eighth and is now hitting third (Ned Yost, everyone!), hit a three-run homer in the third inning and then
Alcides Escobar
torched Sale in the fourth. It was just the third time Sale has allowed five runs and the nine hits are the second-most he's allowed in a game -- the Orioles got him for 11 back on June 23. The Royals are now a half-game behind the Tigers for the division lead and two up on Seattle for the wild, the usual "suspended game against Cleveland" not included.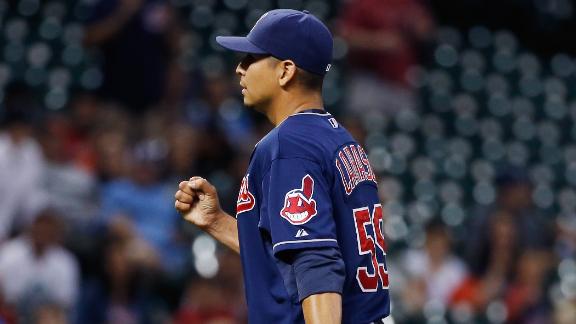 5. Indians barely alive.
Carlos Carrasco
tossed a dominant two-hit, 12-strikeout shutout over the Astros. His Game Score of 94 tied for the sixth-highest of the season. Do the Indians have any shot at the wild card? Very slim, as they trail the Royals by five games. But they do have a series against Kansas City next week. Get some help from Detroit this weekend, sweep the Royals and hope Seattle falters and you never know. Because ... baseball.