SweetSpot:

Montreal Expos
October, 20, 2013
Oct 20
3:15
PM ET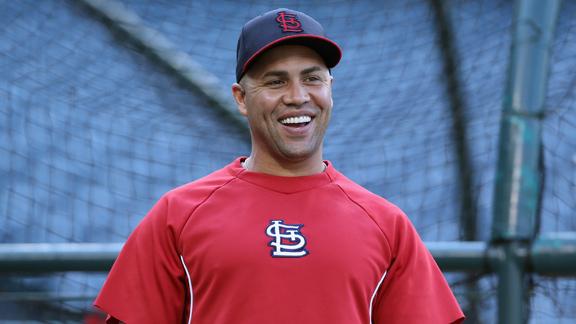 As
Carlos Beltran
delivers more big postseason hits this October for the St. Louis Cardinals, talk about him as a potential Hall of Famer has increased, carrying over from discussions that began in the regular season. ESPN.com's Jerry Crasnick wrote about
Beltran's Hall of Fame case
back in August, while Dave Cameron of FanGraphs
wrote about Beltran and
David Ortiz
the other day.
Basically, Beltran's case goes something like this: He kind of snuck up on everyone as a Hall of Fame candidate, he fares very well in advanced metrics, such as WAR, but not quite as well in more conventional measurements, such as counting stats and MVP voting results. Certainly, two more strong seasons will help his case.
Comparisons have been made to Andre Dawson, another guy who did a little of everything. In terms of career WAR, they're similar: Beltran 67.5, Dawson 64.4. One major difference: There was a time when Dawson was considered maybe the best player in the game, something that has never been said of Beltran. Dawson also won an MVP Award (though ridiculously undeserved), and that undoubtedly helped get him elected to Cooperstown.
It all means Beltran is a borderline candidate. Which gets us to this: How much should his great postseason numbers (.337 BA, 16 HR, 37 RBIs, 1.173 OPS) factor in?
Case study: Jim Rice versus Bernie Williams
Rice: 382 HR, 1451 RBIs, .298/.352/.502, 47.2 WAR
Williams: 287 HR, 1257 RBIs, .297/.381/.477, 49.5 WAR
[+] Enlarge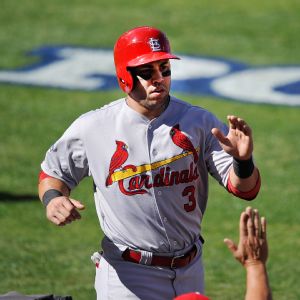 Robert Hanashiro/USA TODAY SportsCarlos Beltran's exceptional postseason numbers could bolster his Hall of Fame case.
After a long and heated debate, Rice finally made it on his 15th and final year on the ballot. Despite similar career value, Williams fell off the ballot after one year. Williams was a key performer on four World Series champions, hitting .275/.371/.480 in his postseason career, with 22 home runs and 80 RBIs in 122 games (he's the all-time postseason leader in RBIs). To be fair, neither are strong Hall of Fame candidates, but in Williams' case his postseason numbers clearly had no effect on the voters.
Verdict:
Postseason doesn't help.
Case study: Curt Schilling versus Kevin Brown
Schilling: 216-146, 3.46 ERA, 127 ERA+, 80.7 WAR
Brown: 211-144, 3.28 ERA, 127 ERA+, 68.5 WAR
In their raw stats, these two are nearly identical, right down to innings pitched (Schilling had five more in his career). Neither won a Cy Young Award, although Brown should have won in 1996 when he had a 1.89 ERA for the Marlins and arguably for the Padres in 1998, when he led the National League in WAR. Schilling finished second in the voting three times, twice to teammate
Randy Johnson
, once to
Johan Santana
. They're not exactly the same: Schilling does have the edge in career WAR (he spent more time in good hitter's park) and strikeouts.
The difference, of course, is Schilling was one of the great postseason pitchers ever, going 11-2 with a 2.23 ERA in 19 career starts, winning three rings. Brown went 5-5 with a 4.19 ERA in 13 starts and one ring. Brown fell off the ballot after one; Schilling received 39 percent of the vote last year on his first year on the ballot, actually a pretty good starting point to eventual election.
Verdict:
Postseason helps.
Case study: Jack Morris versus Dennis Martinez
Morris: 254-186, 3.90 ERA, 105 ERA+, 43.8 WAR
Martinez: 245-193, 3.70 ERA, 106 ERA+, 49.5 WAR
Pretty similar numbers. Morris' win-loss record is slightly better, but he also generally pitched on much better teams. Martinez's best years came in relative obscurity with the Expos, with whom he went 100-72 with a 3.06 ERA in eight seasons. This is more like the Rice-Williams case, in that neither really has a strong Hall of Fame case.
Except that Morris has those World Series rings. Martinez pitched in two World Series, but his teams lost both times. Morris' career in the playoffs: 7-4, 3.80 ERA (13 starts). Martinez: 2-2, 3.32 ERA (seven starts). Martinez received 16 votes and was knocked off the ballot. Morris received 68 percent last year and has one year left on the ballot with a good chance of getting the final-year push like Rice did.
It should pointed out that Morris' overall postseason record isn't that special. He did win two games in the 1984 World Series, but other pitchers have had spectacular World Series and didn't get in to the Hall of Fame (Lew Burdette, Mickey Lolich). For Morris, his candidacy really comes down to voters putting a huge value on his Game 7 performance in 1991.
Verdict:
Postseason helps.
Case study: Kirby Puckett versus Larry Walker
Puckett: 207 HR, 1085 RBIs, .318/.360/.477, 50.8 WAR
Walker: 383 HR, 1311 RBIs, .313/.400/.565, 72.6 WAR
This one is a little more complicated. Puckett's career was ended early by the eye injury, although an injury is an injury, no matter how freakish (voters seemed to give him a pass on his shortened career, however). Walker's numbers were inflated some by Coors Field. Still, Puckett was a Gold Glove center fielder; Walker was a Gold Glove right fielder. Puckett had some power and rarely walked; Walker had power and walked much more often. Walker won an MVP Award, Puckett didn't. Career WAR? Not close.
Puckett sailed in on the first ballot. Walker has been right around 22 percent his three years on the ballot. Puckett played in two World Series and won both; he hit .309/.361/.536 in 24 career playoff games, and had that memorable walk-off home run in Game 6 of the 1991 World Series. Walker played in one World Series and lost. Puckett was lovable, Walker injury-prone. That certainly influenced voters, but Puckett's postseason heroics must have helped get him elected.
Verdict:
Postseason helps.
Case study: Tony Perez versus Keith Hernandez
Perez: 379 HR, 1652 RBIs, .279/.341/.463, 53.9 WAR
Hernandez: 162 HR, 1071 RBIs, .296/.384/.436, 60.1 WAR
Another interesting one in that they were completely different types of players. Perez was a power-hitting first baseman who drove in a ton of runs (it helped having Pete Rose and Joe Morgan hitting in front of him). Hernandez didn't have the same power but hit for a higher average, got on base more and is regarded as maybe the best fielding first baseman of all time.
Perez had the reputation of being a clutch hitter, and the Reds won two World Series titles with him. But Hernandez also won two titles, with the Cardinals and Mets. Here's the kicker, though: Perez was a terrible postseason player, hitting .238/.291/.378 with six home runs and 25 RBIs in 47 games. Hernandez hit .265/.370/.359 but with 21 RBIs in 30 games and was also terrific in two Game 7s (2-for-3, two walks, two RBIs in 1982; three RBIs in 1986).
Of course, in this case, voters probably didn't get past the career RBI totals.
Verdict
Postseason doesn't help, unless you're part of a famous team (unless you're Bernie Williams).
OK, one more. These are kind of fun.
Catfish Hunter versus Orel Hershiser
Hunter: 224-166, 3.26 ERA, 104 ERA+, 36.6 WAR
Hershiser: 204-150, 3.48 ERA, 112 ERA+, 51.7 WAR

Hunter basically got in because he was a famous anchor of Oakland's three straight World Series champions (and a lesser part of two Yankees World Series winners). Hunter went 9-6, 3.26 in his postseason career. His regular-season numbers aren't all that impressive, especially when looking at the advanced metrics such as ERA+ and WAR. Hershiser went 8-3, 2.59 ERA in his postseason career, carried the Dodgers almost single-handedly to the 1988 World Series title (unlike Morris, his team won in five instead of seven). Hershiser fell off the ballot after two years. If only one of his Indians teams had won a championship.
Verdict:
Postseason helps only if the voters want it to.
In the end, you've seen what I've done: compared some of the more marginal Hall of Famers or Hall of Fame candidates to similar players. There is certainly inconsistency from the voters, except perhaps in one main narrative: fame. Rice was
famous
as an active player, while Williams was always overshadowed by other teammates. Schilling's fame rose with the bloody-sock game and titles in Boston. Morris was certainly more famous than Martinez, Puckett more so than Walker, Hunter probably more than Hershiser, Perez maybe more than Hernandez (although that one is more debatable).
As for Beltran, that's what will probably ultimately make his Hall of Fame case an uphill climb: He comes up a little short on the "fame" side of things (unlike, say, David Ortiz). Plus: He's about to just play in his first World Series.
June, 23, 2013
Jun 23
10:55
PM ET
The most exciting day in recent baseball history took place on the final day of the 2011 season, when
Dan Johnson
hit his miracle home run as the
Tampa Bay Rays
rallied from a 7-0 deficit to beat the
New York Yankees
in 12 innings, and
Evan Longoria
delivering the game-winning home run at nearly the same time the
Boston Red Sox
blew a ninth-inning lead to lose to the
Baltimore Orioles
. The stunning turn of events put Tampa Bay into the postseason and left Boston on the sidelines.
It
was
exciting, although it was just a battle for second place -- the Yankees finished six games ahead of the Rays.
But two seasons ago, second place wasn't much different than finishing in first place. Now, with the creation of the one-game wild-card game, finishing in first place means something. Teams obviously want to avoid that one-and-done game. The wild-card game helps bring the pennant back into a pennant race.
That will likely help make this season's AL East race one of the craziest scrambles we've seen in the divisional era. With the
Toronto Blue Jays
winning their 11th consecutive game Sunday,
13-5 over the Orioles
, they've fought back to make this a five-team race, with the Jays and Rays currently five games behind the first-place Red Sox.
As Christina Kahrl
pointed out Saturday
, the Jays are getting contributions from unlikely sources.
Munenori Kawasaki
, who hit a big home run on Friday, has posted a .341 OBP filling in for
Jose Reyes
.
Adam Lind
is hitting .337 and looking more like the guy who had the monster 2009 than the guy who posted a .296 OBP over the past three seasons.
Chien-Ming Wang
was found wandering through the wheat fields of Alberta and has posted a 2.18 ERA in three starts.
However, as she wrote, "[W]hat has gotten the Blue Jays this far doesn't have to be what they win with in the second half. They can thank their surprise heroes for helping get them back into this thing, but the Jays have a tremendous opportunity to build off this run once they're back at full strength."
The most impressive thing about Toronto's streak is
who
they beat: One win over the
Chicago White Sox
but four over the
Texas Rangers
, three over the
Colorado Rockies
and three over the Orioles. This wasn't a stretch during which they simply beat up on the
Houston Astros
,
Seattle Mariners
and Florida Marlins. The pitching has been terrific in these 11 victories (2.07 ERA), and they've hit 20 home runs.
The Red Sox might rate as the favorite right now -- their plus-69 run differential is 55 runs better than any other team in the division -- but the Red Sox are also an uninspiring 13-13 over their past 26 games, perhaps a sign that they're not going to run away with this thing.
I think what this will turn into is a five-team race the likes we haven't seen since, well, a long time. Here's a snapshot of some of the wild multiteam races of the division era (since 1969).
1972 AL East
Through Sept. 12, the Red Sox led the Orioles and Yankees by a half-game, the Tigers by one game. The Yankees quickly faded, and then the Orioles, and so while the final standings reflect a tight two-team race -- the Tigers would end beating the Red Sox twice in the final series of the season to win the division by a half-game -- it was a four-team race up until the final two weeks. What made this race odd, however, was that half-game; the start of the season had been interrupted by a 13-day players' strike. Baseball simply decided to play out the remaining schedule, leaving teams with an uneven number of games. The Tigers would finish 86-70, the Red Sox 85-70.
None of these were
great
teams, and the Indians and Brewers were nonfactors. The Tigers outscored their opponents by just 44 runs in a sort of last moment of glory for the Al Kaline/Norm Cash team (both were 37 that season). The Orioles were also a veteran team with Brooks Robinson, Boog Powell and Mike Cuellar.
1973 NL East
In the Baseball Prospectus book on great pennant races, "It Ain't Over 'Til It's Over," Alex Belth wrote of the 1973 NL East race, which took place during the Watergate hearings that summer, "In a year when cynicism ran deep, in and out of the game, 'You Gotta Believe' was a rallying cry that every team in the East could have applied to its season. It was a slogan made for Madison Avenue, but made innocently enough -- it was intended to be taken at face value, without guile."
New York Mets
reliever Tug McGraw had coined the phrase that summer, and with good reason: On Aug. 30, with the Mets 61-71, 10 games under and in last place -- but only 6½ games behind first-place St. Louis. The Mets would go 21-8 the rest of the way to finish 82-79, good enough to edge out the 81-81 Cardinals. The Phillies had faded, but the other five teams all finished within five games of each other.
1980 NL East
After games of Sept. 1, the defending World Series champion
Pittsburgh Pirates
, the
Philadelphia Phillies
and Montreal Expos were tied for first with about 30 games remaining for each club. The Pirates faded, however, and it turned into your more typical two-team race. The Phillies clinched on the penultimate day when they beat the Expos in extra innings on Mike Schmidt's two-run home run. While it was a great three-team race for much of the season, the division also included the horrible Mets and Cubs.
Wild-card era
As divisions shrunk in size with the dawn of the wild-card era in 1995, the multiteam race has been a rare thing. The last time we had three teams finish within five games of each other was 2007, when the Phillies, Mets and Braves did it in the NL East, with the Phillies beating the Mets by one game with an 89-73 record. The Braves finished five games back but were never quite in it, entering September 6½ games back. The same season, the NL West featured a fun race, with Arizona finishing 90-72, one game ahead of San Diego and Colorado, who played a one-game tiebreaker for the wild card. That was the famous "Rocktober" run for the Rockies, when they reeled off 14 wins in their final 15 games. The Dodgers were actually just 3½ games back with two weeks left, so, for a time, it was arguably a four-team race. (Although as the Rockies started to surge, the Dodgers faded.)
The AL East could end up resembling the 2005 NL East. All five teams ended up bunched from 81 wins to 90, and while the
Washington Nationals
-- in their first season in Washington, D.C. -- would finish last, they led the division as late as July 24. But there wasn't a lot of jockeying around in that race -- the
Atlanta Braves
led from July 26 to the end of the season.
The 2004 AL West was another good three-team race. With one week left, the A's led the Angels by one game and the Rangers by two. The Angels would beat the A's on the final Friday and Saturday to win the division by a game.
* * * *

Of course, we probably
won't
end up with a five-team race. If I had to pick a team that will fade, it would be the Yankees, even if they get their second-half reinforcements in
Derek Jeter
,
Curtis Granderson
and
Alex Rodriguez
. The Orioles need to figure out a starting rotation that doesn't include
Freddy Garcia
, and
Chris Davis
is unlikely to keep going at this pace (I don't think, but you never know). The Red Sox might have their own pitching problems, especially with
Jon Lester
cooling down after a hot start. The Rays are tied with the Jays, but you have to think they'll get better second-half results from
David Price
and
Jeremy Hellickson
to prop up their rotation.
And while the race for first will be exciting, there is always the wild card to fall back on. But a wild-card race isn't the same as a pennant race. Let's hope, come that final week of the season, we still see five teams within a couple games of each other. Let's see some history.
I'll conclude this column by picking my final order of finish, which I know will be wrong, but here goes: Red Sox, Rays/Blue Jays, Orioles, Yankees. Rays tie the Blue Jays for the second wild card and have a one-game playoff to get to the one-game playoff. How's that sound?
February, 22, 2013
Feb 22
9:00
AM ET
By
Mark Simon, ESPN Stats
and
Information
| ESPN.com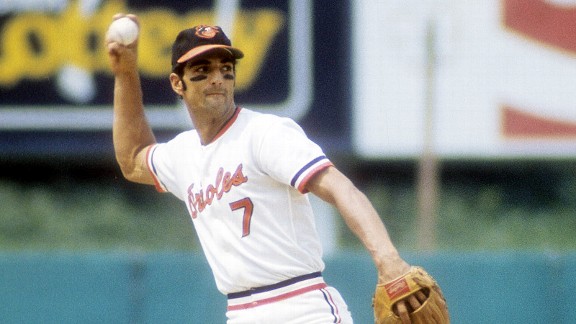 Focus on Sport/Getty ImagesMark Belanger was an eight-time Gold Glove winner with the Orioles.
Everyone has things they like to do to kill time during the baseball offseason, particularly on days in which massive snowstorms blanket the East Coast. Our editor, Dave Schoenfield, likes to make lists of things like the best one-season wonders.
In my case, I like to fiddle with and look more closely at advanced defensive numbers.
That got me to thinking of a little project, albeit an obscure one: What was the best individual defensive season in each team's history, strictly from a statistical perspective?
This can be done, thanks to the wonder that is
Baseball-Reference.com
.
Through 2002, B-R's metric of choice is Sean Smith's Total Zone runs, a statistic that can be tracked throughout baseball history (a full explanation on which
can be found here
.) It's one that checks out reasonably well from our initial examination.
From 2003 to 2012, Baseball-Reference uses the metric we use -- Defensive Runs Saved. Both those stats have the same goal: To estimate the value of a player's defense in runs as opposed to something such as fielding percentage.
It is a painstaking process to go through all 30 teams. So I picked out my 10 favorites and thought I'd share them.
Baltimore Orioles: SS Mark Belanger, 1975 (35 Defensive Runs)
One of the reasons to feel good about the Total Zone metric is that it often (though not always) passes the smell test.
It does so, perhaps no better, than with the Orioles. Of the top 11 stat-based defensive seasons in Orioles history, all belong to either Belanger, Brooks Robinson, Paul Blair or Bobby Grich, each of whom was regarded during his time as a defensive superstar (Grich's four Gold Gloves are the fewest among them).
Belanger's 1975 tally ranks best ever by any shortstop on any team.
Cincinnati Reds: 2B Pokey Reese, 1999 (29 Defensive Runs)
Scouts and stats agreed on the greatness of Reese at that time in his career, when he won a pair of Gold Glove Awards for his defensive excellence.
An article in the Cincinnati Enquirer that year assessed Reese by each of four defensive tools -- range, positioning, footwork, and arm strength, showing what made him so good. It also included this quote from Reds scout Johnny Almarez:
"With Pokey, it's like a sixth sense. It's almost like he knows where the ball's going before it's hit."
Kansas City Royals: LF Willie Wilson, 1979 (25 Defensive Runs)
Of the top four seasons in Royals history, Wilson has three of them (
Alex Gordon
's 24 Runs in 2012 is the other). He racked up at least 20 Defensive Runs four seasons in a row, largely because his speed allowed him to catch up to a lot of flyballs in spacious Royals Stadium.
Wilson averaged 2.77 putouts per nine innings as a left fielder, the best by anyone for as far back as range factor per nine could be tracked (since 1954).
Milwaukee Brewers: LF Greg Vaughn, 1993 (20 Defensive Runs)
This is a misprint.
Actually no, we're surprised to say it isn't. This is by far the biggest outlier on our list. Since 1969 (the Brewers' first season, when they were still the Seattle Pilots), there have been 222 seasons in which a player accumulated either 20 Total Zone Runs or 20 Defensive Runs Saved. Vaughn's is the only one in Brewers history.
Vaughn somehow racked up 20 Defensive Runs despite being used as an outfielder in fewer than 100 games, with putouts and assist totals that were pedestrian. He didn't have any seasons that came close to approaching this. His next-best was six Defensive Runs for the 1999 Cincinnati Reds.
The best possible means of explanation I can come up with (beyond Greg Vaughn breaking into cyberspace and tinkering with his metrics) is that the Brewers don't have a history of defensive greatness.
Of the nine Gold Glove Awards won by the franchise, seven came by first basemen George Scott or Cecil Cooper. And it's rare that first basemen run up the amazing defensive numbers of some other positions.
Anyways. If you don't buy it, we completely understand. Second-best was a tie between shortstop Robin Yount (1981) and catcher
Jason Kendall
(2008). Each finished with 19 Defensive Runs.
Montreal Expos/Washington Nationals: C Gary Carter, 1983 (27 Defensive Runs)
This is the rare instance of a catcher topping the list. In fact, No. 2 in Expos/Nationals history is a 24-run season by Brian Schneider in 2004.
How does a catcher go about saving 27 runs in a season?
That year, Carter threw out 70 of 156 would-be basestealers. His 45-percent success rate led the majors, as did his six catcher pickoffs. That caught-stealing rate was impressive -- it was 12 percentage points better than the major-league average.
Lastly: the Expos' ERA with Carter behind the plate was 3.52. Without him, it was 3.86.
Oddly, Carter won the Gold Glove every year from 1980 to 1982, but lost out to Tony Pena in 1983.
New York/San Francisco Giants: 2B Hughie Critz, 1933 (32 Defensive Runs)
This is the educational portion of this article. I'll admit to never having heard of Hughie Critz before I began this project (I was guessing the answer here was going to be Willie Mays).
Critz was a second baseman, and a pretty good one, from 1924 to 1935. He was runner-up for the MVP with the Reds in 1926, in the days before the BBWAA voted and it must have been for his defense, because Critz finished the season with an 87 OPS+ and only seven steals.
Critz was traded to the Giants in 1930 and helped the 1933 Giants win the World Series. Not long after the deal, Metropolitan Newspaper Feature Services put together an argument that the Giants had the best infield ever (69 years before the 1999 Mets).
In the article, Critz is described as "a million dollar fielder."
That's good enough for us.
Oakland Athletics: CF Bill North, 1973 (25 Defensive Runs)
North wasn't the star of stars like Reggie Jackson and Catfish Hunter were on those Athletics teams. But he played an important undervalued role, both with his ability to get on base (.376 on-base percentage) and his defense.
There is a great anecdote in Tim Herlich's internet biography of North on the SABR bioproject website:
"Always taking pride in his defense, North attended the pitchers' meetings to find out how they were going to pitch to opposing batters. Before computer models were developed to dictate placement of the outfielders, Bill ran the A's outfield and made those decisions. 'I took running my outfield very importantly. That's part of the reason we had good outfield defense.'"
San Diego Padres: CF Darrin Jackson, 1992 (30 Defensive Runs)
Spots two through four on this list are held by who you would expect -- Tony Gwynn and Ozzie Smith. But the top honor goes to Jackson for his 1992 season, the only year in his career in which he played more than 122 games.
Internet searches produce quotes from the likes of Don Zimmer saying that Jackson was a great defender: "This was a year in which everything came together and he was able to show just how great he could be."
Jackson was significantly better than his peers in throwing out baserunners. He led major-league outfielders with 18 assists and nine double plays (no one else in the NL had more than four).
Seattle Mariners: CF Ken Griffey Jr., 1996, and CF Franklin Gutierrez, 2009 (32 Defensive Runs)
For the most part the advanced defensive metrics are not kind to Griffey Jr., particularly on the downside of his career. But the early days rate pretty well, 1996 more so than any other (his next-best seasons are 1997 with 15 runs and 1995 with 14 runs).
It took a herculean effort by Gutierrez in his first year as an everyday center fielder to catch him, including home run robberies of
Jason Kubel
and
Mark Teixeira
.
Gutierrez's ranking (one that rates well across the board regardless of your advanced stat of choice) was the product of his ability to run down the balls hit to the deepest parts of spacious Safeco's center field.
Texas Rangers: 3B Buddy Bell, 1979 (30 Defensive Runs)
The all-time leaders in Total Zone runs for third base is a great list. Brooks Robinson leads the way, but Bell ranks a very solid second ahead of Clete Boyer, Robin Ventura and
Scott Rolen
Bell won six Gold Gloves in his career, though he didn't win any until he arrived in trade from the
Cleveland Indians
in 1979.
Bell got to balls at a considerably higher rate than his peers (3.48 putouts + assists per 9 innings compared to league average of 3.07) and limited his mistakes.
It only took the Rangers a couple of weeks to realize what they were getting. Hall of Fame teammate Ferguson Jenkins paid Bell a strong compliment:
"The thing I'm happy to see is nobody is comparing Buddy Bell to anybody. When a great defensive player comes along, people are always comparing them with somebody else. With third basemen, it's always Brooks Robinson. But I haven't heard any comparisons with Bell. That's good, because Buddy Bell is Buddy Bell and that's enough."
January, 28, 2013
Jan 28
8:10
PM ET
Tyson Ross
went 2-11 with a 6.50 ERA for the Oakland A's last year on a team that won 94 games, which seems pretty unusual to me. After all, one reason teams win 90 games is because they determine early on to jettison those pitchers who aren't performing.
Curious about how unsual Ross' feat was, I asked on Twitter how many pitchers were at least 9 games under .500 on a team that won at least 90 games.
The loyal followers came up with the following pitchers:
Kenshin Kawakami, 2010 Braves: 1-10, 5.15 ERA on a team that went 91-71 (and made the playoffs). Kawakami wasn't good, but wasn't terrible. He won just once in 16 starts. (From @ekap1)
Randy Lerch, 1980 Phillies: 4-14, 5.16 ERA on a team that went 91-71 ... and won the World Series. The Phillies didn't really have a great staff that year, but Steve Carlton went 24-9 and pitched 304 innings. Lerch was legitimately bad, giving up 178 hits in 150 innings with 55 walks and 57 strikeouts. Among pitchers who threw at least 130 innings in 1980, only two had a higher ERA. (From @BleepingFrakker)
Dennis Martinez, 1983 Orioles: 7-16, 5.53 ERA. The Orioles ran Martinez out there for 25 starts, but they won 98 games and the World Series anyway. Martinez was in the midst of his days of heavy drinking, from which he'd recover after leaving the Orioles and become one of the best pitchers in the game in the late '80s. (From @Kiko_Sakata)
Bob Sebra, 1987 Expos: 6-15, 4.42 ERA on a team that went 91-71. Sebra kept his spot in the rotation until he went 0-4 in August, but he wasn't really that bad (remember, 1987 was the crazy lively ball year). Neal Heaton went 13-10 with a 4.52 ERA on the same team. (From @MWEinNC)
Frank Castillo, 2002 Red Sox: 6-15, 5.07 ERA. This was a fun Red Sox team. Pedro Martinez went 20-4 and Derek Lowe went 21-8, so the rest of the rotation went 37-35. They won 93 games -- but underperformed their Pythagorean projection by seven wins. First baseman Tony Clark hit .207 with three home runs in 275 at-bats, so when Theo Epstein took over after 2002 ... well, the team was already pretty good, with obvious holes to fill. (From @MWEinNC)
Mike Emeigh (@MWEinNC) says that's the list, although it's also worth pointing out David Cone, who went 4-14 for the 2000 World Series champion Yankees, but that team won just 87 games in the regular season.
January, 8, 2013
Jan 8
11:53
AM ET
Let's play a little Hall of Fame game. I'm going to present two players with similar statistics. One is in the Hall of Fame and the other is on this year's ballot. Presented two lines of numbers, can you guess which player is the Hall of Famer? Check the numbers, vote in our poll and then check below to see who the players are. (No cheating!)
Comparison No. 1
I should note that these two are contemporaries and the Hall of Famer made it in the first year he was on the ballot.
While the Hall of Famer was never considered the best player in the game, there is an argument to be made that the non-Hall of Famer was the best player in the game at his peak.
Both were good defensive players and had speed, at least early in their careers.
Comparison No. 2
Both had some monster seasons, however. The Hall of Famer led his league in several offensive categories at various times, including runs scored, home runs, RBIs, on-base percentage and slugging percentage. The non-Hall of Famer also led his league in home runs, on-base percentage and slugging percentage. Both were considered good all-around players.
The Hall of Famer took a few years to get elected, but nobody ever calls him out as a poor selection.
Comparison No. 3
I can say these two were pretty similar in many ways, both among the biggest names in the sport while active, with some legendary tales about their performances.
Both pitched for multiple World Series champions but neither came close to 300 wins. Their adjusted ERAs are pretty similar.
When elected, the Hall of Famer was viewed as a controversial selection, in large part because of his win total. The non-Hall of Famer will have to face that same bias.
Comparison No. 4
The Hall of Famer made it on his first year on the ballot and made seven All-Star teams. The non-Hall of Famer made five All-Star teams. Both led their league twice in home runs.
The Hall of Famer hit 30-plus home runs six times while the non-Hall of Famer hit 30-plus home runs 10 times, including six seasons in a row at one point.
According to Baseball-Reference, both players had five seasons with 4-plus WAR.
Comparison No. 5
They didn't play the same position, but both did play key up-the-middle positions and were awarded multiple Gold Gloves in their careers.
One guy was part of more than one World Series champion while the other never played in a World Series. The Hall of Famer made it in on his third year on the ballot while the non-Hall of Famer has work to do.
As far as fame, both would rate very high in that category while active. Had they played longer, both would have a better chance to meet some of the automatic Hall of Fame standards.
Comparison No. 6
Both were arguably the best player on a World Series championship team.
While the Hall of Famer made it after a short stay on the ballot, the non-Hall of Famer has struggled to get enough support. Both players won multiple Gold Gloves. The Hall of Famer hit .300 nine times and the non-Hall of Famer hit .300 seven times.
According to Baseball-Reference, the Hall of Famer had eight four-win seasons while the non-Hall of Famer had nine. This one is close.
Answers
Comparison No. 1: Player A is Tony Gwynn and Player B is Tim Raines.
Of course, I left out Gwynn's 3,000 hits and .338 career average. But as you can see from above, the two were quite similar players: Raines drew more walks, hit a few more home runs and stole more bases at an excellent percentage, making up the advantage Gwynn had in base hits. But Gwynn won batting titles and Raines' dominant years in the '80s came in the obscurity of Montreal.
Comparison No. 2: Player A is
Larry Walker
and Player B is Duke Snider.
Snider's Hall of Fame case was originally hurt by the fact that he wasn't Willie Mays or Mickey Mantle. Of course, who is? But he was a key member of one of the great teams of all time, the 1950s Brooklyn Dodgers. Snider never won an MVP Award but finished as high as second; Walker won MVP in 1997. Of course, Walker is questioned because of the Coors Field numbers, but as you can see, each player's adjusted OPS is about the same. (Ebbets Field was a great hitters' park as well, and Snider's career OPS is 79 points higher at home.)
Comparison No. 3: Player A is
Curt Schilling
and Player B is Don Drysdale.
Two hard-throwing right-handers who racked up strikeouts. Schilling, of course, has the great postseason record (11-2, 2.23 ERA); Drysdale was 3-3, 2.95 in the postseason (all World Series games). Both pitched for three World Series champs. Drysdale has the lower career ERA -- 2.95 to 3.46 -- but once you adjust for eras and ballpark (Dodger Stadium in the '60s was a great pitchers' park), Schilling's ERA is a little better.
Comparison No. 4: Player A is Willie Stargell and Player B is
Fred McGriff
.
And both had cool nicknames as well -- Pops and Crime Dog. Stargell did win an MVP (shared with Keith Hernandez) but that was an award earned for leadership more than production; he did finish second twice in the voting. McGriff finished as high as fourth in the voting.
Comparison No. 5: Player A is
Bernie Williams
and Player B is Ryne Sandberg.
This was my favorite comparison on the list. Sandberg made it on the third ballot while Williams, despite playing center field for four World Series champs, got just under 10 percent of the vote his first year on the ballot. Shouldn't center fielders be given a similar defensive consideration as second basemen?
Comparison No. 6: Player A is
Barry Larkin
and Player B is Alan Trammell.
There is very little to separate these two. Larkin did win an MVP Award, but Trammell should have won in 1987, when he finished second. Larkin played until he was 40, but their career games totals are similar. I think his edge over Trammell is that once Ozzie Smith faded, Larkin was viewed as the best shortstop in the National League. Trammell was always behind somebody -- Robin Yount or
Cal Ripken
, and then after he retired, the AL had all the shortstops putting up the big numbers -- A-Rod,
Derek Jeter
,
Nomar Garciaparra
and
Miguel Tejada
. But there's no shame in being ranked behind Yount or Ripken. Trammell deserves to join Larkin in Cooperstown.
January, 18, 2012
1/18/12
12:28
PM ET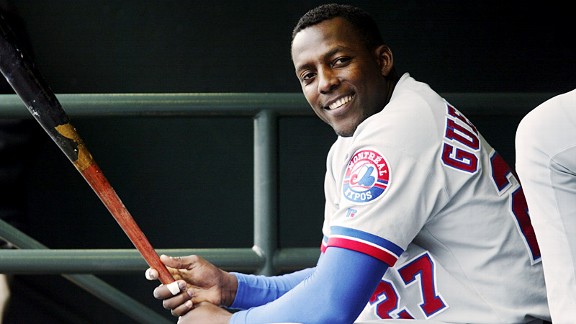 Jed Jacobsohn/Getty ImagesVlad Guerrero gave his fans plenty of reasons to smile through the years, with 449 career home runs.
Back in February of 1997, I owned the second selection in the rookie draft of my fantasy league. It was a little bittersweet, because
Andruw Jones
was the obvious No. 1 pick. If you remember, Jones was the 19-year-old wunderkind who had hit .400 in the 1996 World Series, including two home runs in Game 1. Guerrero was the consolation prize in our draft.
He turned out to be a pretty good prize.
He became my favorite player in the majors, as much for his awesome numbers as his unique style of play. At times, he'd seemingly swing at anything, yet his hand-eye coordination was so good he could still put the ball in play, whether the pitch was a foot outside or a slider in the dirt. This often worked against him, of course, but from 1997 through 2008 he hit .323, including 12 consecutive seasons with a .300-plus average. He was one of the few players to hit without batting gloves, and his helmet became a glorious, sticky, pine-tar mess. He'd take such a big cut it appeared he was swinging a sledgehammer, and it would leave him all twisted up in gymnastic gyrations.
In the field, he possessed one of the strongest arms in the game, although he was as likely to throw a ball into the dugout as nail a runner at third base. On the bases, he had that big lumbering stride that made him look like he was running in mud, but had surprising speed early in his career.
He left the Expos after the 2003 season and signed with the Angels, winning the AL MVP Award his first season in Anaheim. He finished third in the MVP vote in 2005 and 2007. But he was starting to lose his speed, had a bad back. The Angels let him walk after 2009 and he signed with the Rangers. He hit .300 with 29 home runs with Texas and it was great to finally see him play in a World Series. It was sad, however, watching him play right field in Game 1 when he committed two errors and looked terrible. He was old, a 35-year-old in a 50-year-old body.
He played with Baltimore in 2011 and while he hit .290, the reality is that he didn't provide much value. He hit just 13 home runs in 562 at-bats, grounded into 23 double plays and drew just 17 walks. The man who once led the AL four consecutive seasons in intentional walks was no longer feared; among major league regulars, only
Yuniesky Betancourt
had a lower walk rate. And that's basically who Guerrero has become, except he can't play the field. No team needs a player like that.
Since teams carry 12 or even 13 pitchers these days, there just aren't many teams willing or able to carry a DH-only player, especially one who no longer provides 25-plus home runs and gets on base at a good clip. The only regular DHs in 2011 were Guerrero,
David Ortiz
,
Hideki Matsui
,
Victor Martinez
and
Johnny Damon
, and even Damon played some left field and Martinez started 32 games in the field. If you go around the AL, I just don't see a team where Guerrero fits, even the Tigers, who just lost Martinez for the season.
I hope Guerrero signs somewhere, but if this is the last we've seen of Vlad the Impaler, it's been a wonderful ride.
Correction: As a reader pointed out, Billy Butler was also a full-time DH in 2011, starting 142 games there for the Royals. The Indians also had Travis Hafner, although injuries limited him to 85 games.
January, 5, 2012
1/05/12
8:00
AM ET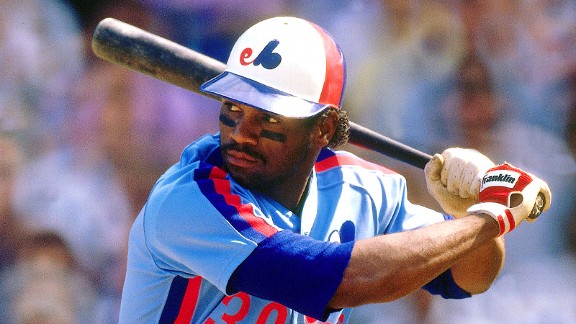 Ronald C. Modra/Sports Imagery/Getty ImagesTim Raines is often cited as the second-greatest leadoff hitter in MLB history.
There are a lot of columns and analysis out there advocating the case for Tim Raines for the Hall of Fame. I probably won't add anything new to the discussion, but let me start here:
Player A is Raines. Player B is Tony Gwynn. That final column is times reached base. Yes, Raines reached base more often in his career than Gwynn, in just slightly more plate appearances. I'm not the first writer to come up with that comparison. Joe Posnanski, among others, is especially fond of this factoid. The point of the statistic isn't to bring down Gwynn, rather to show how potent and devastating an offensive player Raines was. The arc of his game was a little different than Gwynn's but the results are similar: Gwynn got more singles, Raines walked more and had a little more power. He was one of the great base stealers of all time and scored more runs in his career than Gwynn.
That's what Raines did: He scored runs. He's 51st on the all-time list and of the 50 players ahead of him, all eligible candidates are in the Hall of Fame except for Jimmy Ryan and George Van Haltren, two 1890s outfielders; turn-of-the-century shortstop Bill Dahlen; and Rafael Palmeiro.
A common refrain about Raines from his advocates is that he was one of the best players in baseball over a span in the 1980s. This isn't some after-the-fact hocus-pocus going on. It was widely believed at the time. In a 1984 Sports Illustrated piece on Raines, Pete Rose said: "Right now he's the best player in the National League. Mike Schmidt is a tremendous player and so are Dale Murphy and Andre Dawson, but Rock can beat you in more ways than any other player in the league. He can beat you with his glove, his speed and his hitting from either side of the plate." In his annual Baseball Abstracts, Bill James often argued the case of Raines' all-around brilliance. Raines finished fifth, sixth and seventh in MVP votes, despite playing for mediocre Expos teams.
Raines' five-year peak was 1983 to 1987. According to Baseball-Reference's WAR ranking, the top five players during those years were Wade Boggs (39.7), Rickey Henderson (34.1), Cal Ripken (33.3), Schmidt (31.4) and Raines (30.7). Pretty nice company. (The next five were Alan Trammell, Gwynn, Eddie Murray, Murphy and Keith Hernandez.)
To be fair, this alone doesn't make him a Hall of Famer. I checked every five-year period since 1969 (1969 to 1973, 1970 to 1974, etc.) and not all of the names that appear in the top five are Hall of Famers or future Hall of Famers. Heck, Sal Bando rated as the best player in baseball from 1969 to 1973.
Some characterize Raines as having too short of a peak level of dominance. From 1988 to 1995, he averaged .283/.375/.409, with 81 runs and 33 steals per season. Maybe not an MVP candidate anymore, but still a good player, top leadoff hitter and valuable contributor. He's hardly alone in this aspect. He had six seasons with an OPS+ of 130 or higher, the same as Jim Rice, Dawson and Ernie Banks, and more than Kirby Puckett, Roberto Alomar, Johnny Bench, Carlton Fisk, Yogi Berra, Tony Perez or Robin Yount.
Maybe Raines doesn't have a slum-dunk case. But he has a case. Maybe voters have forgotten his great years in Montreal (and they have forgotten; he received only 37 percent of the vote last year). Maybe they remember his final seasons with the Yankees, when he became a part-time player on two World Series champions. Maybe they can't believe he compares favorably with Tony Gwynn.
Believe.
December, 15, 2011
12/15/11
8:19
PM ET
As a quick follow-up to my previous post: I did a search for the teams since 1950 with the fewest All-Stars at any point in their career. Obviously, every team has at least one All-Star since each team gets one representative. Only one team has had as few as two career All-Stars: the 2011
Kansas City Royals
(
Joakim Soria
and
Aaron Crow
). Of course, that's misleading; many 2011 Royals were just beginning their careers and hopefully more than a few will eventually become All-Stars.
Most of the teams near the bottom of the list are either recent teams (2011 Blue Jays, 2011 Astros, 2010 A's) or early seasons of expansion franchises (1969 Royals, 1971-'72 Padres, '77 Mariners). Looking at mature franchises, here are a few that jump out at me.
1977-'78 Minnesota Twins:
The '77 Twins had just five career All-Stars (Rod Carew, Larry Hisle, Butch Wynegar, Roy Smalley and Tom Burgmeier), despite which it won 84 games with Carew winning the MVP Award. It had some good players like outfielders Lyman Bostock and Dan Ford, plus 20-game winner Dave Goltz. The '78 Twins had just four All-Stars -- Carew, Wynegar, Smalley and reliever Mike Marshall. The team finished 73-89, although it was outscored by just 16 runs and actually led the American League in on-base percentage. Goltz and Geoff Zahn finished in the top 10 in the league in ERA and Marshall was a good closer. The rest of the staff was nondescript and the team had no power, but I don't think this was the least talented team ever assembled.
2004 Montreal Expos:
A good candidate with just five career All-Stars and not exactly a murderer's row of stars at that:
Livan Hernandez
,
Tony Batista
,
Jose Vidro
,
Chad Cordero
and
Carl Everett
. In their final year in Montreal, the Expos lost 95 games, drew under 800,000 fans and ran through 46 different players. They had some interesting players, however:
Orlando Cabrera
,
Nick Johnson
, the other
Alex Gonzalez
. Hernandez was the only pitcher to start 20 games, but the team wasn't at the bottom of the league in either runs scored or runs allowed.
1950 St. Louis Browns:
A terrible team (58-96) with five career All-Stars: Sherm Lollar, Roy Sievers, Ned Garver, Frankie Gustine and Snuffy Stirnweiss. Lollar was a good catcher, later traded to the White Sox, made the All-Star team seven times in the '50s and twice finished ninth in the MVP vote. Sievers had a fascinating career that I won't recount here, but he hit 318 career home runs. Another interesting playing was a small outfielder named Dick Kokos. He'd played well in 1949 and 1950 at ages 21 and 22 (.261, 41 home runs, .363 OBP) but was drafted into the military in 1951, lost two seasons, and didn't play well when he returned. A strong contender.
2003 Detroit Tigers:
This is the team that lost 119 games; it had six players who were All-Stars at some point in their careers:
Steve Avery
,
Omar Infante
,
Brandon Inge
,
Dean Palmer
,
Carlos Pena
and
Dmitri Young
. Avery was at the end of the line and the only other two other pitchers of note were 20-year-old rookie
Jeremy Bonderman
and 21-game loser
Mike Maroth
, who did manage to win 50 games in his career. My favorite stat from this team:
Nate Cornejo
started 32 games ... and struck out 46 batters. He had nine starts in which he didn't strike out a single batter.
Anyway, there's a more thorough way to examine this topic as well, although simply examining the worst teams is probably a good start.
September, 13, 2011
9/13/11
12:30
PM ET
On Monday, I wrote about the 2001
Seattle Mariners
, the
best team never to reach the World Series
. That club won an all-time record-tying 116 games, and led the AL in runs scored (927) and fewest runs allowed (627). Here are six other great teams that failed to reach the World Series:
[+] Enlarge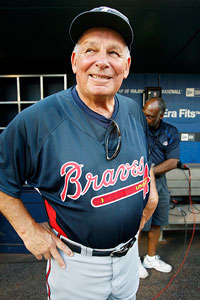 AP Photo/Kathy WillensTwo of Bobby Cox's Braves teams -- the 1993 and 1998 squads -- made the list of the best teams not to make the World Series.
5-6. 1993 Atlanta Braves and San Francisco Giants:
In the last great pennant race, the Braves won their 104th game on the final day of the season while the Giants lost to finish one game behind. The Braves were the better team. Built around its pitching rotation of
Greg Maddux
,
Tom Glavine
,
John Smoltz
and
Steve Avery
, the Braves allowed 61 fewer runs than another NL team. They had an excellent offense as well, leading the NL in home runs and finished third in the league in runs.
David Justice
hit 40 home runs,
Ron Gant
hit 36, Jeff Blauser hit .305 and
Fred McGriff
hit .310 with 55 RBIs in 68 games after coming over from the Padres.
The Giants featured the best player on the planet in
Barry Bonds
, who hit .336/.458/.677 to win NL MVP honors.
Matt Williams
added 38 home runs while Will Clark, Robby Thompson and Willie McGee filled out the offense. Billy Swift was the ace, going 21-8 with a 2.82 ERA while
John Burkett
won 22 games, but no other pitcher made 20 starts.
Rod Beck
saved 48 games.
In the NLCS, the Braves fell to the 97-win Phillies. The Phillies won the opener 4-3 in 10 innings, but the Braves took the next two, 14-3 and 9-4. In Game 4, Smoltz lost 2-1 to Danny Jackson as Atlanta stranded 11 baserunners. Game 5 was a classic as
Curt Schilling
took a 3-0 lead into the bottom of the ninth, but a walk and an error brought in Mitch Williams, who allowed the Braves to tie it. But Lenny Dykstra's home run off
Mark Wohlers
in the 10th won it and the Phillies wrapped up the series with a 6-3 victory in Game 6.
4. 1976 Philadelphia Phillies:
The Phillies won 101 games and the NL East title, making their first postseason since 1950. Mike Schmidt (38 home runs) and Greg Luzinski (.304, 21 home runs) powered an offense that included .300 hitters Garry Maddox (.330) and Jay Johnstone (.318). Steve Carlton won 20 games to headline a solid if unspectacular rotation that included veterans Jim Lonborg, Jim Kaat and and youngsters Larry Christensen and Tom Underwood. The bullpen
was
spectacular with all five relievers posting ERAs under 3.00 (the Phillies used only 11 pitchers all season, and one of those threw just three innings). Tug McGraw, Gene Garber and Ron Reed each threw more than 90 innings and saved at least 11 games. But the Phillies ran into an even bigger power, the 108-win Big Red Machine, and got swept in the NLCS -- the first of three straight NLCS defeats.
3. 1942 Brooklyn Dodgers:
In the final season before players headed off en masse to World War II, the Bums won 104 games, but finished two games behind the Cardinals for the NL pennant. Center fielder Pete Reiser (.310/.375/.463) and first baseman Dolph Camilli (26 home runs) paced the offense, while the double play combo of Pee Wee Reese and Billy Herman would eventually make the Hall of Fame, as would third baseman Arky Vaughan and left Joe Medwick, although both had their years with other teams. The pitching staff posted a 2.84 ERA, with Whitlow Wyatt (19-7), Kirby Higbe (16-11) and Curt Davis (15-6, 2.36) the headliners.
2. 1998 Atlanta Braves:
Maybe the best Atlanta team of the Bobby Cox era, the Braves finished 106-56, as all five starters (Maddux, Glavine, Smoltz,
Denny Neagle
,
Kevin Millwood
) won at least 17 games.
Andres Galarraga
,
Chipper Jones
,
Javy Lopez
and
Andruw Jones
all hit at least 31 home runs. After sweeping the Cubs in the Division Series, the Braves' bats died against the Padres in the NLCS.
Sterling Hitchcock
allowed one run in two starts, Galarraga hit .095, Chipper drove in one run in six games and the Braves were shut out twice.
1. 1994 Montreal Expos:
The Expos were 74-40 when the strike hit, on pace for 105 wins. Every primary player except
Jeff Fassero
was younger than 30. The outfield trio of
Larry Walker
,
Moises Alou
and
Marquis Grissom
were all in their prime,
Wil Cordero
and
Mike Lansing
were a solid double-play combo and Sean Berry provided some pop at third base. The rotation included Fassero, a second-year kid named
Pedro Martinez
,
Ken Hill
,
Kirk Rueter
and Butch Henry. The bullpen featured the one-two punch of John Wetteland and Mel Rojas, plus
Gil Heredia
,
Jeff Shaw
and Tim Scott. The Expos ranked third in runs and second in runs allowed when play was halted and they were on a roll -- they'd gone 17-3 in their past 20 games. Sadly, of course, unlike the other teams here, they never got the chance to play for the World Series.
August, 18, 2011
8/18/11
6:25
PM ET
The
Milwaukee Brewers
had won 19 of their past 21 games entering Thursday's matchup against the
Los Angeles Dodgers
, but
Clayton Kershaw
shut
down the Brewers
with eight scoreless innings in a 5-1 victory. The Brewers failed to become the first National League team since the 1994 Montreal Expos to win 20 of 22, although five American League teams have done so since 2000:
2006 Twins. The Twins were 26-33 on June 8, when they embarked on a 20-2 stretch. Here's the amazing thing though: They only picked up 2.5 games in the standings, as the Tigers went 19-5 over the same dates. Minnesota was 9 games out after the 20-2 stretch but would finish 96-66 and win the division title on the final day of the season.
2004 Red Sox. Boston went 20-2 from Aug. 16 through Sept. 8, improving its record from 64-52 to to 84-54. Manny Ramirez hit eight home runs and drove in 24 runs, Johnny Damon hit .382 and Curt Schilling went 4-0, 2.15 with 29 strikeouts and no walks.
2002 A's. The A's actually won 20 in a row and 23 of 24 from Aug. 13 through Sept. 9. Earlier in the season they had a 16-1 stretch. Miguel Tejada basically won the MVP Award when he delivered a game-winning home run in Game 18 of the winning streak and the game-winning single in Game 19. The A's had a 2.51 ERA over the 23-1 stretch.
2001 A's. Oakland went 22-2 from Aug. 25 through Sept. 27, hitting 42 home runs and posting a 2.77 ERA. But they didn't win the AL West that year ...
2001 Mariners. Seattle went 20-2 from May 23 through June 16. They also had a 16-2 stretch on the way to 116 victories.
As for the Expos, they went 20-2 from July 18 through Aug. 10, posting a 2.52 ERA with
Pedro Martinez
going 5-0. On Aug. 12, the players went on strike.
August, 4, 2011
8/04/11
6:03
PM ET
By
Christina Kahrl
| ESPN.com
It's time to say good-bye to the Wonder Hamster once and for all, because Thursday
Matt Stairs
announced his retirement. The game's poorer for it, as baseball's all-time record-holder for pinch-hit home runs (with 23) shuffles off to card shows and perhaps coaching, memory and memorabilia.
The reasons
why
we'll remember Stairs are easy enough to identify, because Stairs was a favorite player for so many and for so many different reasons. First, there's just the simple image of seeing him step in to bat, because Stairs looks like somebody you know, whether it's the guy who's dating your cousin or one in a group of buddies at the bar. As a latter-day John Kruk, he was one of the guys on the diamond who didn't look like a professional athlete -- instead, he was simply a pro ballplayer.
[+] Enlarge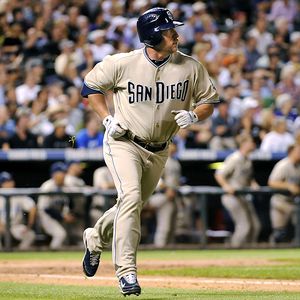 AP Photo/Jack DempseyMatt Stairs amassed 265 home runs, 899 RBI and a .262 batting average over an 18 year career.
Of course, the other easy reason was that the well-traveled Stairs probably played for your team at one point or another. Stairs played for 12 different teams -- 13 if you're given to separating the Expos franchise he debuted for from the Nationals team that he finished with. So you might have jumped on the Stairs bandwagon at any point during his career. The johnny-come-latelies noticed when he was the key pinch-hitter on the Phillies' pennant-winning teams of 2008 and 2009, but he'd already gotten an introduction to postseason play as far back as 1995 as a pinch hitter for the Red Sox.
Stairs was a great example of what a minor-league player, wearing the sometimes left-handed compliment that he's "a professional hitter," can achieve. Stairs started out as an infielder in the Expos' system in 1989. He lacked the arm for third or the range and footwork for second, occasionally putting up fielding percentages of Butch Hobson-level horror at the hot corner. But he hit for average, drew walks, and had better power and speed than you'd expect from his squat build -- ripping 53 extra-base hits, stealing 23 bases, and drawing 66 walks (against 47 strikeouts) in a full season for Double-A Harrisburg back in 1991. But breaking in with the Expos, creeping up on becoming one of baseball's best teams, wasn't easy, especially once he'd been necessarily moved to the outfield at a time when Montreal had
Marquis Grissom
,
Larry Walker
and
Moises Alou
starting, and pinch-hitter extraordinaire
John Vander Wal
behind them.
So Stairs wandered, getting initially sold to Japan and then to the Red Sox, and finally slipping away to the A's after the '95 season when Boston apparently decided they had other uses for his spot on the 40-man. It was in Oakland where Stairs' legend really began, as he stepped into playing time in '97 after
Mark McGwire
and Geronimo Berroa were dealt away, and once it had become obvious that
Jose Canseco
and
Jason Giambi
weren't much use planted in either outfield corner. Stairs made the most of the opportunity, becoming one of the signature "out of nowhere" no-cost or low-cost stars of the franchise subsequently glorified in Michael Lewis'
Moneyball
. In his way, he was just the latest variation on Berroa, a professional hitter finally given a chance by a talent-desperate organization. His walk-off, game-winner hammered off of the White Sox's
Keith Foulke
in the bottom of the ninth on
August 8, 1999
is still one of my single favorite ballgames, even if nobody's really sure if that obliterated changeup has re-entered orbit yet. It wasn't the first or last, but it was a signature moment for a man who hit when you handed him a bat.
Stairs was also one of those players who provides evidence against those of us who want to wail about the present, usually to point to a happier past when things were better when they were younger. Bill James' latest compilation,
Solid Fool's Gold
, is as thoughtful and interesting and worth owning as anything that springs from his keyboard. But his comments in the essay "The Minor League Pyramid" don't exactly ring true when he talks about how farm systems today cut off "the Enos Slaughter/Pete Rose type of player ... who really didn't seem to possess outstanding ability, and would never have been high draft picks or received large bonuses in the current system. What made these players stand out was not that they ran terribly fast or threw tremendously well or were big and strong, but that, when you put them in uniform and let them play, they succeeded."
Well, maybe things really were better back in the day, but maybe Stairs just happened to be a pretty good example of exactly that kind of ballplayer, and with his retirement, it's worth noting he wasn't all that alone in this regard. Isn't
Ben Zobrist
that kind of player right now? Or
Daniel Murphy
?
Michael Young
? Or even
Shane Victorino
? Heck, drawing from recent headlines
Casey McGehee
had been that kind of player before this season's collapse.
At any rate, Stairs is now retired, and he'll be missed. Given his remarkable career we certainly won't see somebody exactly like him on a diamond any time soon. But we will continue to see surprise stars spring up within the game, not because it fails in some new way, but because talent can, and does, create its own opportunities.
Christina Kahrl covers baseball for ESPN.com. You can follow her on Twitter.
July, 7, 2011
7/07/11
6:15
PM ET
By
Christina Kahrl
| ESPN.com
The
news has broken
that Hall of Fame manager Dick Williams passed away today. He was 82 years old, and was one member of a generation of dugout greats, and with the loss of Sparky Anderson last November and Chuck Tanner in February, it's a generation whose ranks have taken a few too many hits in recent months.
[+] Enlarge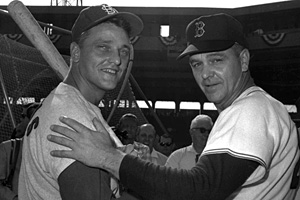 AP File PhotoFormer Red Sox manager Dick Williams, right, chats with St. Louis outfielder Roger Maris before Game 2 of the 1967 World Series. Williams made a career of rebuilding downtrodden teams.
Williams is perhaps best remembered as the manager of the "Impossible Dream" team in Boston in 1967, that Red Sox squad that took the Cardinals all the way to seven games in the World Series before coming up short. Williams set a precedent there for the kind of manager he would be, placing his faith in young talent; in Boston, he gave Reggie Smith and Sparky Lyle their first big breaks.
But the Red Sox would not be his last or best team, let alone mark his last visit to the World Series. Fired by Boston at the tail end of the '69 season -- in part for his authoritarian tendencies as a skipper -- Williams went to Oakland and took over as the firm hand perhaps perfectly suited to run the rowdies and rebels of the Big Green Machine dynasty of the early '70s. The A's won consecutive World Series on his watch in '72 and '73 before winning a third in a row under his replacement, Alvin Dark. After dealing with larger-than-life personalities like Reggie Jackson and Vida Blue on the field and team owner Charlie Finley off it, he finally resigned over team owner Finley's meddlesome, disgraceful attempt to humiliate and deactivate Mike Andrews for poor fielding during the course of the '73 Series.
Williams did not always have the magic touch -- there was nothing he could do in his next job to get the California Angels into contention in 1975 or '76 before he was fired in July, but he did break in long-term big-leaguers like Jerry Remy, Dave Collins, and Ed Figueroa. However, his setback in Anaheim freed him for the next signature gig in his career, his multi-year run managing the Montreal Expos from 1977 to 1981, helping drive them to second-place finishes in '79 and '80. He once again got fired in the middle of the '81 stretch run with his team in the race and 27 games left to play, an event as shocking then as Ned Yost's firing by the Brewers in the middle of the 2008 stretch run was in the recent past; Williams' hard hand running the club had worn thin again. But in Montreal, he was the manager with the good sense to get Gary Carter out of the outfield and back behind the plate as an everyday catcher, setting the Kid on his own Hall of Fame track. Moving Carter helped make space for future Hall of Famer Andre Dawson in the outfield, and in Williams' last season in Montreal he installed the eventually Hall-worthy Tim Raines alongside Dawson. Williams also oversaw the breakthroughs of an incredible batch of pitching talent: Scott Sanderson, Bill Gullickson, Charlie Lea and David Palmer, for starters.
A free agent again, Williams next landed in San Diego for the '82 season. In three years, he'd won another pennant, again by installing a crew of young pitchers (notably Eric Show, Dave Dravecky and Andy Hawkins), a speedy leadoff threat in Alan Wiggins, Kevin McReynolds in center and yet another Hall of Famer,
Tony Gwynn
, in right. Williams also got to supplement that squad with famous discards from more famous teams: Steve Garvey of the Dodgers, and Goose Gossage and Graig Nettles from the Yankees, but it only took one more season before Williams was forced out, reportedly by Jack McKeon and others in the front office.
Williams would finish his MLB career in the dugout unsuccessfully trying to turn around the Mariners -- but installing a future All-Star in Harold Reynolds at second base -- and then put in time in the Senior Professional Baseball Association, a league that operated in 1989-90 that was populated by former big-leaguers aged 35 and older. He "retired" to years spent as a special consultant to George Steinbrenner, one of many great baseball minds who the Boss has employed in that sort of gig over the years.
Williams' legacy for delivering winners, turning teams around, and breaking in young players is exceptional, and clearly places him among the front rank of baseball's best skippers. It came with the price of a man whose heavy-handed brand of leadership tended to make him unpopular within a few seasons, but it was a price teams were understandably willing to pay given Williams' ability to deliver.
At a time when some sabermetricians still favor the notion that managers don't matter, Williams serves as a great example of the reasons why and how they do, not simply via in-game tactics but more importantly in their ability to determine who plays and why. If you're interested in investing something more than just memory to Williams and his legacy as a manager, you could pick up a copy of Williams' biography,
No More Mister Nice Guy
(written with Bill Plaschke), which is well worth having on your shelf to understand where he was coming from, in Boston in '67 or in Seattle 20 years later, and at all points in between. For a fine take of his virtues as a skipper, you can also check out Chris Jaffe's
Evaluating Baseball Managers
.
Christina Kahrl covers baseball for ESPN.com. You can follow her on Twitter.