November, 26, 2014
Nov 26
11:22
AM ET
In 2012, Chase Headley had a monster season for the Padres, hitting 31 home runs and leading the National League with 115 RBIs -- big numbers considering Petco Park's dimensions and the lineup around him. He added a Gold Glove Award and finished a deserving fifth in the NL MVP voting.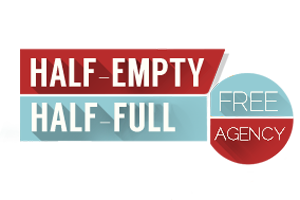 Rather than sign an extension with the Padres, Headley played out the final two years of his contract, which probably cost him some cash. He wasn't able to match those numbers during the following two seasons, was dealt to the Yankees at the trade deadline in 2014 and now hits free agency before his age-31 season.
The Yankees are certainly interested in bringing Headley back, but the Giants could also be suitors now that Pablo Sandoval has signed with the Red Sox. The Indians have also reportedly expressed interest, since Headley would be an upgrade at third base over Lonnie Chisenhall.
Jim Bowden
predicted a three-year, $27 million deal for Headley
, but he'll likely do much better than that.
Let's examine Headley a little closer in our latest
half-full, half-empty series installment
.
HALF-FULL
In a way, Headley is being compared with the 2012 version of himself -- and he loses that comparison:
2012: .286/.376/.498, 31 HRs, 6.3 WAR
2013-14: .246/.338/.387, 26 HRs, 7.3 WAR
What went so right in 2012? For starters, from the left side of the plate (Headley is a switch-hitter), he had few holes in his swing. Here's his map of slugging percentage at different areas in the strike zone that year: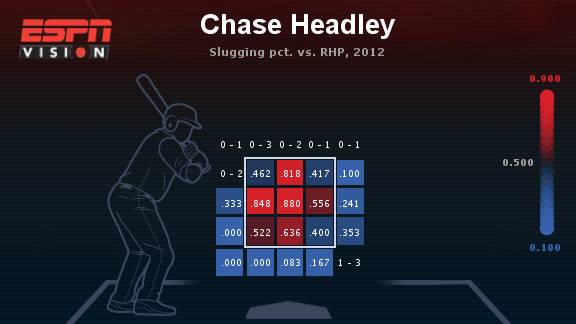 ESPN Stats & Info
Not a lot of holes there. You may remember that Headley had a monster second half, during which he hit 23 home runs, 17 from the left side. There's always the chance that he regains that form again, or at least some of that form. Getting out of San Diego could help his power numbers (his home run rate increased after joining the Yankees) and, at 31, his skills should still largely be intact. In fact, Headley's line-drive rate in 2014 was 26.6 percent, much better than the 19.3 percent of 2012. Headley hit .243 in 2014, but that strong line-drive rates suggests that he hit into some bad luck along the way.
More important, even at his 2013-14 level of production, Headley has been a valuable contributor thanks to two underrated skills: his defense and ability to get on base. His 7.3 Baseball-Reference WAR over those two seasons ranks 11th among third basemen -- and higher than Sandoval, who just signed a $95 million contract.
Headley's defense is no fluke and it's one reason he should continue to hold value. His defensive runs saved totals since 2010 are: +14, +1, -3, +5, +13. Ultimate zone rating likes Headley's defense even more, with +35 runs saved over the past three seasons. (FanGraphs, which uses UZR as its defensive metric, has valued Headley at 8.0 WAR over the past two seasons.)
If we value Headley as a 3-WAR player -- a conservative estimate -- at the going rate of about $6.5 million per win on the free-agent market, he should be valued at about $18 million per season. Even if you account for some aging in a three- or four-year deal, Headley looks like he'll be an excellent return on investment even if he gets something like a four-year, $50 million deal.
HALF-EMPTY
First off, you can ignore that 2012 season, which was really one fluke half a season. That's the only time Headley has hit more than 13 home runs, so the expectation that he'll regain some of that power just isn't realistic. It's not like he suddenly starting bashing a lot of home runs after joining the Yankees, even with the benefit of that short right-field porch. His fly ball rate isn't dramatically different than it was in 2012; he just happened to see a lot more fly balls clear the fences that year.
So what does that leave you with? A 31-year-old third baseman who has hit .246 the past two seasons, a guy who draws value from walks and defense.
But ... his walk rate has dipped the past two seasons, from 12.1 percent to 11.2 to 9.6. Defensively, you're counting on him to retain that ability into his 30s. We know defensive players tend to peak in their 20s, before they start to lose a bit of that quickness and reaction time, so Headley is likely to decline in a season or two.

And you can't compare Headley's potential contract to what Sandoval received. Sandoval is three years younger, so there's a vast potential difference in the years Boston will get out of Sandoval as opposed to what Headley's team will reap.
Headley is a nice player, a middle-of-the-pack third baseman. But his batting line is trending downward and middle-of-the pack third basemen in their 30s can quickly turn into below-average third basemen. He's a good risk at a reasonable price, but he's not going to be a huge difference-maker.
What do you think? Half-full or half-empty?