SweetSpot:

Opening Day 2012
April, 6, 2012
4/06/12
1:50
PM ET
April, 5, 2012
4/05/12
11:00
PM ET
This looks like the pitching line of a dominant closer:
88.2 IP, 49 H, 15 R, 14 ER, 27 BB, 77 SO, 2 HR, 1.44 ERA
That's the collective work of Thursday's 14 starting pitchers. Eleven of the 14 allowed one run or zero runs.
Justin Verlander
and
Roy Halladay
affirmed their status as baseball's top pitchers with eight scoreless innings each.
Justin Masterson
and
Ryan Dempster
each struck out 10.
Clayton Kershaw
, with his own claim as baseball's best, started despite a bad case of the flu and still pitched three scoreless innings before exiting.
Johnny Cueto
shut down the Marlins on three hits over seven innings.
Starting pitchers: Dominant.
Hitters: Still working on their timing.
The bullpens weren't quite as effective, leading to an exciting ninth inning in Detroit as
Jose Valverde
, a perfect 49-for-49 in save opportunites in 2011, blew a 2-0 lead;
Kerry Wood
couldn't hold a 1-0 lead for the Cubs, walking three consecutive batters; and Cleveland's
Chris Perez
collapsed in a flurry of walks and hits to surrender a 4-1 lead. That blown save eventually led to Toronto's
7-4 victory
in 16 innings, the longest Opening Day game in history.
Baseball, welcome back.
If anything, the dominant form of the pitchers raises the obvious question: Will offense decline again in 2012? Check out the runs-per-game totals in recent seasons:
[+] Enlarge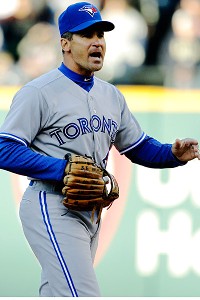 AP Photo/Amy SancettaIn an unusual move, Omar Vizquel, age 44, made just his second-ever outfield appearance.
2007: 9.6
2008: 9.3
2009: 9.2
2010: 8.8
2011: 8.6
Of course, one day -- especially when guys named Verlander, Halladay, Kershaw and
Jon Lester
are pitching -- doesn't signify anything. Still we had three shutouts and nearly had two others. That isn't necessarily unusual, as there were many days in 2011 with three shutouts and May 14 with six such games. Still, three of the seven games were shutouts and we nearly had four 1-0 games.
* * * *
Fun fact of the day:
In the bottom of the 12th inning the Indians put runners at the corners with one out. Blue Jays manager John Farrell brought in
Omar Vizquel
as a fifth infielder. Technically, since he replaced
Eric Thames
, Vizquel was listed as a left fielder, just his second major league appearance as an outfielder. The first one came in a remarkable game in 1999. The Indians scored 10 runs in the bottom of the eighth inning, capped by
Richie Sexson
's three-run homer off
Troy Percival
, to take a 14-12 lead against the Angels. Due to various moves in that inning, Vizquel moved from shortstop to right field in the ninth inning.
Fun fact No. 2:
There were two previous 15-inning games on Opening Day. The Tigers beat the Indians 4-2 in 1960 and in 1926 Walter Johnson outdueled Eddie Rommel 1-0. That's right, both pitchers went the distance.
Hero of the day:
How about Toronto reliever
Luis Perez
? He got out of that first-and-third jam with a double play and went on to pitch four hitless innings.
Good sight of the day:
Johan Santana
back on the mound for the Mets, throwing five scoreless innings.
Spring-training-doesn't-matter note of the day:
Matt Kemp
looked horrible all spring for the Dodgers, finishing with 26 strikeouts and two walks. He went 2-for-5 with a two-run home run and no whiffs.
Follow David Schoenfield on Twitter @dschoenfield.
April, 5, 2012
4/05/12
2:15
PM ET
Welcome to another Opening Day! SweetSpot blogger Dave Schoenfield and I joined forces for Thursday's
Baseball Today podcast
, talking not only about the Cardinals beating the Marlins, but looking ahead!
1. Wow, is that a big ballpark in Miami or what? Dave and I talk about
Josh Johnson
,
Kyle Lohse
and how the Marlins seem ill-fitted for their new stadium.
2. Another day, another bit of news concerning the
Boston Red Sox
closer situation. By the way, producer Jay Soderberg doesn't like the team's chances this year.
3. The
Washington Nationals
demoted
John Lannan
to the minors. While we applaud the move, do veteran players deserve a team's loyalty?
4. Other email questions dealt with where
Albert Pujols
should bat in the order, Starlin Castro's future contract, and an entirely new way to build pitching staffs.
5. We look ahead to Thursday's action, with
Clayton Kershaw
facing off against a potentially rejuvenated right-hander in San Diego, and whether we should be worried about
Matt Kemp
's poor spring training.
So download and listen to Thursday's excellent Baseball Today podcast, because baseball is awesome and you can't get enough!
April, 5, 2012
4/05/12
1:22
PM ET
Some quick bullet points on our third Opening Day/night of the season:
1. A day of aces.
Justin Verlander
,
Roy Halladay
,
Clayton Kershaw
,
Stephen Strasburg
,
Ricky Romero
,
Justin Masterson
... I think we may see some low-scoring games today. Strasburg's start in Chicago will be especially interesting. After his impressive return last September, his spring training numbers were mediocre (not that you can read too much into that).
2. Red Sox closer situation. Bobby Valentine named
Alfredo Aceves
his closer. The most interesting thing here is to see how Valentine employs him. Much of Aceves' value a year ago was that he wasn't just a one-inning guy. The Red Sox are carrying 13 pitchers, but you wonder if Valentine will try and use
Mark Melancon
and Aceves to get more than six outs if Boston has a lead and the starter has to come out.
3.
Johan Santana
making his first start since Sept. 2, 2010. If he gives the Mets 30 ace-level starts, can they become surprise contenders in a tough division? (My Mets friends say: No.)
4. The revamped Citi Field dimensions. We saw all the space in Marlins Park last night. The Mets went the opposite direction, moving the fences in. How much will that affect home runs?
5.
Miguel Cabrera
and
Prince Fielder
. How will Cabrera handle third base? Is there any truth to the belief that Fielder will "protect" Cabrera? He did receive 22 intentional walks last year, so in theory that number may decrease.
March, 23, 2012
3/23/12
1:22
PM ET
In the overall scheme of a season, it's not that big of a deal, but it's still an honor for any pitcher to get the ball on Opening Day. Here's a list of those pitchers who have officially been named the starter or those who are the obvious candidate or otherwise on schedule to start the opener. So far, nobody really compares with this top-10 list of
worst Opening Day starters from 2001-10
.