October, 1, 2014
Oct 1
11:44
PM ET
Hey, we weren't going to top the American League wild-card game. But we certainly hoped for a more exciting game than this one. Here are five things to think about in the
San Francisco Giants
' 8-0 win over the
Pittsburgh Pirates
.
1. Madison Bumgarner: Ace.
He was dominant, efficient and in complete control from the first inning on. He finished with a four-hit shutout and 10 strikeouts, 109 pitches of excellence. The only pitcher in Giants history with a higher Game Score in a postseason game was
Tim Lincecum
in 2010, when he pitched a two-hit, 14-strikeout gem against the
Atlanta Braves
in the division series.
Madison Bumgarner: Up by seven, throwing a shutout, still angry enough when he strikes out that his swears are audible on TV.

— Big League Stew (@bigleaguestew) October 2, 2014
Remember that year when young Madison Bumgarner worried everyone because he couldn't break 85 and everyone thought he'd bust? That was weird.

— Craig Calcaterra (@craigcalcaterra) October 2, 2014
Bumgarner has 6 more wins through age 24 than Kershaw did. (Pitcher wins, I know, but still.)

— Matt Meyers (@mtmeyers) October 2, 2014
Last LHP with shutout on road in winner-take-all game was Sandy Koufax in 1965 World Series Game 7.

— Katie Sharp (@ktsharp) October 2, 2014
OK, that's pretty sweet.
2. Brandon Crawford's fourth-inning home run.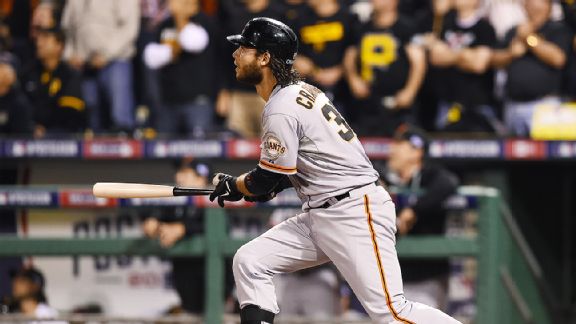 Jason Miller/Getty Images
As I wrote here,
Crawford's grand slam
off
Edinson Volquez
was preceded by an excellent plate appearance by
Brandon Belt
, taking a 2-2 curveball below the knees and then walking on a 3-2 fastball. Volquez had allowed a .136 average on 1-2 counts on the season; he just made a terrible pitch to Crawford, a curveball up in the zone that catcher
Russell Martin
wanted down and in, where Crawford would swing over the top of it.
Crawford's home run was the first grand slam by a shortstop in postseason history, which is kind of random but also kind of cool. It was just the fifth grand slam in a win-or-die game, joining Bill Skowron (Yankees, 1956 World Series), Troy O'Leary (Red Sox, 1999 division series),
Johnny Damon
(Red Sox, 2004 ALCS) and teammate
Buster Posey
(2012 division series).
3. Pirates decide to pitch Gerrit Cole on Sunday.
It may not have made a difference with the way Bumgarner pitched, but in some fashion this game turned when the Pirates made the decision to start Cole on Sunday, even though they had a slim chance of winning the division (they needed to beat
Johnny Cueto
and the Reds, hope the last-place Diamondbacks beat
Adam Wainwright
and then beat the Cardinals on Monday in a one-game playoff). It's understandable
why
the Pirates made the decision -- it's hard to turn away from giving your best effort to win a division -- and you can even argue that Volquez was every bit as good as Cole right now considering Volquez's 1.85 ERA over his final 17 starts and consecutive scoreless outings to end the season.
It's almost as if burning Gerrit Cole in a non-elimination game Sunday was a terrible idea.

— Molly Knight (@molly_knight) October 2, 2014
Remember, Edinson Volquez is #Pirates fifth-best starter. They used their best, for dubious reasons, three days ago. http://t.co/Nq2DvEzdPt

— robneyer (@robneyer) October 2, 2014
Despite that ERA, Volquez's peripherals aren't great, although his hard sinker is more of a ground-ball pitch than a strikeout pitch. Still, not many out there consider Volquez a better pitcher than Cole, as he's still prone to command issues. As our colleague Curt Schilling tweeted before the game:
Pay zero attention to his velocity, watch the catchers glove setup, and where he reaches to catch it, Volquez can miss big.

— Curt Schilling (@gehrig38) October 2, 2014
That's exactly what happened on the pitch to Crawford. He missed big.
Of course, on the other hand, maybe this game showed why the Pirates
were
smart to go all-out in trying to win the division and avoid facing Bumgarner.
4. Panda's catch.
Just because.
Pablo Sandoval makes a great catch over the dugout railing dot gif: http://t.co/QhJTMOAdCT

— Carmen Kiew (@carmenkiew) October 2, 2014
5. The night's other big winner: The Nationals
The National League Division Series could set up like this:
Strasburg-Peavy
Zimmermann-Hudson
Fister-Bumgarner
Gonzalez-Petit

— Adam Kilgore (@AdamKilgoreWP) October 2, 2014
OK, there weren't a lot of big moments in this game, so let's consider this: The Giants will now travel to Washington for the division series. I actually thought the Pirates would have provided a good test for the Nationals if they had won this game, given their deep lineup and that Cole would have been ready to start Game 1. Instead, the Nationals draw a depleted Giants lineup that is missing
Angel Pagan
and
Mike Morse
and Bumgarner will get only one start in the series. Big advantage to the Nationals. I am
not
saying the Giants don't have a chance, just that the series certainly lines up as well as possible for the Nationals.