October, 19, 2014
Oct 19
11:56
AM ET
Here's a number that may or may not surprise you. We know how great the Royals' late-inning bullpen group has been all season. Indeed, the Royals are 65-4 when leading entering the seventh inning.
But the Giants, even though
Sergio Romo
lost his closer's job during the season after a string of bad outings, weren't far behind, going 62-6 when leading entering the seventh inning.
In other words, the Giants have a very good, if less heralded, bullpen.
Brian Wilson
, the bearded closer on the 2010 champs, received his share of attention, but the bullpen has largely flown under the radar through the years. Romo,
Santiago Casilla
,
Jeremy Affeldt
and
Javier Lopez
have all been with the Giants since their first World Series run together in 2010, and the bullpen collectively has been superb in the postseason over three postseasons: 11-2 with a 2.40 ERA, .182 batting average allowed, 126 strikeouts, 37 walks and just 11 home runs in 127 1/3 innings.
[+] Enlarge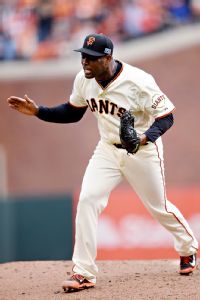 Thearon W. Henderson/Getty ImagesSantiago Casilla may not be a classic closer, but he's just one asset in a deep Giants bullpen.
One of the misconceptions about the Giants through the years is that this is a team built around its starting pitching. That's understandable: The Giants have had
Tim Lincecum
, a two-time Cy Young winner; Matt Cain, who allowed just one unearned run in three postseason starts in 2010; and, of course,
Madison Bumgarner
, who has a 2.67 ERA in his postseason career. The starting pitching
has
been brilliant during these postseason runs, with a 2.62 ERA and .214 average allowed in the 41 playoff games the Giants have played since 2010, and the rotation was outstanding in 2010, when Lincecum was still one of the best pitchers in the league.
But that postseason performance has served to obscure the Giants' regular-season strengths in 2012 and 2014. Using wins above average from Baseball-Reference.com, look at the Giants' rankings during the regular season:
2014
Starting pitchers: 0.3 (20th in majors)
Relief pitchers: 2.0 (5th in majors)
Position players: 1.5 (11th in majors)
2012
Starting pitchers: -1.6 (18th)
Relief pitchers: -2.5 (24th)
Position players: 10.9 (3rd)
2010
Starting pitchers: 7.8 (3rd)
Relief pitchers: 4.2 (1st)
Position players: 5.9 (8th)
Although the 2012 team actually had a strong group of position players -- the Giants led the National League in runs scored on the road -- you could argue that the strength of the 2014 team has been the bullpen.
Maybe the most amazing thing is that general manager Brian Sabean has been able to keep these guys together so long -- and that they've remained healthy and productive for five seasons. How many relievers are still on the same team they were on in 2010, let alone still pitching well? And give manager Bruce Bochy credit for his bullpen management; the Giants have reached the World Series with three different closers -- Wilson in 2010, Romo in 2012 and now Casilla in 2014.
Bullpens are notoriously fickle -- dominant one year, mediocre the next -- and teams often don't like to spend money on relievers. Sabean has been willing to invest in this group: The Giants
were fifth in the majors
in payroll spent on relievers (although approximately 14th in percentage of overall payroll). Even though these guys are all in their 30s, Sabean has kept them around, re-signing Affeldt as a free agent after 2012 and Lopez after 2013. Romo is a free agent after this season, and considering he just had his worst season, it will be interesting to see whether the Giants bring him back.
The most underrated guy of this underrated group may be Casilla. Since 2010, he ranks third in the majors behind only
Craig Kimbrel
and
Koji Uehara
in ERA among pitchers with at least 250 innings. (Romo is 10th.) Maybe he's underrated because while his ERA is 2.10, his FIP -- fielding independent pitching -- is 3.47. He doesn't have the dominant strikeout rates like Kimbrel or the impeccable control of Uehara. One reason for the difference between his actual ERA and that expected ERA is that Casilla's hard sinker generates ground balls but fewer strikeouts. But Casilla's batting average on balls in play has been consistently low for long enough now that it should no longer be considered a fluke. He just generates weaker contract. He's also unique for a reliever in that he's a true four-pitch pitcher with his sinker, four-seam fastball, curveball and slider. He even throws an occasional changeup.
Bochy showed in Game 5 of the NLCS, however, that he won't necessarily live and die with Casilla. When the Cardinals loaded the bases with two outs and sent up left-handed pinch hitter
Oscar Taveras
, Bochy countered with Affeldt, who induced the comebacker to thwart the rally and set up
Travis Ishikawa
's series-winning home run.
As for the World Series, the Royals' top three power guys are
Eric Hosmer
,
Alex Gordon
and
Mike Moustakas
, all left-handed batters, so expect to see plenty of Affeldt and Lopez. While Affeldt can be used for multiple-inning stints, Lopez is a true matchup guy. Affeldt is working on a string of 18 consecutive scoreless postseason appearances going back to 2010. Lopez has made 20 postseason appearances for the Giants and allowed just three hits and one run in 10 2/3 innings (.088 average).
If the Giants go on to win the World Series, I expect this underrated group of four to end up playing a huge role, maybe even outshining their Kansas City counterparts.