SweetSpot:

Washington Senators
July, 6, 2014
Jul 6
8:00
PM ET
We've reached the most fun part of the All-Star Game: Arguing about the final rosters.
The starters and reserves were named on Sunday and it was interesting to note the different philosophies of managers John Farrell and
Mike Matheny
in filling out their rosters. As expected, some worthy American League players were excluded and there were a couple surprising choices in the National League.
Some quick thoughts:
Worst American League starter: Derek Jeter, Yankees.
While I actually don't have that big of an issue with Jeter starting -- there is no
Troy Tulowitzki
in the AL that he's keeping out of the lineup -- he's probably the worst starter we've had in a long time, hitting an empty .273 with mediocre defense and no power, worth 0.5 WAR so far.
Matt Wieters
was inexplicably voted in by the fans at catcher, but since he's out for the season,
Salvador Perez
will rightfully start in his place.
Worst National League starter: Aramis Ramirez, Brewers.
Cincinnati's
Todd Frazier
is clearly the deserving starter at third base based on 2014 numbers while Ramirez is hitting .287 with 11 home runs. Considering Frazier,
Matt Carpenter
of the Cardinals and
Anthony Rendon
of the Nationals are better all-around players than Ramirez, his selection cost somebody an All-Star spot (Rendon is on the final player ballot).
Best ballot stuffing: Orioles and Brewers fans.
Who says you need to play for the Yankees, Red Sox or Dodgers to have an edge in fan balloting?
Adam Jones
was never in the top three among outfielders until passing
Yoenis Cespedes
at the wire. He's a fine selection, however, and has come on strong after a slow April. Orioles fans also voted in Wieters and
Nelson Cruz
in that crowded DH slot that included
Victor Martinez
,
Edwin Encarnacion
,
Brandon Moss
and
David Ortiz
. Likewise,
Carlos Gomez
passed
Giancarlo Stanton
for the third outfield spot in the NL behind
Yasiel Puig
and
Andrew McCutchen
. Stanton clearly should be starting but Gomez is arguably one of the top three outfielders in the NL. Brewers fans, however, couldn't get
Jonathan Lucroy
voted in over
Yadier Molina
, so Lucroy will be the backup.
National League DH should be: Stanton.
Pretty each choice here for Matheny. Heck, start him and let him play the entire game. A nation that never watches Marlins games should see this guy get four at-bats.
Jeff Samardzija, almost an All-Star.
The players had actually voted for Samardzija as one of the five best starters in the NL, along with
Johnny Cueto
,
Adam Wainwright
,
Clayton Kershaw
and
Madison Bumgarner
. Samardzija had a 1.68 ERA through May, so you can see why he fared well in the balloting. His ERA had since climbed to 2.83 with some bad outings and he was replaced by
Julio Teheran
of the Braves.
Worst player selection: Charlie Blackmon, Rockies.
The players actually did a much better job than they usually do and Blackmon's selection was the only dubious choice, a guy who had a monster April but is down to .295/.341/.463, mediocre numbers for a guy who plays in Colorado. To be fair, the NL lacked obvious choices for the fifth and sixth outfielders, but they somehow came up with a player ranked 21st among NL outfielders in FanGraphs WAR.
Justin Upton
,
Ryan Braun
,
Billy Hamilton
or even Rockies teammate
Corey Dickerson
(hitting .340) would have been better selections.
The AL crunch:
Farrell had some tough choices in filling out his squad. His manager selections were
Jon Lester
(deserving and the only Red Sox rep),
David Price
(deserving and the only Rays rep),
Glen Perkins
of the Twins,
Max Scherzer
of the Tigers,
Kurt Suzuki
of the Twins (a third catcher), Encarnacion and Moss. I guess you have to carry three catchers and I don't have a problem with the Scherzer selection. Encarnacion was a lock with his big numbers so the final choice probably came down to Moss or another player.
Biggest snubs: Ian Kinsler, Tigers; Kyle Seager, Mariners.
And that led to Kinser and Seager being this year's biggest snubs. Entering Sunday, Kinsler ranked third among AL position players in fWAR and Seager seventh. In Baseball-Reference WAR, they ranked third and sixth, so by either measure two of the AL's top 10 players didn't make it. It's not that an undeserving player made it -- the players voted in
Jose Altuve
and
Adrian Beltre
as the backups at second and third -- just that there were too many good players and not enough spots (unless you want to knock out a third catcher). You can debate the Moss selection, but I can see the desire to have the left-handed power off the bench if needed late in the game. (Remember, it counts!)
Matt Carpenter and Pat Neshek are good selections:
Matheny picked two of his own players -- third baseman Carpenter and righty reliever Neshek. I'm sure both picks will be criticized but when you dig into the numbers, both are worthy choices. Carpenter isn't having as good a season as last year, but he's still 10th among NL position players in fWAR and 15th in bWAR. Please, I don't want to hear that
Casey McGehee
is more deserving.
As for Neshek, his numbers are outstanding: 0.78 ERA, 35 strikeouts, four walks and a .134 average allowed. He has been as dominant as any reliever in the game, even if he's not a closer. He's also a great story, once one of the game's top set-up guys with the Twins in 2007 but suffering years of injuries since. On the day the A's clinched the AL West on the final day of the 2012 season, his infant son died after just 23 hours. The Cardinals signed him in February to a minor league deal with an invite to spring training, so Neshek certainly qualifies as this year's most improbable All-Star (along with
Dellin Betances
of the Yankees).
I suspect Matheny also picked Neshek for late-game strategic purposes -- his sidearm delivery is killer on right-handed batters (although he has been just as effective against lefties this year), so you can see him matching up against Encarnacion or
Jose Abreu
if there's a big moment late in the game. Similarly, Matheny picked Pirates lefty reliever
Tony Watson
, a good strategic move since he had only three other lefties on the team.
Strangest selection:
That picking reserves for strategic reasons also led to the selection of Pirates utility man
Josh Harrison
. I get it: He's having a nice season and can play multiple positions, but it's a little odd to pick a guy who doesn't even start regularly for his own team (reminiscent of the
Omar Infante
choice a few years ago). Rendon -- who has played second and third -- is the better player and Matheny already had versatility with Carpenter and
Dee Gordon
.
Best AL final man: Chris Sale, White Sox.
Farrell went with five pitchers -- Sale,
Dallas Keuchel
,
Corey Kluber
,
Garrett Richards
and
Rick Porcello
. I wrote the other day that four of these guys would be battling for a spot or two (along with
Scott Kazmir
, who got voted on by the players). All are worthy but the best choice is pretty easy since Sale is one of the top starters in the game and would have otherwise already made the team if not missing some time with an injury.
Best NL final man: Anthony Rizzo, Cubs.
Torn here between Rizzo and Rendon, but since Matheny has already loaded up with third basemen and second basemen, let's go with Rizzo in case you need to swing for the fences late in the game.
Suggested AL lineup: Jeter better hit ninth.
Mike Trout
, CF;
Robinson Cano
, 2B;
Jose Bautista
, RF;
Miguel Cabrera
, 1B; Nelson Cruz, DH; Adam Jones, LF;
Josh Donaldson
, 3B; Salvador Perez, C; Derek Jeter, SS. With
Felix Hernandez
on the mound.
Suggested NL lineup.
Yasiel Puig, RF; Andrew McCutchen, CF; Troy Tulowitzki, SS; Giancarlo Stanton, DH;
Paul Goldschmidt
, 1B; Carlos Gomez, LF; Aramis Ramirez, 3B;
Chase Utley
, 2B; Yadier Molina, C. With Clayton Kershaw on the bump.
April, 30, 2014
Apr 30
12:33
AM ET
The much-anticipated
Alex Wood
versus
Jose Fernandez
rematch didn't materialize on Tuesday night, as Fernandez turned in another dominating performance with eight scoreless innings while Wood gave up 10 hits and seven runs. What did materialize was another
Giancarlo Stanton
laser beam home run, this one into the right-center bullpen at Marlins Park.
Is there a more exciting batter to watch in the game right now? While I'd certainly put guys like
Mike Trout
,
Miguel Cabrera
,
Freddie Freeman
and newcomer
Jose Abreu
right up there, Stanton combines the prospect of a potential tape-measure home run with every swing along with maybe the most intimidating presence in the game as he digs in. At 6-foot-6 and 240 pounds or so, he's a tight end playing right field, a 24-year-old who is quickly joining legendary status for his tape-measure home runs. (Is there better term in sports than "tape-measure home run"?)
His home run off Wood was measured at a mere 391 feet -- the
shortest
of the eight he's hit this season. His
484-foot blast
off
Eric Stults
back on April 4 that landed in Pensacola is the longest in the majors so far this season, but Stanton has also crushed home runs of 469 and 457 feet, according to the ESPN Home Run Tracker. His average distance per home run of 427 feet trails only Mike Morse, who benefited from two long home runs in the thin air of Coors Field back on April 23, and
Ian Desmond
, who has just four home runs.
[+] Enlarge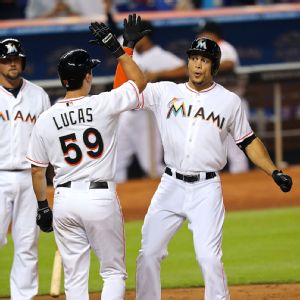 Mike Ehrmann/Getty ImagesAfter mashing his latest big fly for the Fish, Giancarlo Stanton had plenty to celebrate.
Of course, those distance numbers are nothing new for Stanton. He ranked third in 2013 behind only Trout and
Justin Upton
in average home run distance (minimum 18 home runs), had the
longest home run
in the majors in 2012 (494 feet) and the second-longest average distance in 2011 behind Upton. Eighteen of his 125 career home runs have been measured at 450-plus feet and he's done that despite playing half his games in the thick swamp air of Miami.
As an all-around hitter, Stanton may or may not be a finished product. He has 34 strikeouts in 26 games and that strikeout rate may prevent him from becoming a .300 hitter (he did hit .290 in 2012 and is at .269 in 2014). That's another reason he's so tantalizing as a hitter: Has he reached his apex, or is there more still to come?
Stanton's prodigious blasts have to put him on the short list as one of the greatest pure power hitters of all time, right? He's one of those guys who busts the 80 power rating on the 20-to-80 scouting scale. Based mostly on anecdotal evidence, history books, legends, myths, lies, truths and a personal favorite or two, here are my 10 most powerful home run hitters ever, in no particular order:
Babe Ruth
Of course. His longest home run? In Robert Creamer's "Babe," the author writes of a spring training blast hit with the Red Sox in 1919 against the Giants in Tampa. The game was played at the Tampa fairgrounds, with a baseball diamond laid in the infield of the horse racing track. "No one had ever seen a baseball hit anywhere near as far before," Creamer writes. "A couple of sportswriters talked to [Giants outfielder Ross] Youngs afterwards and got him to show them the precise spot where the ball had ended up. They paced off the distance back to home plate and found themselves disbelieving the results."
Contemporary accounts placed the distance at "more than 500 feet" to "more than 600 feet." Red Sox general manager Ed Barrow, who was present that day, said it went 579 feet. There are other stories of long Ruth home runs, but Creamer's account is probably the most reputable and accurate, at least as far as these things go.
Mickey Mantle
Mantle's 565-foot home run off Chuck Stobbs that cleared old Griffith Stadium in Washington, D.C., is widely recognized as the longest hit in a major league game. Thing is, however: That number was a basically a fabrication of Yankees publicist Red Patterson. In Jane Leavy's "The Last Boy," she exhaustively researched the home run, even tracking down Donald Dunaway, the 14-year-old kid who retrieved Mantle's baseball from a front yard beyond the left-field fence that day and showed Patterson where he had found it.
That 565 feet that Patterson roughly measured off was where Dunaway found the ball, not where it landed. Others have looked into the distance and laughed at the 565 estimate. Robert Adair, author of "The Physics of Baseball," estimated 506 feet, give or take five feet. He told Leavy, "That number 565 is pure fiction. It was where they picked up the ball after it rolled across the street." Home run historian Bill Jenkinson estimated the home run at 505 to 515.
How hard is it to hit a ball 565 feet? Last April, Greg Rybarczyk explained where
such a ball would land
at various ballparks.
So maybe Mantle's shot isn't the longest home run ever hit. Or maybe it is.
Mark McGwire
There's
this home run
hit off a
Randy Johnson
97 mph fastball in the Kingdome in 1997 and
this one
at Busch Stadium on May 16, 1998, that was estimated at 545 feet at the time. McGwire said on that home run after the game: "The best ball I've ever hit. I don't think I could hit a better one." Manager Tony La Russa: "I think he's got a little more than that."
Dave Kingman
Built like Stanton, Kingman was the subject of a famous Tommy Lasorda rant not suitable for this website, said athletes are "pieces of meat," skipped Dave Kingman Day at Wrigley Field because he was on the disabled list and instead went fishing and once sent a female sportswriter a live rat in a pink box. He also hit mammoth home runs when he wasn't striking out.
I once saw Kong hit a ball off the speaker that hung over the outfield in the Kingdome in deep left-center. Who knows how far the ball would have gone had it not been interrupted mid-flight. He's also known for two long home runs at Wrigley Field.
This one
, hit on May 17, 1979, during that semi-famous 23-22 slugfest against the Phillies. (The home run is at the 23-second mark. Love the announcer saying "That one's in Milwaukee!") The wind was blowing out that day at 18 mph. It was also blowing out on April 14, 1976, when Kingman belted one that the New York Times reported went 630 feet. It hit the third house beyond Waveland Avenue, which is 530 feet from home plate. Not 630, but still pretty impressive.
Glenallen Hill
Speaking of prodigious Wrigley Field blasts,
my lord
. I think more than the players may have been juiced.
Josh Gibson
Buck O'Neil tells a great story about the Hall of Fame Negro League catcher in Joe Posnanski's "The Soul of Baseball." As a kid in Florida, he had seen Babe Ruth in spring training. Twenty years later, O'Neil was with the Kansas City Monarchs, in the clubhouse getting dressed for the game, when he heard that
sound
again. Posnanski writes:

He heard that same crack of the bat -- to Buck the sound seemed to shake the walls. He rushed out into the dugout -- he was wearing only his jock -- and he climbed to the top step. He saw a thick muscular black man swinging a bat roughly the size of a fully grown oak tree. The man hit the next pitch, and that unmistakable sound rang again in Buck O'Neil's ears. That was Josh Gibson.

Dick Allen
Known for his immense opposite-field power, Allen once hit the roof fašade in deep left-center at Tiger Stadium, a distance of 415 from home plate -- but also 85 feet in the air. Players on the field swore the ball was still ascending. That's unlikely; Jenkinson estimates if that was the case the ball would have gone 700 feet. But Allen was clearly one of the few who possessed the ability to hit a baseball 500 feet.
Willie Stargell
Only four balls have been hit completely out of Dodger Stadium -- two of them by Stargell, merely a visiting player there with the Pirates. On Aug. 6, 1969, he hit an estimated 507-foot home run off Alan Foster that cleared the right-field pavilion and hit a bus parked outside the stadium.
Frank Howard
Before my time, Howard was a mammoth individual, 6-foot-7, 275 pounds, one of the largest players in major league history. While with the Senators, he reached the upper deck at RFK Stadium an amazing 24 times (earning the nickname "The Capital Punisher"). He also cleared the Tiger Stadium roof with one legendary home run. His response to that home run, in a 2010 interview with David Lauriila at Baseball Prospectus: "I think I've hit baseballs a lot further than that. That one probably only traveled 530-540 feet, and I think I hit about half a dozen of them well over 600 feet."
What, are you going to question Frank Howard?
Rob Deer
Rob Deer? Sure, Rob Deer. Built like a linebacker, Deer took one of the most ferocious swings you'll ever see. He hit one out of old Comiskey Park and I once saw him hit one off the left-field foul pole in Seattle -- WAY up the foul pole. And I swear it was ascending. He didn't connect very often, but when he did, ball go far.
January, 27, 2014
Jan 27
1:30
PM ET
Jayson Stark has a piece today looking back at the
reign of commissioner Bud Selig
. One of the important legacies of Selig's tenure has been revenue sharing -- as Jayson points out, nearly $400 million exchanged hands last season, helping some of the less affluent clubs compete with the big boys.
But we know not all teams are created equally in terms of payroll, a point further hammered home when the Yankees outbid the likes of the Astros and Diamondbacks for the services of pitcher
Masahiro Tanaka
. I thought I'd look back at the past five seasons and review each franchise. We'll rank them from last to first based on total wins -- but also list their total payrolls in that span. (All payroll information is taken from
Cot's Baseball Contracts
and are drawn from estimated Opening Day payrolls each season.)
30. Houston Astros: 312 wins, $359.5 million in payroll (23rd)
The Astros and Mets were the only teams not to have at least one winning season in our five-year study. The Astros' $26.1 million Opening Day payroll in 2013 was also the lowest in the past five years. They've gone through the worst three-year span -- 106, 107 and 111 losses -- since the expansion Mets lost 120, 111 and 109 games. Of course, the recent struggles are the result of general manager Jeff Luhnow's complete tearing down of the organization and basically starting over.
They'll have the No. 1 overall pick in the June draft for the third year in a row, helping to reload a now highly rated farm system. And the payroll, after stripped to the bare minimum in 2013, will increase to an estimated $48 million after signing
Scott Feldman
and trading for
Dexter Fowler
. But when will they start winning and how difficult will it be to win the fans back?
An aside here on competitive balance. Let's get this out of the way. You still hear a lot of fans arguing that a salary cap -- a hard cap, I presume, and not a luxury tax threshold -- would make things "more fair." I guess by "fair" they usually mean "so the Yankees and now the Dodgers can't sign all of the best free agents."
A salary cap, however, doesn't necessarily create more competitive balance. Just look at the NFL. In the past five NFL seasons, six teams never made the playoffs
or
had a winning record. Two others haven't made the playoffs. That doesn't even include the Detroit Lions, who have had one winning season and playoff appearance in 13 years.
Baseball's system may not be fair, but there isn't evidence that another system would create more parity.
29. Chicago Cubs: 356 wins, $629.3 million (7th)
The Cubs certainly win honors for most mismanaged franchise of the past half-decade, at least in terms of dollars spent per win. From 2009 to 2011, they had payrolls of at least $134 million and topped out at 83 wins in 2009 (after winning division titles in 2007 and 2008). Don't blame Theo Epstein and Jed Hoyer completely for the past two years, as they inherited bloated contracts like the ones of
Alfonso Soriano
and
Carlos Zambrano
. The payroll this year should sit at about $78 million, with a slew of top-rated prospects -- Javier Baez, Kris Bryant, Albert Almora,
Jorge Soler
, C.J. Edwards -- starting to arrive perhaps by the end of the season.
28. Seattle Mariners: 359 wins, $453.7 million (15th)
The Mariners have stumbled and bumbled their way through a decade's worth of bad, boring teams and awful free-agent signings like
Carlos Silva
and
Chone Figgins
. Despite owning five top-five picks since 2005 (
Jeff Clement
,
Brandon Morrow
,
Dustin Ackley
,
Danny Hultzen
,
Mike Zunino
) the Mariners' farm system has yielded little in the way of top-line talent since
Felix Hernandez
arrived in the big leagues. They signed
Robinson Cano
to the monster contract this offseason, but haven't done much else to provide him help other than to acquire
Corey Hart
and
Logan Morrison
, two guys with bad knees. The once fervent fan base has deteriorated and the entire city is wearing Russell Wilson and Richard Sherman jerseys. This is Jack Zduriencik's last gasp; a crushing exposé in the Seattle Times in December painted a picture of an
organization without a clue
.
27. Kansas City Royals: 361 wins, $329.7 million (25th)
They finally broke through in 2013 with their first winning season since 2003 and second since 1994. In 2011, the Royals had stripped the roster of veterans, and payroll was down to $38.2 million. As the young talent has started to mature, the payroll increased to $82 million in 2013 and looks to be another $10 million higher for 2014.
26. Pittsburgh Pirates: 364 wins, $248.5 million (30th)
After winning 94 games, Pirates fans are understandably frustrated at the club's offseason. While waiting for
A.J. Burnett
to retire or not retire, the Pirates have basically stood pat and done nothing. The future should be bright. Like the Astros and Cubs, they have a highly rated farm system oozing in talent. The advantage the Pirates have is the big league roster already includes an MVP in
Andrew McCutchen
and a potential future Cy Young Award winner in
Gerrit Cole
.
25. Miami Marlins: 370 wins, $294 million (28th)
The Marlins tried that whole fancy free-agent thing in 2012 and look what happened: 93 losses. Don't think we'll be seeing owner Jeffrey Loria going down that road again. The Marlins dropped from a $100 million payroll in 2012 to $50 million in 2013. Despite the influx of $26 million in additional national TV revenue for 2014, Miami's payroll may be even lower. Enjoy
Jose Fernandez
while you can, Marlins fans.
23. New York Mets: 374 wins (tie), $606.9 million (8th)
Matt Harvey
's injury has allowed the Mets to sell 2014 as another rebuilding year, although they did sign free-agent outfielders
Curtis Granderson
and
Chris Young
and starter
Bartolo Colon
. The Mets have one playoff appearance in the past 13 years. I'm guessing it will be one in 14.
23. Cleveland Indians: 374 wins (tie), $338.5 million (24th)
Right now, the Indians' payroll sits right about where it was last season ($82 million), making you wonder if they're hedging on
Ubaldo Jimenez
not finding a suitor and returning to Cleveland. In 2001, the Indians' payroll was ... $93 million. That was the year after Larry Dolan bought the team and the Indians made the playoffs for the sixth time in seven years. Within three years, the payroll had been slashed to $34 million, attendance had fallen by 1.3 million and the Indians have been trying to build a consistent winner ever since. They won last year but the fans still haven't returned, as attendance was actually lower than the 94-loss team of 2012.
22. Minnesota Twins: 376 wins, $458.6 million (13th)
The Twins won six division titles from 2002 to 2010 -- a weak division in that era helped -- but fell apart overnight and have now lost 90-plus games three years in a row, despite three of the four highest payrolls in franchise history. Byron Buxton and Miguel Sano are two of the top-10 position players in the minors and could arrive sometime this season to help turn things around.
21. Baltimore Orioles: 377 wins, $404.1 million (20th)
Peter Angelos bought the Orioles for $173 million in 1993. For the first several years of his ownership, Camden Yards was packed, the Orioles were competitive (making the playoffs in 1996 and 1997) and they spent freely on payroll, topping $80 million in 1999 and 2000. But as the losing seasons mounted and attendance dwindled, the Orioles seemed unsure of what approach to take. They never committed to a rebuild, but also never committed more resources to payroll. The success of the past two seasons has brought more fans to the ballpark, although they're still well below the figures of the late '90s. Still, Angelos and his son John are reluctant to take a big plunge in free agency and increase payroll much beyond what the club was spending more than a decade ago. The Orioles are now valued at somewhere between $618 million (Forbes) and $1.1 billion (Bloomberg).
20. Colorado Rockies: 386 wins, $396.8 million (21st)
The Rockies made the playoffs in 2009, but have now suffered three straight losing seasons. Their payroll and attendance figures have remained about as consistent as any team in baseball in the past five years, which alludes to a business plan that the front office sticks to. Unfortunately, a solid business plan doesn't mean a solid team on the field. The big moves this offseason were taking chances on
Justin Morneau
and
Brett Anderson
and signing reliever
Boone Logan
to a three-year contract. Those three players likely will have little impact. General manager Dan O'Dowd has been in charge since 2000 and presided over four winning seasons in 14 years. Why does he still have a job?
18. Toronto Blue Jays: 388 wins (tie), $432.8 million (17th)
Hey, the Blue Jays tried to go big last year. While everything went right for the Red Sox, everything went wrong for the Blue Jays. Still, in the end, the Jays haven't made the playoffs now since winning the 1993 World Series. Only the Royals (1985) have gone longer without a postseason appearance.
18. San Diego Padres: 388 wins (tie), $251.3 million (29th)
Perhaps no team is ultimately limited by its geographic location more than the Padres -- blocked to the north by the Dodgers and Angels, to the west by the Pacific Ocean, to the east by a desert and to the south by Mexico. San Diego is still a bigger metro market than Tampa, St. Louis, Cincinnati or Cleveland, but even if they started winning, it's not like baseball fans in Pasadena are going to suddenly dump the Dodgers for the Padres. So the Padres are always operating within a tight budget, although that budget hasn't really grown in a decade.
You know what else has hurt the Padres? They've never really hit rock bottom. There is a potential long-term advantage to doing what the Astros have done -- sorry, I'll call it tanking, even if it was the smart thing to do. By getting those No. 1 picks, the Astros secured premium, sure-thing talent. The Padres have had five top-10 picks in the past decade, but only two in the top five. OK, they blew the first overall pick on
Matt Bush
in 2004, taking him over
Justin Verlander
. No excuse there, as Bush turned into the worst No. 1 pick ever. They took outfielder Donavan Tate third in 2009 in what proved to be a pretty weak draft and he hasn't developed. Until the Padres develop a hitter or two to build a lineup around, this team is going to stick to about a 76-86 record every season.
17. Arizona Diamondbacks: 391 wins, $367.2 million (22nd)
We've apparently entered the NL West portion of our rankings. They've finished 81-81 the past two years. Has any team ever finished .500 three years in a row? It doesn't appear so. The Padres won 81 games in 1982 and 1983 ... and then reached the World Series in 1984. So there you go, Diamondbacks fans.
16. Washington Nationals: 392 wins, $405.7 million (19th)
Case in point to my Astros/Padres argument:
Stephen Strasburg
and
Bryce Harper
. The Indians came very close from 1979 to 1981, going 81-80, 79-81 and 52-51. The Nationals dropped from 98 to 86 wins, and those 86 wins resulted only after an 18-9 record in September. With the price of success has come an increased payroll: $92.5 million in 2012, $118.3 million last year and about $130 million this year.
Later today: The top 15 teams.
February, 24, 2013
2/24/13
6:30
PM ET
By
Christina Kahrl
| ESPN.com
It's Oscar night, and I'm sure some significant portion of all y'all will watch them. It might be just be me, but every year it seems like I'm disappointed that there aren't more baseball movies being made, let alone Oscar-worthy baseball movies. A couple of years ago I came up with
a list of baseball topics that would make great movies
over at Baseball Prospectus.
I was, and still am, curious what baseball movies other people would love to see made, but my short list 10-1 was: Jane Leavy's novel
Squeeze Play
, Jim Thorpe's life, the 1890s Orioles,
Give 'Em The Bird: The Semi-True Life and times of the San Diego Chicken
, Roberto Clemente, the cocaine scandals of the '80s, Bill Veeck, Pete Rose, Billy Martin and Jackie Robinson. In the spirit of the occasion, let me know what you think of my initial concepts, and let's hear a few of your own.
December, 31, 2012
12/31/12
2:30
PM ET
We did two earlier
. Let's try another one.
Player A is a regarded as a star player, a slick-fielding second baseman who has won three Gold Glove Awards, has power and finished 13th in the MVP voting in 2012. Player B is a young player with holes in his game, most notably the low batting average and high strikeout rate. Player A, as you probably figured out, is
Brandon Phillips
of the
Cincinnati Reds
; Player B is
Danny Espinosa
of the
Washington Nationals
.
Phillips
is
the better player, but the comparison shows how the two are much closer in value than the widely held public perception and how focusing on negatives can obscure a player's contributions. Phillips hits for a decent average -- .281 in 2012, right at the .280 mark he's held steady at since becoming Cincinnati's starting second baseman in 2006 -- and puts the ball in play. With Espinosa, it's easy to focus on all the strikeouts -- he led the National League with 189.
But offensively, the two are similar in value; Espinosa just contributes in different ways. He walks more than Phillips, gets hit by a few more pitches and grounds into fewer double plays. Espinosa stole a few more bases (20 to 15) but Phillips is a better baserunner. Overall, we estimate that Phillips created about 77 runs in 2012 and Espinosa about 76 (in a few more plate appearances). Phillips, however, derived a power advantage from his home park -- 15 of his 18 home runs came in Cincinnati (14 of 18 in 2011). Put Phillips in a more neutral context and his home run total likely takes a dip.
Defensively, Phillips had +11 Defensive Runs Saved, Espinosa +4.
Who do I like in 2013? Phillips had a noticeable drop in his walk rate -- the lowest since joining the Reds -- and that's a concern. A drop in walk rate could indicate a player cheating to speed up his bat. He's entering his age-32 season, so it's not only a minor concern, but something to watch early in the season. Espinosa enters his third season and the strikeout rate is an issue. It actually worsened from his rookie season and if he doesn't learn to put a few more balls in play, the strikeouts will prevent from other becoming a star player.
But he's a good player right now, just one of many reasons the Nationals won the most games in the majors in 2012.
December, 13, 2012
12/13/12
12:25
PM ET
Who is the greatest pitcher ever? There are different answers to that question, I suppose.
When Bill James ranked pitchers a decade ago in his "New Bill James Historical Baseball Abstract," he had Walter Johnson at the top of his list, followed by Lefty Grove and Pete Alexander (
Roger Clemens
and
Greg Maddux
were still finishing up their careers).

According to Baseball-Reference.com's career WAR leaders list, it's Cy Young, followed by Johnson and Clemens.
If you go by the highest percentage of votes upon induction into the Hall of Fame, it's Tom Seaver and Nolan Ryan (who have the highest percentages of
any
players), followed by Steve Carlton.
If you go by Cy Young Awards, it's Clemens, followed by
Randy Johnson
and then Maddux and Carlton.
If you just go by career wins, it's Young, Johnson (Walter, not Randy) and then Alexander and Christy Mathewson.
That's 11 pitchers we've mentioned, all with varying claims to being the "greatest ever," and you see why there isn't an easy answer to this. And that doesn't include Warren Spahn or Bob Gibson or
Pedro Martinez
or Sandy Koufax ...
In the Hall of 100 vote, Clemens finished as the highest-ranked pitcher -- seventh overall -- while Walter Johnson ranked 13th and Maddux 14th. Let's focus on those three since they led the voting. It's a little easier to compare Clemens with Maddux since they were contemporaries and I think the voters got this one right. While Maddux had that incredible run of four straight Cy Young seasons from 1992 to 1995, I'm not sure how you rate him higher than Clemens, even if you emphasize peak seasons.
On a career basis, it's not that close -- Clemens towers above Maddux in career WAR. Let's look at peak value.
Best three seasons -- Clemens 31.0 WAR, Maddux 26.7 WAR.
Best five seasons -- Clemens 48.0 WAR, Maddux 41.3 WAR.
Best eight seasons -- Clemens 70.9 WAR, Maddux 59.4 WAR.
That's how awesome Clemens was -- clearly better than the wonderful, amazing Maddux. And before you start jumping on Clemens' alleged PED usage -- keep in mind that the Hall of 100 voters were told to factor in only what happened on the field -- Clemens' best seasons were 1997, 1990, 1987, 1986 and 1992. Other than that outlier 1.87 ERA season with Houston in 2005 when he was 42 (a season driven by a low .246 average allowed on balls in play), his aging pattern wasn't really all that unique. His best seasons came when he was younger and threw harder and threw more innings. Remember, this was a guy who once threw 18 complete games in a season but threw just four over the final nine years of his career. And keep in mind that many pitchers have been excellent in their 40s -- Ryan, Randy Johnson, Young. Warren Spahn won 23 games at age 42. Being a great pitcher in your 40s isn't as historically unique as being a great hitter in your 40s.
Clemens versus Walter Johnson is a more difficult comparison, considering one guy was born in 1887.
Johnson had more innings and the lower ERA, but that's a product of environment, of course. Johnson pitched most of his career in the dead-ball era, when home runs were essentially a non-factor -- in 1916, he pitched 369 innings and didn't allow a single home run. Of course, there were only 144 hit that entire season in the American League. When you adjust each pitcher's ERA to its era -- the ERA+ figure above -- it's pretty close, with Johnson having just a very slight edge.
And because Johnson pitched in an era when starters threw more innings, his best seasons are worth more then Clemens', at least in terms of WAR -- 14.3 in 1913, 12.9 in 1912, 11.5 in 1914, 10.8 in 1910 and 1915. Johnson was 32 when the "lively ball" era began in 1920, and his best after that point 6.3 WAR in 1924. If we look at how many times each pitcher led his league in WAR, we get Johnson with eight and Clemens with seven. Clemens led in ERA seven times, Johnson five. Johnson won more games and pitched more innings, but lost many more games. Clemens pitched on better teams, but the Senators of Johnson's era weren't as awful as often believed, and they later won two pennants in 1924 and 1925. Baseball-Reference estimates the winning percentage that a player would push an otherwise average team to -- for Clemens, it's .633, for Johnson it's .621.
It's close. In our voting system, I gave both players a 95. If I had to rank ... well, I give the edge to the guy from the more modern times.
You may disagree.
December, 11, 2012
12/11/12
11:45
AM ET
The ESPN Hall of 100 will be
unveiled all week on ESPN.com
, starting with Tuesday's list of Nos. 100 through 76, plus the top 25 honorable mentions. Here are five guys who didn't crack the top 125 -- but should have.
Carl Hubbell, No. 126
When I was a kid, Hubbell was still viewed as one of those mythical players from baseball's past, down to the pictures of his left arm all gnarled and twisted from throwing his screwball to one of the great nicknames ever: The Meal Ticket.
[+] Enlarge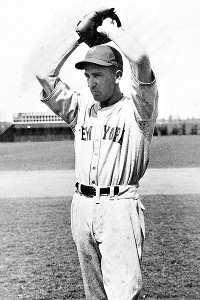 Getty ImagesThe Tigers gave up on Carl Hubbell as a minor leaguer -- in part because Ty Cobb didn't think Hubbell could win throwing a screwball.
During his 1932-37 peak with the New York Giants, Hubbell went 133-61 with a 2.52 ERA -- averaging 22 wins per season -- starting 201 games and completing 136 of them (he also saved another 22, back in the days when a team's best starter often pitched out of the bullpen). He topped 300 innings in four consecutive seasons -- he had four of the 17 300-inning seasons of the 1930s. He and Hal Newhouser are the only two pitchers to win two BBWAA MVP Awards.
It was a peak level of high degree. Sandy Koufax, for example, went 129-47 with a 2.19 ERA during his six-year run of excellence, but he did so in an era where fewer runs were scored than the National League of the 1930s, and in a better park to pitch in. Bill James ranked Hubbell ahead of Steve Carlton, Robin Roberts, Jim Palmer, Gaylord Perry, Juan Marichal and Nolan Ryan, yet all ranked much higher than Hubbell in the Hall of 100.
What happened to Hubbell's legacy? I think he was hurt by the run of 300-game winners -- first the Carlton/Perry/Ryan generation and then the Greg Maddux/Roger Clemens/Tom Glavine/Randy Johnson group. Hubbell won "only" 253 games, but his peak value was so extraordinary that he should be in the top 100 -- with ease.
Mike Mussina, No. 130
Mussina's legacy is a little more difficult to define: He didn't win 20 games until the final year of his career, never won an ERA title, never won a Cy Young Award, didn't win 300 games. He joined the Yankees in 2001 and retired after 2008; they won World Series titles the year before he joined the team and the year after he left. That doesn't help a guy's reputation.
While he may never have been the
best
pitcher in his league, he was always
one
of the best, a pitcher with impeccable control and just enough hop on his fastball. He finished in the top 10 in ERA in his league in 11 seasons -- the only pitchers with as many top-10 finishes are the legendary names: Young, Clemens, Walter Johnson, Spahn, Grove, Alexander, Mathewson, Seaver, Ford, Tim Keefe, Maddux and Perry.
Mussina is different from Hubbell in that he was consistently excellent over many seasons, as opposed to dominant over a shorter period. Let's go all sabermetric for a second here. Since the lively ball era began in 1920, the only pitchers to accumulate more 4+ Wins Above Replacement seasons than the 12 Mussina had were Roger Clemens, Bert Blyleven, Tom Seaver and Lefty Grove. Mussina's 3.68 ERA may not seem impressive, but remember that he pitched through the heart of the steroids era.
His adjusted ERA is the same as Juan Marichal's, better than Warren Spahn's or Gaylord Perry's or Steve Carlton's. His career WAR of 78.2 places him 57th all time. As for 300 wins, Mussina could have hung around and won 30 games, but hanging around for a few extra seasons wouldn't have changed his ultimate value (even if it would have made his path to the Hall of Fame easier). He should have been in the top 100. (Oh, and he was a pretty good postseason pitcher as well: 7-8, but with a 3.42 ERA, 121 hits in 139.2 innings, with 145 strikeouts and 33 walks.)
Goose Goslin, No. 140
From Moose to Goose, an outfielder in the 1920s and '30s. Goslin's legacy has faded with time, but he hit .316 in his career and drove in 100 runs in 12 seasons. True, he did play in a high-scoring era, but if Goslin had played in the 1990s and 2000s, he may have hit 500 home runs in his career instead of 248.
A couple notes on that. While players such as Babe Ruth, Lou Gehrig and Jimmie Foxx were putting up big home run numbers, most players weren't -- still content to aim for high batting averages instead of home runs. Goslin finished in the top 10 in his league in home runs in 10 seasons, with totals that don't seem that impressive today: fourth in 1926 with 16, third in 1928 with 17, sixth in 1929 with 18 and so on. But as Bill James noted, "Goslin lost about as many home runs to playing in poor home run parks as any player in history." Goslin spent much of his career in mammoth Griffith Stadium with the Senators, and in his career hit 156 home runs on the road but only 92 at home.
Another Goslin note: He appeared in five World Series despite never playing for the Yankees or the Philadelphia A's, the two dominant franchises during his years in the American League. He reached three with the Senators and two with the Tigers. I'm not sure if he's quite a top-100 player, but he's right there.
Bobby Grich, No. 157
[+] Enlarge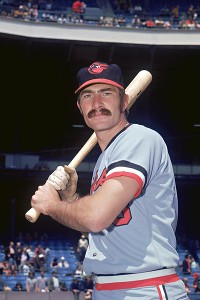 Getty ImagesBobby Grich came up with the Orioles before moving to the Angels, starting for five division winners.
OK, I'm actually surprised Grich rated as high as he did, as he's probably the most criminally underrated player in baseball history by everyone but hard-core sabermetric types. Grich hit .266 in his career and most people stop there: When he first appeared on a Hall of Fame ballot he received less than 3 percent of the vote and was unceremoniously sent to the junk pile.
But Grich helped his teams win a lot of games by doing everything else: He drew walks, was a tremendous fielder, had excellent power for a second baseman, didn't make errors. He did a lot of the things that weren't glamorous. In understanding Grich's value, it's important to know the context of his numbers: Outside of Joe Morgan and Rod Carew (before he moved to first base), most of the second basemen of Grich's era were little punch-and-judy hitters who were hitting .260 with four home runs and few walks. Grich may hit .260 to .270, but with 80 to 100 walks and double-digit home runs.
Fun fact: Grich had a higher career on-base percentage than George Brett -- even though Brett had a batting average 39 points higher.
As James wrote in 1983, "A lot of second basemen are close to him in one respect or another -- but as a complete player, nobody else is on the same planet."
Dazzy Vance, No. 180
Vance had one of the more remarkable careers in baseball history. He initially reached the majors in 1915 but didn't win a game and spent almost all of the next six years in the minor leagues, battling a chronic sore arm and wildness. By the time he finally made it back to the majors with the Brooklyn Dodgers in 1922 he was 31 years old. With his blazing fastball, he promptly led the league in strikeouts in seven consecutive seasons and still managed to win 197 games.
Vance may not deserve a top-100 ranking based on career WAR, but remember that WAR is a cumulative stat, so you can pile up a lot of a value by hanging around for a lot of years and just not being terrible. I think sometimes we underestimate the value of those high-peak seasons. Vance is like Koufax: A guy with a relatively short career but was the best in the game for a period of time. He rates as the best pitcher in his league in four seasons and his 1924 MVP season is one of the best of the lively ball era: 28-6, 2.16 ERA, 30 complete games in 34 starts.
In fact, compare Vance's five great seasons with Koufax's five great seasons, via WAR:
Vance: 10.3, 9.7, 7.6, 7.0, 5.9
Koufax: 10.3, 10.0, 7.6, 7.0, 5.3
(Vance even has a career WAR higher than Koufax.)
The big difference between the two: The Dodgers of Vance's days were a mediocre team that usually hovered around .500; Koufax played on pennant winners and shined in the World Series. But otherwise, the two had similar careers.
What do you think? As we unveil the entire list, who do you think got snubbed?