June, 23, 2013
6/23/13
10:55
PM ET
The most exciting day in recent baseball history took place on the final day of the 2011 season, when
Dan Johnson
hit his miracle home run as the
Tampa Bay Rays
rallied from a 7-0 deficit to beat the
New York Yankees
in 12 innings, and
Evan Longoria
delivering the game-winning home run at nearly the same time the
Boston Red Sox
blew a ninth-inning lead to lose to the
Baltimore Orioles
. The stunning turn of events put Tampa Bay into the postseason and left Boston on the sidelines.
It
was
exciting, although it was just a battle for second place -- the Yankees finished six games ahead of the Rays.
But two seasons ago, second place wasn't much different than finishing in first place. Now, with the creation of the one-game wild-card game, finishing in first place means something. Teams obviously want to avoid that one-and-done game. The wild-card game helps bring the pennant back into a pennant race.
That will likely help make this season's AL East race one of the craziest scrambles we've seen in the divisional era. With the
Toronto Blue Jays
winning their 11th consecutive game Sunday,
13-5 over the Orioles
, they've fought back to make this a five-team race, with the Jays and Rays currently five games behind the first-place Red Sox.
As Christina Kahrl
pointed out Saturday
, the Jays are getting contributions from unlikely sources.
Munenori Kawasaki
, who hit a big home run on Friday, has posted a .341 OBP filling in for
Jose Reyes
.
Adam Lind
is hitting .337 and looking more like the guy who had the monster 2009 than the guy who posted a .296 OBP over the past three seasons.
Chien-Ming Wang
was found wandering through the wheat fields of Alberta and has posted a 2.18 ERA in three starts.
However, as she wrote, "[W]hat has gotten the Blue Jays this far doesn't have to be what they win with in the second half. They can thank their surprise heroes for helping get them back into this thing, but the Jays have a tremendous opportunity to build off this run once they're back at full strength."
The most impressive thing about Toronto's streak is
who
they beat: One win over the
Chicago White Sox
but four over the
Texas Rangers
, three over the
Colorado Rockies
and three over the Orioles. This wasn't a stretch during which they simply beat up on the
Houston Astros
,
Seattle Mariners
and Florida Marlins. The pitching has been terrific in these 11 victories (2.07 ERA), and they've hit 20 home runs.
The Red Sox might rate as the favorite right now -- their plus-69 run differential is 55 runs better than any other team in the division -- but the Red Sox are also an uninspiring 13-13 over their past 26 games, perhaps a sign that they're not going to run away with this thing.
I think what this will turn into is a five-team race the likes we haven't seen since, well, a long time. Here's a snapshot of some of the wild multiteam races of the division era (since 1969).
1972 AL East
Through Sept. 12, the Red Sox led the Orioles and Yankees by a half-game, the Tigers by one game. The Yankees quickly faded, and then the Orioles, and so while the final standings reflect a tight two-team race -- the Tigers would end beating the Red Sox twice in the final series of the season to win the division by a half-game -- it was a four-team race up until the final two weeks. What made this race odd, however, was that half-game; the start of the season had been interrupted by a 13-day players' strike. Baseball simply decided to play out the remaining schedule, leaving teams with an uneven number of games. The Tigers would finish 86-70, the Red Sox 85-70.
None of these were
great
teams, and the Indians and Brewers were nonfactors. The Tigers outscored their opponents by just 44 runs in a sort of last moment of glory for the Al Kaline/Norm Cash team (both were 37 that season). The Orioles were also a veteran team with Brooks Robinson, Boog Powell and Mike Cuellar.
1973 NL East
In the Baseball Prospectus book on great pennant races, "It Ain't Over 'Til It's Over," Alex Belth wrote of the 1973 NL East race, which took place during the Watergate hearings that summer, "In a year when cynicism ran deep, in and out of the game, 'You Gotta Believe' was a rallying cry that every team in the East could have applied to its season. It was a slogan made for Madison Avenue, but made innocently enough -- it was intended to be taken at face value, without guile."
New York Mets
reliever Tug McGraw had coined the phrase that summer, and with good reason: On Aug. 30, with the Mets 61-71, 10 games under and in last place -- but only 6½ games behind first-place St. Louis. The Mets would go 21-8 the rest of the way to finish 82-79, good enough to edge out the 81-81 Cardinals. The Phillies had faded, but the other five teams all finished within five games of each other.
1980 NL East
After games of Sept. 1, the defending World Series champion
Pittsburgh Pirates
, the
Philadelphia Phillies
and Montreal Expos were tied for first with about 30 games remaining for each club. The Pirates faded, however, and it turned into your more typical two-team race. The Phillies clinched on the penultimate day when they beat the Expos in extra innings on Mike Schmidt's two-run home run. While it was a great three-team race for much of the season, the division also included the horrible Mets and Cubs.
Wild-card era
As divisions shrunk in size with the dawn of the wild-card era in 1995, the multiteam race has been a rare thing. The last time we had three teams finish within five games of each other was 2007, when the Phillies, Mets and Braves did it in the NL East, with the Phillies beating the Mets by one game with an 89-73 record. The Braves finished five games back but were never quite in it, entering September 6½ games back. The same season, the NL West featured a fun race, with Arizona finishing 90-72, one game ahead of San Diego and Colorado, who played a one-game tiebreaker for the wild card. That was the famous "Rocktober" run for the Rockies, when they reeled off 14 wins in their final 15 games. The Dodgers were actually just 3½ games back with two weeks left, so, for a time, it was arguably a four-team race. (Although as the Rockies started to surge, the Dodgers faded.)
The AL East could end up resembling the 2005 NL East. All five teams ended up bunched from 81 wins to 90, and while the
Washington Nationals
-- in their first season in Washington, D.C. -- would finish last, they led the division as late as July 24. But there wasn't a lot of jockeying around in that race -- the
Atlanta Braves
led from July 26 to the end of the season.
The 2004 AL West was another good three-team race. With one week left, the A's led the Angels by one game and the Rangers by two. The Angels would beat the A's on the final Friday and Saturday to win the division by a game.
* * * *

Of course, we probably
won't
end up with a five-team race. If I had to pick a team that will fade, it would be the Yankees, even if they get their second-half reinforcements in
Derek Jeter
,
Curtis Granderson
and
Alex Rodriguez
. The Orioles need to figure out a starting rotation that doesn't include
Freddy Garcia
, and
Chris Davis
is unlikely to keep going at this pace (I don't think, but you never know). The Red Sox might have their own pitching problems, especially with
Jon Lester
cooling down after a hot start. The Rays are tied with the Jays, but you have to think they'll get better second-half results from
David Price
and
Jeremy Hellickson
to prop up their rotation.
And while the race for first will be exciting, there is always the wild card to fall back on. But a wild-card race isn't the same as a pennant race. Let's hope, come that final week of the season, we still see five teams within a couple games of each other. Let's see some history.
I'll conclude this column by picking my final order of finish, which I know will be wrong, but here goes: Red Sox, Rays/Blue Jays, Orioles, Yankees. Rays tie the Blue Jays for the second wild card and have a one-game playoff to get to the one-game playoff. How's that sound?
September, 27, 2012
9/27/12
1:48
AM ET
I sent an email to my pal Jim Caple, asking: Would you rather see the A's or Angels in the playoffs?
I could also ask: Would you rather see the Orioles or the Rays?
All four teams won on Wednesday, which means good news for the Orioles and A's -- one game closer to the playoffs! -- and bad news for the Rays and Angels, who need to keep winning and get some help.
My thought on the A's is I want them to make it because they're the ultimate underdog, Cinderella, small-market franchise, and it's good for baseball for a team like that to make it to show success doesn't depend solely on a high payroll. But I'd also like to see
Mike Trout
and
Albert Pujols
in the postseason. And I'd like to see if the Orioles can keep their magical success in one-run games and extra-inning games going. And I'd like to see the Rays make it, because how can you not root for the Rays?
But only two of the four teams can win the wild cards (and we shouldn't discount the Orioles' chances of winning the American League East). Here's the case for each on why we want them to make it.

Baltimore Orioles
: Because there are Orioles fans now in high school who haven't seen their team post a winning record. … Because they were once baseball's premier franchise from the late 1960s to the early '80s (18 consecutive winning seasons, including 13 with 90-plus wins) and Baltimore was once a great baseball town, finishing first or second in the American League in attendance every year from 1992 to 2000. … Because we need to see if
Adam Jones
can hit another home run in extra innings. … Because we have no idea who Buck Showalter would start in the wild-card game. … Because we may see Cal Ripken throw out a first pitch. … Because they wear orange jerseys. … Because nobody believed in them when they won five in a row in New York and Boston in May -- including The
Chris Davis
Game -- to improve to 19-9, or when they tossed back-to-back shutouts in Atlanta in June to go to 39-27, and certainly not when they lost 17 of their next 24. … Because they've won 16 extra-inning games in a row. … Because they've brought back the tri-colored '80s hats. … Because they had the guts to call up 20-year-old shortstop
Manny Machado
and make him their starting third baseman down the stretch. … Because an Orioles-Nationals World Series would be pretty cool. … Because it's time to exorcise the demons of that brat in the Yankees cap.
Tampa Bay Rays
: Because they keep doing this every season despite one of the lowest payrolls in baseball and it's time to see them go all the way. … Because we could see a
David Price
vs.
Justin Verlander
showdown at some point. … Because
Evan Longoria
is a stud and deserves some time on the big stage and 11 Yankees make more money than he does. … Because we want to see if
Matt Moore
can replicate that "Welcome to the big leagues, kid!" performance from last October, when he blanked the Rangers for seven innings on two hits in Game 1 of the Division Series. … Because
Fernando Rodney
has had a season for the ages (45 saves, 0.63 ERA) and nobody has paid much attention to it. … Because Joe Maddon had the guts to move
Ben Zobrist
to shortstop in August and the Rays have gone 27-18 since. … Because they have a 2.48 ERA over their past 63 games and if pitching is what takes you all the way then this team can go all the way. … Because we could get
Jose Molina
facing brother
Yadier
in the World Series. … Because at least it won't be 38 degrees inside Tropicana Field.
Oakland A's
: Because they were ranked No. 29 in the first week of the ESPN.com Power Rankings, one slot below the Orioles (hey, at least we got the Astros right). … Because it was just announced that
Travis Blackley
is officially a rookie, meaning the A's are currently going with an all-rookie rotation -- and that is just
awesome
. … Because they signed
Yoenis Cespedes
and nobody else did. … Because
Jarrod Parker
's changeup is so good it can be compared with
Felix Hernandez
's and not make anyone think you're crazy saying that. … Because
Chris Carter
has more power in one arm than many big leaguers have in two. … Because maybe we'll get a wild-card game against the Orioles featuring yellow jerseys versus orange jerseys and we can pretend it's the '70s all over again. … Because they have the sixth-best record since 2000 and four of the other five teams won a World Series (Yankees, Cardinals, Red Sox, Angels; the Braves being the exception). … Because they've used 18 different rookies. … Because
Alex Rodriguez
,
Mark Teixeira
and
Pedro Feliciano
make more money combined than the entire A's roster. … Because they have 13 walk-off wins, most in the majors, and is there anything sweeter than a walk-off win in the postseason? … Because we could see an A's-Giants Bay Area World Series. … Because with Blackley and
Grant Balfour
, a World Series with the A's in it would be HUGE in Australia.
Los Angeles Angels
: Because America wants to see Mike Trout in the postseason. … Because America
needs
to see Mike Trout in the postseason. … Because we could get Albert Pujols going back to St. Louis and we can all spend three days wondering if Cardinals fans will boo him or cheer him. … Because
Jered Weaver
throws high fastballs in the upper 80s and gets away with it. … Because when he's on, few pitchers are as fun to watch as
Zack Greinke
. … Because a World Series featuring Trout and
Bryce Harper
would remind us of the 1951 World Series that also featured two rookie center fielders named Mays and Mantle. … Because
Mark Trumbo
may hit one 500 feet. … Because maybe we'll see
C.J. Wilson
face off against
Yu Darvish
and his ex-Rangers teammates. … Because you know a World Series game in Anaheim means we won't see players wearing earflap caps and drinking coffee in the dugout while wearing ski gloves.
As for my question to Jim, what was his response? "I want them both to make it!"
Thanks, Jim. Way to take a stand.
PHOTO OF THE DAY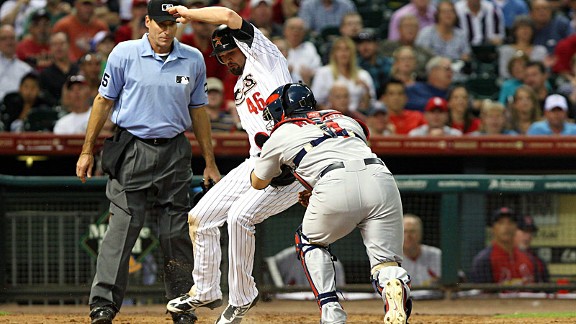 Troy Taormina/US PresswireYadier Molina shows why he's incomparable when it comes to the rough dance around home plate.
August, 12, 2012
8/12/12
11:59
PM ET
You have to love August baseball. This is when the grind of the long season settles in, when depth becomes even more important, when pitchers have to pitch through fatigue and soreness and maybe a little pain. It's when we find out if the pretenders are contenders and whether the favorites really do have the firepower.
August is time for scoreboard-watching. August is time for your ace to go on a five-win hot streak. August is time for the MVP candidates to shine. August is time for big wins, like the one the Giants had on Sunday at home, when
they scored five runs in the bottom of the eighth
to defeat the
Colorado Rockies
. Trade-deadline acquisition
Hunter Pence
had the decisive blow, a three-run home run, his first since joining the Giants. Pence is hitting just .137 with the Giants, but his homer off
Rafael Betancourt
capped a rally started when
Brandon Crawford
's leadoff pop fly fell for a single.
Beginning with the Giants, here are 10 important things you need to know as August rolls on.
1. The Giants have an offense.
Since the All-Star break, the Giants are second in the National League in runs scored to the Nationals, hitting .270 with a .339 on-base percentage, also second in the league.
Buster Posey
, of course, has been on fire, hitting .443 with nine home runs and 32 RBIs since the break. Only Boston's
Adrian Gonzalez
has more post-break RBIs (35).
Melky Cabrera
hasn't slowed down either; his .918 second-half OPS matches his .910 of the first half. If Pence can get going to provide another power threat, the Giants' offense looks even better.
2. Remember Jayson Werth.
Ryan Zimmerman
,
Adam LaRoche
and
Mike Morse
have combined for 23 home runs since the break to power the Nationals, who had their eight-game winning streak snapped Sunday, but Werth provides something the offense has needed all season: A leadoff hitter. Since his return from a broken wrist, Werth has hit .400 with a .500 OBP. On the season, Nationals leadoff hitters rank just 13th in the National League in OBP. "I am totally surprised how my wrist is doing, how I've recovered," Werth
told the Washington Post
a couple days ago. "When I look down at my wrist and I see that scar, it almost reminds me. Like, 'Oh, yeah.' I almost forget about it until I see the hatchet wound." Werth won't ever live up to the $126 million contract, but he's a a huge key as the Nats push for a division title.
3. Who will step up for the Angels behind Jered Weaver?
Can we stop declaring that the Angels are guaranteed to secure one of the AL wild cards? They're 3-8 over the past 11 games after
Jason Vargas
outdueled Weaver on Sunday and have slipped 8 games behind the Rangers in the West, and to fifth in the wild-card race behind the Rays, Orioles, A's and Tigers.
Dan Haren
has allowed at least one home run in nine consecutive starts,
Ervin Santana
continues to pitch like a ticking time bomb and has allowed the most home runs in the majors,
Zack Greinke
has been terrible in two of his three starts with the Angels, including the fifth five-plus walk game of his career, and even
C.J. Wilson
has allowed 27 runs in 29.2 innings over his past five starts. With the starters getting knocked early, the overtaxed Angels bullpen has also been an issue. For all the
Mike Trout
love, the Angels have a good chance of becoming the season's most disappointing -- yes, even more disappointing than the Red Sox.
4. The Rays are scorching hot on the mound.
If pitchers feed off each other, the Rays are like a pack of hungry wolves right now. Tampa Bay owns a 2.33 ERA since the All-Star break and has held opponents to a .200 average in going 17-11. The Rays swept the Twins by
scoring four runs in the top of the 10th
and have won eight of 11 to surge into the wild-card lead with the Orioles. Next up on this road: Trips to Seattle and Anaheim. That four-game series against the Angels looms large and
David Price
and
James Shields
will start the first two games.
5. Jim Leyland is right ... sort of.
The Tigers manager started a minor firestorm when he referred to Mike Trout as "Wonderboy" in suggesting his own
Miguel Cabrera
is deserving of the AL MVP Award so far. Leyland's comments really weren't derogatory, as he was simply referring to the potential of voters getting caught up in Trout's storyline. Hey, he's right in that regard; voters do love a good storyline. It's why
Ichiro Suzuki
won in 2001 over
Jason Giambi
and teammate Bret Boone. Or why
Miguel Tejada
won over
Alex Rodriguez
in 2002. Interestingly, the last "Wonderboy" to challenge for an MVP trophy was A-Rod in 1996, and he finished second to Juan Gonzalez in one of the worst MVP votes of all time.
That's because what MVP voters
really
like is a player who makes the playoffs. It's why
Ryan Braun
beat out
Matt Kemp
in 2011 or why
Joey Votto
collected 31 of 32 first-place over
Albert Pujols
in 2010 despite basically identical numbers. Of the 34 MVP trophies handed out during the wild-card era, only six have gone to players whose teams didn't reach the playoffs: Pujols (2008),
Ryan Howard
(2006), Barry Bonds (2004 and 2001), A-Rod (2003) and Larry Walker (1997). So maybe Trout is the MVP favorite right now, but that all changes if the Angels don't reach the playoffs (the same, of course, can be said for Cabrera).
6. The Cardinals have the same record through 115 games as 2011.
Just like a season ago, the Cardinals are 62-53. However, in 2011 they were just 3 games behind the Brewers and 4 behind wild-card leader Atlanta. While they're 7 behind the Reds in the National League Central, they trail the Braves and Pirates by just 2.5. Like a year ago, the bullpen is struggling -- on Sunday, St. Louis blew a three-run lead in the eighth to the Phillies and
lost in 11 innings
. Of course, we know the bullpen buttoned down last year.
7. The best trade deadline pickup may have been ... Paul Maholm?
Maybe the Braves got the best Cubs pitcher being shopped around. Maholm's record since June 29: Eight starts, eight runs allowed. He's pitched in obscurity for years in Pittsburgh, often with some terrible defensive teams behind him. He doesn't light up the radar gun but his strikeout rate has ticked up a notch this year, perhaps because he's throwing his slider with greater frequency. Oh, another note:
Mike Minor
, much-maligned by Braves fans in the first half, has a 1.99 ERA over his past five starts.
8. Manny Machado is here to stay.
Can a rookie lead the Orioles to the first playoff berth since 1997? In four games since his surprise call-up from Double-A, all the 20-year-old rookie has done is hit three home runs, a double and a triple, scored five runs and knocked in seven. Maybe we have a second Wonderboy.
9. The Yankees are 26-22 since June 18. A-Rod is on the DL. CC Sabathia is again on the DL ...
Since reeling off that 10-game winning streak in mid-June, the Yankees have played just above .500 baseball. They're actually 14-14 over the past 28 games.
Phil Hughes
, having looked better, has returned to being Phil Hughes his past two starts.
Ivan Nova
lives and dies on whether his curveball and slider have enough bite on any given start. Sabathia has a tender elbow.
Andy Pettitte
had a setback. And then there's the offense.
Curtis Granderson
is turning into an extreme all-or-nothing hitter. He has seven homers since the break, but is hitting .218 with a 39/9 SO/BB ratio. Ichiro Suzuki has a sub-.300 OBP since joining the Yankees. And ... the Yankees are still up 5 games in the East.
10. We don't know anything.
Nine teams in the AL are within 5.5 games of a playoff spot. Seven teams are within 5 games of a playoff spot in the NL. That means more than half the teams have legitimate playoff hopes. There is no clear-cut No. 1 team in baseball. We have parity, we have excitement, we have fans filling ballparks (well, at least some of them) and we have a crazy, unpredictable finish ahead of us. Why is that important? Because it gives all of us reason to do plenty of scoreboard-watching.
April, 22, 2011
4/22/11
10:58
AM ET
Do you like the idea of expanding the baseball playoffs? Is a one-game winner-take-all playoff your cup of tea?
Vote here
and see what other fans think.
In other stuff ...
Links for Friday morning
April, 22, 2011
4/22/11
9:41
AM ET
I had a Twitter follower write to me that "one game doesn't determine squat in baseball." I replied, "Really? Tell that to the '78 Yankees."
Thursday, Bud Selig said he thinks baseball is moving "inexorably" to a 10-team postseason for 2012, meaning two wild-card playoff teams in each league. Beginning the postseason with a pair of one-game, winner-take-all wild-card games is exactly what baseball needs. It needs the energy and the drama. It needs a bigger buzz or splash to open its postseason. Most importantly, its most critical games need an injection of that same "event" feel that blows NFL playoff TV ratings through the roof. Baseball has a chance to create that with a pair of wild-card play-in games.
Why do you think people watch "Dancing With the Stars"? They don't have to be previously invested. They know it's a self-contained time allotment. They know it's a live event and at the end someone will advance and someone will go home. That's Kirstie Alley out there for crying out loud and people are riveted and participating in the voting. Those are the people MLB has to get excited about its postseason: the casual fan who can buy into a do-or-die scenario for a night. They didn't watch all 162 games during the season, but they'll absolutely watch with everything on the line.
That's
the consumer baseball needs to lasso here.
We're a society that now communicates in 140 characters; to say we have short attention spans is a massive understatement. That's a critical element to football's success: You only have to watch once a week, not every night for three hours. Football is easily consumed; it's a trip through the drive-thru for our fast-food culture. Baseball fans savor every bite of every serving over a five-course meal. The fast-food fan can digest a one-game baseball playoff. Then he gets invested in the outcome and now he's hooked for the postseason. Boom -- there's your MLB playoffs TV ratings spike and it comes without truly alienating your everyday fan base.
Americans buy hype, we buy "events"; it's why people have Oscar parties. Baseball can begin every postseason with a pair of Game 7s. The idea of a best-of-three wild-card round merely waters that down. Most folks may not watch much of a college basketball team's season but come March they're glued to the TV with brackets in hand. Why? Because it's a win-or-go-home deal and they know that if they don't watch, they might miss something.
The beauty part for the traditionalists and perhaps the ultimate irony here is that under the winner-take-all, one-game playoff format,
adding
another wild-card team in each league actually
increases
the importance of baseball's regular season.
Currently, we have a scenario in which playoff teams generally don't really care if they win a division or a wild card. You're in, so what's the downside to the wild card? One fewer home game in the Division Series? So what. Avoiding the risk of losing to an inferior team in a one-game playoff will underscore the importance of winning your division, making the full 162-game regular season more meaningful. It's a greater reward for those teams that win their division. Since you're only adding one game in each league, there is no need to shorten the regular season or worry about World Series games in November.
One of the great joys of baseball is the way we consume it. It's every day; it takes work, diligence, you have to pay attention for seven months. Baseball has a chance here to hook those who will initially only watch for a few hours a week. That's how fans -- and customers -- are created.
Follow Steve on Twitter at @SBerthiaumeESPN.
April, 21, 2011
4/21/11
8:30
PM ET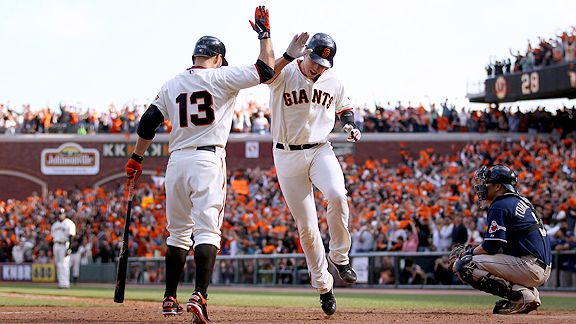 Ezra Shaw/Getty ImagesLast year's last-day Pads loss to the Giants would mean less with another playoff slot.
Bud Selig
wants to expand the number of playoff teams
, and -- pending eventual approval from the MLB Players Association -- we'll have more playoff teams in 2012.
"I would say we're moving to expanding the playoffs, but there's a myriad of details to work out," Selig said Thursday. "Ten is a fair number."
The details include the possible scenarios and issues for a new system:
Would the two wild-card teams play each other? A one-game playoff is the popular suggestion.

Would it be fair to have a 95-win wild card play an 84-win wild card in a one-game elimination?

Should the two wild-card teams play a best-of-three series? But that means four off days for the other playoff teams.

Should the best overall record get a "bye" while the other four teams play each other? But again, that means a bunch of off days.
Aside from the logistics, there are three important issues to be answered:
1. The sanctity and excitement of the regular season must be maintained.
The regular season in baseball matters. You have to play well over 162 games to make the playoffs. You don't want an NBA scenario, in which teams can coast and the only interesting playoff battles are for an eighth seed that is going to lose in the playoffs anyway. If the regular season is cheapened, you risk losing fans.
2. The playoffs must remain important enough for fans to care.
World Series and playoff TV ratings haven't fared well in the past decade. Do you risk losing more viewers by adding playoff games or making a championship seem less relevant due to the randomness of the baseball playoffs?
3. A new system should be fair to the players and teams.
I hope the commissioner's office factors this in.
Before we answer those questions, here's a look back at the past five seasons. We'll list the actual wild-card team first (with wins in parentheses) followed by the team that would have been the second wild card and then the next-best record after that. Let's assume the one-game wild-card scenario.
2010
American League: Yankees (95) versus Red Sox (89). Next best: White Sox (88).
National League: Braves (91) versus Padres (90). Next best: Cardinals (86).
What we gain: Red Sox-White Sox wild-card race.
What we lose: NL West race between Giants and Padres becomes irrelevant.
2009
American League: Red Sox (95) versus Rangers (87). Next best: Tigers (86).
National League: Rockies (92) versus Giants (88). Next best: Marlins (87).
What we gain: Giants-Marlins-Braves (86) three-team wild-card race.
What we lose: Nothing. Twins-Tigers AL Central tiebreaker would have still existed.
2008
American League: Red Sox (95) versus Yankees (89). Next best: Twins (88).
National League: Brewers (90) versus Mets (87). Next best: Astros (86).
What we gain: White Sox-Twins division race becomes a 3-for-2 playoff race with Yankees.
What we lose: Phillies-Mets NL East race (and Mets' collapse).
2007
American League: Yankees (94) versus Tigers/Mariners (88).
National League: Rockies (90) versus Padres (89). Next best: Mets (88).
What we gain: Yankees-Red Sox battle for AL East now becomes relevant; Tigers-Mariners wild-card race.
What we lose: Rockies-Padres one-game playoff that the Rockies won.
2006
American League: Tigers (95) versus White Sox (90). Next best: Angels (89).
National League: Dodgers (88) versus Phillies (85). Next best: Astros (82).
What we gain: Padres (88) and Dodgers both made playoffs, but would be fighting for a more important division title now. Same with Twins (96) and Tigers. White Sox-Angels-Blue Jays (87) wild-card race.
What we lose: Nothing.
Back to our questions
1. The sanctity and excitement of the regular season must be maintained.
I have to admit: I don't think you lose anything here. Yes, in some seasons -- like last year's NL West race -- you'll lose the excitement of a pennant race because both teams will be assured playoff berths. On the other hand, the one-game playoff scenario places a bigger reward on winning the division, so in theory you create exciting division races.
Except ...
imagine this scenario. The Rays and Yankees are tied for the division lead entering the final day of the season.
David Price
and
CC Sabathia
are both rested. Do you start them in hopes of winning the division title? If you win the division title, you move on to the best-of-five division series. But if you lose that game and the division title, you have one game to advance in the playoffs ... and you've burned your best pitcher. Is it fair to play 161 games and then put teams in that scenario? One thing I know: Managers would vote 30 to zero against having a one-game wild-card playoff.
MLB officials would argue that allowing two more playoff teams creates additional September excitement because more teams have a shot at the playoffs. I believe that's true, although you're really adding only two or three teams a year to this scenario and I think the attendance effect would be minimal.
2. The playoffs must remain important enough for fans to care.
I don't think one additional playoff game will really do anything to boost the TV ratings. You might get a little bump for that one game -- especially if it's the Red Sox or Yankees -- but adding two more playoff teams won't increase your World Series ratings. (Other than potentially putting more big-market teams in the playoffs to have a chance at reaching the World Series, which also means it could
hurt
World Series ratings by allowing more small-market teams in the playoffs that could reach the World Series.)
3. A new system should be fair to the players and teams.
This is the biggest issue I have with a one-game playoff: How can you ask players to grind it out for 162 games and then have their season come down to a one-game playoff? Joe Maddon has expressed that he thinks this is unfair, and I agree. Baseball, of course, isn't really thinking of the players here, but trying to create more excitement (and thus generate more revenue).
So what to do? Look, the traditionalists who want only the best teams to make the playoffs so a championship means more are pining for a past that doesn't exist anymore. Wild-card teams have won the World Series many times. The best regular-season team rarely wins the World Series. The
St. Louis Cardinals
won in 2006 despite finishing with the 13th-best record. The sport didn't collapse.
So, with all that, I have to say I like a second wild-card team even if I believe the overall impact is fairly minor, but this would be
my
scenario:
1. Have the two wild-card teams play a three-game series. I think making the other teams have the extra days off isn't that major a factor compared to the one-game do-or-die scenario.
2. No off days in the playoffs, except for two days before the World Series. This gives an advantage to the deeper teams and keeps baseball from playing World Series games in mid-November.
3. And if the
Florida Marlins
sneak into the playoffs with 83 wins and go on to win another World Series ... well, there will always be next year.
March, 29, 2011
3/29/11
11:40
AM ET
Butler and VCU are great stories.
Butler and VCU are not two of the four best college basketball teams. They are -- simply -- two of the four remaining teams in a tournament that rewards randomness.
The question: Is randomness exciting?
[+] Enlarge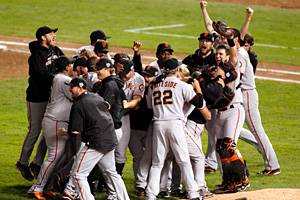 Tim Heitman/US PresswireWill adding another wild-card team to the playoffs dilute baseball's postseason drama?
In the world of college basketball, it probably is, although it does serve to devalue the regular season.
In the world of major league baseball, I don't think that's the case.
It seems inevitable that baseball will add a second wild-card team at some point, perhaps as soon as 2012, with a format to be determined. The 2011 NCAA tournament illustrates why this is a bad idea, unless you prefer a less exciting regular season and the potential of a third-place team winning the World Series.
I want the regular season to matter. I want the best teams to be rewarded with a trip to the playoffs. I want the drama of the final days of the season, with teams battling for a division title or the one wild-card slot available. I don't need an extra playoff game that could eliminate a superior team in one game.
Ask yourself this: Which would have been more exciting?
The 2010 Giants racing to catch the Padres for the NL West title over the final week ... or both teams coasting into the playoffs and the Padres playing the Braves in a one-game playoff?
The 2008 Twins and White Sox meeting in a one-game tiebreaker to decide the division title and a playoff berth ... or the 88-win Twins coasting into the playoffs and then given the chance to eliminate the 95-win Red Sox with one well-pitched game?
The 2007 and '08 Phillies and Mets battling for a division title with three weeks of nail-biting games, every one important ... or both teams cruising down the stretch, knowing they had a playoff spot locked up? (Mets fans not allowed to answer this one.)
The 2000 Indians chasing the A's and Mariners on the final weekend, with every game mattering for all three teams. Or the Indians benching their regulars as they prepared for the postseason?
I guess that's my point. We already have excitement. Nearly every season features a division race or a wild-card race going down to the wire (and we've had six tiebreaker games since 1995 anyway). We have a regular season where every game potentially matters. Those games become incrementally less important the more teams you allow into the playoffs.
Some of the teams who would have qualified as a second wild card:
2009 Marlins: 87 wins
2009 Rangers: 87 wins
2006 Phillies: 85 wins
2003 Astros: 87 wins
2001 Twins: 85 wins
2000 Dodgers: 86 wins
1999 A's: 87 wins
1997 Angels: 84 wins
And many others with fewer than 90 victories. The best team denied was the 1999 Reds with 96 victories, although they actually did have a playoff game, losing a tiebreaker to the Mets. No other second wild-card team won more than 93 games. We're not denying many great teams a shot at World Series glory.
There's also the issue of the imbalanced schedule, meaning you have teams playing different schedules competing for the same reward. As
Orioles manager Buck Showalter told
Jon Paul Morosi of Fox Sports this week, "I want to get it so that we're facing the same competition. The way the schedule is set up now, we're competing for the same thing, but we're playing different people. The integrity of the schedule is just not there. Everybody in the American League should face the same challenges. That's not the way it is."
So maybe you want Butler and VCU in your baseball playoffs. If that's the case, why not just add two more teams and make the playoffs a 32-team single-elimination tournament?
Follow David Schoenfield on Twitter at @dschoenfield. Follow the SweetSpot blog at @espn_sweet_spot.