March, 4, 2015
Mar 4
12:34
PM ET
To be fair,
New York Mets
right-hander
Zack Wheeler
isn't the first pitcher to complain about infield shifts.
Back in September of 2013, A.J. Burnett exchanged words with shortstop
Clint Barmes
but told the assembled media the next day, "Listen, I did not have a problem with Clint! I do not have a problem with Clint! I had a problem with the ******* shift! We play people in the wrong spot!"
Burnett had a 3.41 ERA in his two seasons with the Pirates, went to the Phillies in 2014 and posted a 4.59 ERA. The Pirates shifted 500 times on balls in play in 2013 while the Phillies shifted 291 times last year on balls in play (all shift data from Baseball Info Solutions). Maybe Burnett doesn't mind the shifting after all; he re-signed with the Pirates.
In August of 2013, manager Mike Matheny of the Cardinals actually cut back on shifts,
telling MLB.com
, "Last year there were times when we were shifting and I knew [the pitchers] weren't real comfortable with it. No matter what I believe, we can talk to guys about the importance and show them the statistics, but if they don't feel comfortable with how the defense is aligned behind them, we're wasting our time."
The Cardinals changed course in 2014, however, increasing their shifts from 107 to 348 (ranking 16th in the majors).
Back to Wheeler. Over the weekend, Mets general manager Sandy Alderson spoke at the MIT Sloan Analytics Conference and mentioned a pitcher on his staff wasn't happy when shifts were employed. On Monday, Wheeler admitted he was the guy,
telling NJ.com
, "I don't want to piss anybody off but, honestly, I don't like it. Teams are starting to be more analytical these days. ... I don't like analytics all that much, but I'm not the boss here. I really can't control it. They know where I stand on that."
Part of Wheeler's belief is that the shift doesn't account for his arsenal of pitches, although the only specific example in the article was throwing a slider with a runner on third base -- the apparent suggestion being the runner could take a bigger lead if the third baseman is way off the bag, thus making it easier to score on a ball in the dirt.
For the record, Wheeler threw his slider 17 percent of the time when he had a runner on third base ... compared to 14.8 percent overall. So he actually threw it more often, despite his reservations, although that doesn't mean he wouldn't have thrown it even more.
Almost all shifts are done against left-handed batters. Is there something in Wheeler's pitching that would create more groundballs to the opposite field? Here's his pitch location to lefties in 2014 when the ball in play resulted in a grounder:
ESPN Stats & Info
You may think that pitch location would results in a lot of opposite-field grounders. But it doesn't. Check out his hit location charts on grounders in the graphic below.
[+] Enlarge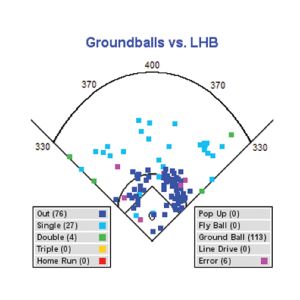 ESPN Stats & Info
Most groundballs are still pulled, even when the location is down and away. Overall, Wheeler induced 113 grounders from left-handed batters. Here is his breakdown on groundball location compared to the MLB average for all right-handed pitchers versus left-handed batters:
Wheeler
Left: 20 percent
Center: 29 percent
Right: 50 percent
MLB average
Left: 13 percent
Center: 33 percent
Right: 54 percent
Wheeler allowed 79 percent of his grounders to go up the middle or to the right side compared to the MLB average of 87 percent. So
maybe
he does allow a few more balls in play to the left side because of his "stuff." Although keep in mind we're talking about a small sample size here. Out of 113 groundballs, the difference between 79 and 87 percent is nine grounders; out of the 23 grounders hit to the left side against Wheeler, batters hit .435 (10-for-23). I don't have the breakdown on how many of those hits came with the shift on, but the Mets only had 221 total shifts with a ball in play, so it couldn't have been more than a few hits at the most. But Wheeler surely remembers all three or five or whatever of those that may have otherwise been turned into outs.
So should the Mets leave off the shift for Wheeler? It's an important question when you realize Wheeler is a somewhat extreme groundball pitcher -- he ranked sixth in the National League in groundball-to-flyball ratio. Pretty impressive considering Wheeler also averaged a strikeout an inning.
One more thing. In our right-handed pitcher versus left-handed batter collective, let's compare Wheeler versus his Mets teammates on batting average allowed on groundball location:
Left: .435 (.385)
Center: .303 (.317)
Right: .193 (.143)
Wheeler's average allowed on grounders to right field was quite a bit higher than his teammates. But, again, we're only talking about 57 grounders all season. The difference between .193 and .143 on 57 grounders? Three hits.
(None of this factors in infield line drives. According to ESPN data, Wheeler allowed three infield line drives to left-handed batters and all three were caught.)
Getting back to what Matheny said, if Wheeler is more comfortable pitching without the shift, it's probably best just to leave it off. It may cost him a few hits during the season, but probably isn't worth doing if it gets into his head.