November, 25, 2014
Nov 25
12:26
PM ET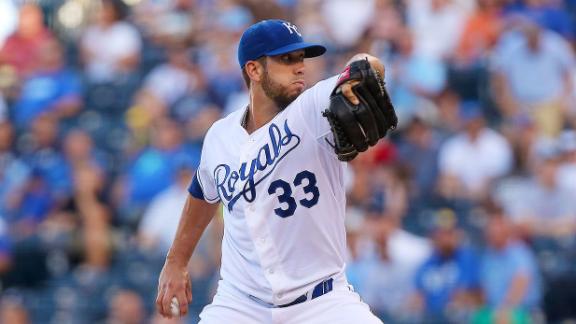 James Shields
is the third of the big three free-agent starting pitchers available this winter, ranked behind
Max Scherzer
and
Jon Lester
.
After seven years in Tampa Bay, he spent the past two with Kansas City, who acquired him to become the top guy in the rotation. Shields delivered, going 27-17 with a 3.18 ERA over two seasons and helping the Royals reach the World Series.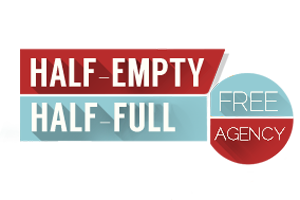 Shields won't command the same money as Scherzer and Lester, as he's older and not considered to be quite in their class, but Jim Bowden still
predicts
a five-year, $100 million for the soon-to-be 33-year-old right-hander.
Let's look at the
half-full, half-empty
sides of Shields.
HALF-FULL
If you're going to spend $100 million on a pitcher, one thing you want above all else is durability, and that's what Shields provides. He's pitched 200-plus innings eight consecutive seasons, including at least 227 the past four seasons. Shields leads the majors with 932.2 innings over those four seasons -- only two other pitchers have reached 900. He takes the ball every fifth day and pitches deep into games. This exactly why he's considered a staff leader.
He turns 33 in December, but this is a guy who takes care of himself and has never missed a start in the majors. All pitchers carry the risk of breaking down, of course, but Shields seems like a safe bet to continue rolling out 30-start seasons.
But it's about much more than his durability. Since 2011, he ranks 14th in the majors among pitchers with at least 600 innings with a 3.17 ERA -- a better figure, by the way, than Scherzer (3.52) or Lester (3.61). Only four of those 13 with a better ERA pitched that entire time in the American League, so Shields has put up good numbers in the league with more offense.
While he gets a lot of recognition for his excellent changeup, Shields' cutter has become a bigger weapon for him the past two seasons, especially against left-handers.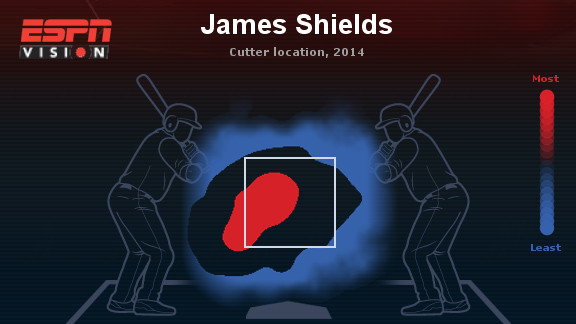 ESPN Stats & Info
Shields' fastball velocity is a tick above average for a right-handed starter -- 92.4 mph in 2014 -- but neither his four-seamer nor his two-seamer is an especially effective pitch against left-handed batters, who slugged .451 against his fastball. The cutter gives him another pitch he can use, either to get ahead in the count, or when behind. Over the past two seasons, lefties have slugged .337 against his cutter. Shields used the pitch more in 2014 than the year before, and he could ramp up its use even more in future seasons.
It's all part of Shields' deep arsenal of pitches, as he also throws a very good curveball to go with his changeup. That points to a pitcher who should age well, even if he loses a little velocity off his four-seam fastball.
Shields also lowered his walk rate in 2014, giving him the best strikeout-to-walk ratio of his career. He has a ton of postseason experience. He's very good at holding runners -- he allowed six stolen bases in 2014 with four caught stealing and four others picked off. (Yes, some of that credit goes to
Salvador Perez
but Shields has always been tough to run on and one year picked off 12 runners.) All things that front offices will consider.
Baseball-Reference valued Shields at 3.3 Wins Above Replacement in 2014, and he's averaged 3.8 WAR over the past four seasons. Even accounting for some regression down the road, if he averaged 3 WAR per season, at the going rate of about $6.5 million per win on the free agent market, you're looking at $97.5 million of value. So that $100 million contract looks about right, and there's a good chance that Shields will earn that kind of money.
HALF-EMPTY
Good luck betting on a pitcher for his age 33 through 37 seasons. Know who else was durable?
CC Sabathia
. Or
Cliff Lee
. Or Roy Halladay, who finished second in the Cy Young voting when he was 34 and retired at 36. With pitchers, you just never know, and while Shields' durability has been commendable, he's also thrown the second-most pitches in the majors in the past five seasons behind
Justin Verlander
.
And look what's happened to Verlander.
But maybe the biggest concern regarding Shields is how he'll do in a different park with a different defense behind him. Both Tampa and Kansas City played in good pitchers' parks, and Shields has spent the past eight years pitching with good defenses behind him. Heck, you saw in the postseason how good the Royals' defense was in helping that staff.

A couple of numbers that could scare teams off:
--In 2014, Shields allowed 16 home runs on the road, just seven at home; over his career, he's allowed 129 home runs on the road, 98 at home. While he's middle of the pack in his fly ball rate, he has clearly benefited from his home parks.
--Yes, Shields has a lot of postseason experience, but he also has a 5.46 ERA in 11 career playoff starts, perhaps confirming the belief that he doesn't have the raw stuff to beat the better teams. For example, the past two seasons he went 2-5 with a 4.50 ERA in 10 starts against the Tigers. Does that sound like a $100 million pitcher?
What do you think? Half-full or half-empty?