December, 22, 2014
Dec 22
12:37
PM ET
Somebody will sign
James Shields
. We know that's guaranteed to happen because Shields is a very good pitcher who has been extremely durable throughout his career -- and he hasn't suggested he wants to retire and start an olive oil farm in Tuscany. In fact, he has never missed a start in his career. He was shut down with a couple of weeks to go back in 2007, his first full season, and he once went eight days between starts in 2008, but otherwise he takes the ball every fifth day and churns out quality innings.
[+] Enlarge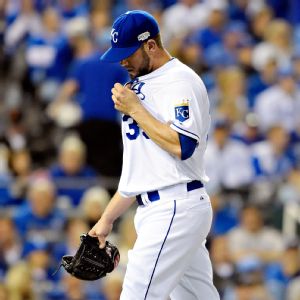 Denny Medley/USA TODAY Sports
James Shields has been extremely durable throughout his career. But is he worth a five-year contract in the $90-100 million range?
Over the past three seasons, he has gone 42-27 with a 3.29 ERA. He has pitched the most innings in the majors over that span and ranks 15th in wins, 20th in ERA among those with at least 500 innings, 16th in adjusted ERA and 21st in Baseball-Reference WAR (13th in FanGraphs WAR).
So he's good. Maybe not quite an ace if you're strictly applying the term, especially when you consider that he has pitched in pitchers' parks in front of good defenses with Tampa Bay and Kansas City. But he's worth three or four wins above replacement level.
No, the problem with Shields is the contract he might require.
Ervin Santana
signed with the Twins for four years and $54 million, and although he's a year younger than Shields, who just turned 33, he's not as good. Using that contract as a guideline, Shields could command a five-year contract for $90 to $100 million, similar to the projections forecast for him at the start of free agency.
I wouldn't give it to him. For starters, a five-year contract takes him through age 37. It goes without saying that he has a lot of mileage on his arm, and, even if he has been the game's most durable starter, he's a pitcher -- which means he comes with risk, in terms of injury and decline in performance.
I looked at comparable pitchers from the past 25 years. I sorted all pitchers who had between 10.5 and 14 FanGraphs WAR from ages 30 to 32 and checked how they did from ages 33 to 37. I then used Baseball-Reference.com WAR for those next five years. No particular reason, other than I had two screens going and wasn't paying attention. Anyway, FanGraphs and Baseball-Reference.com would have generated different lists of original pitchers, but it doesn't really matter which players we're looking at. The list is presented to show the risk in signing a pitcher of this age to a long-term contract. All of the pitchers below, had they been eligible for free agency at 33, would have received a very nice contract based on their recent performance.
The table lists the pitcher's total WAR and average innings from ages 30 to 32, then his average WAR and average innings over the next five seasons after that.
Only four of the pitchers continued to average 200 innings over those five years -- Roger Clemens and three left-handers, which may or may not be a coincidence. And it's not looking good for
CC Sabathia
and
C.J. Wilson
, two pitchers who suffered through bad 2014 seasons. Some on the list, such as David Cone and Jimmy Key, remained effective while healthy -- but couldn't stay healthy. Look at a guy like Roy Oswalt. At age 32, he looked similar to Shields: a 200-inning workhorse. At 32, he had one of his best seasons, posting a 2.76 ERA and leading the NL in WHIP. He won just 13 games the rest of his career.
So health is a major risk for a pitcher like Shields.
But there's another reason not to sign him. Next year three pitchers even better than Shields will hit free agency:
David Price
,
Johnny Cueto
and
Jordan Zimmermann
. Plus,
Zack Greinke
may also opt out of his deal with the Dodgers.
Price, Cueto and Zimmermann will all be younger than Shields when they hit the market. Yes, they'll cost more than Shields, but you can argue that making a bigger investment in a younger, better pitcher is wiser, even if it's going to cost an extra 50-plus million dollars. I'd rather get any of those three with a
Jon Lester
-type deal than Shields at $100 million.
Again, this doesn't mean Shields isn't a good pitcher. But any team that's willing to make a big investment in him would have to view him as a difference-maker in 2015 and 2016, a guy it needs to push it over the top. I'm just not sure there's a team that applies to. Depending on the ballpark and the quality of defense behind him, his numbers might drop a little, and his new team might be getting more of a No. 3 starter than a No. 2.
Jim Bowden rates the Giants as the team most likely to sign Shields. That makes some sense, as
Matt Cain
is a question mark coming back from elbow surgery and Shields would bump
Tim Lincecum
from the rotation. But wouldn't it make even more sense for the Giants to wait a year and go after one of those young aces, when Lincecum's $18 million comes off the books? Do you want to build a rotation around
Madison Bumgarner
, a guy coming off an injury and three starters (Shields,
Tim Hudson
and
Jake Peavy
) in their mid-to-late 30s?
Sure, Shields could help in 2015. But it's not as if the Giants are going to have trouble selling tickets if they don't sign him. They have a little goodwill to play with after winning the World Series. They have a strong team, with or without Shields, and play in a weak division. I'd pass on Shields, go with Lincecum and/or
Yusmeiro Petit
in the fifth slot, then go all-in next year on Price or Zimmermann.
Same thing with the Red Sox. If they're going to win, it's because
Clay Buchholz
is healthy,
Wade Miley
steps up, the new free agents make an impact and young hitters
Mookie Betts
and
Xander Bogaerts
develop into stars. If that happens, they don't really need Shields and can go after the big guns next offseason.
That's just my take. Somebody will give Shields a lot of money. And maybe he'll prove to be as valuable to his new team as he was to the Royals.