March, 29, 2015
Mar 29
11:15
AM ET
By
Christina Kahrl
| ESPN.com
Wait, who got where? The BBTN 100 ranked Jose Altuve of the Houston Astros the second-best second baseman? On the planet? Right now? Isn't that a bit … premature?
I'm here to tell you it is not. Recognizing that mighty mite Altuve is this good right now isn't just timely, it's prescient of our BBTN 100 panel to say so, because Altuve is here to stay. And that isn't because Dustin Pedroia is getting fragile or because Chase Utley got old, because they both remain really good players. Jose Altuve is ranked this high because Jose Altuve is awesome, and because he presents us with a lesson in how both players and success in the majors don't require one-size-fits-all solutions.
[+] Enlarge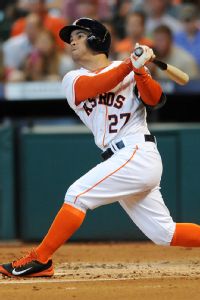 John Rivera/Icon SportswireJose Altuve's free-swinging approach generates league-leading results.
It's easy enough to love the production. Altuve didn't just win a batting title by hitting .341 or lead the league in steals, swiping 56 at an 86 percent success rate. He belted 47 doubles, second most in the league behind Miguel Cabrera. And he finished eighth in the league in OBP (.377). And how did he do that? By plinking, spanking, slapping, lining and legging out a league-leading 168 singles, 30 more than the next guy. And he did that by delivering the second-highest batting average on balls in play (.360), trailing just Lorenzo Cain.
The single may be baseball's answer to basic black: Whatever else changes, it's never out of fashion. But because the single depends on hitting 'em where they ain't -- instead of over the fence -- it isn't always given its due as a product of execution and skill. More than a few analysts treat BABIP as a constant, a law of physics that pulls at every player. But BABIP isn't gravity, it's an outcome generated by a heterogeneous population of players who attempt and execute different approaches using very different skills to get results -- hits, baserunners and runs.
There's more than one way to skin this cat, and Altuve's means of production are a great reminder of that. He swung at the first pitch 36.5 percent of the time, the fourth-highest rate in the AL last year, while averaging just 3.1 pitches per plate appearance, making him one of the most aggressive hitters in baseball. But think he doesn't know what he's doing? He cranked out a 1.048 OPS on those first pitches; last year the AL averaged .882. Know who offered on even more first pitches? Cabrera, 37 percent of the time. For some guys success is about avoiding the guessing game of deeper counts, and creaming a good first pitch. Vive la difference.
Altuve missed on just 7.5 percent of all pitches he offered on, but while he's as free-swinging as they get, he's also a tremendous bad-ball hitter. Per Baseball Info Solutions, last year Altuve produced a .636 batting average plus slugging (or BPS) clip on balls outside the zone, fourth in the league behind Tigers DH Victor Martinez (.767), Adrian Beltre (.686) and Michael Brantley (.636). And he's not just a speed guy legging out grounders: Generating balls in play in 86 percent of his at-bats last year (82 percent career), he produces more fly balls and line drives than grounders, lining singles to all fields. Despite his small stature, he can't be overpowered, hitting .309 career on four-seam fastballs.
Talk about a guy this dependent on singles and busting out as big as Altuve did last year, and people might be forgiven if they automatically talk about regression. It's easy to say that Altuve can't maintain last year's .360 BABIP, because that's hard to do, and the MLB average for BABIP was .299 last year. Outliers are supposed to regress. It's also easy to pick on the things Altuve doesn't do, things most analysts expect from good hitters: He doesn't walk much, with an unintentional walk rate of just 4.1 percent last year, and 4.5 percent on his career.
But that's the thing: There's no actual law that says Altuve will regress to the mean -- it's within his control to execute his plan in his at-bats and keep doing what he does well, within the range of results he can deliver. Last year's .360 BABIP was just a natural progression from a guy who put up a .317 BABIP in his previous two and a half seasons in the majors. If anything, that is his floor, that is, not .299. High-average hitters don't always, relentlessly regress. Tony Gwynn never did; he kept butting a bunch of well-hit balls in play and finished with a career .341 BABIP. That was his game, a very different one from Altuve's, but he's a reminder that unique talents can achieve unique results.
Which is why, when talking Altuve, we need to keep in mind that he's really only just getting started, heading into his age-25 season. And any expectations -- and any projections -- are handicapped by Altuve's already unusual career. Altuve had an ugly 86-game run in 2013 where he played through a dislocated jaw in May -- remember that? Remember anybody else doing that, ever? -- and a strained quad in July and August. He didn't go to the DL for any of those things, he just kept playing.
Respect or decry that decision, the big-picture problem that represents is for talking about Altuve and his future. He hit .232/.268/.292 during that stretch, before a big September rebound where he put up an .839 OPS -- the kind of performance that fits very neatly with last year's .830 OPS. But in the meantime that bad patch helped put up a big dent in projecting what he's capable of.
"ZiPS deals with injuries in a very general fashion, but a guy playing through injuries? That's really hard to model, and it's really hard for a projections system to build in," Dan Szymborski of ESPN Insider observes, not just about ZiPS, his own model, but about all projection systems.
Even with that kind of systemic issue putting a dent in every Altuve projection, he's nevertheless projected by ZiPS to win the 2015 AL batting title by just a hair over Cabrera. ZiPS gives Altuve a 25 percent shot at hitting over .325, and lest you think it's projecting Altuve to just keep plinking singles, ZiPS is also giving Altuve a 29 percent shot at getting into double digits into home runs this year. So no BABIP regression, and an expectation that he'll add more power? Of course he's pegged second at second. Altuve's already great and getting better.
Which is why we should all love Jose Altuve. We are not all born equal, and we don't all have the same gifts. That's as true among professional athletes as it is for you or me. But Altuve has taken what he has going for him and redefines the possible every day he takes the field. Who can't root for that?
Christina Kahrl writes about MLB for ESPN. You can follow her on Twitter.