December deal delivers for D-backs
August, 14, 2011
8/14/11
11:55
PM ET
By
Justin Havens
| ESPN.com
On the same Sunday that current
Baltimore Orioles
third baseman
Mark Reynolds
went 0-4 with two strikeouts, the
Arizona Diamondbacks
-- Reynolds' former team -- defeated the
New York Mets
5-3 to maintain a two-game lead over the
San Francisco Giants
in the National League West. But the game was yet another example of how different things are for the Diamondbacks this season, starting with the man who ended Sunday's victory -- relief ace
David Hernandez
.
On Dec. 6, 2010, the Diamondbacks made what appeared at the time to be a fairly innocuous trade, sending third baseman Mark Reynolds (and
John Hester
) to the Orioles for Hernandez (and
Kam Mickolio
). While Reynolds has never been a superstar, he did hit 104 home runs over the course of three seasons from 2008-10. It was this trade, however, that helped change the D-backs' course by simultaneously managing to improve the team's offense, relief pitching and defense in one fell swoop.
Offense
While the Diamondbacks' offense is not significantly improved from last season, the trade of Reynolds did initiate one major change -- a sharp reduction in the team's strikeouts. The team's run production overall has increased slightly as well. Reynolds had struck out more than 200 times in each of those three seasons; those are the three highest strikeout totals in major league history.
Defense
While Hernandez has had nothing to do with the team's defensive improvement, removing Mark Reynolds from the equation certainly helped the Snakes. In fact, the benefits can't even be fully appreciated given that the true damage might not have been done unless Reynolds stayed on the team.
The Diamondbacks currently rank tied for fourth in the National League in defensive runs saved. The team ranked eighth in the National League last season. However, the real "improvement" comes from the removal of what would have been Reynolds' 2011 defensive performance; Reynolds currently ranks dead last among
all position players
in defensive runs saved. (For comparison's sake, we'll include the tally of all D-backs third basemen.)
In other words, assuming Reynolds would have contributed roughly the same defensive performance for the Diamondbacks as he currently is for the Orioles, in a case of addition by subtraction the Diamondbacks gained 2-3 wins by trading Reynolds.
Relief Pitching
The Diamondbacks' 2010 bullpen ranked as one of the worst in recent history, posting an ERA just under 6.00. While it requires more than one reliever to turn around an entire bullpen, Hernandez's contributions cannot be understated. Hernandez ranks seventh among National League relievers in wins above replacement and 17th in strikeout rate (minimum 150 plate appearances). In short, he has been the team's best reliever. Diamondbacks manager Kirk Gibson had no problem agreeing with that statistical conclusion, going to Hernandez in the ninth inning on Sunday.
This has had a trickle-down effect on the entire D-backs bullpen, as the team has lowered its ERA by nearly two full runs, with an accompanying improvement in its peripheral statistics, including just two walks in 5 2/3 innings on Sunday.
Finances
In addition to improving the team on offense, defense and on the mound, the trade also had a side benefit for the Diamondbacks: team finances. Reynolds will make $5 million in 2011 and another $7.5 million in 2012 before his employer will presumably buy him out for $500,000 (rather than take on an $11.5 million club option for 2013). David Hernandez makes only $423,5000 in 2011, so the trade effectively saved the Diamondbacks about $4.5 million in 2011 and likely another $5 million in 2012, approaching a savings of $10 million overall.
The seemingly insignificant trade of a veteran third baseman for a relatively unknown reliever effectively changed the entire dynamic of the Diamondbacks' approach, improving the team's offense, defense, relief pitching and finances. That has rarely been more evident than in Sunday's win over the Mets, in which the team's bullpen provided 5 2/3 innings while allowing just two runs after starter
Jason Marquis
left with a fractured shinbone. Of course, it was none other than Hernandez closing the door with a scoreless inning to record his 11th save and the Diamondbacks' 68th win -- already three more games than they won all of last season.
PHOTO OF THE DAY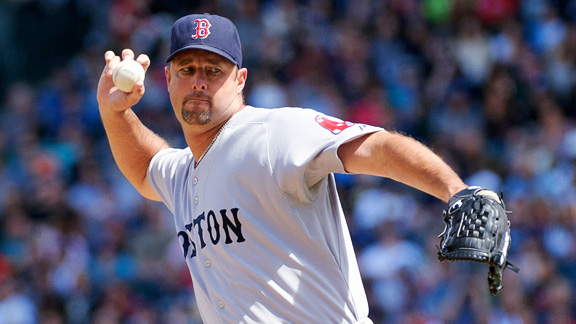 Steven Bisig/US PresswireSeeing Tim Wakefield throw the increasingly rare knuckleball is worth a thousand words.
Justin Havens is a member of ESPN's Stats & Information group.