Never too early to talk postseason pitching
August, 17, 2011
8/17/11
12:16
AM ET
The great Eric Karabell comes up to Bristol, Conn., every Tuesday. We talk baseball, usually try to grab dinner. Sometimes I join him on the Baseball Today podcast on Wednesday, and he makes his obligatory statement that he doesn't think the Phillies can beat the Giants if they meet in the postseason.
So we're at dinner -- Ty Cobb salad for Eric, grilled San Diego Chicken sandwich for me -- with the Rays-Red Sox game on one TV, the Diamondbacks-Phillies on another. Eric points out that
Ryan Howard
never seems to pull his home runs anymore. We discuss
Jacoby Ellsbury
's monster season with the bartender. The screen flashes to
John Lackey
, and we wonder how he fits in the Red Sox's playoff rotation. I try to convince Eric that
Randy Wolf
should be Milwaukee's No. 1 starter in a potential series against the Braves.
Meanwhile, the Red Sox turn a triple play,
Justin Verlander
is dealing again and my editor Nick alerts me to Randall Delgado's no-hit bid in his second major league start. I rush home to see
Cody Ross
break it up with a home run. I see the Diamondbacks rally with two runs off
Roy Halladay
in the top of the ninth to win 3-2, stunning the home crowd in Philly. I see the Giants and Braves go extra innings.
In my mind, this wonderful jumble of baseball all ties together. Yes, it does. It all has me thinking of the postseason. It's never too early to think about October, is it? Here are a few pitching-related questions for October that jumped into my mind.
Could Randall Delgado be in the Braves' postseason rotation?
The 21-year-old was obviously impressive Tuesday evening -- although it must be said that it was against the Giants, a team that started a lineup with six players (including the pitcher) owning on-base percentages less than .300. But consider:
Tommy Hanson
is currently on the DL,
Derek Lowe
has a 6.30 ERA over his past 12 starts with 90 hits allowed in 65.2 innings and
Jair Jurrjens
will test his sore knee Wednesday. Jurrjens is expected to be OK, but considering Hanson's uncertainty and Lowe's poor pitching for two-plus months, there's a slim chance Delgado or
Mike Minor
could end up starting for Atlanta.
Would you rather start A.J. Burnett or John Lackey?
Mr. Karabell raised this question. Lackey has won six straight decisions (over seven starts), but he hasn't really pitched
that
well over that stretch, with 56 hits in 43.2 innings. He's still a huge question mark in my mind. Burnett has a 5.85 ERA his past eight starts and has allowed 30 hits his past 16 innings. We both agreed that Burnett still has more potential to put it together for a couple of postseason starts, like he did in 2009.
Who should be the Yankees' No. 2 starter?
It's amazing the Yankees entered Tuesday allowing the second-fewest runs per game in the American League without an obvious No. 2 starter. And that's not just because of their bullpen; the rotation had a solid 3.72 ERA, sixth best in the AL. We both agreed that it probably would be
Bartolo Colon
right now but thought
Ivan Nova
should be a candidate (although we said that before he got shelled by the Royals).
Who starts Game 1 for the Brewers?
Zack Greinke
has been the hottest of late.
Yovani Gallardo
has playoff experience.
Shaun Marcum
has the best WHIP. I made the case that it should be Randy Wolf, who actually has the lowest ERA at 3.30 -- especially if the Brewers meet the Braves, who have the worst OPS against left-handers of any team in the National League. Don't you want Wolf lined up to face the Braves twice in a five-game series?
Can Justin Verlander start every game for the Tigers?
The Tigers have to get there, of course, and depending on how the AL Central race goes, Detroit might not be in a position to have Verlander rested for Game 1 anyway. The real question, of course: Would the Tigers start Verlander on three days' rest, either to start the series or maybe in Game 4 if Detroit is down two games to one? You probably won't be surprised to know that Verlander has never started a game on three days' rest in his career. I see it happening only in something like a Game 2 start followed by a Game 5 start.
How should the Rangers line up their rotation?
C.J. Wilson
starts Game 1, but it could be anybody in Game 2. Against Boston, the perception might be to start a lefty to help neutralize Ellsbury,
Adrian Gonzalez
,
David Ortiz
and
Carl Crawford
, but the Red Sox actually hit lefties nearly identical to righties -- .804 OPS versus .812. Plus
Matt Harrison
is a reverse platoon lefty, much better against right-handed hitters.
Derek Holland
is a lefty killer (.224, only two home runs in 152 at-bats) but runs hot and cold, and I doubt Ron Washington would want him pitching in Fenway. The Yankees have hit a little better against left-handers (.817 OPS versus .782), but you also would prefer a lefty starting in Yankee Stadium to help stay away from the short right-field porch. So Harrison could be the No. 2 against New York, but
Alexi Ogando
or
Colby Lewis
against Boston.
Vance Worley or Roy Oswalt?
Let's wait a few weeks on this one.
Who starts Game 1 for the NL West winner?
Trick question!
You're ignoring the Indians and White Sox!
No insults intended. The Justin Verlander question was just hypothetical.
Wait, you mean A.J. Burnett could face John Lackey in a playoff game?
I guess we can't call it the Year of the Pitcher II if that happens.
PHOTO OF THE DAY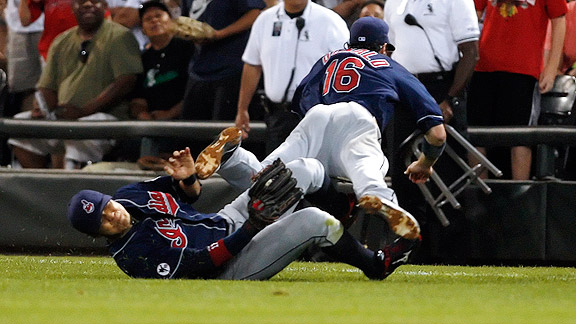 Jerry Lai/US PresswireLook out. The AL Central can be a rough-and-tumble place. Emphasis on tumble.