Meeting baseball's Yoda in San Diego
August, 22, 2011
8/22/11
3:01
PM ET
By
Jason Rosenberg
| ESPN.com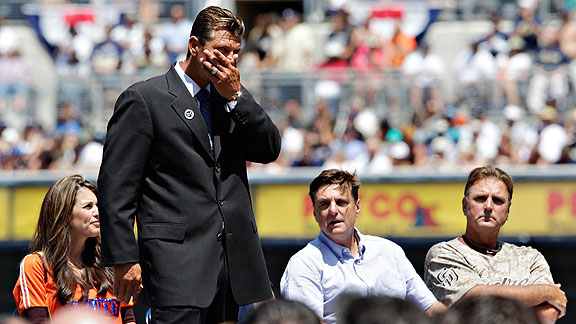 AP Photo/Lenny IgnelziTrevor Hoffman, baseball's all-time saves leader, had his No. 51 retired Sunday by the Padres.
I had the opportunity to witness Trevor Hoffman's retirement ceremony on Sunday in person. That alone makes for a special day at the ballpark. Despite my childhood affiliation with my hometown Yankees, I have always been a Trevor Hoffman fan. His approach, his focus, his sense of humor, his ability to reinvent himself -- from a shortstop to a pitcher, from a flamethrower to a guy with the most devastating changeup in the land -- always endeared himself to me. Being in the stadium when No. 51 was retired was going to be special. What came next put the day over the top.
Thanks to the great folks at the Padres, I had insider access in the press box. Seated in the second row, I was joined by a gentleman named
David Garcia
. Mr. Garcia introduced himself to me by stating matter-of-factly: "I've been in baseball longer than anyone alive and I've seen every living Hall of Famer play ... most of the dead ones, too." You sir, can have a seat.
Mr. Garcia began his baseball career in 1938 when the St. Louis Browns signed him. While he never reached the majors as a player, he later managed the California Angels and Cleveland Indians from 1977 to 1982. Mr. Garcia is nearly 91 years old, born in East St. Louis, Ill., in 1920. He told me that he never really had to work a day in his life because he loved the game so much he never considered it working. "The only time I worked was in the offseason," he said. "I had to carry 300 pounds of meat up the stairs."
I started to take notes but he told me to put my pen down. I didn't want to see a pitch. I just wanted to talk with him all day. He talked about how much the game has changed and how he saw Lou Gehrig play. He was like a little baseball Yoda. But just like that, he was gone, and I didn't see him again. Apparently, he sits down by the Padres dugout, according to this
2009 article in the New York Times
.
I only had 10 minutes with Mr. Garcia, but my day as an insider was already wonderful.
As for the Hoffman ceremony, the goosebumps began instantly. With the first bang of the bell from "Hells Bells," the entire Hoffman family strode through the bullpen gates and marched to the dais behind the pitcher's mound. Not sure of the press box protocol, I wasn't sure if I should applaud or not but ultimately I cheered like a fan. No one seemed to care. Following a version of "This Is Your Life" featuring childhood coaches and many former teammates, the four other players the Padres retired numbers for all marched in together from center field -- Tony Gwynn, Dave Winfield, Steve Garvey and Randy Jones. The electricity in the stadium was off the charts.
Hoffman spoke briefly but succinctly, thanking his brothers and parents for teaching him the right way to play and leaving us with a reminder: "There are no shortcuts." The capper was the singing of the National Anthem, a video featuring Hoffman's late father, Ed, from when he sang the National Anthem on Opening Day in 1981 at Fenway Park when Trevor's brother Glenn was the starting shortstop for the Sox. The response around the press box was unanimous: the ceremony was as first-rate as everyone had hoped.
Mariano Rivera, who is at 592 saves and might overtake Hoffman's 601 by season's end, provided a video tribute between innings and was as gracious and magnanimous as you would both hope and expect. The staff in and around Petco Park are by far the nicest and most helpful folks around. They genuinely want you to have a great time while in their company.
And with an ambassador like Dave Garcia, how could you not?
Jason Rosenberg is the founder and editor-in-chief of the ESPN affiliate website It's About The Money, covering the New York Yankees. You can follow on Twitter and Facebook.