For the next two weeks, "Baseball Tonight" (airing at 3:30 p.m. ET) will take a closer look at players in the spotlight for 2012 and ask the question "What's next?" for that player. Share your thoughts in the comments section and join the discussion.
Michael Pineda in 2011
Michael Pineda got off to a terrific start for the Seattle Mariners in his debut season, but his numbers at the end of the season did not match up to those at the start of the year. In particular, his home run rate increased significantly.
Pineda was not able to replicate the success he had against lefties in the first half. He went from allowing an extra-base hit every 17 at-bats against lefties to allowing one every 12.
Pineda's opponents batting average against left-handed hitters rose from .201 prior to the All-Star break to .302 afterwards.
Michael Pineda vs LHB
Pitches in Strike Zone
The heat map below shows the damage done against Pineda when he threw a pitch in the strike zone to a left-handed hitter.
Which version of Pineda will we see with the New York Yankees in 2012?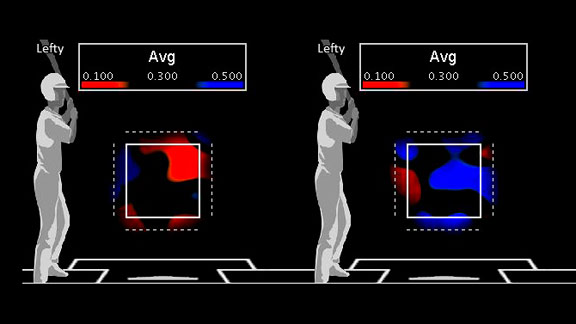 Left: Michael Pineda's hot/cold zones in strike zone versus lefties (first half)
Right: Pineda's hot/cold zones in strike zone (second half)
Click here to create your own Pineda heat maps
Debate below how think you Pineda will fare in pinstripes.