Greatest nicknames of all time
April, 26, 2012
4/26/12
12:54
PM ET
What makes a great nickname? I think it has to work in print and in broadcast form. The best ones are not only original but create a visual description of the player's ability. Bonus points if teammates actually refer to him by his nickname.
"The Sultan of Swat" is a pretty good one. Descriptive -- you can imagine a 1930s radio announcer saying, "And The Sultan hits another one!" -- and alliterative. Of course, Babe Ruth's teammates called him Jidge (a play on his given name of George) and not Sultan.
Ty Cobb was called the Georgia Peach. That's a terrible nickname, foremost because Cobb was hardly a peach of a person. And it doesn't really describe his skills in any visual manner.
Anyway, with apologies to Mr. October, The Commerce Comet, The Hoover, Wahoo Sam, Pee Wee, The Flying Dutchman, The Grey Eagle, Pudge (both of them), The Yankee Clipper, The Big Cat (Mize or Galarraga), Stretch, Donnie Baseball, Crime Dog, Big Papi, The Big Hurt, Losing Pitcher (that's Hugh Mulcahy, a pitcher from the 1930s who twice led the league in losses), The Peerless Leader, Moose (multiple players, including Moose Skowron, who didn't earn it for being big and slow, but rather when he was a kid for looking like Italian dictator Benito Mussolini), The Mad Hungarian, Shoeless Joe, Grandma (Johnny Murphy), Catfish, Will the Thrill, Piano Legs and many others, here is my all-time nickname team:
C: Yogi Berra.
I don't think Larry Berra has the same ring to it.
[+] Enlarge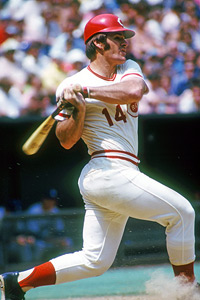 Malcolm Emmons/US PresswirePete Rose boasts one of the better baseball nicknames.
1B -- Pete Rose: Charlie Hustle.
Yes, it fits on a few levels. It should be pointed out the nickname was originally derisive -- opposing players mocking Rose for running to first base after drawing a walk.
2B -- Frankie Frisch: The Fordham Flash.
Yes, he went to Fordham. Yes, he was fast.
3B -- Bob Ferguson: Death to Flying Things.
Mariners announcer Dave Niehaus recycled the nickname for Franklin Gutierrez. The interesting thing about Ferguson is that he was an 1870s-era third baseman, not an outfielder, so his moniker was derived from his ability to snare line drives.
SS -- Ozzie Smith: The Wizard of Oz.
Or, as Jack Buck infamously shortened it, simply The Wizard.
OF -- Jimmy Wynn: The Toy Cannon.
Wynn was a small but powerful hitter. Perfect visual image and it works well on air (and announcers would call him by his nickname). Maybe my favorite nickname of all time.
OF -- Stan "The Man" Musial:
Of course.
OF -- Paul Waner and Lloyd Waner: Big Poison and Little Poison.
The brothers shared the outfield for years with the Pirates in the '20s and '30s. Can you guess which one was the better hitter?
P -- Sudden Sam McDowell.
Alliterative and a perfect description for his explosive fastball.
P -- Sal Maglie: The Barber.
Known for giving hitters an occasional close shave with an inside pitch.
P -- Walter Johnson: The Big Train.
Again, a pitcher with a big fastball.
P -- Amos Rusie: The Hoosier Thunderbolt.
The hardest thrower of the 1890s. If you want a great nickname, throw hard.
P -- Dizzy Dean.
It's not exactly known how the Hall of Famer earned his nickname, although one common explanation is that while Dean was in the Army, a sergeant caught him throwing peeled potatoes against garbage can lids and referred to him as a "dizzy SOB." But the nickname fit Dean's outgoing, quirky, creative personality.
[+] Enlarge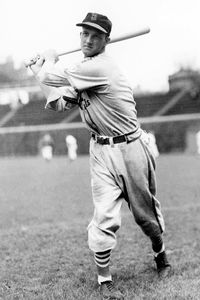 Mark Rucker/Getty ImagesStan Musial's nickname was more than appropriate.
Manager: Leo "The Lip" Durocher.
Although "Little Napoleon" for John McGraw is pretty effective as well.
Some favorites from SweetSpot bloggers ...
A few weeks ago, I was doing some research on the early 1900s. The names are so baseball, so perfect: Steamboat Williams, Sweetbread Bailey (whose given name was Abraham Lincoln Bailey), Possum Whitted, Tiny Graham. The nicknames go on and on even though so many of the players had fleeting baseball careers. If there's ever a favorite nickname encapsulating how exceptional and distinctive someone is, for me it is James "Cool Papa" Bell. He loved baseball; how I wish I could have watched him on the baseball diamond! He was one of the most legendary Negro League players and he lived on ... Cool Papa Bell Boulevard AND his wife's name was ... Clara Bell Bell. Not just Clara Bell but Clara Bell Bell.
-- Anna McDonald
We're definitely already including Arlie "The Freshest Man on Earth" Latham, right?
-- Ryan Sommers
Bris Robotham Lord (aka "The Human Eyeball"). Part of the allure for me is that no one is actually sure of the origin of the nickname. Lord didn't suffer from any vision problem such as Graves' ophthalmopathy, nor did he have a spectacular "eye" at the plate. It's my favorite nickname because of the imagery ... the eyeball as the entirety of the being.
-- Diane Firstman
The Splendid Splinter, Oil Can Boyd and Spaceman Lee.
-- Evan Brunell
Lou Gehrig -- Biscuit Pants. (For his, umm, low center of gravity.)
-- Jordan Smedresman
George Sherrill -- The Brim Reaper, based on the style with which he wears his cap, leaving the brim flat.
-- Daniel Moroz
Blue Moon Odom, although I never knew why he had that nickname. Three Finger Brown because he had, um, three fingers. Dick "Dr. Strangeglove" Stuart after the movie to describe his terrible defense. Gary "Ding Dong" Bell. As Jim Bouton described in "Ball Four" -- "Gary Bell is nicknamed Ding Dong. Of course. What's interesting about it is that 'Ding Dong' is what the guys holler when somebody gets hit in the cup. The cups are metal inserts that fit inside the jock strap, and when the baseball hits one it's called ringing the bell, which rhymes with hell, which is what it hurts like. It's funny, even if you're in the outfield, or in the dugout, no matter how far away, when a guy gets it in the cup you can hear it. Ding Dong."
-- Joe Janish
Red Lucas, the "Nashville Narcissus." Lucas was a pitcher in 1920s and 1930s. A two-way threat, he led the majors in complete games three times and is 11th all time in pinch hits with 114. The nickname was created by Cincinnati Tribune writer Colonel Bob Newhall.
-- Matthias Koster
Bill James once wrote about a Negro League player named Olin "Satan" Taylor, so called because he knocked the devil out of the ball. Taylor's nickname was later changed to "Jelly" because his mother objected to her son being called "Satan." I find the first part extremely clever and the second adorable.
-- Michael Baumann
Since I am from the Indians blog, I HAVE to suggest Mike "The Human Rain Delay" Hargrove. I think
this video link
pretty much explains how Mike earned his name.
-- Brenden Lowery
"Wonder Hamster" for Matt Stairs is physically descriptive (no one looks more like a hamster than Stairs) and the perfect superlative (the violent swing certainly inspired wonder). Plus, it's a Weird Al Yankovic reference.
-- Jason Wojciechowski
Most of the nicknames from the Devil Rays era are not fit for print. But, since 2008, the best has to be Dan Johnson. He has orange hair, he doesn't show up until October, and when he does, it's always memorable. Ergo, Dan Johnson will forever be known as The Great Pumpkin.
-- Mark Heilig