A Mariners fan passes away at 103
April, 26, 2012
4/26/12
6:38
PM ET
While a lot of headlines in sports these days focus on the ugly side of things, there is still plenty of good to be found. My grandma, Ruth Bishop, passed away today. She was 103. I'm not going to claim that she was the biggest Mariners fan in the world, but she did love the team. For the last 10 years or so she lived in a dorm-sized room. While she had paired down her possessions over the years, a good quarter of the items she retained were Mariners related -- blankets, bobbles, a stuffed moose, pillows and an autographed poster of
Edgar Martinez
.
[+] Enlarge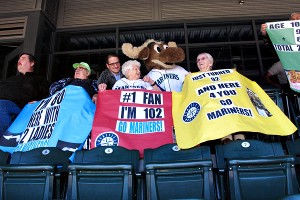 Ted BishopRuth Bishop attended her first Mariners game last year at 102.
Our visits rarely focused on her aches and pains. We instead focused on what Lou Piniella saw in Bobby Ayala or if Heathcliff Slocumb would ever record an out. Even when my grandma's vision started to fail, she would argue balls and strikes if Dave Niehaus hinted that the pitch looked good. Her passion for the team was pure, very similar to the passion many of us felt as youngsters watching our favorite team or getting your favorite player in a pack of baseball cards. Contract talks and scandals didn't mean that much to me then.
I don't know if my grandma's rest home was unique or symbolic of similar retirement communities. But the seniors lived for Mariners games. They watched religiously and in the very end, Mariners game times were a big part of how my grandma kept time. And for that I say thank you to the
Seattle Mariners
. I'm fairly confident that following the team kept her mind sharp as a tack and added at least a couple years to her life. At the very least, it made her final years much more enjoyable.
And while these types of stories never make the news, the Mariners were nothing but first class in their treatment of Ruth. She attended her first game at Safeco last year and they treated her like royalty: Bag of goodies, picture on the big screen and all. And Martinez went even further, calling Ruth on her 100th and 103rd birthdays.
Thank you, Mariners. Thank you, Edgar.
Ted Bishop is a senior director of digital partnerships for ESPN.com.