Tigers' infield defense a big problem
May, 26, 2012
5/26/12
2:01
PM ET
By
Josh Worn
| Special to ESPN.com
When the
Detroit Tigers
inked their prodigal son to a contract back in January, the bulk of the Tigers fan base knew
Prince Fielder
's presence would come with strings attached. They knew that the cost of signing him was not exclusively limited to the nine-year deal, or the $214 million, or the drama with his estranged father.
They knew that, given the fact that All-Star first baseman
Miguel Cabrera
was already on the roster, there would have to be some shuffling done. Questions were quickly answered at the news conference announcing Fielder's deal; the more agile Cabrera would move across the diamond and play third base, as he had when he first arrived in Detroit four years ago, and Fielder would play first base.
Immediately, you took a look at the projected infield of Fielder, a platoon of
Brandon Inge
/
Ryan Raburn
/
Ramon Santiago
at second base,
Jhonny Peralta
at shortstop, and Cabrera, and you cringed. While national writers and bloggers lamented how this would affect the Tigers' starting pitching, the Tigers fan base, for the most part, shrugged and said, "We know it's bad, we know there's no range. But. They. Will. Score. Runs."
Well, here we are, nearly two months into the season and the Tigers sit at 21-24 entering Saturday's action and are in third place in the AL Central. The bullpen hasn't been consistent (while better as of late, they still sit at a league-high 4.64 ERA), and the offense has been suspect and stagnant, but both of those will most likely improve as the season goes on. The defense, however, has certainly lived up to its reputation. I'm not sure it's going to get better.
[+] Enlarge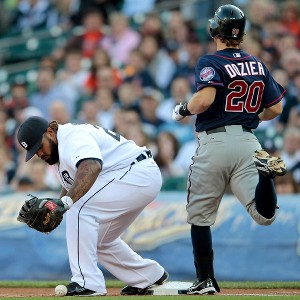 Leon Halip/Getty ImagesMaybe Detroit's first baseman should change his name to Prince Batter.
On May 16, the Tigers and
Rick Porcello
faced the last-place
Minnesota Twins
. Porcello induced two groundballs to start the game. Fielder fielded the first one cleanly for one out and Santiago (starting at shortstop to give Peralta the day off) fielded the second one cleanly for what should have been the second out. However, Fielder flat out dropped the throw, and
Brian Dozier
was safe at first on the error.
The Twins capitalized.
Joe Mauer
doubled Dozier home, and
Josh Willingham
doubled Mauer home. While it wasn't the final out of the inning, Fielder's gaffe on an easy play turned into a pair of runs before Porcello could recover, striking out the final two batters of the inning.
The Tigers scored once in the bottom half of the inning and Porcello returned to the mound trailing only 2-1. After he recorded two outs and allowed a single,
Erik Komatsu
bounced a groundball to Raburn, who booted the easy play. With both runners safe, Dozier stepped to the plate and promptly swatted a three-run home run to make it 5-1, Minnesota. Four of those runs came courtesy of the Tigers' infield defense.
The Tigers ended up losing the game, 11-7, each member of the infield defense had an error, and the game became the perfect example of how to lose when professional baseball players forget to play defense. It wasn't the first game, and it certainly won't be the last.
Defensive efficiency measures the percentage of batted balls in play that are converted into outs. It's obviously not the only thing you look at when measuring a team defense, but it is one thing. And in this area, the Tigers are among the worst in baseball, ranking 26th in the majors at .692. The Blue Jays top the majors with a .735, meaning they're turning an extra 4.3 percent of balls in play into outs compared to the Tigers. The Tigers are obviously not a very clean fielding team as a whole, led by their uninspiring infield.
Defensive Runs Saved uses video review to estimate each fielder's defensive contribution and compares each fielder to the league average for his position. The Tigers' infield defense looks like this:
1B Prince Fielder: -5 runs (386 innings)
2B Ryan Raburn: -2 runs (162 innings)
2B Ramon Santiago: -1 run (132 innings)
2B
Danny Worth
: -1 run (60 innings)
2B Brandon Inge: -2 runs (43 innings)
3B Miguel Cabrera: -3 runs (388 innings)
SS Jhonny Peralta: -4 runs (348 innings)
SS Ramon Santiago: -1 run (50 innings)
That's pretty brutal, especially when you consider that this is what the defense looks like a quarter of the way through the season. I mean, oh man, holy tomato sauce, something has to be done here, right? No wonder people punch their mirrors. Looking at yourself is sometimes ugly.
So, what is going to happen going forward?
The Tigers like to be traditional and old school and they like to stick to certain roles for as long as they can. I doubt we'll be seeing any changes here unless they swing a trade later this summer.
With
Delmon Young
ousted out of left field thanks to the start of
Andy Dirks
, the designated hitter position is taken. I don't think we'll be seeing Fielder moving to DH and Cabrera to first base, nor do I think that they will do that even if they make a trade.
Peralta was moved to third base when he was with the Indians two years ago due to his lack of range at shortstop. After a big 2011, his offense thus far has been suspect. He's also about to turn 30 years old and on the final year of his contract.
Raburn's versatility would keep the Tigers from trading him even if he wasn't hitting .148/.214/.217 through the first two months of the season.
No, I think the Tigers are sticking with what they have. They are going to rely on the hope that their offense eventually clicks, their pitching dominates (i.e., they need to rely even more on strikeout pitchers
Justin Verlander
,
Max Scherzer
, and, apparently,
Drew Smyly
), and the rest of the AL Central can perform like they did last year and allow Detroit to run away with the division.
Some might ask if that is realistic. Maybe it's not. But do they really have a choice?
Josh Worn writes about the Tigers at the Walkoff Woodward blog.