Best rookie seasons of all time
July, 16, 2012
7/16/12
7:06
PM ET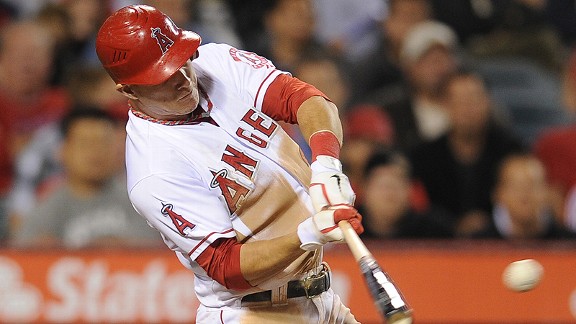 Kelvin Kuo/US PresswireIs Angels outfielder Mike Trout having one of the best rookie seasons of all time?
This came up on my Twitter timeline Sunday night when somebody asked if
Mike Trout
is having the greatest rookie seasons of all time. Entering Monday night's game against the Tigers, Trout is hitting .349/.403/.574 and leads the American League in batting average, stole bases and adjusted OPS. He also leads in Baseball-Reference WAR, at 5.0 ... despite missing the first 20 games while in Triple-A. Assuming he keeps that rate of production over the Angels, we're talking about an additional 5.4 WAR over the Angels' final 73 games (if he plays every game).
That's beyond phenomenal. That's season-for-the-ages kind of stuff. And not just because he's 20 years old. Since 1901, Baseball-Reference rates 46 different seasons for position players at 10.0 Wins Above Replacement or better -- eight of those by Babe Ruth, six by Willie Mays and so on. Only eight of those 46 have come since 1969. For those reasons, the logical analysis is that Trout will slow down a bit at some point. Maybe a little fatigue sets in. More likely, his .401 average on balls in play drops a bit or he falls into a three-week slump.
Anyway, back to the original question. Here are 12 great rookie seasons.
[+] Enlarge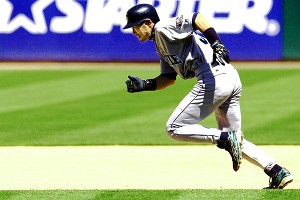 AP Photo/Bob GalbraithIn his rookie season in 2001, Ichiro Suzuki hit .350 and scored 127 runs.
Ichiro Suzuki, 2001 Mariners: 7.5 WAR
Stats: .350/.381/.457, 8 HR, 69 RBI, 242 H, 127 R, 56 SB, 126 OPS+, Gold Glove, MVP
Quote: "It's almost as if he has a tennis racket in his hands. I'm gonna lob this one -- and it's a blooper over the shortstop's head. I'm gonna ace this one -- and it's a liner down the right-field line. He's toying with guys, and there's nothing they can do about it." -- Mariners coach John Moses (Sports Illustrated)
Albert Pujols, 2001 Cardinals: 6.3 WAR
Stats: .329/.403/.610, 37 HR, 130 RBI, 47 2B, 112 R, 157 OPS+, 4th in MVP
Quote: "I watched him in spring training and I saw that he wanted to be here. He adjusts well, he's very coachable, very intense. He concentrates well. He does all of the things you want in a ballplayer. He's going to go through his struggles. Everybody does. But he's a young, gifted player. He's well ahead of his class. In fact, he's the valedictorian." -- Cardinals hitting coach Mike Easler (Milwaukee Journal Sentinel)
Nomar Garciaparra, 1997 Red Sox: 6.5 WAR
Stats: .306/.342/.534, 30 HR, 98 RBI, 44 2B, 209 H, 122 R, 22 SB, 123 OPS+, 8th in MVP
Quote: "He's got power, he's got RBI, he's got average, he's got range, he's got a strong arm and he has great instincts -- but he can't (slide) headfirst. I was telling him the only thing he needs to do is slide headfirst. It seems like he's been safe on an awful lot of plays they've called him out on." -- Red Sox catcher Mike Stanley
Mike Piazza, 1993 Dodgers: 6.8 WAR
Stats: .318/.370/.561, 35 HR, 112 RBI, 81 R, 153 OPS+, 9th in MVP
Quote: "I was at a baseball card show with a scout that knew Mr. (Ted) Williams, and he told him about Mike's hitting. So when Mr. Williams asked if he could come over and see Mike's swing, I said, 'Are you kidding?' He watched Mike's swing and he said, 'If this kid is swinging this well now and he's only 16, I guarantee you that he will hit in the major leagues.'" -- Mike's father, Vince (Los Angeles Times)
[+] Enlarge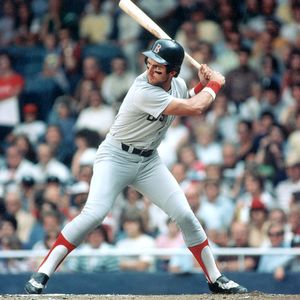 Hulton Archive/Getty ImagesFormer Red Sox outfielder Fred Lynn won an MVP and gold glove in his rookie season.
Fred Lynn, 1975 Red Sox: 7.1 WAR
Stats: .331/.401/.566, 21 HR, 105 RBI, 47 2B, 103 R, 162 OPS+, Gold Glove, MVP
Quote: "But if anybody is ever going to look like the deliverer whom dedicated, oft-disappointed, doggedly impatient Red Sox fans demand -- and have been demanding more and more ever since Yastrzemski filled the role in the team's last pennant year, '67 -- it may be Lynn. He does resemble Yaz, and also Musial, facially, and he has what pitchers see in nightmares: 'a live bat.' -- Roy Blount Jr. in Sports Illustrated
Carlton Fisk, 1972 Red Sox: 7.0 WAR
Stats: .293/.370/.538, 22 HR, 61 RBI, 74 R, 162 OPS+, Gold Glove, 4th in MVP
Quote: "My original intention this year was to use him primarily against running teams. We have always felt he was sound defensively, but he hadn't proven he could hit for average over an entire season. But Duane Josephson got hurt the first week, and I decided to give him his chance. Nobody's beat him out yet. He's our most consistent hitter." -- Red Sox manager Eddie Kasko (Sports Illustrated)
Dick Allen, 1964 Phillies: 8.5 WAR
Stats: .318/.382/.557, 29 HR, 91 RBI, 38 2B, 13 3B, 125 R, 162 OPS+, 7th in MVP
Quote: "I saw Richie hit one this spring that was as long as any I've ever seen hit. When he played at Little Rock last year he hit 33, and we kept getting reports that some were terrific. On March 24 in Tampa I saw him hit one that I will always remember. It came off Mike Fornieles of the Reds. Richie's best power is supposed to be to right center, but he pulled this one. Right above the sign that says 360 feet in Al Lopez field there is a light pole, and on top of the pole are the lamps. The ball hit in the middle of the lamps, and I'd guess that that pole is between 80 feet and 100 feet up. The ball actually was still rising when it hit." -- Phillies general manager John Quinn (Sports Illustrated)
Tony Oliva, 1964 Twins: 6.6 WAR
Stats: .323/.359/.557, 32 HR, 94 RBI, 43 2B, 217 H, 109 R, 150 OPS+, 4th in MVP
Quote: "As a rule, Cubans playing in the United States are looked upon as 'traitors' here and their names are not even mentioned in the newspapers or on radio. Oliva, however, has changed all that. Oliva has been wielding such a hot bat and making such big baseball news that Havana newspapers could not resist reporting his activities to baseball-loving Cubans. Too many Cubans have been calling them to find out how Oliva is doing." -- ANP
Vada Pinson, 1959 Reds: 6.3 WAR
Stats: .316/.371/.509, 20 HR, 84 RBI, 47 2B, 131 R, 129 OPS, 15th in MVP
(Technically, Pinson was not considered a rookie at the time, since he had 96 at-bats in 1958, six more than the 90 the allowed to maintain rookie status.)
Quote: "At the plate, where Pinson hits left-handed, his swing is just like Vada: smooth and compact. He stands in the middle of the box, takes a short, controlled stride, and the bat comes around in a short, controlled arc. If the pitch is in where he wants it, he pulls sharply to right; if the pitch is away, he goes to center or left. He has not allowed himself to become hypnotized by the home run. Vada Pinson is so good that he is almost boring. Except that he can run. Boy, how Vada Pinson can run." -- Roy Terrell in Sports Illustrated
Frank Robinson, 1956 Reds: 6.2 WAR
Stats: .290/.379/.558, 38 HR, 83 RBI, 122 R, 143 OPS+, 7th in MVP
Quote: "He's the greatest young ballplayer I've seen since Ted Williams. This kid can do everything. He'll be around a long, long time." --Reds manager Birdie Tebbetts (Associated Press)
[+] Enlarge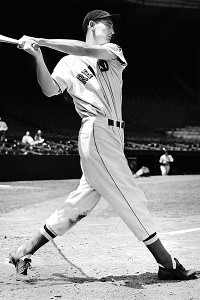 AP PhotoTed Williams' rookie season wasn't his best statistically, but he still finished fourth in the MVP voting.
Ted Williams, 1939 Red Sox: 6.6 WAR
Stats: .327/.436/.609, 31 HR, 145 RBI, 44 2B, 11 3B, 131 R, 160 OPS+, 4th in MVP
Quote: "Notice the kid. He doesn't hit the ball; he doesn't hit at it. He swings clean through it. He's close to being, and may well be before he's through, the wrist-hitter par excellence." -- San Diego sportswriter Stuart Lake (Associated Press)
Shoeless Joe Jackson, 1911 Naps: 9.0 WAR
Stats: .408/.468/.590, 7 HR, 83 RBI, 45 2B, 19 3B, 233 H, 126 R, 193 OPS+, 4th in MVP
(Jackson had 115 at-bats spread out over three seasons before 1911. He would not have been considered a rookie at the time, but using the 130 at-bat cut-off that is now applied, we'll consider Jackson a rookie.)
Quote: "Everything he hit was really blessed. He could break bones with his shots. Blindfold me and I could still tell you when Joe hit the ball. It had a special crack." -- Pitcher Ernie Shore