Astros finally hit rock bottom
September, 12, 2012
9/12/12
1:15
PM ET
From the Houston Chronicle
a couple days ago:
The Astros' win over the Reds generated the lowest rating, as far as can be determined, in the history of the team's presence on Fox Sports Houston and its predecessor networks.
It generated -- if that's the word -- a 0.05 rating, which means it was viewed by an average audience of 1,092 households. It only generated a measurable rating in four quarter-hour periods, and it was never viewed during any 15-minute period by more than 0.18 percent of the area's 2.1 million TV households.
[+] Enlarge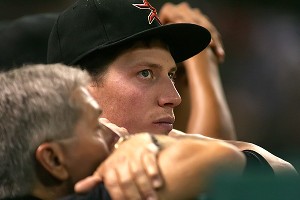 Cal Sport Media via AP ImagesThe Houston Astros and their fans haven't had much to smile about in recent seasons.
The past two seasons the
Houston Astros
traded away most of their remaining major league talent -- or at least those veterans making any money:
Hunter Pence
,
Michael Bourn
,
Wandy Rodriguez
,
Brett Myers
and
Carlos Lee
. Nobody really disagreed with the moves; the Astros used the trades to help regenerate a depleted farm system, plus you weren't going to win with a team built around those players anyway.
Still, as the Astros wind their way to the majors' worst record for the second straight season, there is risk involved in hitting absolute rock bottom: You lose your fan base. Yes, the TV rating above came on an NFL Sunday. But Friday's telecast rated only minimally better, with a 0.7 rating. The Astros also rank last in the National League in attendance. Hey, it's not exactly surprising that nobody wants to watch a 45-97 team.
The Astros will be terrible in 2013. They'll probably be bad in 2014. If everything comes together, maybe they'll be competitive again in 2015. But as clubs like the Orioles, Royals and Pirates have shown, it's also possible that hitting rock bottom means a long stretch of futility lies ahead.
And then it becomes difficult to win back the fans. Look at the Orioles. Years of losing (14 consecutive losing seasons) built up anger towards owner Peter Angelos and disinterest in the franchise. They're finally competitive for the first time since 1997, but they rank eighth in the American League in attendance, averaging fewer fans than they did in 2007, when they lost 93 games. Yes, there are other factors in play here -- the economy -- but I believe the larger point is that once you lose a fan base, you don't get them back with one winning season. The Orioles aren't the team that once played to sold-out parks struggling to bring in fans. The Mariners led the AL in attendance in 2001 and 2002, but now rank 10th. Cleveland led the AL in 1999 and 2000, fell to last in attendance in 2010, and ranks 12th this year.
The Astros can certainly point to the Nationals as a success story they'd like to follow. The Nationals hit rock bottom in 2008 and 2009, losing 102 and 103 games. They had the good fortune, however, to earn the No. 1 overall pick when the two best amateur prospects of the draft era --
Stephen Strasburg
and
Bryce Harper
-- entered the draft. While they've drafted well --
Ryan Zimmerman
,
Jordan Zimmermann
,
Ian Desmond
,
Danny Espinosa
,
Ross Detwiler
-- they've also been willing to spend money (
Jayson Werth
,
Edwin Jackson
, trading for and signing
Gio Gonzalez
to an extension). Their average attendance is up about 5,000 per game as they've improved from 14th in the NL to eighth.
Maybe that will happen with the Astros. Maybe the moves made sense from a baseball operations standpoint. But from a public relations view, the Astros might have an even harder job ahead.
The Nationals went from the worst team in 2009 to maybe the best in 2012.