Tigers look like dangerous playoff team
October, 1, 2012
10/01/12
11:55
PM ET
Remember those first three games of the season for the
Detroit Tigers
? They won the season opener against the Red Sox with a run in the bottom of the ninth. They belted
Josh Beckett
the next game, hitting five home runs off him and winning 10-0. Then came a 13-12 victory when they tied it with three runs in the bottom of the ninth and won it with three in the 11th, capped by
Alex Avila
's walk-off two-run home run.
A few days later they were 9-3 and looking like the unstoppable force many predicted during spring training.
In the end, the Tigers did win the American League Central, finally clinching with
Monday's 6-3 win over the Royals
. But the road was hardly as easy as it looked back in April. The White Sox held first place for 104 days, and the Tigers survived as they won seven of their past eight and the White Sox collapsed. That's the beauty of 162 games: It's a long, tough grind. For the Tigers, they won't care that they'll likely end up with just the seventh-best record in the AL. They're in the postseason, and that's all that matters.
How did they go there? Let's begin with
Miguel Cabrera
, of course. His Triple Crown chase received a big boost as he went 4-for-5 with a home run, with three hits going to right field. Whether or not you think Cabrera deserves the MVP Award, the Triple Crown chase is a fun event to watch. You
should
be rooting for him to achieve it.
The major argument to disagree with regarding Cabrera's MVP résumé is this notion that he's carried the Tigers on a back as wide as Lake Michigan. Of course he's had help; he's had help from other
stars
, not a roster of nobodies.
Prince Fielder
-- remember him? Big guy, hits cleanup in the order, "protects" Cabrera if you believe in such a thing. Fielder is hitting .313, he's second in the AL on-base percentage, he's seventh in the league in slugging percentage, he's hit 30 home runs. Pretty good hitter. Almost as valuable at the plate as Cabrera, in fact.
There's a guy named
Justin Verlander
. You know him. Best pitcher in baseball. Win-loss record isn't as fancy as last year, but that's not his fault. His ERA is 2.64 compared to 2.40 last year ... and remember, that's with the infield carrying the largest gross tonnage in MLB history playing behind him (estimated).
Austin Jackson
has rewarded Jim Leyland's faith in him with a superb season out of the leadoff spot, hitting .298/.376/.476.
Max Scherzer
has had a terrific season, going 16-7 with a 3.82 ERA and ranking second to Verlander in the AL strikeouts, despite missing time recently with a sore shoulder. The second-best news for the Tigers on Monday: Scherzer tested his shoulder in a bullpen session and
threw all his pitches without discomfort
.
Doug Fister
may line up as Detroit's No. 2 starter heading into the postseason. He has a 2.51 ERA since the All-Star break, holding opponents to a .213 average with an 87/20 strikeout/walk ratio in 96.2 innings. He's the real deal. Throw in
Anibal Sanchez
as the No. 4 and that's a rotation nobody wants to face in a five-game series.
The Tigers have their issues: The defense,
Jose Valverde
is hardly the shutdown closer he was a year ago, certainly team speed is a liability. But they have the two big guys in the middle of the order and the other big guy to front the rotation. They can spend the final two days making sure their bullpen gets rested and they'll get to line up their rotation as they want, which won't necessarily be the case for the other AL playoff teams.
Their opponents will have a better regular-season record? In the playoffs,
you can toss that aside
.
PHOTO OF THE DAY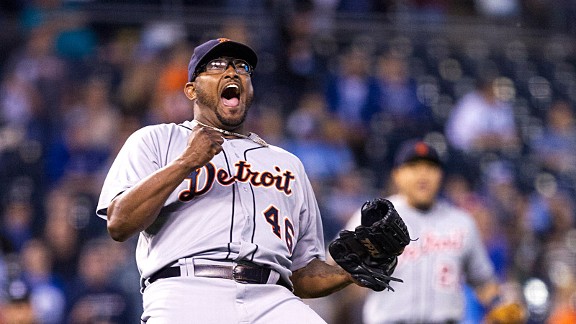 John Sleezer/Kansas City Star/Getty ImagesWhen it comes to celebrating a clinch, nobody does it better than Jose Valverde.