Anderson, Crisp rescue A's with two gems
October, 10, 2012
10/10/12
12:35
AM ET
The Oakland A's didn't really know what to expect from
Brett Anderson
, who hadn't pitched in 20 days since suffering an oblique strain.
But here's the one thing about Anderson: He can roll out of bed and throw the ball over the plate. He returned from last summer's Tommy John surgery Aug. 21 and made six starts before the oblique injury. In those six starts, he walked just seven batters, displaying the control the 24-year-old had shown since reaching the big leagues at age 21.
Manager Bob Melvin was hoping to get five innings from Anderson on Tuesday. Anderson delivered six shutout frames, throwing 80 pitches and allowing just two hits. His final two pitches might have been his best: a 2-1 slider to
Miguel Cabrera
that broke sharply into the strike zone for a called strike, and then a 2-2 slider that dove down and in and on which Cabrera swung over the top.
Asked what his expectations were after Oakland's bullpen locked down the 2-0 win, Anderson said, "Just go out there and give us a chance to win," citing the performances of
Jarrod Parker
and
Tommy Milone
in the first two games of the series with the Tigers. "You couldn't really script it, but it worked out. ...
Coco [Crisp]
robbing the home run sort of set the tone. You can't say enough about the defense," he said.
On a day when we had two games and saw a combined total of 16 hits, pitching did rule the day. And instead of two games Wednesday, now we get four. Good for everyone (except maybe Reds and Tigers fans).
[+] Enlarge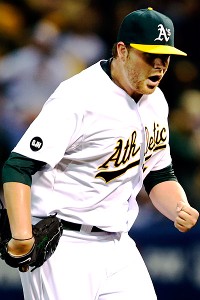 AP Photo/Marcio Jose SanchezIn his first start since September, left-hander Brett Anderson pitched six shutout innings.
A few other thoughts:
Crisp's second-inning robbery of Prince Fielder is one of the greatest postseason catches I can remember, right up there with Willie Mays, Kirby Puckett in the 1991 World Series, Devon White in the 1992 World Series and Endy Chavez in the 2006 National League Championship Series. Fielder got robbed again when Yoenis Cespedes made a diving catch of his liner in the seventh. When the ball was hit, it looked like a sure single and maybe a double in the gap; it hung up just long enough for Cespedes to appear from nowhere. Josh Donaldson also started a nice 5-4-3 double play off Omar Infante's hard smash to end the third.

I loved the way Melvin handled the seventh and eighth innings, first using Ryan Cook and then Sean Doolittle, even though he usually uses Doolittle and then Cook. He brought in Cook to face Fielder, when he could have either left in Anderson for one more batter, brought in Doolittle or brought in Jerry Blevins, who had been warming up in the sixth. I think he wanted to give Fielder a different look than a third shot at Anderson, so he brought in the hard-throwing Cook. That meant Cook would also face right-handers Delmon Young and Jhonny Peralta (who did single), and Melvin wouldn't waste Blevins for one batter. But it also meant Doolittle faced rookie Avisail Garcia and catcher Gerald Laird in the eighth. If Cook had pitched the eighth, Jim Leyland would have pinch hit lefty swingers Quintin Berry and Alex Avila, a better duo than Garcia and Laird.

It's going to be difficult for the Tigers to go all the way with Young batting fifth. Only Josh Hamilton swung at a higher percentage of pitches outside the strike zone among qualified batters this season. Yes, Young hit five home runs in last year's postseason. He also hit .133 in the American League Championship Series. He had 112 strikeouts and 20 walks this year. He is not good. As a No. 5 hitter for a team aspiring to win a title, he's a joke.

Strong outing by Anibal Sanchez. Seth Smith turned on an inside fastball for his fifth-inning home run to dead center, but the Tigers couldn't have asked for more than the 6.1 solid innings he gave them.

Cabrera singled with one out in the ninth, bringing up Fielder against Grant Balfour as the tying run. Balfour got a break on the first pitch, a fastball outside called a strike by plate ump Dana DeMuth. After a fastball outside, Balfour threw a tough 94 mph heater at the knees that Fielder took for strike two. Another fastball, this one at 95, and Fielder grounded into a 6-3 double play. Guess which team led the AL in double plays grounded into?

Max Scherzer versus A.J. Griffin in Game 4. Scherzer left a start Sept. 18 after two innings due to a sore shoulder and returned Sept. 23 but then didn't pitch again until Oct. 3, when he pitched four scoreless innings against the Royals. If he's healthy, he's certainly capable of dominating, after ranking second in the AL in strikeouts to his teammate Justin Verlander and posting a 2.69 ERA in the second half. Following a great run, Griffin struggled in three of his final four starts, with 26 hits and 15 runs in 17.1 innings. Look for a quick hook.