Offseason report card: Royals
February, 2, 2013
2/02/13
2:30
PM ET
2012 in review
Record: 72-90 (74-88 Pythagorean)
676 runs scored (12th in AL)
746 runs allowed (10th in AL)
Big Offseason Moves
Acquired
James Shields
and
Wade Davis
from Tampa Bay for Wil Myers,
Jake Odorizzi
,
Mike Montgomery
and Patrick Leonard. Re-signed free agent
Jeremy Guthrie
. Acquired
Ervin Santana
from the Angels.
The controversial trade involving top prospect Myers can't properly be evaluated until we see what kind of hitter he develops into with the Rays. But if he develops into a star, the Royals traded six years of Myers for two years of Shields. GM Dayton Moore probably put his job on the line with the deal. The biggest problem with the Royals' offseason is Myers projected as a right fielder, and the Royals' biggest weakness in 2012 was right fielder
Jeff Francoeur
, whose -2.7 WAR was the worst in the majors.
Position Players
For the Royals to make a run at the Tigers -- or, more likely, the second wild card -- the offense is going to have to do better than 12th in the American League in runs scored. Moore is counting on improvement from
Eric Hosmer
and
Mike Moustakas
, who had disappointing sophomore campaigns, with Hosmer posting a .304 OBP and Moustakas a .296 OBP. They combined for about 133 runs created; adding 40 to 50 more between the two of them is a reasonable projection -- although no guarantee.
A full season from rising star
Salvador Perez
behind the plate will help as well, potentially giving the Royals a nice core in the middle of the order. But they still need improved production from Francoeur plus more from center field and second base.
Pitching Staff
Moore has remade the rotation, beginning with re-signing Guthrie, who pitched well in 14 starts with the Royals last season. Shields has been a durable and consistent winner for the Rays in recent seasons but moves from a pitcher's park where he excelled. Still, his ability to go 200-plus innings will provide needed value for the Royals; only
Zack Greinke
and
Gil Meche
have pitched 200 innings for Kansas City in the past nine seasons.
Santana is a higher-risk option than Shields, coming over from the Angels, where he allowed a league-leading 39 home runs in a tough home run park. Still, two years ago, Santana had a 3.38 ERA, so there's potential upside.
Davis is the sleeper. He was back-end starter for Tampa in 2010 and '11 but excelled in relief in 2012, holding batters to a .189. His strikeout rate ramped way up, perhaps due to the increased velocity (almost 2 mph higher) he used out of the 'pen. With another shot at starting, we'll see if he learned anything in the bullpen or if it was just a matter of being able to air it out for 20 pitches at a time.
Heat Map to Watch
Hosmer hit just .238/.315/.385 against right-handed pitchers. Of his 11 home runs against righties, just six went to the right of center field, and if you look at his hit chart, you see a lot of fly balls hit to left field and left-center. Slow bat? Wasn't handling the outside pitches? An unreported injury? As you can see from the heat map, he didn't have a lot of hot zones. Look for pitchers to continue pounding him outside in 2013.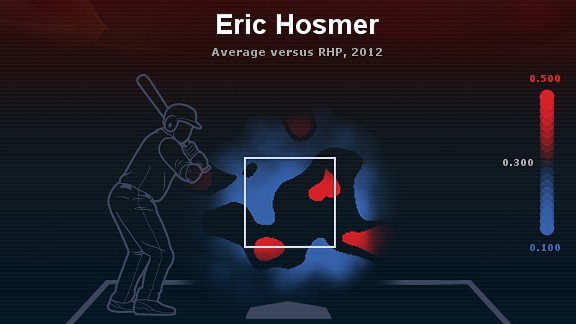 ESPN Stats & InformationEric Hosmer will need to hit better than .238 against righties.
Overall Grade

There's some reason for optimism, as the Royals' rotation should be improved from a group that posted a 5.01 ERA in 2012. The question is: How improved? Santana and Davis are wild cards, and Guthrie isn't going repeat the 3.16 ERA he posted last year with the Royals. But for the first time since Greinke, at least they have a staff leader. Can the offense improve enough to push the Royals over .500 for the first time since 2003? Seems like that would be a nice achievement.