Can Ryan Howard be Ryan Howard again?
March, 18, 2013
3/18/13
2:00
PM ET
From
Buster Olney's blog today

:
Ryan Howard has been hammering the ball this spring, driving the ball the other way; being out with an injury, he said, allowed him to refocus and review videotape from 2008 and realize that he had stopped concentrating on taking the ball to left-center and left field.
My first thought on reading that: Is that just something a player says, especially one who has been in decline like Howard? If true, why would a player deviate for three years from something that made him one of the most feared hitters in the league?
The blog cites Howard looking at video from 2008. I don't have data from 2008 from ESPN Stats & Information, but I do have data from 2009. But that's OK; Howard was actually better in '09 than '08 (.279/.360/.571 versus .251/.339/.543), so whatever was working was working both years.
Let's ignore last year, since he was recovering from the Achilles injury suffered in the 2011 playoffs, and compare 2009 to 2011. In 2011, he hit .253/.346/.488. Here are his various rate stats for 2008, 2009 and 2011:
The main thing to take away from this: He hit fewer home runs primarily because he was hitting fewer home runs on the fly balls he hit. His strikeout and walk rates weren't any worse than in '08 and '09.
Now, let's compare his hit chart from 2009 (on the left) versus his hit chart from 2011: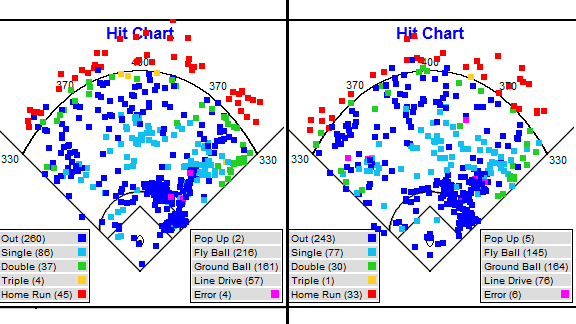 ESPN State & InfoRyan Howard says he needs to get back to hitting the ball more to left and left-center.
Do you see much difference there? I don't.
Breaking down the numbers:
2009: 17 of 45 home runs hit to left or left-center (38 percent)
2011: 10 of 33 home runs hit to left or left-center (30 percent)
2009: 15.5 percent of fly balls hit to left or left-center were home runs
2011: 10 percent of fly balls hit to left or left-center were home runs
2009: 113 balls in play hit to left or left-center (26.0 percent of all balls in play)
2011: 102 balls in play hit to left or left-center (26.2 percent of all balls in play)

I see no evidence that Howard's approach somehow changed between 2008 and 2012. He was hitting the ball to left field and left-center just as frequently. The only evidence is that he's not hitting as many home runs -- which, to me, indicates a guy whose bat speed has probably slowed down just a whisker.
I have no doubt Howard believes he needs to hit the ball to the opposite field more often. That was a big part of his success, his enormous raw power allowing him to seemingly flick the ball over the fence in left-center. It's also possible he's working only to fix what happened when he returns midseason last year from injury (although five of his 14 home runs were hit to left or left-center). The numbers, however, have shown a player in decline for several seasons now. Hey, I hope he rebounds -- it's fun watching Howard smash a lot of home runs -- but the odds of him hitting 45 home runs again are slim.