Time for Mariners to fire Eric Wedge
May, 28, 2013
5/28/13
7:22
PM ET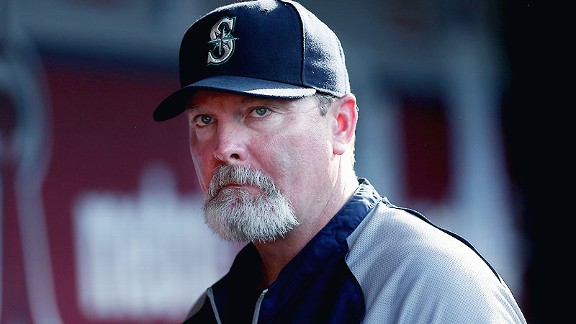 Jeff Gross/Getty ImagesSeattle's failure to consistently develop prospects could soon cost manager Eric Wedge his job.
No, I'm not writing about
Dustin Ackley
again because I'm a Mariners fan. I'm writing about him because he was the second overall pick in the 2009 draft and got sent down to the minors over the weekend, the exclamation point on his quick demise from promising rookie in 2011 to .205-hitting replacement-level second baseman in 2013.
Actually, I'll save myself the pain and link to
Dave Cameron's take
over at the U.S.S. Mariner blog, including his reference to Mariners manager Eric Wedge's quote that blamed Ackley's struggles on sabermetrics. No, really. Here's what he said: "It's the new generation. It's all this sabermetrics stuff, for lack of a better term, you know what I mean? People who haven't played since they were 9 years old think they have it figured out. It gets in these kids' heads."
Read Dave's piece as he breaks down Wedge's quote with the lethal result of a
Felix Hernandez
changeup. He wraps up by saying that Wedge will probably be fired soon, which is probably true:
Everyone knows that the only people capable of offering any kind of intelligent analysis of baseball players are those who have Major League experience. You know, like Eric Wedge. That's what's made him such a successful Major League manager, with his career record of 725 wins and 784 losses. And, you know, clearly Wedge knows how to develop young talent, since he helped all those young players turn into superstars in Cleveland.

Oh, wait, Cleveland's young players didn't develop as well as they were expected, and Wedge has had two winning seasons in 10 years as a big league manager. Hmm. Maybe experience isn't the only thing that matters after all?

Eric Wedge is going to be fired in the not too distant future. That move, in and of itself, won't turn around the Mariners franchise. But it won't hurt.
There's another piece on the U.S.S. Mariner site by Jeff Sullivan which
compares Ackley
to another former Mariner who was supposed to hit,
Jeremy Reed
. This points to the larger issue within the Mariners organization going back more than 10 years and three different front-office regimes: The complete inability to develop hitters (
Kyle Seager
, who was never a top prospect, being the exception).
Actually, they've developed three other real good ones in the past decade. Trouble is, they traded away
Adam Jones
,
Shin-Soo Choo
and
Asdrubal Cabrera
. But the list of Mariners position players besides Jones and Choo once rated in Baseball America's top 100 prospects is a sad list:
Dustin Ackley: Second overall pick in the 2009 draft. Was Baseball America's 11th and then 12th-best prospect. Truth is, he didn't tear apart the minor leagues (.280), but did draw more walks than strikeouts, and his decent rookie performance (.273/.348/.417) suggested he'd develop into a decent hitter. Definitely the most difficult one here to explain.
Justin Smoak: No. 13 prospect in 2010. His 24 home runs in 702 minor league at-bats suggests his power potential was always overrated anyway. Maybe remaking himself as well ... he's drawing walks now but a .698 OPS from a first baseman isn't exactly middle-of-the-order material.
Jesus Montero: Minor league numbers were impressive for his age, but the fact that he hit worse his second year in Triple-A was probably a bad sign in retrospect. Remember, this guy was BA's No. 4, No. 3 and No. 6 prospect three years running based on his sure thing as a hitter.
Michael Saunders: A May 13 headline in the Seattle Times reads, "Michael Saunders has gone from flop to force at the plate." Since then he's hit .109 (5-for-46) and is down to .217 with a sub-.300 OBP. Was BA's No. 30 prospect heading into 2010. He now has over 1,300 major league PAs and owns a career .219/.283/.366 line. I thought he had a breakthrough last year but now all bets are off.
Carlos Triunfel: BA's No. 62 prospect after debuting in the States at age 17. Remained in the top 100 the next year. Power never developed, undoubtedly aided by his poor plate discipline (35 SO, 7 BB in Triple-A this year).
Adam Moore: No. 83 before 2010, his minor league numbers were good, not great, but he was a catcher. Hit .195 as a rookie. Then came a bunch of injuries.
Jeff Clement: Drafted third overall in the loaded 2005 draft, peaked at No. 33 on the BA prospect lists. Just a misfire. A costly one.
Jose Lopez: Peaked as Baseball America's No. 38 prospect and reached the majors at age 20 and even made the All-Star team his first full season. But his willingness to swing at pretty much anything (never walked 30 times in a season) ruined his career.
Jeremy Reed: Acquired from the White Sox in the Freddy Garcia trade, he had hit .373 with 70 walks and 36 strikeouts in 2003 between A and Double-A. But a .289 average in Triple-A in 2004, the year the Mariners acquired him, suggests a guy who was probably overrated as the No. 25 prospect.
Chris Snelling: Three-time top-100 prospect, as high as No. 39. Couldn't stay healthy. The one guy here who I'm convinced would have hit.
How does this happen? How can one organization fail so miserably? Certainly, there's been a system-wide failure -- again, through different regimes and thus different major and minor league coaches and instructors -- to develop hitters with the ability to control the strike zone. Is that just bad luck? Bad coaching? Bad Safeco Field karma?
I don't really know. A friend of mine posits that the Mariners continually emphasize how much pressure they're under in the major leagues, instead of just letting them hit instead of talking about their struggles all the time. Maybe bad hitting and bad approaches just feed off itself like the Ebola virus. Losing is a disease, right?
There is no answer here other than that there is no magic wand you can wave, no secret sauce, no hitting coach that can flip the switch. The new guys are arriving --
Nick Franklin
is here to replace Ackley and Mike Zunino will be up soon.
They better be good.