Wainwright making case as best starter
June, 13, 2013
6/13/13
7:32
PM ET
Adam Wainwright
was good again Thursday, throwing seven scoreless innings in the St. Louis Cardinals'
2-1 victory
over the New York Mets. OK, it was the Mets, and a lot of pitchers are good against the Mets, but this game was cool because Wainwright outdueled
Matt Harvey
, who was nearly as good and allowed just one run.
Wainwright actually walked two batters, just the second time this season he has done so, although one was an intentional walk in the seventh to
Kirk Nieuwenhuis
(pinch-hitter
Justin Turner
, hitting for Harvey, grounded out).
Turner grounded out on a cut fastball, but we know Wainwright loves to use his curveball as his out pitch. Batters are hitting .167 in 104 plate appearances ending against his curve. Here he is striking out
David Wright
today for his
1,000th career strikeout
. The heat map below shows why it's such a great pitch: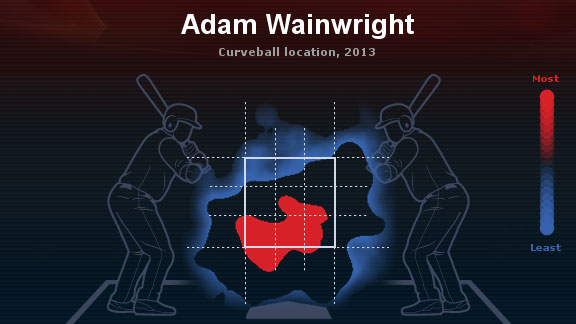 ESPN Stats & InformationWainwright is a master of throwing his curveball on that corner of the plate.
While the pitch to Wright was on the inner half of the plate, it is consistently located in the low-and-away zone to right-handed batters, making it nearly impossible for them to pull the ball. When they do, it's often a weak grounder to third, as evidenced by the hit chart to the right.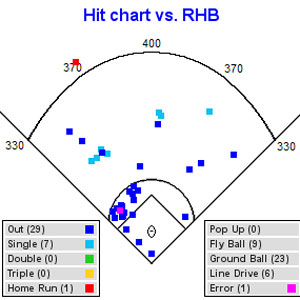 ESPN Stats & InformationRight-handed batters rarely pull Wainwright's curve with any authority.
But the pitch is just as effective against lefties, and overall batters have 42 strikeouts and one walk in those 104 PAs.
Carlos Gomez
hit the one home run, off an 0-2 pitch that Wainwright left in the middle of the zone.
Angel Pagan
hit the lone double, a soft liner just over the first baseman's head.
Bryce Harper
drew the only walk, and that was in a situation with runners on second and third and two outs when Wainwright pitched around him. He hasn't allowed an extra-base hit or walk off his curve in more than a month.
Of course, Wainwright is hardly a one-pitch pitcher. He spots his fastball well, but his new weapon is the cut fastball, which he started throwing a little bit last season and now throws about 15 to 20 times a game. In 74 plate appearances ending with that pitch, batters are hitting .208/.230/.236 without a home run.
Wainwright earned his 10th win Thursday and there's a reason he leads the majors in wins: He may be the best pitcher in baseball right now. He doesn't give up home runs (two, both in that game in Milwaukee, where the ball flies), he doesn't walk anybody (nine), and he has multiple weapons to throw at opponents. His ERA is 2.18. I'm not sure there's another pitcher I'd want right now starting Game 1 of the postseason.