Matt Adams becomes cult hero in St. Louis
September, 5, 2013
9/05/13
1:31
AM ET
Where do we even begin with a game like this?
Forty-six players used, 16 innings, a controversial call, questionable managerial decisions, a crazy failed bunt play, power arm after power arm in relief, an All-Star going 0-for-7, a phenom speedster doing his magic on the bases once again.
All good stuff. But we start with
Matt Adams
. He didn't even start the game for the Cardinals. He usually doesn't. Adams would be the starting first baseman for many teams in baseball, but on the Cardinals he's a backup to
Allen Craig
, the kind of solid bat off the bench that playoff teams need. When Craig sprained his foot rounding first base in the fourth inning, Adams got his chance. As the Cardinals and Reds rolled deep into the night, the tension increasing with each inning, Adams finally put St. Louis ahead in the 14th inning with a home run to right. The Reds tied it up. Adams homered again in the 16th inning.
[+] Enlarge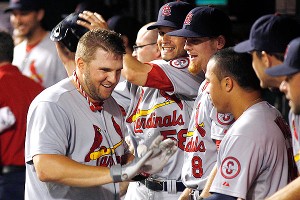 David Kohl/USA TODAY SportsMatt Adams gave Cardinals fans a long night they'll long remember.
Cardinals 5, Reds 4
. One of the best games of the year, especially considering the circumstances, with both teams trying to keep up with the Pirates in the NL Central. With Pittsburgh losing to Milwaukee, the Cards climbed to a game behind the Pirates, while the Reds remained 3 1/2 back.
Adams is built like an offensive lineman from your high school football team, but I don't mean that in a Big Ten scholarship kind of way, and regardless the dude can hit. He hit 32 home runs in the minors in 2011, hit .329 with a .624 slugging percentage last year in Triple-A, and was hitting .400 in late May for the Cardinals. Used primarily off the bench early on, he got some semi-regular playing time in June and July due to some injuries, but has started just seven times since the beginning of August, and after going hitless in his first three at-bats was in an 0-for-17 slump.
Slump over. In the 14th, he led off the inning with a low liner off
Alfredo Simon
, hitting a 1-2 cut fastball Simon left over the middle of the plate instead of in on the hands where catcher
Devin Mesoraco
was setting up. In the 16th, he drilled a low 1-0 fastball from
Logan Ondrusek
to right-center. The pitch was right in Adams' sweet spot -- 10 of his 11 home runs have come on pitches in the lower half of the strike zone. On that pitch, Mesoraco set up on the outside corner. Call it poor execution by the Reds' relievers.
In between Adams' heroics, there was plenty of action to discuss, from relief pitcher usage (like
Aroldis Chapman
, removed after 14 pitches) to bunts. Reds rookie
Billy Hamilton
pinch ran in the 14th and swiped second, with the Cardinals arguing that
Zack Cozart
interfered with
Yadier Molina
's throw. He did lean over the pitch on his swing, but the pitch was well off the plate, and it appeared Molina got the throw off cleanly, exaggerating his follow-through in an attempt to get a call. It looked the umps got this one right, and Hamilton would score on Cozart's bouncer up the middle.
In the 15th,
Shin-Soo Choo
led off with a base hit and Dusty Baker had 100-RBI man
Brandon Phillips
sacrifice. The stats guys on Twitter went crazy (Dusty never gets much love on Twitter), but Phillips does ground into a lot of double plays (16 on the season), and
Joey Votto
and
Jay Bruce
were on deck against right-handed
Carlos Martinez
. I'm in the "no bunting" club for the most part, and it's not often 100-RBI guys -- even overrated 100-RBI guys -- are asked to bunt. But, hey, National League baseball, or something like that. Maybe Dusty got caught up in Billy Hamilton and thought we were back in the 1980s. Anyway, Votto grounded out to move Choo to third, Bruce was intentionally walked and
Chris Heisey
then attempted to bunt (remember, two outs), missed the pitch, and Choo got caught in a rundown -- a play that has to go down as the worst of the season, or at least the worst in a crucial game in September that you can't afford to lose.
Cardinals fans will remember this one for Matt Adams. I have a feeling Reds fans will remember this one for the bunts.