Time for Sox to cut ties with Dice-K
August, 3, 2010
8/03/10
10:15
AM ET
By
Evan Brunell
| ESPN.com
When
Daisuke Matsuzaka
joined the Red Sox, he was supposed to be a workhorse at the front of the rotation.
Instead, he's been one of the most frustrating pitchers in recent memory.
[+] Enlarge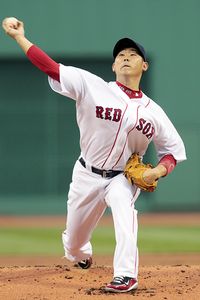 AP Photo/Elise AmendolaDaisuke Matsuzaka has two years left on his contract with Boston.
Matsuzaka's first season -- after an unprecedented $51.1 million posting bid in 2007 -- was as good as could be expected. He pitched 205 innings and was a solid mid-rotation starter as Boston won its second World Series in this century. While his ERA was 4.40, his rates of 8.84 K/9 and 3.52 BB/9 portended a potential ace.
He has yet to see those rates again.
In 2008, Matsuzaka was perhaps the luckiest pitcher in the game, cobbling together a remarkable 18-3 record and 2.90 ERA while stranding a ridiculous 81 percent of runners (league average is around 72 percent). His xFIP, a statistic scaled to ERA that strips out fielding variables and also normalizes home-run rate, marked 4.70 as he walked a tick over five runners per nine while his whiff rate fell (slightly) to 8.27.
The next year was lost to injuries (both discovered and hidden) and his regressed to the mean ... to the point where he could have been considered unlucky. However, his falling K-rate, along with his twin penchants for nibbling around the strike zone and walking the bases loaded became untenable when he no longer exhibited the magic to keep runners from crossing home plate -- largely due to a high batting average on balls in play (.385, with the league average around .300) in a season where Boston's defense struggled to catch the ball.
This year, Matsuzaka continues to exhibit signs of regression. His strikeout rate has fallen for the fourth straight year and now stands at 7.43. His groundball rate continues to drop as well, also posting a career-low mark of 31.5 percent (only
Ted Lilly
and
Kevin Slowey
of qualified pitchers outpace him in this category).
And through it all, he's posting the second-best ERA of his short major-league career: 4.22. Given his falling whiff rate, trend of putting runners on base and becoming an extreme flyball pitcher, any belief that he's "arrived" is a mirage.
Matsuzaka is who he is. A career 4.60 xFIP shows his true talent with nearly 90 starts in the books: league-average pitcher.
And yet ... the talent. The talent Matsuzaka flashes all too rarely gives a hint of a Cy Young contender when -- or if -- things suddenly click. But Matsuzaka's lack of progression has frustrated many in the organization and fan base.
Which brings up the crux of the issue: Is Matsuzaka better than what a league-average pitcher could bring to the team?
There are differing opinions on just how much a league-average pitcher is "worth," but Baseball Prospectus values a league-average starting pitcher at $5 million. Using BP's performance metrics, Matsuzaka is just slightly above league average, meaning he's currently overpaid at $8 million; his salary goes to $10 million in the next two (and final) years on his contract.
His peripherals and time spent on the disabled list keep going in the wrong direction, with only luck hiding his warts. Even if he stabilizes or ticks up slightly, expecting Dice-K to suddenly morph into a pitcher worth $10 million annually seems fanciful.
The good news for Boston is that the organization has a significant amount of depth in starting pitching, and could look to move Matsuzaka. With
Jon Lester
under contract through 2013 and
John Lackey
and
Josh Beckett
through 2014, there's obviously a strong core. Moreover, Boston has a stable of young starting pitchers on the way, led by
Felix Doubront
, who made his major-league debut this season. Casey Kelly is pitching at Double-A at 20, and don't forget
Tim Wakefield
is under contract in 2011, too. Not to mention that the Red Sox could sign a pitcher to a one-year deal that might equal Dice-K's performance -- at a lower cost.
Boston has plenty of looming question marks in the lineup, and Dice-K may end up providing the most value to the 2011 squad as a trade chip. Pitching is always in demand, and acquiring a mid-rotation starter with just two years remaining on his deal with the potential to be an ace will be intriguing to teams.
Whether Matsuzaka would waive his no-trade clause is an entirely different question. But his tenure in Boston is probably about to end.