Braves search for answers to break streak
May, 6, 2014
May 6
12:34
AM ET

In the spring of 2009, while researching a column on MLB's worst-hitting pitchers, I sought out Washington Nationals outfielder Adam Dunn for his take on the subject. Say what you will about Dunn's glove work or his penchant for striking out, but he's a 400-homer man and one of the wryest baseball observers around.

The Big Donkey instantly warmed to the topic, dissecting the swings of Daniel Cabrera, Ben Sheets and others pitchers from the "bail and flail" school of hitting. He took particular relish in critiquing the handiwork of his former teammate, Aaron Harang, a workhorse starter who is also a walking endorsement for the designated hitter.

"He swings underwater," Dunn said of Harang. "His bat speed is below Tim Wakefield's knuckler speed."

Harang wasn't exactly a prime candidate to join Don Larsen, Don Drysdale and Dontrelle Willis on the list of offensive-minded pitchers to hit somewhere other than ninth on the lineup card. But desperate times call for offbeat batting orders.
[+] Enlarge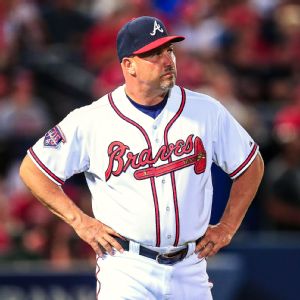 Daniel Shirey/USA TODAY SportsBraves manager Fredi Gonzalez doesn't like what he's seeing as the losing streak deepens.
Atlanta manager Fredi Gonzalez created some buzz Monday night when he made out his lineup against St. Louis with multiple changes:
Justin Upton
moved up from cleanup to the No. 2 spot, with his brother
B.J. Upton
dropping from second to fifth. On a more eye-catching note, Harang was penciled in at eighth, with second baseman
Ramiro Pena
behind him in the ninth spot.

In part, Gonzalez made the move because Justin Upton hit .301 with a .922 OPS in 48 starts as Atlanta's second-place hitter last season, and appears to have a comfort level in the No. 2 hole. Gonzalez also told reporters that he wanted to give Jason Heyward, Upton and Freddie Freeman more run-producing opportunities on their second, third and fourth times through the order.

"The offense is sputtering around, so why not do it?" Gonzalez said. That's manager-speak for, "What do you want me to do -- pick the names out of a hat?"

For the record, Harang went 0-for-1 with a sacrifice bunt and the Braves showed some late signs of life in a 4-3 loss to the Cardinals. When measured against their recent standard, that's a virtual onslaught.

Atlanta fans have gone from upbeat to restless to cranky awfully fast. On April 27, the Braves beat Cincinnati 1-0 in 10 innings to raise their record to 17-7 and open up a 3 ½-game lead over the New York Mets in the National League East. Since then, they've dropped seven straight to Miami, San Francisco and St. Louis by scores of 9-0, 9-3, 5-4, 2-1, 3-1, 4-1 and 4-3.

With the exception of two blowout losses at Marlins Park -- when the Braves suggested something fishy was taking place and the Marlins might be stealing signs to get better hacks against the Atlanta pitching -- the focus has been almost exclusively on the offense, or lack thereof.

Should the Braves be taking more batting practice, or less? Can anybody lay off a high fastball? And they are simply too deficient at "manufacturing" runs and too reliant on the long ball to weather the inevitable down times? According to ESPN Stats & Information, 55 of Atlanta's 102 runs this season (or 53.9 percent) have come via the home run. That's the highest rate in the majors, ahead of San Francisco's 48.1 percent.

The Braves have also scored one or fewer runs in a game a major league-high 12 times this season. That's one more than St. Louis.

The Braves were OK when Freeman, Justin Upton and Andrelton Simmons got off to torrid starts, but the team's mainstays have leveled off recently. Freeman is 10-for-his-past-57, and Upton has struck out 11 times in his past 15 at-bats. He came up with the tying run on second base in the ninth inning Monday but took a Trevor Rosenthal fastball for a called third strike to end it. The Braves are hitting .118 (6-for-51) with runners in scoring position during their seven-game losing streak, and that's only when you give them the courtesy of rounding up from .1176.

No one has been more of a lightning rod of late than second baseman Dan Uggla, who's being pilloried on social media. He ranks 84th among 88 qualifying National League hitters with a .528 OPS, and he's not even drawing walks anymore. This comes on top of a dreadful 2013 season that ended with the ultimate indignity of his being dropped from the Braves' Division Series roster. You have to wonder when the Atlanta brass will have a frank discussion that things aren't likely to get better, and it's best for all parties to bring this arrangement to an end and find Uggla a new home.

Now that the Braves have other options at second base, it's getting progressively harder for them to justify keeping Uggla around for reasons other than the $23 million they still owe him. Pena slugged .443 in 97 at-bats last year before suffering a season-ending shoulder injury and has a nice swing from both sides of the plate. Tyler Pastornicky was a .280 hitter in the minors, and Tommy La Stella, Atlanta's No. 9 prospect, is plugging away with a .313 batting average for Triple-A Gwinnett.

Atlanta's front-office people, who have seen the Braves go through fallow stretches like this in the past, think this group is eminently capable of turning it around and going on a tear. They point out that Heyward has picked up the pace of late, and B.J. Upton is having much better at-bats since he donned his new glasses.

But some talent evaluators are dubious. "They only have only reliable hitter -- and that's Freeman," said a National League scout. "He's going to hit good pitching. When they face No. 1s and 2s, they're not going to score any runs unless he's involved."

So the manager ponders hitting the pitcher in the ninth spot and says, "Why not?" According to research by J.G. Preston of SABR, Tony La Russa employed the tactic 432 times during his managerial career. Lou Boudreau is a distant second at 74, and Casey Stengel, Joe Torre and Jack McKeon were among the other managers who gave it a shot here and there. Gonzalez has now done it nine times in his managerial career.

At the very least, Gonzalez's offbeat strategy helped change the discussion from why the Braves aren't hitting to what the manager is trying to do to prevent a bad week from turning into a free-fall. And the more people quizzed him about Harang batting eighth, the fewer people were asking him about Uggla getting the night off and what he plans to do moving forward at second base.

What will Gonzalez do when Gavin Floyd makes his 2014 debut Tuesday night against the Cardinals? Only he knows for sure. Unless he can figure out a way to squeeze a 1999-caliber Chipper Jones onto the lineup card, it might take the Braves a while to figure this thing out.