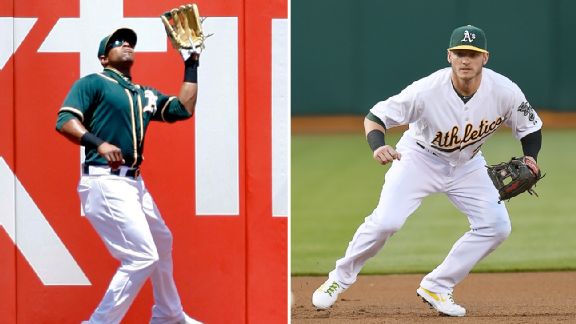 Getty Images
Yoenis Cespedes and Josh Donaldson excelled on defense for the Athletics in May.
The Oakland Athletics had the best ERA in the American League in May, and one reason for that was that they had the outfielder with the most Defensive Runs Saved and the infielder with the most Defensive Runs Saved of anyone all month.
Those two players -- Yoenis Cespedes and Josh Donaldson -- finished one-two in our voting for Defensive Player of the Month.
Defensive Player of Month Balloting
May 2014
The award is given each month after balloting by ESPN.com writers, members of ESPN Stats & Information and video scouts for Baseball Info Solutions (BIS), which tracks defensive data. Cespedes got five first-place votes and finished with 31 points (we vote with a 5-3-1 system for first through third place), one more first-place and two more points than Donaldson. Troy Tulowitzki won the award for April.
Cespedes turned a good month into a great month with a flourish in the final game of May, when he threw two runners out at the plate, propelling him to a tie for the Runs Saved lead with Mets outfielder Juan Lagares, with 10 apiece.
Even without that final game, this was one of Cespedes' best defensive months in his career. Baseball Info Solutions charted him with eight "Good Fielding Plays" (think Web Gem nominees) and only one Defensive Misplay & Error.
In his first two seasons, Cespedes had 30 Good Plays and 41 Misplays. But May pushed his totals for 2014 to 11 and 6. After catching 28 of 35 balls hit into his zone (the areas in which most left fielders turn batted balls into outs) in April, Cespedes snagged 30 of 32 in May, and had 10 "Out of Zone" catches (up from seven in April). He's also already matched his 2013 total for "baserunner kills" (the term for throwing out a runner without needing a cutoff man) with five.
Most Defensive Runs Saved in 2014
His infield teammate, Donaldson, already has a pretty stellar rep for his defensive play and solidified that with eight defensive runs saved at the hot corner last month. His 12 Defensive Runs Saved this season lead major league third basemen and already match his total from 2013, when he finished fourth-best in the majors at third base.
Donaldson tied Jean Segura for the lead in Good Fielding Plays with 18 and had only five misplays and errors. He's greatly improved his ratio of good plays to misplays, from 63 and 53 in 2013 to 28 and 14 in 2014. Like Cespedes, Donaldson improved on his Revised Zone Rating, going from turning 56 of 73 balls hit into his zone into outs in April to 57 of 67 in May.
Donaldson's presence makes the Athletics' left side of the infield very formidable. The Athletics turned 81 percent of ground balls hit to the left of the second-base bag into outs in May, easily the highest rate of any team (the Pirates finished second at 78 percent).
A few weeks ago, when we asked Eduardo Perez for a list of defenders who had impressed him in 2014, he put Donaldson at the top of his list. "I like him a lot," Perez said. "He expects every ball to be hit to him, and he's really good from side to side."
Donaldson excels most at handling balls hit closest to the third-base line, whether it's due to his positioning or quickness. Our internal batted-ball tracker had the Athletics giving up hits on only 19 percent of ground balls hit closest to the third-base line in May, well below the average of 35 percent.
Donaldson didn't just have a great defensive May. He had a great offensive one as well, with eight home runs, a .417 on-base percentage and a .990 OPS. Combine his defense and his offensive and you get a Wins Above Replacement total of 2.6, which even outpaced homer-slugging Edwin Encarnacion for best in the AL for the month.
Mark Simon helps oversee the ESPN Stats & Information blog and regularly tweets defensive stats on Twitter at @msimonespn