Giants, Ron Washington moot the breaks
October, 28, 2010
10/28/10
11:23
PM ET
I started writing about Game 2 in the seventh inning. It looked like the Giants probably would win, but not by much. Maybe by one run, maybe two. I was sticking with my recent obsession with the ways to win: playing better, managing better, getting luckier. And it was going well. The piece was going to anger a bunch of Giants fans, but I'm getting used to that. It might have been one of the best things I ever wrote. (Hey, you'll never be able to prove it wasn't.)
And then Ron Washington did it again.
[+] Enlarge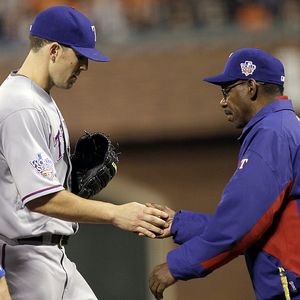 AP Photo/Marcio Jose SanchezRon Washington removes Darren O'Day, one of five relievers the Rangers used in the eighth inning of Game 2.
It's 2-0 in the eighth inning of the second game of the World Series. You've already lost the first game (through no fault of the manager). If you don't win this one, you're in big trouble. You've got tomorrow off. Your best pitcher hasn't pitched in nearly a week, and has pitched only three innings in the last two weeks.
And you never use him. You leave Neftali Feliz rotting away in the bullpen, just as you've left him rotting away through most of October.
Ron Washington didn't cost the Rangers this game. They never scored any runs, and that wasn't his fault. The Rangers were cursed by poor luck twice in the fifth inning: first when
Ian Kinsler
's long fly ball fell an inch short of carrying the fence, and moments later when
David Murphy
's liner was snared by
Edgar Renteria
. If the game had ended after six or seven innings, the Rangers might have taken heart from having played the Giants straight up, just a break or two short of winning, maybe, or at least keeping things interesting.
But you're not allowed to complain about poor luck when you lose by nine runs, or when your relievers give up seven runs in the eighth, or when your relievers walk four hitters in a row.
Especially when you use five relievers, and none of them is your
best
reliever.
For seven innings, the Rangers were out-lucked, and might have been very slightly outplayed. The rest of the game, the Rangers were badly outplayed. They were also badly outmanaged. Again. And one of these games, it really is going to cost them.
Postscript:
The spirit of fairness demands that we at least acknowledge the unlikelihood of what we've just seen. The Texas bullpen finished the regular season with the second-lowest ERA in the American League. Then again, of the five relievers Washington deployed in the bottom of the eighth inning Thursday night, only two --
Darren Oliver
and
Darren O'Day
-- played a material role in that second-lowest ERA. The other
three
--
Derek Holland
,
Mark Lowe
, and
Michael Kirkman
-- were bit players in the bullpen's success.
We've seen Ron Washington make one adjustment after a loss. Maybe, just maybe, he'll make another. But first the Rangers have to stop giving up 10 runs per game.