'Free Jed Lowrie' movement hits Boston
April, 18, 2011
4/18/11
11:15
AM ET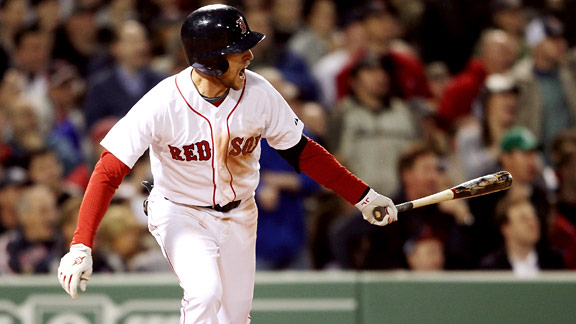 Elsa/Getty ImagesShould Jed Lowrie be Boston's full-time shortstop?
Every year on the third Monday of April, the Boston area commemorates the battles of Lexington and Concord fought on April 19, 1775. The holiday has a uniquely New England feel; there's a historic reenactment on the Lexington Green, where 18 colonists were shot by British regulars in defense of what is now a trendy, upper-crust main street of coffee shops and designer greeting card stores. There's the Boston Marathon: people from all over the world happily running a gauntlet of Wellesley College girls screaming their names, because they wrote things like, "I'm Dave, cheer for me!" across a sweat-soaked T-shirt, hours behind a group of sprinting Kenyans. There's also a Red Sox game at Fenway Park which starts at 11 a.m., undoubtedly to catch the opposition napping, literally. It's Patriots' Day in Boston.
The point of all this is that Bostonians have plenty with which to occupy themselves. Yes, they are a bit gloomy about the fact this Patriots' Day finds their Red Sox with a $162 million payroll and baseball's worst record, but no one is jumping off the Tobin Bridge. The Celtics' fortunes, the Bruins' threat of another early playoff swoon and Tom Brady's seemingly endless effort to turn himself into a European fashion model have become equally distressing to those who used to obsess over every Bob Zupcic at-bat. This is, however, not to suggest there isn't some irrational movement that thinks it has the answer to Boston's 4-10 start, because there is. It's called Free
Jed Lowrie
.
He's J-Low and he's hitting .462 through his first 28 plate appearances. The only problem is he might not have a position in Boston, certainly not a long-term one. Drafted 45th overall by the Red Sox in 2005 out of Stanford, he's showed promise -- a switch-hitting infielder in the mold of
Bill Mueller
, only bigger and with more pop in his bat. His issue has been health. After reaching the majors in 2008, Lowrie played just 32 games the following season because of a nagging wrist injury. He then missed the first 94 games of last season with mononucleosis before turning in a solid second half, hitting .287 in 171 at-bats with nine home runs, 24 RBI and a .907 OPS. Twenty-three of his 49 hits went for extra bases. One highly respected analyst has said to me that Lowrie is 50 doubles waiting to happen. A front-office executive from another team told me Lowrie will be "a good everyday guy when he gets the chance." This may be that chance -- but it may not last long, at least not in Boston.
While certainly no iron glove, Lowrie's swing can sometimes be sweeter than his infield defense. Last season he started 24 games at second base and 21 games at shortstop. He's made 24 career starts at third base. This suggests he's an ideal super utility-type, but Lowrie's insistence that he's an everyday player and his sizzling start to this season prove he's no reserve. So where does he play? The short answer is shortstop. In 10 games this season, Lowrie has hit .462/.500/.654. Meanwhile, starter
Marco Scutaro
is hitting .188/.297/.250. Scutaro played a solid shortstop last season, his first with the Red Sox, and is hardly to blame for this year's 4-10 start. However, with Scutaro off to a slow start and in the second season of the two-year contract he signed, Lowrie has become the fans' presumed cure for all ills. But the long-term issue for Lowrie: Boston already has a shortstop of the future.
Jose Iglesias is a 21-year-old shortstop from Cuba and ESPN's Keith Law called him, "the best defensive shortstop prospect I've ever seen." Iglesias has often been compared to 11-time Gold Glove winner
Omar Vizquel
and hit .285 in 57 games at Double-A Portland last year. This season Iglesias is at Triple-A Pawtucket and will almost certainly be playing shortstop in Boston in 2012. The Red Sox have
Dustin Pedroia
at second base and
Kevin Youkilis
at third. If Lowrie forces his way into a starting job this season, which is just what he's doing, he may once again make only a temporary appearance.
Lowrie had just 17 at-bats heading into Saturday, when he started at shortstop and batted leadoff for the first time in his career. In his first two at-bats he singled and homered in a 4-1 win over the Blue Jays. Not wanting to bench Scutaro but admitting publicly that Lowrie was simply too hot to sit, Terry Francona had Lowrie back at shortstop Sunday, this time hitting sixth between left-handed hitters
David Ortiz
and
J.D. Drew
. Lowrie reached base three times in an 8-1 Red Sox win. He was back in the starting lineup in Monday morning's Patriots' Day game. He has some Red Sox fans convinced he is not only the answer at shortstop but also the spark that will ignite this expected offensive Boston bonfire.
And, yes, "Free Jed Lowrie" T-shirts really are being printed up around Boston.
Follow Steve on Twitter at @SBerthiaumeESPN.