Tuesday, February 28, 2012
What's next for Alex Gordon?

---
By Mark Simon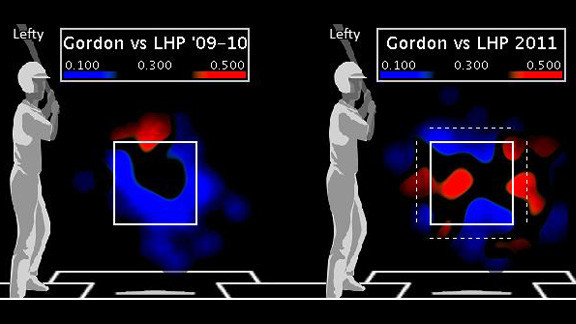 A comparison of Alex Gordon against left-handed pitching

Click

here

to create your own Gordon heat maps


Alex Gordon had a breakout season in 2011, the kind that had been expected of him since his recall from the minor leagues. He starred for the Kansas City Royals both at bat (.303 BA, 23 HR, 87 RBIs) and in the field (winning a Gold Glove, largely because of his 20 outfield assists).

The biggest jump Gordon made was his performance against left-handed pitching. Gordon entered 2011 as a .215 career hitter against southpaws, but hit a solid .278 with 19 extra-base hits, including eight home runs.

One of Gordon's primary weaknesses in dealing with lefties was how he handled soft stuff (curves, sliders, changeups) away. He eliminated that as an issue in 2011 in a big way.

Gordon was able to nearly double the rate at which he made contact on swings against those pitches, and the results increased exponentially, as noted in the chart on the right.

There aren't many left-handed hitters who can hit that type of pitch from a left-handed pitcher. Gordon's new AL Central-mate, Prince Fielder, struggles with it. So did Josh Hamilton, Joey Votto, and Curtis Granderson last season, among others.

Eliminating that issue added a significant number of hits to Gordon's ledger and made him a much more viable threat at the plate.

But is that sort of success sustainable? Gordon's batting average of balls on play against lefties took a big jump, even though his rate of hitting the ball hard didn't.

You tell us if you think Gordon is legit. Share your thoughts in the comments section.


---