Friday, May 2, 2014
Write it up: Collin McHugh's success story

---
By Mark Simon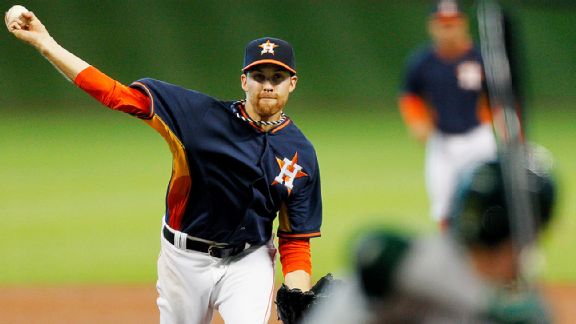 Bob Levey/Getty ImagesCollin McHugh has been in some kind of zone in his first two starts of 2014.

Houston Astros pitcher Collin McHugh is one of the most interesting pitchers in baseball, and not just because he's 2-0 with an 0.59 ERA in two starts for a team that has dropped 100 games in each of the last three seasons.

McHugh has kept a blog throughout his pro career, called "A Day Older, A Day Wiser," and the entries are well-thought-out and very articulate. He noted some things in his posts this past offseason that seemed to foreshadow his 2014 success.

One post noted that the signing with the Astros came on his wife's birthday, which proved to be a good omen.

Another touched on watching Russell Wilson's "Why Not Us?" comments during the Super Bowl and relating that to his own experience trying to stick in the major leagues despite failures in his previous experiences.

"I've looked at my career five years down the road and said 'Why not me?'" McHugh said. "Why couldn't I get to stick with someone and put down some roots? It's refreshing to see someone like Russell Wilson get a chance and do something with it. I've had so much encouragement from my friends, my family, from the three organizations that gave me a chance. You just hope it breaks [right] eventually."

Another addressed the value of hearing the words "You belong" from Astros manager Bo Porter at their first meeting in spring training.

That took a little while to fully sink in, as McHugh allowed nine runs and 12 hits in 5 2/3 innings in the spring, which is why he started the season in Triple-A rather than the majors. But he is taking advantage of the opportunity created when the Astros' best starter, Scott Feldman, went on the disabled list.

A fan has taken those two words and plugged them into the sponsor's section on McHugh's page on Baseball-Reference.com. He proved he belonged in these first two dominant starts with his third team (the Mets and Rockies were the other two) in three seasons.

"I don't know if I could have pictured how it would go," McHugh said of this start to the season. "But if I did, it would have gone like this. This time around, it's different [than when he debuted with seven scoreless innings for the 2012 Mets]. I'm more comfortable and a little bit more prepared."



Great start


McHugh has already made a memorable statistical impression.

In his first start against the Mariners (whom he'll face again Sunday), he became the first Astros pitcher with a 12-strikeout, no-walk, scoreless start since Randy Johnson in 1998. The full list is McHugh and a collection of former All-Stars: J.R. Richard, Nolan Ryan, Mike Scott, Pete Harnisch and Johnson.

In his second start against the Athletics last Sunday, McHugh went 8 2/3 innings and allowed only two hits. He was part of a record-setting day in which 10 starters went at least seven innings and allowed three hits or fewer.

"His performance speaks for itself," Porter said after that game. "He's earned the right to get the ball for his next turn."

McHugh is one of three Astros pitchers to win his first two starts, allowing one run or fewer and three hits or fewer in each one. The other two are Roger Clemens and (coincidentally) Feldman.

In each of the two games, McHugh has pitched with determination, visible a few times in the locked-in look on his face when he came off the mound after dotting the outside corner for an inning-ending strikeout or inducing a weakly hit out.

"I feel confident now," McHugh said. "I feel if I can get a guy to two strikes, he's out in my mind. Strikeouts are accidental. But when you get a guy to make soft contact and hit the ball where the defense is playing, and when you feel you have guys eating out of your hand, you just want to ride that out as long as possible."



How he's winning


What is McHugh doing differently on the mound?

He noted the tinkering to his pitching as minor, but we picked up a few things. Brooks Baseball charts him as having gone away from his two-seam fastball, using exclusively a four-seamer. Astros pitching coach Brent Strom told McHugh he had a "sneaky" fastball that could be put to better use. McHugh has abided.

He's also changed his first-pitch approach, in a manner similar to what James Shields did with much success a few years ago.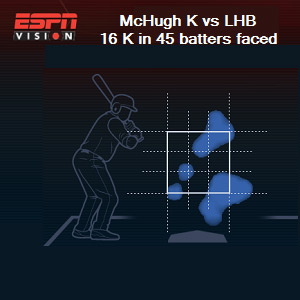 McHugh's put-away pitches have been well-placed.

McHugh threw 65 percent first-pitch fastballs with the Mets and Rockies the last two seasons; but in each of his two starts in 2014, fewer than half of his first pitches have been fastballs.

McHugh is now '"pitching backwards," noted when I asked former major league pitcher Brian Bannister for his thoughts on Twitter. That means he's using his off-speed pitches (curve, slider and changeup) to set up his fastball, rather than the other way around.

It's made him more unpredictable.

McHugh went to his slider against lefties much more often these two starts than he did the previous two seasons, and for good reason.

Lefties were 34-for-84 with six home runs against him in 2012 and 2013. Both the Athletics and Mariners loaded their lineups with lefties against McHugh, but those hitters were 4-for-42 against him.

"Our catchers are doing a really good job at mixing things up and reading the lineup the second time through," McHugh said. "For me, it's about having the confidence that I can throw each of my pitches for a strike. [As for hitting the corners], some days it's there and some days it's not. It goes back to focus. We've been doing it long enough. Sometimes your body just needs that extra second for a little more focus."


The next chapter


McHugh hasn't written a blog entry since being recalled. He and his wife did feel good enough about his two starts to settle into an apartment rather than staying at the team hotel. But this is a story that still has a lot left to play out.

"I try to wait until I'm super-motivated to write," McHugh said. "I want to wait until I have some more perspective."



---