September, 14, 2013
Sep 14
12:20
AM ET
Pop quiz: Who is the
Oakland Athletics
' highest paid player this year?
(Waiting.)
(Waiting.)
Give up?
If you guessed
Chris Young
, you spend more time
on Cot's Baseball Contracts than I do
. I'm not sure what is more remarkable, that Chris Young is the highest-paid player on a team, that $8.7 million is the highest salary on any major league team, or that the team in question leads its division by 4 1/2 games with two weeks to play in the season.
Watching the A's jump out to a big lead against the
Texas Rangers
on Friday night to extend their division lead, I couldn't help but marvel at how this team was built. The
game ended up being a lot closer
than it probably should have been, but it doesn't diminish how the A's were built. Not only do they not spend a lot of money on free agents, but they haven't even had much success in the draft in recent years.
In fact, according to Baseball Reference,
A.J. Griffin
has by far the highest WAR of any player on the club that was drafted by the A's (2.1), and that is tied for 6th.
Basically, the A's have found a way to build a winning club via mid-level trades and low-cost free agents.
Josh Donaldson
,
Josh Reddick
,
Derek Norris
,
Jed Lowrie
and
Jarrod Parker
(among others), were brought in via trades that featured the likes of
Rich Harden
,
Andrew Bailey
,
Gio Gonzalez
,
Chris Carter
and
Trevor Cahill
. Some good players, to be sure, but whose production was replaced at a fraction of the cost.
As for free agents, the A's spent "big" on
Yoenis Cespedes
, but even his four-year, $36 million deal is modest by today's standards. Meanwhile,
Coco Crisp
,
Grant Balfour
and
Bartolo Colon
have been huge free-agent bargains.
And it's not just the front office that deserves credit, as the field staff has done a remarkable job of getting the most out of these guys. By aggressively using platoons, Bob Melvin has been a Strat-O-Matic player's dream. He does a fantastic job of putting his players in position to succeed, something that not all managers are able to do.
At this point, it appears the A's are going to win the AL West for a second straight year without spending a lot of money -- their payroll is barely north of $60 million -- and without drafting well -- their
best first-round pick of the last decade
is
Huston Street
, and it's not all that close.
In recent years, it has seemed like there are two ways to build a good team: spend a lot of money (Yankees, Dodgers) or accumulate draft picks and hit on them (Rays, Cardinals). As a fan of the game, it's refreshing to see a team succeed with a method of team-building that is truly unique. And if you're a fan of a franchise that thinks the path to success is throwing a lot of money at the best available free agent, just look at the A's and know that there is another method.
February, 8, 2013
Feb 8
8:00
AM ET
2012 in review
Record: 94-68 (92-70 Pythagorean)
713 runs scored (8th in American League)
614 runs allowed (2nd in AL)
Big Offseason Moves
Traded
Cliff Pennington
and Yordy Cabrera to Arizona for
Chris Young
. Re-signed free agent
Bartolo Colon
. Signed Japanese shortstop
Hiroyuki Nakajima
. Acquired
John Jaso
in three-way deal that sent A.J. Cole to Washington. Traded
Chris Carter
,
Brad Peacock
and Max Stassi to Houston for
Jed Lowrie
and
Fernando Rodriguez
. Lost free agents
Brandon McCarthy
,
Stephen Drew
and
Jonny Gomes
.
More than anything, Billy Beane improved Oakland's athleticism and versatility. He lost two designated-hitter types in Carter and Gomes, but acquired an elite defensive center fielder in Young and picked up two infielders to go along with the return of
Scott Sizemore
(the team's best hitter in 2011 who missed all of 2012). Nakajima was a star player in Japan and since Lowrie's range at short is limited, the A's are counting on Nakajima to live up to his defensive reputation. The loss of McCarthy will hurt, but re-signing Colon helps maintain their rotation depth. For the tight-budgeted A's, a solid offseason that gives manager Bob Melvin multiple options around the diamond.
Position Players
As you can see from the projected lineup, there is a lot of unsettled aspect to Oakland's starting nine, but in a good way. Melvin will be able to mix and match and the depth gives the A's injury insurance.
But how
good
is the lineup? The A's set an all-time strikeout record last season and hit just .238. They did hit better with runners in scoring position -- .265 -- which is one reason they ranked eighth in runs despite finishing 12th in on-base percentage and ninth in slugging percentage. Three reasons to like Oakland's chances to score more runs this year, however: The second basemen hit .228 with five home runs; the third basemen had a .280 OBP, lowest in the AL; and the shortstops had a .272 OBP, again lowest in the AL.
And a fourth reason:
Yoenis Cespedes
surprised everyone by hitting .292/.356/.505. Very nice numbers. Those could be big numbers this year.
Pitching Staff
Either you believe in Oakland's young starters or you don't. I'm a believer. Remember that the best of the group might be
Brett Anderson
, and he made just seven starts in 2012 after returning from Tommy John surgery.
Jarrod Parker
,
Tom Milone
and
A.J. Griffin
enter their second seasons with playoff experience under their belts and Colon returns after his suspension for using performance-enhancing drugs.
Dan Straily
and
Travis Blackley
provide depth.
If we're going to nitpick, it's that it's not a big strikeout rotation. The A's ranked 10th in the AL strikeout rate among starting pitchers at 16.6 percent -- more than 5 percent less than Tampa Bay's 21.9 mark. But guess which staff tied for the lowest walk rate? The A's won't beat themselves and they pitch to their big home ballpark -- where Young,
Coco Crisp
and
Josh Reddick
have the speed to run down a lot of flyballs.
If you watched the A's down the stretch, you saw the hard-throwing trio of
Grant Balfour
,
Ryan Cook
and
Sean Doolittle
dominate the late innings. Those three combined for a 2.49 ERA over 195 innings; not bad for a minor free-agent signing, a throw-in in the
Trevor Cahill
trade and a guy playing first base in the minors in 2011. All told, opponents hit .206 off the Oakland pen, second-lowest in the league to the Rays' .205 mark. There's depth behind those three guys as well.
Good rotation. Good pen. Some will predict regression from this group, but I expect another solid season in which the A's once again rank among the AL leaders in fewest runs allowed.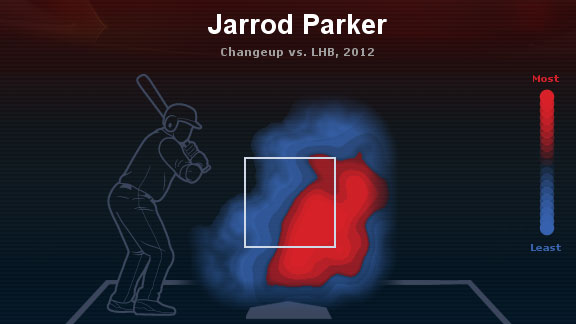 ESPN Stats & InformationJarrod Parker's 3.8 WAR ranked 10th among AL pitchers in 2012.
Heat Map to Watch
Beane acquired Parker from the Diamondbacks and the rookie right-hander showed why he was highly rated coming up through the Arizona system. His changeup made many left-handed hitters look foolish at the plate -- in 140 plate appearances ending with that pitch, they hit .163/.216/.194, with just three extra-base hits (two doubles, one triple). It's one of the best pitches in the game and the reason I expect Parker to have another solid season.
Overall Grade

Many won't believe in the A's simply because they were such a big surprise a year ago. But I'm trying to find reasons to expect a decline and am having trouble identifying them. OK, the offense was sort of one-dimensional last season; but the A's basically received nothing from three positions and they have likely upgrades at all three spots. I didn't even mention Jaso above; if he hits like he did with Seattle, he's another plus at the plate (though the Mariners clearly didn't like his defense behind the plate).
OK, maybe you don't believe in Reddick and Cespedes and
Brandon Moss
. I do. I think they return to the playoffs.
October, 10, 2012
10/10/12
12:35
AM ET
The Oakland A's didn't really know what to expect from
Brett Anderson
, who hadn't pitched in 20 days since suffering an oblique strain.
But here's the one thing about Anderson: He can roll out of bed and throw the ball over the plate. He returned from last summer's Tommy John surgery Aug. 21 and made six starts before the oblique injury. In those six starts, he walked just seven batters, displaying the control the 24-year-old had shown since reaching the big leagues at age 21.
Manager Bob Melvin was hoping to get five innings from Anderson on Tuesday. Anderson delivered six shutout frames, throwing 80 pitches and allowing just two hits. His final two pitches might have been his best: a 2-1 slider to
Miguel Cabrera
that broke sharply into the strike zone for a called strike, and then a 2-2 slider that dove down and in and on which Cabrera swung over the top.
Asked what his expectations were after Oakland's bullpen locked down the 2-0 win, Anderson said, "Just go out there and give us a chance to win," citing the performances of
Jarrod Parker
and
Tommy Milone
in the first two games of the series with the Tigers. "You couldn't really script it, but it worked out. ...
Coco [Crisp]
robbing the home run sort of set the tone. You can't say enough about the defense," he said.
On a day when we had two games and saw a combined total of 16 hits, pitching did rule the day. And instead of two games Wednesday, now we get four. Good for everyone (except maybe Reds and Tigers fans).
[+] Enlarge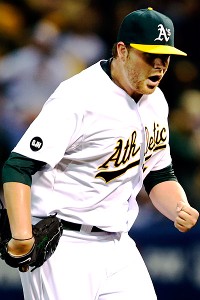 AP Photo/Marcio Jose SanchezIn his first start since September, left-hander Brett Anderson pitched six shutout innings.
A few other thoughts:
Crisp's second-inning robbery of Prince Fielder is one of the greatest postseason catches I can remember, right up there with Willie Mays, Kirby Puckett in the 1991 World Series, Devon White in the 1992 World Series and Endy Chavez in the 2006 National League Championship Series. Fielder got robbed again when Yoenis Cespedes made a diving catch of his liner in the seventh. When the ball was hit, it looked like a sure single and maybe a double in the gap; it hung up just long enough for Cespedes to appear from nowhere. Josh Donaldson also started a nice 5-4-3 double play off Omar Infante's hard smash to end the third.

I loved the way Melvin handled the seventh and eighth innings, first using Ryan Cook and then Sean Doolittle, even though he usually uses Doolittle and then Cook. He brought in Cook to face Fielder, when he could have either left in Anderson for one more batter, brought in Doolittle or brought in Jerry Blevins, who had been warming up in the sixth. I think he wanted to give Fielder a different look than a third shot at Anderson, so he brought in the hard-throwing Cook. That meant Cook would also face right-handers Delmon Young and Jhonny Peralta (who did single), and Melvin wouldn't waste Blevins for one batter. But it also meant Doolittle faced rookie Avisail Garcia and catcher Gerald Laird in the eighth. If Cook had pitched the eighth, Jim Leyland would have pinch hit lefty swingers Quintin Berry and Alex Avila, a better duo than Garcia and Laird.

It's going to be difficult for the Tigers to go all the way with Young batting fifth. Only Josh Hamilton swung at a higher percentage of pitches outside the strike zone among qualified batters this season. Yes, Young hit five home runs in last year's postseason. He also hit .133 in the American League Championship Series. He had 112 strikeouts and 20 walks this year. He is not good. As a No. 5 hitter for a team aspiring to win a title, he's a joke.

Strong outing by Anibal Sanchez. Seth Smith turned on an inside fastball for his fifth-inning home run to dead center, but the Tigers couldn't have asked for more than the 6.1 solid innings he gave them.

Cabrera singled with one out in the ninth, bringing up Fielder against Grant Balfour as the tying run. Balfour got a break on the first pitch, a fastball outside called a strike by plate ump Dana DeMuth. After a fastball outside, Balfour threw a tough 94 mph heater at the knees that Fielder took for strike two. Another fastball, this one at 95, and Fielder grounded into a 6-3 double play. Guess which team led the AL in double plays grounded into?

Max Scherzer versus A.J. Griffin in Game 4. Scherzer left a start Sept. 18 after two innings due to a sore shoulder and returned Sept. 23 but then didn't pitch again until Oct. 3, when he pitched four scoreless innings against the Royals. If he's healthy, he's certainly capable of dominating, after ranking second in the AL in strikeouts to his teammate Justin Verlander and posting a 2.69 ERA in the second half. Following a great run, Griffin struggled in three of his final four starts, with 26 hits and 15 runs in 17.1 innings. Look for a quick hook.
October, 3, 2012
10/03/12
2:41
AM ET
The
Texas Rangers
took over possession of first place in the American League West on April 9, the fourth game of the season. They held that position every day since then, all by themselves, 182 consecutive days.
Until now.
Now they're in danger of ... well, I don't know exactly what to label it. It's not a collapse like last year's Red Sox and Braves suffered; the Red Sox went 7-20 in September, the Braves 9-18. Those teams did fall apart.
The Rangers haven't exactly done that. They went 15-13 in September but have gone 0-2 in October and now they're tied for first place and have a winner-to-take all showdown Wednesday afternoon,
Ryan Dempster
taking on
A.J. Griffin
.
If momentum does exist in baseball -- and I'm in that group believes it doesn't -- then the A's certainly own it. They're riding this wave like Laird Hamilton on the north shore of Maui. Sure, it's not
exactly
a winner-take-all game, since the Rangers would still back into the wild-card game on Friday against the Orioles or Yankees.
[+] Enlarge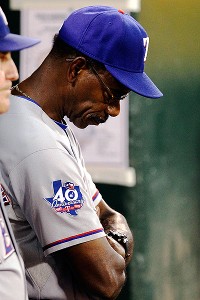 AP Photo/Ben MargotRon Washington's refusal to tinker much with his lineup is one reason for Texas' predicament.
But that's how it would feel: Backing in. And that's not the situation the Rangers expected to be in last Monday, when they beat the A's in the first game of a four-game series to take a 5-game lead with nine games left.
Look, the Rangers have won 93 games, but they're not this powerhouse we've sort of assumed they were all season, and not just because of injuries to their rotation. (I'm not diminishing the effect of those, but keep in the mind A's lost
Bartolo Colon
,
Brandon McCarthy
and
Brett Anderson
at various points.)
Issue No. 1: Ron Washington's determination to stick with
Michael Young
. His artificially OK batting line of .277/.313/.370 masks that he just isn't very good. His OPS+ of 78 is higher than just four other AL qualifiers --
Mike Aviles
,
Alexei Ramirez
,
Yunel Escobar
and
Jemile Weeks
. Those guys are all middle infielders; Young is the team's primary designated hitter. We get it; Young is a respected veteran making a lot of money who helped the Rangers reach the past two World Series. This is a case where the front office needed to step in and acquire a better player or tell Washington to give those at-bats to somebody else.
As we've seen these past two nights in Oakland, the Rangers aren't the same offensive juggernaut away from Arlington.
Home: .285/.347/.473
Road: .262/.321/.423 (before Tuesday's game)
Ian Kinsler
may be the biggest culprit here. His dead-pull swing works great in the left-field launching pad in Texas, where he's hit .293 with 14 home runs. But on the road he's hit .223 with five home runs. Yet Washington continues to him leadoff because he's the leadoff hitter and Washington prefers a set lineup.
The front office also could have upgraded first base. Rangers first basemen (mostly
Mitch Moreland
) -- despite playing in a great hitter's park -- rank 12th in the AL in OBP, 12th in home runs and 12th in RBIs.
But mostly this is a reminder that pennants aren't won on paper. The Rangers had eight All-Stars this season; the A's just one. The Rangers signed
Roy Oswalt
and traded for Dempster. The A's called up more rookies.
The A's will start one of those rookies on Wednesday in Griffin. But when the Rangers dig in against him, they won't see a rookie: They'll see a rival.
September, 13, 2012
9/13/12
2:23
AM ET
Oakland A's rookie right-hander
A.J. Griffin
has made 11 career starts. He hasn't been charged with a loss in any of the games and the A's have won nine of those games, including Wednesday's
4-1 victory
over the Los Angeles Angels, their third straight in the four-game series. He's a big kid at 6-foot-5, 215 pounds or so, but his fastball isn't all that big, 88 to 90 mph. But he throws strikes, mixes in a curve, slider and changeup, and opponents are hitting .202 off him. He hasn't allowed more than three runs in any of his 11 starts.
It's been a remarkable 11 starts for Griffin: He has had to face
Matt Cain
,
David Price
and
Felix Hernandez
. He beat a pitcher who struck out 15 batters. The A's have now pulled 5.5 games ahead of the deep-pocket Angels in the wild-card race, and Griffin is one big reason why. His 11 starts:
1. Versus Cain -- no-decision but A's win.
2. Versus
Matt Harrison
-- six scoreless innings, ND, A's lose 4-3.
3. Versus
Aaron Cook
-- ND, A's win.
4. Versus
Francisco Liriano
-- Liriano fans 15, but Griffin gets first major league win.
5. Versus
Freddy Garcia
-- Gets the win in 4-3 victory.
6. Versus
Ricky Romero
-- A's win 16-0.
7. Versus Price -- ND, but A's win in 15 innings.
8. Versus Romero -- Leaves in second inning with shoulder tightness, A's lose in 11 innings.
9. Versus
Felix Doubront
-- Gets the win with one run over seven innings.
10. Versus Hernandez -- Gets the win in 6-1 victory.
11. Versus
Ervin Santana
-- Eight scoreless innings to improve to 6-0, 1.94 ERA.
July, 30, 2012
7/30/12
1:52
PM ET
Wait, who let Karabell take a vacation during trade deadline week? Mark Simon and myself hosted Monday's
Baseball Today podcast
as we discussed Power Rankings, the trade deadline and more!
1. We review the
Zack Greinke
trade from Friday and his performance on Sunday. It was a good debut but it proved to be an even bigger weekend for the Rays.
2. We discuss the rumors with the Phillies and why
Hunter Pence
to the Giants may not make sense and why
Josh Johnson
to anywhere may not happen.
3. Everybody wants to trade Mike Olt, it seems. Except the Rangers. Maybe they should just call him up and put him in the lineup.
4. Power Rankings: We agree pretty much on the top five but then it gets messy. One of us believes more in the A's.
5. Emails include the biggest one-season increases and decreases in WAR, the Phillies' rotation and which major leaguers would make great Olympic athletes.
Plus we preview Monday's action. Check it all out on Monday's Baseball Today podcast.