September, 13, 2012
9/13/12
2:23
AM ET
Oakland A's rookie right-hander
A.J. Griffin
has made 11 career starts. He hasn't been charged with a loss in any of the games and the A's have won nine of those games, including Wednesday's
4-1 victory
over the Los Angeles Angels, their third straight in the four-game series. He's a big kid at 6-foot-5, 215 pounds or so, but his fastball isn't all that big, 88 to 90 mph. But he throws strikes, mixes in a curve, slider and changeup, and opponents are hitting .202 off him. He hasn't allowed more than three runs in any of his 11 starts.
It's been a remarkable 11 starts for Griffin: He has had to face
Matt Cain
,
David Price
and
Felix Hernandez
. He beat a pitcher who struck out 15 batters. The A's have now pulled 5.5 games ahead of the deep-pocket Angels in the wild-card race, and Griffin is one big reason why. His 11 starts:
1. Versus Cain -- no-decision but A's win.
2. Versus
Matt Harrison
-- six scoreless innings, ND, A's lose 4-3.
3. Versus
Aaron Cook
-- ND, A's win.
4. Versus
Francisco Liriano
-- Liriano fans 15, but Griffin gets first major league win.
5. Versus
Freddy Garcia
-- Gets the win in 4-3 victory.
6. Versus
Ricky Romero
-- A's win 16-0.
7. Versus Price -- ND, but A's win in 15 innings.
8. Versus Romero -- Leaves in second inning with shoulder tightness, A's lose in 11 innings.
9. Versus
Felix Doubront
-- Gets the win with one run over seven innings.
10. Versus Hernandez -- Gets the win in 6-1 victory.
11. Versus
Ervin Santana
-- Eight scoreless innings to improve to 6-0, 1.94 ERA.
July, 27, 2012
7/27/12
10:00
AM ET
This is the final weekend before the non-waiver trade deadline, meaning that it's a pretty important couple of days for a number of teams that might not have figured out whether they are buyers, sellers or somewhere in between. Arizona, Cleveland, Philadelphia and a few American League East teams could certainly be swayed based on weekend results. Anyway, as per our new Friday custom, here's what to watch this weekend.


1. While the eyes of the baseball world seem to be on every Red Sox-Yankees series, and this is again the ESPN Sunday Night matchup, more than 10 games separate these teams in the standings. Meanwhile out West, the Dodgers and Giants renew their long-time rivalry. Unless the Diamondbacks start figuring things out, it will be
Clayton Kershaw
or
Madison Bumgarner
starting a playoff game for the NL West champs -- or perhaps will start a playoff game due to the wild card. The Dodgers avoid Bumgarner this weekend, as well as inconsistent
Tim Lincecum
(you take a guess what he'll do next outing). The last time these teams met the Dodgers did not score a run, quite literally:
Barry Zito
,
Ryan Vogelsong
and Lincecum helped the Giants outscore the
Matt Kemp
-less lineup 13-zip. Kemp is back now,
Hanley Ramirez
is here, too, and it should be more of a fair fight.


2. Say what you will about whether the
Oakland Athletics
and
Baltimore Orioles
will be legitimate contenders in September and therefore
should
be buying at the trade deadline, but naysayers will get a closer look when they meet at Camden Yards, each team firmly in the thick of the wild-card race. This is good for baseball! Oakland's newfound offensive prowess is scheduled to be tested by
Zach Britton
,
Tommy Hunter
and
Wei-Yin Chen
. Yeah, the Orioles could use a rotation upgrade or two.


3. While Oakland is 16-3 in July, the division-leading
Texas Rangers
are 8-10. Only Kansas City, the Mets and, of course, Houston have fewer wins this month. The Rangers host the
Chicago White Sox
, a team that lost all its games last weekend in Detroit, then won all three games when it came home to meet the terrible Twins. Are the White Sox a crew that can stick with the good teams? The White Sox don't see the Tigers again until the last day of August, and this will be a big test against
Yu Darvish
,
Matt Harrison
and, at least for now, a scheduled
Roy Oswalt
on Sunday night. The struggling
Josh Hamilton
, hitting a mere .194 since June 1 (what does Nolan Ryan think of that?), should enjoy Sunday's game against
Gavin Floyd
, who he's 8-for-13 against. Playoff preview, perhaps?
Three more stats to watch:
15-0, 2.89:
Zack Greinke
could be a former Milwaukee Brewer before his scheduled Sunday start against the
Washington Nationals
-- or even by the time you read this -- but those are his
career
numbers at Miller Park. Nothing to worry about for the team that acquires him, right?
4-0, 1.26:
That's the July combined win-loss record and ERA for
Ross Detwiler
and
Jordan Zimmermann
, scheduled to pitch in Milwaukee Friday and Saturday. Then on Sunday it's
Gio Gonzalez
! Good luck to the defending NL Central champ Brewers, on a six-game losing streak. Meanwhile, keep talking about
Stephen Strasburg
and innings limits all you want, but the Nationals have depth.
0-3, 10.42:
And we end with Red Sox-Yankees.
Jon Lester
won two of three starts at Yankee Stadium last season, but with a 9.20 ERA. That ERA is still better than Lester's numbers for this current July. Yeah, he's struggling. The Yankees will also face
Aaron Cook
and
Felix Doubront
.
Have a great weekend!
June, 7, 2012
6/07/12
12:56
AM ET
"Show us some respect," yell Baltimore Orioles fans. Or maybe they're politely demanding. But I've seen the complaints in the Power Rankings comments, read the emails sent to "Baseball Today," been asked the question in my chats: Why doesn't anyone believe in the Orioles?
The Orioles traveled to Fenway Park this week in a precarious situation. They've lost two of three in Tampa. They've been swept in Toronto. They've lost two of three at home to Kansas City. They've lost two of three at home to Boston. They haven't won a series since the big weekend showdown in Washington from May 18-20.
So, yes, the concerns all of us "experts" had been raising -- it's a long season, let's see what happens to the rotation, let's find out if some of the hitters can keep up their hot starts, the bullpen can't keep its ERA under 2.00 all season -- were proving true. The O's were 27-14 after winning the second against the Nationals but had gone 3-10 since, with the staff posting a 4.95 ERA while the offense scored 3.5 runs per game.
These were the Orioles we all expected. And then they beat the Red Sox in extra innings on Tuesday. And then they
beat the Red Sox 2-1
on Wednesday behind a solid effort from
Wei-Yin Chen
and scoreless innings from
Pedro Strop
and
Jim Johnson
. They're 5-0 at Fenway in 2012 and Chen is now 5-2 with a 3.49 ERA. The key moments came in the seventh inning after the Red Sox threatened with a pair of singles to start the frame. But after a sacrifice bunt, Chen struck out
Marlon Byrd
and induced
Mike Aviles
to pop out to first base.
Normally, Buck Showalter might have turned to his stellar bullpen, but after Tuesday's victory, in which the bullpen threw five innings, he left Chen to escape the jam. He set up Byrd with three fastballs and then got him swinging on a beautiful changeup. He threw three more fastballs to Aviles that he couldn't get around on. Don't underestimate Chen. His stuff plays up big, with his four-seamer reaching 94 mph. His last pitch to Aviles was clocked at 93. In 11 starts, he allowed two or fewer runs seven times and I think this outing will give Showalter more confidence to stretch Chen a little deeper into games.
So the Orioles remain in first place for another day, half a game ahead of the Yankees. Is it time to show them a little respect, to give Orioles fans what they crave? Let's do some position-by-position rankings to help sort out this tightly packed division. Rankings are simply listed in order of who I would want the rest of the season.
(Season-to-date Wins Above Replacement from Baseball-Reference.com, before Wednesday's games, listed in parenthesis.)
Catcher
1.
Matt Wieters
, Orioles (1.6 WAR)
2.
Jarrod Saltalamacchia
/
Kelly Shoppach
, Red Sox (1.6)
3.
Russell Martin
, Yankees (0.7)
4.
J.P. Arencibia
, Blue Jays (0.2)
5.
Jose Molina
, Rays (0.1)
There is a case to be made that Boston's duo is more valuable since they've combined for 14 home runs and an OPS over .900. But Wieters brings elite defensive skills and I also don't believe Salty is going to slug .583 all season. For the second consecutive season, the Rays are essentially punting offense at catcher. Rays catchers have the worst OPS in the majors.
First base
1.
Adrian Gonzalez
, Red Sox (0.8)
2.
Mark Teixeira
, Yankees (0.6)
3.
Mark Reynolds
, Orioles (-0.6)
4.
Carlos Pena
, Rays (0.4)
5.
David Cooper
/others, Blue Jays (incomplete)
Gonzalez is still struggling to get his stroke going, but he's the best of a weak group. Yes, I just called Mark Teixeira weak, but at this point he's a low-average guy who pops a few long balls, doesn't draw as many walks as he once did and isn't as great on defense as Yankee fans believe. But in this group that's good enough to rank second. Reynolds has a low WAR but he's missed time and that includes his bad defense at third base, a position we've hopefully seen the last of him playing. The Jays, meanwhile, need to quit fooling around at first base and find a legitimate hitter, or move
Edwin Encarnacion
there and find a designated hitter. You hate to waste a potential playoff season because you can't find a first baseman who can hit. (No, David Cooper is not the answer, although he's hit well so far in 11 games.)
Second base
1.
Robinson Cano
, Yankees (2.1)
2.
Dustin Pedroia
, Red Sox (1.8)
3.
Kelly Johnson
, Blue Jays (2.1)
4.
Ben Zobrist
, Rays (0.7)
5.
Robert Andino
, Orioles (0.6)
I love Ben Zobrist almost as much as two scoops of Vanilla Heath Bar Crunch from Ben & Jerry's, but a .199 average isn't going to cut it in this group, even if you are on pace to draw 100-plus walks. Zobrist has actually play more right field so far, but should be back at second on a regular basis with
Desmond Jennings
back.
Third base
1.
Evan Longoria
, Rays (1.4)
2.
Brett Lawrie
, Blue Jays (3.1)
3.
Alex Rodriguez
, Yankees (1.2)
4.
Kevin Youkilis
/
Will Middlebrooks
, Red Sox (0.5)
5.
Wilson Betemit
/
Steve Tolleson
, Orioles (-0.1)
Lawrie's WAR is boosted by defensive metrics that treat him like he's the second coming of Brooks Robinson. He's a good player but don't I think he's been the second-best position player in the American League. Longoria hopes to
return at the end of the Rays' current road trip
. As for A-Rod, his health is always a question at this stage of his career, but Youkilis has health questions and I'm not a believer in Middlebrooks' ability to hit .321 with power all season. His 29/4 strikeout/walk ratio is something pitchers should learn to exploit. As for the Orioles ... third base is an obvious concern. But don't expect a rare intra-division trade to acquire Youkilis.
Shortstop
1.
J.J. Hardy
, Orioles (2.1)
2. Mike Aviles, Red Sox (2.2)
3.
Derek Jeter
, Yankees (0.9)
4.
Yunel Escobar
, Blue Jays (1.9)
5.
Sean Rodriguez
, Rays (1.9)
Wait ... Jeter has been the
least
valuable of this group so far? The other four all rate as excellent fielders -- in fact, Baseball-Reference rates them all in the top 13 fielders in the AL. Jeter, meanwhile, ranks 310th in the AL on defense -- out of 313 players.
Left field
1. Desmond Jennings, Rays (1.2)
2.
Daniel Nava
/
Carl Crawford
, Red Sox (1.7)
3.
Brett Gardner
/
Raul Ibanez
, Yankees (0.3)
4.
Eric Thames
/
Rajai Davis
, Blue Jays (-0.1)
5.
Endy Chavez
/
Xavier Avery
/
Nolan Reimold
, Orioles (-0.3)
Not to keep picking on the Orioles, but this is another problem position, especially if Reimold's disc problems lingers all season. Nava has quietly been a huge savior for the Red Sox, batting .305 with a .438 OBP. He's drawing walks at a crazy rate. He should slide some but he's provided the kind of depth the Orioles don't have.
Center field
1.
Adam Jones
, Orioles (2.5)
2.
Curtis Granderson
, Yankees (1.3)
3.
B.J. Upton
Rays (0.9)
4.
Jacoby Ellsbury
/
Scott Podsednik
/Marlon Byrd, Red Sox (0.5)
5.
Colby Rasmus
, Blue Jays (1.3)
Ellsbury might be the biggest wild card in this race, because the Red Sox can't survive much longer with the Podsednik/Byrd platoon. When will he return? How will he hit? He just started throwing and could
return by the end of the month
. I've conservatively put him fourth, which seems fair considering the unknown. And please note, Orioles fans, that I believe in Mr. Jones.
Right field
1.
Jose Bautista
, Blue Jays (0.9)
2.
Matt Joyce
, Rays (2.2)
3.
Nick Swisher
, Yankees (-0.1)
4.
Cody Ross
/
Ryan Sweeney
, Red Sox (1.6)
5.
Nick Markakis
/others, Orioles (0.3)
Markakis is out three to four weeks with a broken bone in his wrist, an injury that once again reflects Baltimore's lack of depth. But all five teams are solid in right field. Ross is about to return from his broken foot; we'll see if he pounds the ball like he was before the injury (.534 slugging).
Designated hitter
1.
David Ortiz
, Red Sox (1.4)
2. Edwin Encarnacion, Blue Jays (1.6)
3. Revolving Door, Yankees
4.
Chris Davis
, Orioles (0.3)
5.
Luke Scott
, Rays (0.0)
No respect for Davis? OK, he's hitting .295/.333/.494. And he has 53 strikeouts and eight walks. Sorry, call me skeptical, O's fans. Yankee designated hitters have actually fared well, hitting a combined .279/.354/.467 with 10 home runs.
No. 1 starter
1.
David Price
, Rays (2.2)
2.
CC Sabathia
, Yankees (1.9)
3.
Ricky Romero
, Blue Jays (0.3)
4.
Josh Beckett
, Red Sox (0.5)
5.
Jason Hammel
, Orioles (1.9)
Look, Hammel has been terrific so far thanks to a career-high strikeout rate
and
a career-high ground-ball rate. But this is tough group and the question is who is going to be best moving forward? My biggest concern is that Hammel has never pitched 180 innings in a season. Can he pitched the 210 to 220 that you need from a No. 1?
No. 2 starter
1.
Brandon Morrow
, Blue Jays (1.1)
2.
James Shields
, Rays (-0.4)
3.
Andy Pettitte
, Yankees (1.5)
4. Wei-Yin Chen, Orioles (0.7)
5.
Jon Lester
, Red Sox (-0.4)
I like Chen. Heck, right now I like him better than Jon Lester, which tells you how much I like him. But he averaged just 172 innings in Japan over the past three seasons. Can he hold up over 32 starts?
No. 3 starter
1.
Jeremy Hellickson
, Rays (1.0)
2.
Hiroki Kuroda
, Yankees (1.4)
3.
Felix Doubront
, Red Sox (0.4)
4.
Brian Matusz
, Orioles (0.2)
5.
Henderson Alvarez
, Blue Jays (0.4)
Matusz is holding his own at 5-5, 4.41, but he's still walking a few too many, allowing a few too many hits, a few too many home runs. The velocity is solid, averaging 91 on his fastball. We're talking minor upgrades needed in his command, getting the ball down in the zone more often to get more groundballs. If the Orioles are to have any chance, Matusz's improvement may be the single most important aspect.
No. 4 starter
1.
Matt Moore
, Rays (-0.6)
2.
Ivan Nova
, Yankees (0.3)
3.
Jake Arrieta
, Orioles (-0.4)
4.
Clay Buchholz
, Red Sox (-1.2)
5.
Kyle Drabek
, Blue Jays (-0.1)
Five pitchers who have struggled, but Arrieta's peripheral numbers are actually pretty solid. Like Matusz, there is hope for improvement. On the other hand, he's been awful since pitching eight scoreless innings against the Yankees on May 2, giving up 29 runs in 31.2 innings. His BABIP was .243 through May 2; it's .361 since. The truth is probably right in the middle, leaving Arrieta third on our list of fourth starters.
No. 5 starter
1.
Alex Cobb
/
Jeff Niemann
, Rays (0.3)
2.
Drew Hutchison
, Blue Jays (0.1)
3.
Phil Hughes
, Yankees (0.2)
4.
Daisuke Matsuzaka
/
Aaron Cook
/
Daniel Bard
, Red Sox (-0.3)
5.
Tommy Hunter
, Orioles (-0.5)
Hunter isn't really a major league starter, but I'm not sure
Jamie Moyer
-- just signed to a minor league contract -- is exactly a solution. The Orioles need to upgrade here.
Bullpen
1. Yankees (2.76 ERA)
2. Orioles (2.48 ERA)
3. Red Sox (3.66 ERA)
4. Rays (3.43 ERA)
5. Blue Jays (4.39 ERA)
If you watched Pedro Strop and Jim Johnson close out Wednesday's win, you'll realize the back of the Orioles' end has two guys with filthy stuff.
Darren O'Day
and
Luis Ayala
are strike-throwing machines and
Troy Patton
is a lefty who isn't a LOOGY. It's a good pen and it's deep. But the reliability of the pen ties into the rotation's inability to pitch deep into games -- Orioles relievers have already thrown 39 more innings than Yankees relievers, for example.
OK, let's add it up … one point for ranking first, five points for ranking fifth. Hey, this isn't meant to be scientific, so don't overanalyze this too much. The totals:
Yankees: 36 points
Rays: 40 points
Red Sox: 45 points
Blue Jays: 51 points
Orioles: 53 points
Not the respect Orioles fans are seeking. Sorry about that; it's nothing personal. Look, I don't think the Orioles are going to fade away anytime soon. I worry about the rotation's ability to hold up all summer and the bullpen's workload. They lack depth on offense and have a couple of obvious holes. Hey, you never know, and the Orioles are certainly due for a winning season. I would love to see it happen.
PHOTO OF THE DAY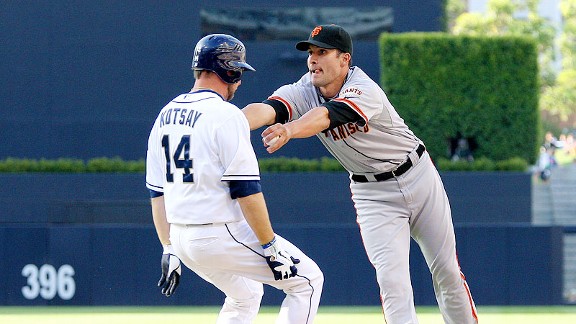 Jake Roth/US PresswireJavier Lopez is sending a message to Mark Kotsay: Tag, you're out!
January, 13, 2012
1/13/12
11:01
AM ET
Some stuff to check out from across the SweetSpot network ...
July, 15, 2010
7/15/10
3:13
PM ET
For some reason, I've got a sick fascination with pitchers who are allowed to pitch and pitch and pitch, despite spectacular failure. I don't know if everyone below precisely fits that description, but here are the 10 guys with ERAs higher than 5 who have pitched enough innings to qualify for the ERA rankings:
Even before tacking on
13 runs in five innings last weekend
,
Scott Kazmir
's ERA was 5.98; now it's 6.92. Even during Kazmir's four-game June winning streak, he walked nearly as many hitters as he struck out. It's hard (for me) to say
exactly
what's wrong with Kazmir ... Except we know he's not throwing as hard as he used to, we know he's striking out many fewer hitters than he used to, and we know he's walking more than he used to. All of which could have been said last year, too. Which isn't an encouraging trend.
Like Kazmir,
Nick Blackburn
(6.40) pitches for a contender, which makes his continuing presence in the rotation that much more problematic. Blackburn's problem isn't that he's getting too few strikeouts; it's that he's not getting
any
strikeouts. I exaggerate, of course. But 34 strikeouts in 97 innings is nearly impossible. Blackburn's struck out 3.15 per nine innings; sinker-baller
Aaron Cook
is the only other ERA qualifier under 4 ... and he's at 3.97 Ks per nine. Blackburn's just operating on a completely different level, which would be cool if that different level wasn't that of a scrappy non-prospect in Triple-A. Fundamentally, he's better than this. Blackburn entered this season with a 4.14 career ERA, which was somewhat lucky but not wildly so, considering his 2.46 strikeout-to-walk ratio. You can understand why the Twins haven't given up on him yet.
Kevin Millwood
's on the DL, so perhaps he shouldn't be on this list. But Millwood
has
started 18 games for the Orioles, and he does have a 5.77 ERA. Not exactly what management had in mind when they traded for Millwood, hoping his veteran presence would stabilize a rotation composed mostly of much younger pitchers. Granted, the Rangers are paying $3 million of Millwood's salary this season ... which still leaves (roughly) $9 million for the Orioles.
Next we've got a couple of twin Royals, Prince
Kyle Davies
(5.57) and Prince
Brian Bannister
(5.56) ...
First Banny, then Davies:
Even at their very best,
Our closer figures to get
A relaxing two-day rest.

The Royals aren't going anywhere and they don't have anyone better than Davies and Bannister, so they may as well keep pitching. And each is capable of doing better. Just slightly better, though. If the Royals ever get better, they'll have room for just one No. 5 starter.
Scott Feldman
(5.32) is the one guy who really, really wasn't supposed to be on this list. Not after his 17-8, 4.08 ERA campaign just one year ago. Of course, Feldman's skills never
really
supported that season's record ... But then again, they don't suggest a 5.32 ERA, either. Feldman was mildly lucky last year, and this year he's been terribly unlucky, giving up a .343 batting average on balls in play. Feldman's going to win more games and post a lower ERA in the second half, which is good news for the Rangers and better news for Feldman (whose postseason role is now -- with the Rangers' acquisition of
Cliff Lee
-- highly questionable).
Cleveland's
Justin Masterson
(5.31) is another guy who just needs to keep pitching, and for two reasons: 1) His team isn't going anywhere anyway, and 2) there are some things to like here. Masterson throws hard, his ground-ball rate is high, and his strikeout rate is fine. He does walk too many hitters (and always has), but if he can cut his walk rate by 25 percent he'll be a perfectly fine No. 3 or 4 starter.
Everybody mentioned above suffers the disadvantage of pitching in the Big Boy League, with their better hitters and designated hitters and the like. To be fair, I could have focused on a league-neutral statistic like ERA+ or something. I didn't. I like numbers that start with 5. Sue me. But all this makes San Diego's
Kevin Correia
(5.26) really stand out, as he pitches in a pitcher's park in the National League. Just think how good the Padres would be if they didn't have the worst pitcher (ERA-wise) in the league. Correia looked pretty good last year. But he's 29, and in his career he's got a 4.54 ERA as a starter. Maybe he's just not quite good enough to pitch for a team with postseason aspirations.
Tim Wakefield
(5.22), you can judge for yourself. I'm not saying anything negative about Kid '66.
And finally, we've got our second National Leaguer,
Nate Robertson
(5.10). Robertson is simply a place-holder, and the Marlins can hardly worry about his contract; they're paying him $400,000 this season ... while the Tigers are contributing $9.6 million. If you're a fan, enjoy Nate Robertson while you can. You might not see much of him after August.