May, 27, 2014
5/27/14
10:58
AM ET
By
Anna McDonald
| ESPN.com
ST. LOUIS -- Aaron Harang knew he still had the drive to play baseball. He knew he wasn't done. Still, at home in San Diego this offseason his phone wasn't ringing. Teams weren't calling like they had in years past. After 12 years in the majors, coming off a season where he posted a 5.40 ERA with the Mariners and Mets, questions about his future crossed his mind. Questions about the end. Questions about wanting more and having no place to play.
"I had been working out the whole time, getting ready for the season and no calls," the 36-year-old right-hander said. "Finally, my trainer I was working out with was like, 'You do the 90 percent you can control and the other 10 percent will somehow work itself out and if it doesn't, it's not your fault. You've been preparing to do it. You've got to be ready when they call you. At the drop of a hat you've got to be ready to go and be on the level with everybody else, ready to compete.' So I think that kind of pushed me to make sure I was ready to go. Sure enough, I got a call the next day and I was heading out to Phoenix."
Harang signed with the Cleveland Indians as a minor-league free agent on February 15, hoping to impress in spring training and earn the final spot in their rotation.
[+] Enlarge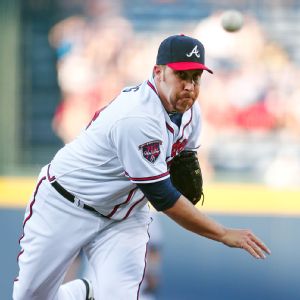 AP Photo/John BazemoreHarang has 64 strikeouts in 59.2 innings and has allowed just two home runs.
Harang tells young guys to remember they are playing for their own team, but to never forget other teams are watching them, especially during spring training. He reminds them to go out and compete at all times because at some point you may need a contract and hopefully they'll remember you.
At the end of March, Harang had to take to heart his own advice. Told he wasn't going to make the Indians' Opening Day roster, he exercised an opt-out clause in his contract.
"I was confident when they told me I wasn't making the roster with Cleveland that I was totally taking a flying shot, that if I opt out, maybe nobody makes the call [to me] and I have to go home," Harang said. "I knew that, but knowing that I pitched well I figured somebody's got to call me."
Harang signed with the Braves as a free agent on March 26. With three-fifth of their projected starting rotation beginning the season on the disabled list, the Braves needed a starter. Harang provided a huge lift early as the Braves got off to a hot start, as he allowed three runs over his first five starts and is now 4-4 with a 3.32 ERA entering Tuesday's start against the Red Sox.
Harang has more movement on his fastball than he has had since 2010 and he's throwing his cutter more than he has in previous years, helping him to a career-high strikeout rate of 25.9 percent -- well above his 19.0 percent career rate. He said he hasn't changed anything in his mechanics but his cutter is working really well this year. "I've been able to get consistent with it, so that helps," he said. "Throwing a two-seamer and throwing a cutter, kind of x-ing them back-and-forth across the plate."
He is now part of a select group of pitchers. There are only 13 active pitchers who have pitched 2000 innings. Harang has averaged 29 starts per year since 2004 and logged at least 140 innings nine times. He, unlike so many other pitchers we are hearing about this year, has never had Tommy John surgery. Harang believes much of his good fortune is due to the advice and parenting he received from his dad.
"I would never teach a kid a breaking pitch until age 13," Harang said. "My dad wouldn't show me one. He didn't want [my elbow] to blow out. So I didn't start throwing a curveball until I was 13 years old. I had the karate-chop one, where you just throw it and it spins up there. Your muscles aren't developed enough, your ligaments aren't developed enough to withstand it."
Another reason, he thinks, for his good health could be that when he was growing up he wasn't playing baseball year-round.
"You finished your baseball season, and you might have played winter ball but it was just for fun because you were playing basketball or you were playing football," Harang noted. "So, you put your glove down. ... You were off playing another sport. Whereas now, it's like at 10, 11 or 12, kids are playing on these travel teams year round, playing in tournaments that they go to for four or five days."
At home with his family, Harang puts his belief that parents put too much emphasis on kids playing just one sport into practice. He and his wife Jennifer have three kids, Addison, Dustin and Kailey.
"They have soccer balls, bats and golf clubs, everything, all the sports, basketballs, everything," he said. "I just want them to have fun."
Beyond that, Harang is thankful his dad didn't push him too hard. Harang watched a lot of his friends get burned out on baseball and get into trouble with other stuff. In fact, his dad and some of his friends had a completely different approach than the screaming parents in the baseball stands.
"My buddy's dad, he was funny. In high school, he built a seating rack down on the other side of the left-field wall," Harang said. "He and a couple of his buddies -- other dads and my dad when we'd play each other -- they'd go sit out there. They didn't want to hear the parents. [They wanted] to get away and enjoy the game and watch it, away from [the yelling]."
The combination of wise parenting, talent and relatively good health (his longest DL stint came in 2010 due to back spasms) has paid off. We too often forget how difficult it is to make it to the majors and then, even more, to stick around. The biggest lesson Harang has learned along this journey through all his years in the majors came from his first manager.
"Art Howe told me my rookie year, 'The biggest thing you can do if you want to be in this game a long time is just be consistent. Never let yourself get too high and try to never get too low. If you can kind of just stay consistent, and stay in that middle, you're going to have a long career.'"
Most likely it will be a tight division race in the NL East and Harang's contribution to the Braves' National league-leading 2.89 ERA has been important. His story this season is a feel-good one, filled with perseverance, but the one thing he can easily pinpoint as to why he's pitching so well goes back to the silent phone this winter.
"I mean, maybe having a little chip on my shoulder, nobody really calling this offseason," Harang said. "I always had that fight, that drive. I was always just one of the guys. I wasn't really highly touted going through the system. I was never one of the top prospects, stuff like that. Yet I went out and I got outs. So I moved through the levels really fast and had a lot of success in the big leagues, just going out and getting people out."
Anna McDonald is a regular contributor to the SweetSpot blog.
May, 6, 2014
5/06/14
12:34
AM ET

In the spring of 2009, while researching a column on MLB's worst-hitting pitchers, I sought out Washington Nationals outfielder Adam Dunn for his take on the subject. Say what you will about Dunn's glove work or his penchant for striking out, but he's a 400-homer man and one of the wryest baseball observers around.

The Big Donkey instantly warmed to the topic, dissecting the swings of Daniel Cabrera, Ben Sheets and others pitchers from the "bail and flail" school of hitting. He took particular relish in critiquing the handiwork of his former teammate, Aaron Harang, a workhorse starter who is also a walking endorsement for the designated hitter.

"He swings underwater," Dunn said of Harang. "His bat speed is below Tim Wakefield's knuckler speed."

Harang wasn't exactly a prime candidate to join Don Larsen, Don Drysdale and Dontrelle Willis on the list of offensive-minded pitchers to hit somewhere other than ninth on the lineup card. But desperate times call for offbeat batting orders.
[+] Enlarge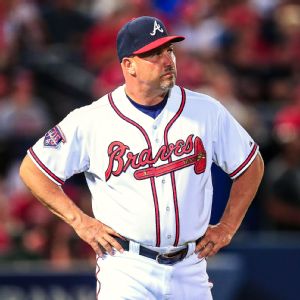 Daniel Shirey/USA TODAY SportsBraves manager Fredi Gonzalez doesn't like what he's seeing as the losing streak deepens.
Atlanta manager Fredi Gonzalez created some buzz Monday night when he made out his lineup against St. Louis with multiple changes:
Justin Upton
moved up from cleanup to the No. 2 spot, with his brother
B.J. Upton
dropping from second to fifth. On a more eye-catching note, Harang was penciled in at eighth, with second baseman
Ramiro Pena
behind him in the ninth spot.

In part, Gonzalez made the move because Justin Upton hit .301 with a .922 OPS in 48 starts as Atlanta's second-place hitter last season, and appears to have a comfort level in the No. 2 hole. Gonzalez also told reporters that he wanted to give Jason Heyward, Upton and Freddie Freeman more run-producing opportunities on their second, third and fourth times through the order.

"The offense is sputtering around, so why not do it?" Gonzalez said. That's manager-speak for, "What do you want me to do -- pick the names out of a hat?"

For the record, Harang went 0-for-1 with a sacrifice bunt and the Braves showed some late signs of life in a 4-3 loss to the Cardinals. When measured against their recent standard, that's a virtual onslaught.

Atlanta fans have gone from upbeat to restless to cranky awfully fast. On April 27, the Braves beat Cincinnati 1-0 in 10 innings to raise their record to 17-7 and open up a 3 ½-game lead over the New York Mets in the National League East. Since then, they've dropped seven straight to Miami, San Francisco and St. Louis by scores of 9-0, 9-3, 5-4, 2-1, 3-1, 4-1 and 4-3.

With the exception of two blowout losses at Marlins Park -- when the Braves suggested something fishy was taking place and the Marlins might be stealing signs to get better hacks against the Atlanta pitching -- the focus has been almost exclusively on the offense, or lack thereof.

Should the Braves be taking more batting practice, or less? Can anybody lay off a high fastball? And they are simply too deficient at "manufacturing" runs and too reliant on the long ball to weather the inevitable down times? According to ESPN Stats & Information, 55 of Atlanta's 102 runs this season (or 53.9 percent) have come via the home run. That's the highest rate in the majors, ahead of San Francisco's 48.1 percent.

The Braves have also scored one or fewer runs in a game a major league-high 12 times this season. That's one more than St. Louis.

The Braves were OK when Freeman, Justin Upton and Andrelton Simmons got off to torrid starts, but the team's mainstays have leveled off recently. Freeman is 10-for-his-past-57, and Upton has struck out 11 times in his past 15 at-bats. He came up with the tying run on second base in the ninth inning Monday but took a Trevor Rosenthal fastball for a called third strike to end it. The Braves are hitting .118 (6-for-51) with runners in scoring position during their seven-game losing streak, and that's only when you give them the courtesy of rounding up from .1176.

No one has been more of a lightning rod of late than second baseman Dan Uggla, who's being pilloried on social media. He ranks 84th among 88 qualifying National League hitters with a .528 OPS, and he's not even drawing walks anymore. This comes on top of a dreadful 2013 season that ended with the ultimate indignity of his being dropped from the Braves' Division Series roster. You have to wonder when the Atlanta brass will have a frank discussion that things aren't likely to get better, and it's best for all parties to bring this arrangement to an end and find Uggla a new home.

Now that the Braves have other options at second base, it's getting progressively harder for them to justify keeping Uggla around for reasons other than the $23 million they still owe him. Pena slugged .443 in 97 at-bats last year before suffering a season-ending shoulder injury and has a nice swing from both sides of the plate. Tyler Pastornicky was a .280 hitter in the minors, and Tommy La Stella, Atlanta's No. 9 prospect, is plugging away with a .313 batting average for Triple-A Gwinnett.

Atlanta's front-office people, who have seen the Braves go through fallow stretches like this in the past, think this group is eminently capable of turning it around and going on a tear. They point out that Heyward has picked up the pace of late, and B.J. Upton is having much better at-bats since he donned his new glasses.

But some talent evaluators are dubious. "They only have only reliable hitter -- and that's Freeman," said a National League scout. "He's going to hit good pitching. When they face No. 1s and 2s, they're not going to score any runs unless he's involved."

So the manager ponders hitting the pitcher in the ninth spot and says, "Why not?" According to research by J.G. Preston of SABR, Tony La Russa employed the tactic 432 times during his managerial career. Lou Boudreau is a distant second at 74, and Casey Stengel, Joe Torre and Jack McKeon were among the other managers who gave it a shot here and there. Gonzalez has now done it nine times in his managerial career.

At the very least, Gonzalez's offbeat strategy helped change the discussion from why the Braves aren't hitting to what the manager is trying to do to prevent a bad week from turning into a free-fall. And the more people quizzed him about Harang batting eighth, the fewer people were asking him about Uggla getting the night off and what he plans to do moving forward at second base.

What will Gonzalez do when Gavin Floyd makes his 2014 debut Tuesday night against the Cardinals? Only he knows for sure. Unless he can figure out a way to squeeze a 1999-caliber Chipper Jones onto the lineup card, it might take the Braves a while to figure this thing out.
April, 23, 2014
4/23/14
3:29
PM ET
With today's effort, Aaron Harang is 1st pitcher to start year w/ 5 straight apps of 6+ IP and 1 or fewer runs since Pedro Martinez in 1997

— Baseball Reference (@baseball_ref) April 23, 2014
This is getting ridiculous. Here are the starts this year for the Atlanta Braves:
Julio Teheran: 6 IP, 2 R
Alex Wood: 7 IP, 1 R
Aaron Harang: 6.2 IP, 0 R
David Hale: 5 IP, 0 R
Teheran: 7 IP, 2 R
Wood: 7 IP, 2 R
Harang: 6 IP, 1 R
Ervin Santana: 8 IP, 0 R
Hale: 4.1 IP, 4 R (3 ER)
Teheran: 6 IP, 5 R (2 ER)
Wood: 5 IP, 1 R
Harang: 6 IP, 1 R
Santana: 6 IP, 1 R
Teheran: 9 IP, 0 R
Wood: 8 IP, 1 R
Harang: 7 IP, 0 R
Santana: 7 IP, 1 R
Hale: 6 IP, 3 R (2 ER)
Teheran: 7 IP, 1 R
Wood: 8 IP, 1 R
Harang: 6 IP, 1 R
That's 21 starts, only one in which a starter allowed more than two earned runs. Harang, who posted a 5.40 ERA with the Mariners and Mets last year, was released by the Indians in spring training. Now he's 3-1 with a 0.85 ERA and .143 average allowed. He didn't get the win today, but the Braves did, scoring twice in the eighth to beat the Marlins 3-1.
The rotation has a 1.50 ERA. According to reader Jason Wright via FanGraphs.com, the lowest starters' ERA in April since 1974 belongs to the 1976 Brewers, at 1.44 (in just 12 games, however). Next-lowest is the 1978 A's at 1.75 in 21 games.
(Oddly enough, both those teams ended up being horrible, the Brewers going 66-95 and the A's 69-93.)
Not bad for a team missing three of its offseason projected starters (Mike Minor, Kris Medlen, Brandon Beachy).
Crazy sport, this baseball.
April, 19, 2014
4/19/14
12:15
AM ET
By
Michael Eder
| ESPN.com
Less than a month ago,
Aaron Harang
fought and failed to make the
Cleveland Indians
' 25-man roster. A perfect storm of injuries to the
Atlanta Braves
' rotation earned the 36-year-old right-hander another shot at making another major league team only days after his late-March release. On Friday, Harang not only found himself on the mound at Citi Field, but pitching seven no-hit innings against his former team.
Youthful pitching powered the 2013 Braves to a convincing NL East title, as their rotation combined for a 3.51 ERA on the backs of
Mike Minor
,
Kris Medlen
and
Julio Teheran
. A surplus of young pitchers allowed Atlanta to part with some of their older arms in
Paul Maholm
and
Tim Hudson
, but as the 2014 season grew closer to fruition, the Braves failed to leave spring training with a confident rotation.
It took
Brandon Beachy
, Medlen and Minor to suffer injuries before Harang pitched an inning with the Braves. This massive injury bug would have most teams laboring to find enough arms to stay afloat, but performances like Harang's against the
Mets
show why the Braves have succeeded despite misfortune.
[+] Enlarge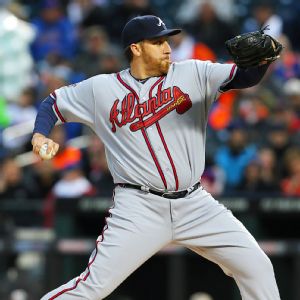 Adam Hunger/USA TODAY SportsAaron Harang struck out five and walked six while pitching seven hitless innings for the Braves on Friday night.
Harang didn't throw the prettiest seven no-hit innings, but, in the end, he held the Braves' one-run lead until the bullpen could take care of the final two innings. Of the 121 pitches the righty threw, just 70 were strikes, and his six walks -- compared to five strikeouts -- paint a respectable microcosm of his struggles against the Mets lineup. It was a hard-fought zero in the hit column for Harang, but his toughest inning was the seventh. He retired the first two batters but then issued back-to-back walks as the Mets were trying to make up a one-run deficit. Though Harang sat at 115 pitches at the time, Braves manager Fredi Gonzalez elected to stick with the veteran righty. Harang worked the count full before striking out
Andrew Brown
on an 83 mph slider for his final pitch of the night. With the weather cold and pitchers still building up their strength, Gonzalez's decision to go to the bullpen was a no-brainer after such a hefty pitch count for Harang.
The Braves didn't end up with a gaudy no-hitter over the Mets, but Harang's start represents the most recent streak of success in the Braves' pursuit of quality starting pitchers. It was a battle for Harang, who threw 51 balls and toiled with six walks, but the Braves got yet another quality start from the back end of their rotation. For a team with such bad luck with the health of their pitchers, they have a knack for catching lightning in a bottle.
While performances by veterans like Harang are one source of their starting pitching success, the Braves have shown no lack of benefit when finding even younger starters.
David Hale
enjoyed some success in 471 minor league innings, but his career minor league ERA was nothing spectacular at 3.69. Thus far, Hale has shown up in Atlanta ready to contribute, and after giving the team two great starts in 2013, he's put together two respectable performances for the 2014 team.
Having access to this crop of young pitchers helped the Braves in a much larger way this March. A cheap and young rotation, still in their first few seasons of arbitration, allows the Atlanta front office to make big emergency purchases like that of
Ervin Santana
. But even here we see the value of the Braves' ability to scout pitching. Atlanta landed Santana on a one-year deal over
Ubaldo Jimenez
on a three-year deal, and in this very small sample size in mid-April, Santana has given up just one run in two starts while Jimenez has allowed 13 runs in three starts.
It's hard to make a proper judgment when it isn't even three weeks into the season, but after suffering such a horrible chain of injuries to their rotation, the Braves now lead the majors with a combined 1.47 ERA out of their starters. Be it their fielding, their front office or their management on the field, it seems that no matter what happens to the Braves, nothing can stop their ability to pitch.
Michael Eder writes for It's About the Money, a blog on the New York Yankees.
December, 31, 2012
12/31/12
6:45
PM ET
By
Christina Kahrl
| ESPN.com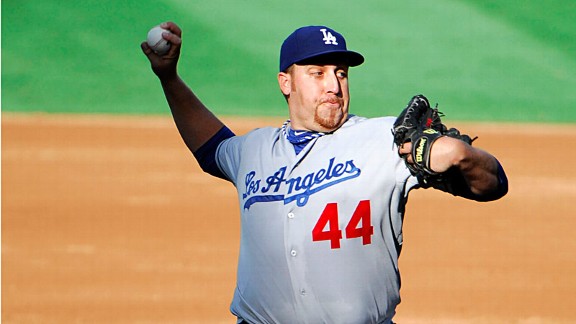 Denis Poroy/Getty ImagesThe Dodgers should wait to see how their starters work out before looking to move a pitcher like Aaron Harang.
This time of year, it's easy to look at 40-man rosters around the game and wonder how teams are going to fit everybody into their regular-season rotation. The overstocked starting staffs of the Dodgers and Cardinals might seem to demand action, for example, but not so fast. Credit their general managers and a few other decision-makers with sitting tight.
Consider the Dodgers. It might seem that their cup runneth over after adding
Zack Greinke
and Korea's
Hyun-Jin Ryu
. On paper, they have eight plausible options in their rotation, including
Clayton Kershaw
,
Josh Beckett
,
Chris Capuano
,
Aaron Harang
,
Chad Billingsley
and
Ted Lilly
.
That number gives you a sense of mass that's far more certain than the identity of the Dodgers' final five. Billingsley was hitting the mid-90s during rehab work in November, but there's ongoing concern over his elbow. Lilly is supposed to be all the way back from shoulder surgery in spring training, but we'll see how he looks once he reports. Capuano's second-half fade in 2012 on top of a long list of surgeries (including two Tommy John procedures) don't add up to a sure thing.
So they have to make a deal, right? Staff-filling No. 4 pitchers like Harang and Capuano aren't liable to bring much in return. The Dodgers might be asked to eat considerable cash given the back-loaded deals Ned Colletti gave the two pitchers.
If you're Colletti, why hurry or worry until you see what shape everyone is in, and who's ready to go in the latter half of March?
Similarly, the Cardinals' situation looks good on paper, but perhaps not so much when you ponder their past. Getting
Chris Carpenter
back to round out a rotation featuring
Adam Wainwright
,
Jaime Garcia
,
Jake Westbrook
and either
Lance Lynn
,
Joe Kelly
or top prospect
Shelby Miller
might allow GM John Mozeliak deal from a position of strength.
But would the Cardinals, after getting by without Carpenter and Wainwright at the same time for most of the past two seasons, trade either in their final seasons before free agency? That would hamper the Cardinals' bid to win one more title armed with both, and absent somebody coughing up a top-shelf middle infielder, they're not a team with many needs.
Sticking with the NL Central, the Reds' decision to move
Aroldis Chapman
back into the rotation might make it seem like
Mike Leake
is extraneous. But why should Walt Jocketty deal Leake before seeing how well the Cuban Missile takes off while pitching every fifth day? And where would dealing Leake leave the Reds should anyone get hurt in the early going?
You don't even have to be a contender to want to join the ranks of hoarders. The Cubs' decision to sign veterans
Edwin Jackson
,
Scott Feldman
,
Scott Baker
and
Carlos Villanueva
during a busy winter doesn't mean that both
Travis Wood
and
Jeff Samardzija
are out of their jobs. But it
could
mean that
Matt Garza
is now a bargaining chip who would become available
after
he shows that he's healthy this spring.
Baker is also working his way back from injury, so there will be plenty for the Cubs' brass to monitor. The freedom to deal a pitcher as good as Garza can be in his last year before free agency -- and the possible draft compensation he'd create on departure -- could bring in some sorely needed talent to their rebuilding effort.
Which all goes toward saying that right now it's sensible to carry six or seven or more starters and let events and availability dictate your actions if you're a GM. Wait and see who breaks down, on your team or everyone else's, because inevitably somebody will.
Sensible as this may all be, some people are hurt by it.
Kyle Lohse
is the most obvious example. If a club wants to add a veteran starter, why go two years on a likely one-year wonder like Lohse, when you might wait and see if Garza is healthy and if the Cubs like one of your prospects?
On the other hand, if you're one of those teams that really could use Harang or the like to round out your rotation and complete your offseason plans, it's easier to wait out the next two months until the Dodgers may have to make a move than it is to sign him on the market.
If you're worried about a seemingly incomplete rotation on your hometown nine, don't sweat it -- the talent pool isn't just made up of who's left on the market, it also includes everybody on the other 29 teams. And if you're wondering about who's going to round out your starting quintet, don't worry -- it might just be a Dodger TBNL.
Christina Kahrl covers baseball for ESPN.com. You can follow her on Twitter.
August, 14, 2012
8/14/12
1:00
AM ET
By
Christina Kahrl
| ESPN.com
Matt Kemp
didn't go yard. He didn't need to. And
Andre Ethier
? He didn't put the lineup on his back either. What of Mattingly's mighty mites, the guys who were the toast of Los Angeles back in May? They were there, sure, but they essentially clocked in and clocked out, proverbial lunch pails in hand.
And the
Los Angeles Dodgers beat the Pittsburgh Pirates
just the same on Monday night, because the team that made people wonder how general manager Ned Colletti had done it three months ago doesn't really exist anymore. Kemp had a good night, and journeyman
Aaron Harang
tossed his 14th quality start -- a reasonable stand-in definition for "winnable game" -- of the season. This could be the second year in Harang's career that he tosses a quality start 60 percent of the time, the sort of serviceability that recommended him to the Dodgers in the first place, just as it did
Chris Capuano
and now
Joe Blanton
. Rounding out a rotation after you have an ace in place isn't sexy but it's necessary, and perhaps that's the word that will define what Colletti's done this summer: the necessary things.
That's because Colletti didn't stand still any more than circumstances did. When forced to do something necessary, he has done it. He has adapted and overcome, and that, as much as anything, might be what puts the Dodgers into the postseason. Colletti never made the mistake of settling, not for the team he built over the winter on back-loaded deals to an odd collection of journeymen, and not when that team started the season 30-13 behind Kemp's brief triple-crown bid. After a 6-19 swoon through July 17 helped kill any complacency over their brittle early-season achievements, Colletti acted, armed with the newly added largesse of his team's new owners. Trading for
Hanley Ramirez
and
Shane Victorino
and Blanton represents a facelift significant enough to elicit professional respect among cosmetic surgeons.
As a result, the new-look Dodgers might resemble that surprise hot-start team you remember from April, but only in the broadest particulars. Kemp and Ethier you remember. But the undercard? Let's just say the Dodgers aren't going to try getting to the dance with everyone they initially invited. Transient heroes such as
Bobby Abreu
,
Elian Herrera
and
Dee Gordon
have had their moments, but Colletti was as married to any of them as Kris Humphries was to Kim Kardashian -- give me a good month, maybe two, and then, see ya! As brutally unfair as that might seem, that's life in baseball's middle class.
Let's not forget Don Mattingly's part in also doing a few necessary things. The skipper didn't settle on
Javy Guerra
as his closer, last year's 21 saves or no. Faced with a necessary choice after Guerra pitched poorly, Mattingly let performance be his guide, and
Kenley Jansen
nailed down Monday's game. Confronted by
James Loney
's consistently crummy production, the Dodgers have turned more and more to
Juan Rivera
at first base -- Rivera has started 16 of their past 30 games. Giving Ramirez a test-drive at short to see if he can still swing it sets up a later necessary decision about what Gordon's role might be down the stretch. Gordon might be the franchise's long-term future at shortstop, but there's a right-now future to honor as well, and you can bet Mattingly will make a necessary choice with that in mind.
If you want to speculate about anything with this club, though, don't think about the warm fuzzies of the Dodgers' new age of Magic (Johnson) or what might have been if Kemp had stayed healthy. That way lies madness -- with Kemp around, perhaps the Dodgers' needs might not have seemed so dire, and maybe then Colletti doesn't bring in HanRam and the Flyin' Hawaiian and rent Joe Blanton. Follow that thread of possibilities and you're probably left with a nice little team, an 85-win team that gets remembered fondly as a symbol of the Dodgers' return to respectability, if mildly disappointing for its late fade.
But perhaps because the Dodgers did start strong and Kemp did get hurt, Colletti did those subsequently necessary things to make something more of his team's circumstance. As a result, the Dodgers are turning into something more than just a rival with those Angels
arrivistes
from Anaheim for Angeleno affections, they're turning into the sort of team you can see going toe-to-toe with anybody in a postseason series. Outside of the non-
Clayton Kershaw
nights, they can now beat you with the sort of depth in talent that is usually associated with the Yankees or Red Sox or last year's Cardinals (or the Phillies, up until this year).
They're stronger now because they were weak in June, possibly as strong as any team in the league. Think on that: Do you really want to run into a team that can lead off a postseason series with Kershaw? If you're a gambling man, here's hoping you don't find that necessary.
PHOTO OF THE DAY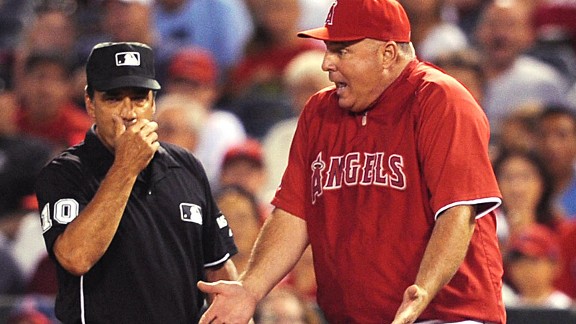 Kelvin Kuo/US PresswireIf Mike Scioscia wants to make a federal case out of it, there's always the Ninth Circuit.
Christina Kahrl covers baseball for ESPN.com. You can follow her on Twitter.
April, 15, 2012
4/15/12
11:00
PM ET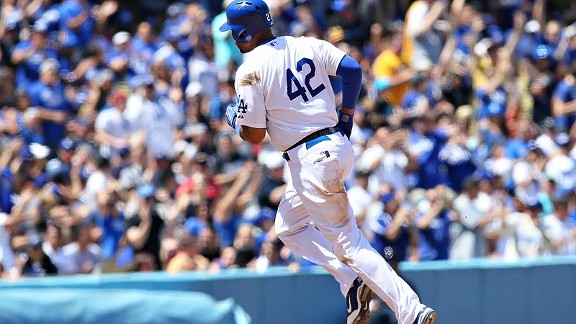 Victor Decolongon/Getty ImagesMatt Kemp hit another home run Sunday as the Dodgers won their ninth game of the season.
It was about as perfect a day as you can dream up for the
Los Angeles Dodgers
. On the 65th anniversary of the day Jackie Robinson played his first game for the Brooklyn Dodgers, Vin Scully returned to the broadcast booth after missing five games,
Matt Kemp
homered again, and the Dodgers turned a bizarre triple play in the ninth inning of a tie game and then walked off in the bottom of the inning with their ninth win in 10 games.
On a day when baseball honored Robinson's legacy by having every person in uniform wear No. 42, Kemp's red-hot start -- six home runs in 10 games, including four in his past three, along with a .487 batting average and 16 RBIs -- seemed apropos: An African-American player wearing a Dodgers uniform making his statement about being the best player in the game.
"Thank u Jackie Robinson!!!" Kemp tweeted earlier in the day, before belting a solo home run to right field off
Edinson Volquez
in the third inning of L.A.'s
5-4 win over the Padres.
But it's also worth noting on this day of celebration that USA Today
reported the percentage of African-American players
on Opening Day rosters this year was 8.1 percent, down from 8.5 percent a year ago, with both figures dramatic decreases from 1975, when 27 percent of big leaguers were African-American.
The Dodgers feature Cy Young winner
Clayton Kershaw
, who struggled through 5.1 innings in getting a no-decision on Sunday, but it is Kemp who has become the face of the franchise after his near-MVP season of 2011 when many thought he was baseball's best all-around player. Kemp may not like the notion, but he's also symbolic of the type of player baseball must do a better job of attracting: Known for his basketball exploits in high school in Oklahoma, the Dodgers drafted Kemp in the sixth round in 2003 and convinced him to sign. His bonus of $130,000 was in line for that round; Kemp didn't have the grades for a Division I basketball scholarship and instead chose baseball.
We're lucky he did. He's insanely hot right now, one of those stretches in which you can't pitch to him. He went 3-for-4 with a walk on Sunday; he went 3-for-4 with two home runs on Saturday; he homered and drew three walks on Friday. According to the Elias Sports Bureau, Kemp is one of just four players since 1920 hitting .450 with at least six home runs and 16 RBIs through his team's first 10 games, joining Dante Bichette (1994 Rockies), Lou Brock (1967 Cardinals) and Willie Mays (1964 Giants). His raw power allows him to wait for pitches and drive them to the opposite field -- four of his six homers have gone to right. The Dodgers play again Tuesday in Milwaukee, and I suspect the Brewers are going to be very careful with him.
At the start of the season, ESPN.com ranked the top 500 players in baseball.
Kemp came in 13th
; I thought it was a little low, but it was somewhat understandable if you factored in Kemp's disappointing 2010 when he hit just .249. But after hitting .324 with 39 home runs and 40 steals in 2011, Kemp intimated during spring training that he'd like to travel where no major leaguer has before: 50-50. While that goal may be difficult to reach, it also made a statement in my mind: Kemp isn't content being one of the best players in baseball; he wants to be
the best.
No questions asked.
The biggest roadblock to that happening will be his strikeout rate. He
will
strike out a lot -- 159 times in 2011, which ranked seventh in the NL. After a miserable spring training in which he struck out 26 times with just two walks in 65 at-bats, there were concerns that he'd start slow or that he'd lost control of the strike zone. But he flipped the switch on Opening Day and has been unstoppable since. The best sign for Dodgers fans: only seven strikeouts through 10 games. Kemp's .380 average on balls in play in 2011 matched
Adrian Gonzalez
for best in the majors; as hard as Kemp hits the ball, that figure wasn't necessarily a fluke, but some regression is likely. Fewer strikeouts, however, means more balls in play, which means a better likelihood of him hitting .300-plus again.
And if that happens, the debate may end up being: Who's No. 2?
* * * *
As for the Dodgers, everyone is already quick to point out that they've beaten up on the Padres and Pirates so far. Fair enough, I suppose, but 9-1 is still 9-1. The Dodgers are just the 11th team since 1990 to start 9-1 (the last team to start 10-0 was the 1987 Brewers). Here's how the previous 10 fared:
2011 Rangers: 96-66, reached World Series
2009 Marlins: 87-75, missed playoffs
2003 Yankees: 101-61, reached World Series
2003 Giants: 100-61, division champs
2003 Royals: 83-79, missed playoffs
2002 Indians: 74-88, missed playoffs
1996 Orioles: 88-74, won wild card
1994 Braves: 68-46, strike season
1992 Blue Jays: 96-66, World Series champs
1990 Reds: 91-71, World Series champs
Not including the '94 Braves, that's an average record of 91 wins and 71 losses. Only one of the teams finished under .500. Look, it's not a guarantee that the Dodgers are headed to the playoffs, but it certainly has to be viewed as a positive sign. They're 9-1 even though Kershaw hasn't won any of his three starts (though he has a 2.35 ERA).
James Loney
is hitting just .148. Leadoff hitter
Dee Gordon
, who delivered the game-winning hit on Sunday, is struggling with a .200 average and .273 on-base percentage.
But there are some signs that the Dodgers may be more competitive than most envisioned. The bullpen has a chance to be one of the best in the league with
Kenley Jansen
setting up
Javy Guerra
and a solid corps of middle men including
Matt Guerrier
and
Josh Lindblom
.
Chad Billingsley
had a rough 2011 (career-worst 4.21 ERA as he walked 84 in 188 innings), but he's been brilliant through two outings, allowing one run with a 15/1 strikeout/walk ratio.
Aaron Harang
's 13 strikeouts on Saturday may be a fluke but, hey, he's the team's fifth starter. Suddenly a rotation of Kershaw, Billingsley,
Ted Lilly
,
Chris Capuano
and Harang looks like it could be decent, especially in the NL West, not exactly a division full of mashers.
It's too early to make strong declarations, but I leave the first 10 days of the season with this thought: Kemp is on a mission and the Dodgers are looking like baseball's surprise team.
Follow David Schoenfield on Twitter @dschoenfield.
December, 6, 2011
12/06/11
12:50
PM ET
Baseball Today
is back on Tuesday and live from the winter meetings in Dallas -- well, one of us is! -- as me and Keith Law talked about the busy baseball offseason. Guess what, we'll be podcasting on Wednesday and Thursday as well! As for the topics, glad you asked ...
1. I compared what the
Miami Marlins
are doing to Richard Pryor's exploits in the fun movie "Brewster's Millions." Hey, I enjoyed the movie, at least. How will it work out for the Marlins?
2. What else is on the horizon for the next 24 hours at the winter meetings? Did I mention Keith Law is actually there getting all the dirt? We discuss why a deal involving
Prince Fielder
news isn't likely pending but plenty of other stuff is.
3. Kudos to the
Los Angeles Dodgers
for assembling … well, we're not really sure what they're doing in L.A. But what could go wrong with
Mark Ellis
,
Chris Capuano
and
Aaron Harang
aboard?
4. Want emails? We got emails. Today we serve up information on under-25 stud
Jason Heyward
and how to cook olive oil. Yep, I don't write the emails.
5. Ron Santo makes it into the Hall of Fame, but certainly a little late. Still, it's a better Hall with him in it.
Tune in Wednesday as we talk more baseball with KLaw, discussing the big and small news from Dallas and also answer your emails. For now, download Tuesday's Baseball Today and have a great day!
December, 6, 2011
12/06/11
12:16
AM ET
DALLAS -- The Dodgers are kind of like that guy you invited into your fantasy league in 2006 who hadn't followed baseball in 10 years and immediately traded three players for Ken Griffey Jr.
Name recognition? Check.
Rigorous analysis of the players involved? Umm ...

Besides signing MVP runner-up
Matt Kemp
to a $160 million contract, the Dodgers have signed the following six players this offseason:
Give GM Ned Colletti credit for being quick with the trigger finger. He identified the glaring holes on his team and moved to fill them. Sure, he overpaid and he's deferred the salaries, but now he has a second baseman! And two third basemen! A quick review of these signings:
Ellis:
He hit .316 in 2005. He hit 19 home runs in 2007. But he'll turn 35 in 2012 and his home runs have declined from 19 to 12 to 10 to five (and back up to seven in 2011, although five of those came in Colorado). At one point, he was an underrated fielder with excellent range, but while he's still sure-handed, he doesn't cover as much ground as he used to.
Capuano:
In his first full season in a major league rotation since 2007, he posted a 4.55 ERA for the Mets. Decent season? Well, among 75 NL pitchers who threw at least 100 innings, that ERA ranked 61st. Pitching in a favorable park for a left-handed flyball pitcher, he still served up 27 home runs (17 on the road). He comes with some positives, namely a 168/53 strikeout/walk ratio, but the home run rate is a potential red flag.
Rivera:
A poor defensive outfielder with a .315 on-base percentage since 2007 who will turn 34 in July.
Harang:
Reports have him coming to L.A. on another two-year deal. Harang had a nice comeback year with the Padres, going 14-7 with a 3.64 ERA -- in the best pitcher's park in baseball. Dig deeper into the numbers and you see Harang allowed a .684 OPS at Petco Park, but an .878 OPS on the road. His strikeout rate, which peaked at 8.7 K's per nine innings in 2007, has dropped to 6.5 per nine, a strong indicator that 2011 wasn't a resurgence so much as a pitcher benefiting from the Petco canyons.
Hairston:
He's scrappy and managers love his attitude (Ron Roenicke said Monday that he loved having him on the Brewers), but in the end he's still a 36-year-old utility player. A nice guy to have on a team, but at $6 million for two years?
Kennedy:
Hey, he had that big playoff game for the Angels back in 2002.
The collective problem with these signings is that they have little chance of making the Dodgers better in 2012. Only Capuano has much of an upside, but even that is unlikely to match what
Hiroki Kuroda
produced in 2011 (3.07 ERA over 202 innings). Worse, there is a good chance all five players contribute little more than a replacement-level signing would accomplish ... but instead of at league minimum wages, they'll cost the Dodgers $29 million plus Harang's deal.
Somewhat problematic as well: The Dodgers have backloaded the contracts (Hairston will get $3.75 million in 2013, Ellis $5.25 million in 2013, Capuano $6 million plus a $1 million buyout in 2013). The new owner will be saddled with contracts of these mediocre, declining veterans (not to mention that
Juan Uribe
is owed $16 million over the next two seasons).
The Dodgers have Kemp and Cy Young winner
Clayton Kershaw
. Shortstop
Dee Gordon
could become one of the most exciting players in baseball.
Kenley Jansen
should step in and become a dominant closer. That's a great foundation for a new owner to take over.
Unfortunately, that foundation now has the cracks of a group of players who won't push the club past the 82 victories of 2011. It looks like another season of Dodger Stadium sitting half empty, a once-proud franchise and its fans only hoping the right group of buyers purchases the club. It better have some deep pockets and a large supply of patience.
May, 5, 2011
5/05/11
2:54
PM ET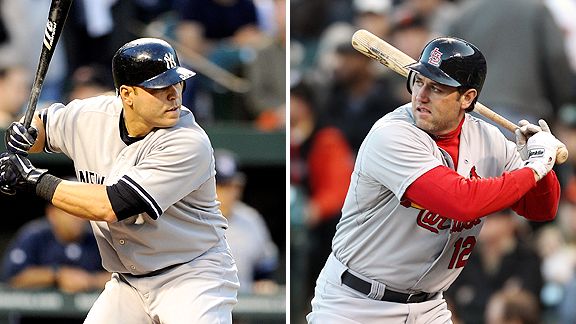 Getty ImagesA change of scenery has done wonders for Russell Martin and Lance Berkman.
One of the great storylines of the 2011 season has been the comeback stories across both leagues. Often called "reclamation projects" when they are signed, these comeback players can make a general manager look brilliant if they succeed.
Comeback players can return to success for myriad reasons, including but not limited to: finally getting healthy; mechanical adjustments; a change of scenery; a weightlifting or conditioning program; getting a second chance from off-field problems; taking a year off and wanting to come back; or even improvements in their personal life like a marriage or birth of a child.
When a general manager signs a player with the intent of him becoming a Comeback Player of the Year candidate, he normally has a reason behind it. Here are some of those guys, plus a couple who didn't change organizations.
1. Lance Berkman, St. Louis Cardinals
Berkman had spent his entire career with the Astros, averaging 30 home runs, 110 RBIs and a .410 on-base percentage over a 12-year career as one of baseball's top OPS guys. However, at 34 years old, he saw it all crumbling down last season, in which he hit just .245 with 13 HRs and 49 RBIs before being traded to the Yankees. Once he arrived with the Yankees it got worse, as he finished the year batting .255 with just one home run in 106 at-bats. His lower half looked old. His legs were slow. His bat was slow. His torque in the middle wasn't the same. He looked finished. He was embarrassed. He also did something about it. Ed Wade, his former GM in Houston, told me this past winter that he ran into Berkman in the Houston area and he had lost 15-20 pounds and looked to be in great shape. He was excited about being able to return to right field with the Cardinals -- a position he hadn't played in over four years. His hard work in the offseason has paid off early this season, as he's hitting .390 with nine HRs and 27 RBIs. In the case of Berkman, the reasons he has been able to make a successful comeback can probably be attributed to conditioning, weight training, change of scenery and the wake-up call that he appeared not only in decline but possibly near the end of his career. Whatever the reason, he's back, and Cardinals GM John Mozeliak is no longer answering questions about why he signed Berkman to a one-year, $8 million deal. By the way, Berkman also has looked impressive in the field, getting good jumps on balls and covering enough ground to be called close to an average defender.
2. Alex Gordon, Kansas City Royals
The Royals have taken a lot of flak for drafting Gordon ahead of such players as
Ryan Zimmerman
,
Ryan Braun
,
Troy Tulowitzki
and
Jay Bruce
, and rightfully so. However, Gordon was always a talented player and most clubs had him in the top five that year. Gordon has had to overcome injuries, positional changes (3B, 1B and now finally a home in LF) and mechanical changes. More importantly, he had to overcome being rushed to the major leagues before he was ready. He really struggled with major league pitching, leaving a lot of evaluators scratching their heads. However, he made a mechanical change this spring that allowed his hands to start further back and higher, giving him the ability to let the ball travel further, and that has put him back on the map as one of the top, young, potential left-handed power hitters in the game. Gordon presently has an OPS of .900 with 20 RBIs.
3. Aaron Harang, San Diego Padres
Harang won 16 games for the
Cincinnati Reds
in 2006 and 2007 and was considered the ace of the staff. However, after three years of averaging six wins per season, the Reds let him go via free agency at the end of last season. Jed Hoyer, the GM of Padres, took a chance on Harang on the recommendation of pitching coach Darren Balsley, and it has paid off. Harang told me that Balsley changed his leg kick back to where it was in '06 and '07 and changed the timing of his hands splitting. The results added velocity, a crisper breaking ball, a much-improved WHIP and two wins away from Petco Park.
[+] Enlarge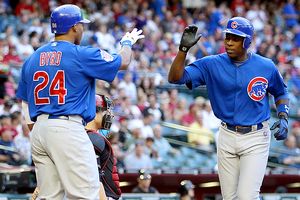 Christian Petersen/Getty ImagesAlfonso Soriano has been one of the few bright spots so far for the Cubs.
4. Alfonso Soriano, Chicago Cubs
Last summer, Cubs GM and then-manager Lou Piniella told me Soriano will never be the player he was in Washington. Because of bad knees, Soriano hasn't hit 30 home runs since 2007, when he hit 33 in his first year with the Cubs. But 2011 is a new season, and Soriano, after spending the winter working on his legs, knees and lower half, is back. He has an NL-leading 11 home runs and is presently on pace to hit more than the 46 home runs he hit for me in Washington back in 2006. Amazing what happens when a talented player gets healthy again. Another good comeback story.
5. Bartolo Colon, New York Yankees
This one's the hardest one for me to believe. Colon is throwing a 92-96 mph fastball, painting the corners and keeping it down or elevating when needed with a good breaking ball. This can't be happening, can it? I feel like Michael J. Fox is going to soon tell me we are back to the past. Colon won 21 games in 2005 for the Angels. He won a total of 14 games over the next four years ... four years! The great Branch Rickey once said, "If you see it once, you can see it again." Colon is 2-1 with a 3.00 ERA but giving the Yankees important innings in the rotation. The key will be how long can he maintain this; how long can he maintain velocity; how long can he maintain command? A phenomenal story.
6. Travis Hafner, Cleveland Indians
Hafner's shoulders have been so bad that he hasn't been able to do any offseason weightlifting the past few years. However, this offseason was different. With better health on his side, Hafner worked hard in building up strength and flexibility. The result has been outstanding, as his bat speed is back and so is the thump in his bat. His sweet spot contact is loud again, and his face is smiling. And it should be after starting this season with a .404 OBP, including four home runs. Hafner is presently nursing a sore right foot but fortunately is not heading to the disabled list, according to Indians manager Manny Acta.
7. Russell Martin, New York Yankees
I watched Martin closely the last two years with the Dodgers. He showed no power in games and no power in BP, and questions about the health of his hip and knees never ceased. When the Dodgers decided to non-tender Martin, it wasn't met with surprise, but rather with understanding. Remember, he hit five home runs in 2010 and seven in 2009. When Yankees GM Brian Cashman signed Martin, he took a lot of criticism. With
Jorge Posada
, Jesus Montero and Austin Romine, the signing didn't appear to make sense. However, Cashman is now looking brilliant. Martin already has six home runs and 20 RBIs to go with a .939 OPS and has done an admirable job of calling a game and stopping the running from a defensive standpoint. He is clearly one of the better free-agent bargains of 2011, and the Red Sox and Dodgers should be kicking themselves for not pursuing him more aggressively. This comeback story has as much to do with a change of scenery as health, but both have played a major factor.
Comeback players can make an impact on pennant races and they already have this year for teams such as the Yankees (Colon, Martin and
Eric Chavez
) and Indians (
Grady Sizemore
and Hafner).
You can follow me on Twitter
@JimBowdenESPNxm
, and I look forward to your input, feedback and ideas. Thanks for reading.
July, 6, 2010
7/06/10
6:48
PM ET
Another Reds starter goes down, and
another rookie comes up
:
The Reds were forced to place right-hander Aaron Harang on the disabled list Tuesday with lower back spasms.

Cincinnati called up left-hander Matt Maloney from Triple-A Louisville to start in his place. In 15 starts for the Bats, Maloney carried a 6-5 record, with a 3.50 ERA.
Maloney will become the eighth pitcher to start for the Reds this season, and the fourth rookie after
Mike Leake
,
Sam LeCure
and (most recently) Travis Wood. As well as the first-place Reds have played, it's fair to wonder where they'd be if
Edinson Volquez
hadn't missed the whole season (so far) and if
Homer Bailey
hadn't wound up on the DL after winning just one game.
The Reds have been impressive and in a variety of ways -- starting with Leake,
Arthur Rhodes
, and of course
Joey Votto
-- but I'm not yet convinced they're better than the Cardinals, mostly because their starting pitchers just don't have the underlying performances to support their ERAs.
Well, really it's just Leake and
Bronson Arroyo
. Leake's ERA is 3.38, but his xFIP is nearly a full run higher. Arroyo's ERA is 4.25, his xFIP is 5.08. The Reds can be
good
even if some of them regress. I'm just convinced they can beat the Cardinals. I think Harang probably needs to come back strong after the All-Star break, and at some point they'll need Bailey or Volquez -- who's currently
rehabbing in Triple-A
-- to make a bit of a splash as well.
December, 17, 2009
12/17/09
2:10
PM ET
Courtesy of the L.A. Times' Dylan Hernandez, a
hot little rumor
:
The Dodgers have started exploring a possible trade with the Cincinnati Reds for pitcher Aaron Harang, according to multiple baseball sources who spoke on the condition of anonymity because of the sensitive nature of the talks.

--snip--

The Reds are asking for one or two players on the Dodgers' major league roster in return.

The Dodgers would want the Reds to pay for a portion of the $15 million Harang would be guaranteed if he is traded.

Harang is owed $12.5 million in 2010 and has a $12.75-million club option for 2011 with a $2-million buyout. If Harang is traded, the option would become a mutual option worth $14 million and the price of the buyout would increase to $2.5 million.
If this is real, you have to admire Ned Colletti. There aren't many general managers who would happily trade for a pitcher who's 12-31 over the last two seasons.
Harang's better than 12-31, though.
When you look at the last few years, you see a considerable decline in durability. After averaging 226 innings per season from 2005 through 2007, Harang pitched 184 innings in 2008 and just 162 innings in 2009. But he was knocked out last August by appendicitis; before that he was heading for 33 or 34 starts (and it's highly unlikely that he'll have another appendix removed).
So if history's any guide, Harang is a good bet for 200 innings in 2009.
What else has been "wrong" with Harang?
He's been unlucky, and he's been in the wrong ballpark.
When I say unlucky, I mean seriously unlucky.
Harang's got a 4.52 ERA over the past two seasons. That's not good, but it should have led to a 12-31 record. Harang clearly hasn't gotten much run support, and I suspect he's not had much bullpen support, either.
Harang's given up (roughly) a .330 batting average on balls in play, in those two seasons. That's a huge BABiP, and almost certainly won't happen again.
His stuff is basically what it's always been, and Harang continues to strike out three batters for every batter he walks (among the 41 pitchers with at least 300 innings over the last two seasons, Harang's strikeout-to-walk ratio ranks seventh).
Harang is a fly-ball pitcher, which has lately been a double-whammy because 1) more of his fly balls than usual have carried the fence, and 2) his home ballpark is the homer-happiest ballpark in the National League.
Add it all up, and what do you have? A pitcher who, removed from his bad luck and a bad (for him) ballpark, should make a perfectly good replacement for the departed
Randy Wolf
.
If you're a Dodgers fan, you should hope that this is more than just a rumor.