March, 29, 2014
Mar 29
10:28
AM ET
By
Jason Rosenberg
| ESPN.com
Greetings, fellow seamheads. This is our first weekly installment of "ICYMI: SweetSpot Hits," a fly-by from some of the various sites that comprise ESPN's SweetSpot Network. Our goal is to bring you the best from each of our sites each week, allowing you a closer look at your favorite (or not so favorite) teams.
Arizona Diamondbacks: Inside the 'Zona
The Good, the Bad, and the Ugly
: Rod Ghods breaks down the Australia series that saw the D-backs lose two games to the Dodgers at the Sydney Cricket Ground -- three, if you count an awful performance against Team Australia.
Chicago Cubs: View From the Bleachers
Why Cubs' Fans Can't Compare Current Prospects with Gary Scott and Felix Pie
: There are many out there who will say "We've seen this before" when it comes to Cubs prospects. Chris Neitzel addresses that concern and examines whether that feeling is warranted with this new crop of prospects in the system.
Chicago White Sox: The Catbird Seat
The 2014 White Sox: Win Predictions and Chaos
: Nick Schaefer examines the wide range of possibilities for the 2014 White Sox through the lense of a few of their particularly boom-or-bust players.
Colorado Rockies: Rockies Zingers
A Fowler Front Office?
Dexter Fowler's grit was publicly questioned by general manager Dan O'Dowd, leading to Fowler firing off his own response. Richard Bergstrom looks at both sides of the argument and whether O'Dowd should have started the argument in the first place.
Minnesota Twins: Twins Daily
Put Him in Coach? Aaron Hicks is Ready for Center Field
: Parker Hageman, reporting on location in Fort Myers, explains why Hicks is ready to pull it together after a miserable rookie season.
New York Yankees: It's About the Money
Does Pitch Framing Make Brian McCann the Yankees' MVP?
EJ Fagan delves into McCann's ability to pitch-frame and how well he's done it from 2008-2013.
Also from IIATMS:
It's About The 2014 Predictions
. Stacey Gotsulias compiled the entire writing staff's predictions (division and wild-card winners, award winners) for the upcoming season, including a bold prediction from each writer.
San Francisco Giants: West Coast Bias
2014 NL West Preview
. In what could prove to be one of the most intriguing divisions in baseball, Connor Grossman and Andrew Tweedy break down the best- and worst-case scenarios for each NL West team.
St. Louis Cardinals: Fungoes
2014 NL Preview
: An in-depth look at the NL Central teams, as well as Pip's picks in the ESPN SweetSpot poll.
Texas Rangers: One Strike Away
The End is the Beginning
: As spring training has come to a close, Brandon Land takes a look at some of the positives to come out of an injury-riddled camp.
Jason Rosenberg is the founder of It's About the Money, a proud charter member of the SweetSpot Network. IIATMS can be found on Twitter here and here as well as on Facebook.
March, 1, 2014
Mar 1
3:32
PM ET
By
Christina Kahrl
| ESPN.com
This early, whatever team you're rooting for, the last thing you want is some major buzzkill to change how you feel about the season to come. So if you can spare a moment, give
Minnesota Twins
fans some pity, because the news that top third-base prospect Miguel Sano is
going to miss the season after Tommy John surgery on his elbow
just deleted one of the best reasons to look forward to the 2014 season from their picture.
Let's face it: Year round, everybody loves prospects. It's our anticipation of the new and unknown wrapped around the promise of something better, but in cleats. How good was the outlook? Insider's Dan Szymborski projected Sano as capable of pounding 30 home runs and slugging .471 as a 21-year-old rookie. Who wouldn't want a slice of that to spice up your season at Target Field?
[+] Enlarge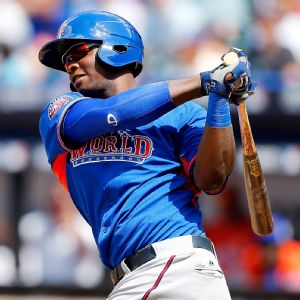 Jim McIsaac/Getty ImagesTop prospect Miguel Sano ripped 35 home runs between Class A and Double-A in 2013.
ESPN injury expert Stephania Bell offers some reassurance to Twins fans. "He should be able to recover fully from this," she stressed. "The return time varies, just as it does with pitchers, but it's typically shorter for a position player -- roughly 8-12 months, but, again, that can vary. For those wondering why he didn't have Tommy John right away when [he] first sprained his elbow last fall, this is consistent with how the injury is managed. Rehab is often the first course, especially since some players can play for a period of time with the injury. Also, the athlete has to buy into an extensive surgery/recovery process."
Anticipating Sano was
part of my own four pack of reasons Twins fans could look forward to this season
; now, that sort of expectation has to be ratcheted back down to waiting for catcher
Josmil Pinto
and hoping that center fielder
Aaron Hicks
recovers from a horrendous rookie season. That's still worth looking forward to, but Sano's power would have done much to make the Twins a much more dangerous lineup.
In the meantime, it isn't like the man Sano was expected to replace at some point this season is chopped liver.
Trevor Plouffe
isn't going to set the world on fire, but the wrist injury that hampered him last season has healed up, so his swing from an OPS around .700 back up towards .750 might seem relatively likely. The guy did belt 24 home runs in 2012 (albeit with an unlikely-to-be-repeated 14.5 percent clip of home runs on fly balls), and he's heading into his age-28 season, still well within a traditional player's peak, arcing from 25 to 29. Maybe the healed wrist helps keep him from being eaten up by fastballs up and in. Projected by Szymborski to deliver a .719 OPS, Plouffe is playable on offense -- the average OPS for third basemen last season was .735. But reports suggesting that Plouffe has bulked up enough to become an increasing defensive liability at the hot corner might send Twins fans on an unwanted return down memory lane with visions of infamously immobile
Ron Coomer
dancing in their head.
Now, sure, Sano will be back, and Twins fans can look forward to seeing him eventually take over at third base. But if spring is supposed to be a time of optimism and renewal, getting this sort of news this early on can only renew a sense that it'll be another case of "wait 'til next season" in the Twin Cities.
Christina Kahrl writes about MLB for ESPN; you can follow her on Twitter.
December, 29, 2013
12/29/13
3:00
PM ET
By
Christina Kahrl
| ESPN.com
It's been a rough three years in Minnesota, as the Twins have bounced around winning 63-66 games and flirting with their first 100-loss season since 1982. But reflecting on what Terry Ryan has been up to this winter, and thinking back on the way the Indians just showed us how a team in the AL Central can sneak up on people and put itself into the postseason picture, there are a few reasons I'm beginning to wonder if the Twins aren't a team that might not just get back into the 70s in wins, but might actually come a bit further than that. Here are my reasons:
Go, Joe!
First off, there's the question of what
Joe Mauer
might be capable of now that he doesn't have to deal with the physical toil of catching. This isn't like Jimmie Foxx or
Paul Konerko
moving out from behind the plate early in their careers. But can Mauer give the Twins, say, a Joe Torre '71-style MVP-caliber explosion at the plate? There's plenty to dream on given what Mauer has been capable of delivering despite catching.
In part because Mauer is heading into his age-31 season, I like to think of Brian Downing as a useful example of what
could
happen. That's because I'm an optimist and because Downing's commitment to his own conditioning was a big part of his ability to sustain his value in his 30s and 40s -- much like a lot of modern players. Downing had just one truly great season as a regular catcher (1979), posting a 142 OPS+ that sticks out in the 109 OPS+ career he posted through 1981. Finally ditching his catching gear for good in his age-31 season, Downing cranked out a 128 OPS+ during the next 11 years, a part of a career where a "normal" player is supposed to decline.
[+] Enlarge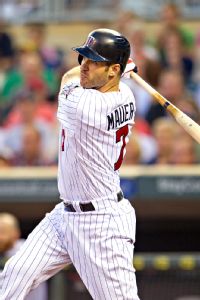 Brace Hemmelgarn/Minnesota Twins/Getty ImagesWill Joe Mauer bust out big at the plate now that he won't have to catch? Twins fans can hope.
Allowing for the fact we don't know the net effect of the physical toll catching has taken on Mauer -- he hasn't had to catch 100 games since 2010 -- his career 138 OPS+ has gone up the past two years (142 OPS+ in 2012-13 combined) as more and more of the backstop duties have been spread around. He may not have another 2009, when Mauer hit .365/.444/.587, in him, but I wouldn't bet against him having his best year since in 2014.
Add in that the Twins have
Josmil Pinto
in the wings after breaking out as an offensive force between Double- and Triple-A the past two years, and have
Kurt Suzuki
lined up to help out, as well, and it's clear that the Twins could net runs on offense on both sides of this transition.
The revamped rotation.
Admitting again to a bit of late-December optimism, I like the Twins going and getting both
Ricky Nolasco
and
Phil Hughes
. Hang the expense -- should anyone weep for Pohlad family money being released into the market? -- and focus on the fact the Twins just shunted aside a big chunk of the rotation that put up a league-low 62 quality starts last season. Coming to Target Field's tough environment for left-handed hitters should help both right-handers: Nolasco's career righty/lefty OPS+ split is 90-110, while Hughes' is 97-103 but was especially rough last year (90-108). Add in some hope that Hughes thrives outside of the media glare in the Big Apple, and you might wind up with a decent one-two punch.
Admittedly, there's no ace, no guy you put up against Verlander or Scherzer or Shields or Sale. And the rest of the rotation is cause for concern.
Kevin Correia
is a decent No. 4 on a mediocre team, and comeback from Tommy John or no, I'm not really sure
Mike Pelfrey
's ever going to be anything more than that himself. But there's a benefit to having a deeper collection of guys capable of keeping games within reach into the sixth inning, and if the competition for the one open slot brings out the best in
Samuel Deduno
or
Andrew Albers
or
Kyle Gibson
, so much the better. If they all rise to the challenge, better still, because if there's one guarantee with pitching, it's that someone's going to get hurt.
The new Twins towers?
OK, so the latter-day M&M boys didn't work so well after Mauer kept losing chunks of his career and
Justin Morneau
never regained his top form after his 2010 concussion. But the Twins have young talent on the way. With Pinto's ready to replace Mauer behind the dish after putting up an .882 OPS last year, the Twins should already have a short-list Rookie of the Year candidate stepping into their Opening Day lineup. But what if he's joined by third baseman Miguel Sano from the outset? After hitting a combined .280/.382/.610 between high Class-A and Double-A while thumping 35 homers, Sano shouldn't need much seasoning -- he's already the real tabasco.
The Twins may opt for a soft landing, introducing Sano and Pinto in late April or early May, after the build-up of expectations and Opening Day have already dissipated. They may even push Sano's arrival back to show that his strained elbow is 100 percent, or to manipulate his service time since he is not yet even on the 40-man roster. But if Sano's healthy, he'll be in the majors in 2014. And that rookie combination is more than just tantalizing for the present, they're two of the building blocks around Mauer primed to deliver contending Twins teams in the back half of this decade.
The old slugs getting slugly.
Josh Willingham
and
Jason Kubel
are both coming off terrible years. I'm not going to pretend there aren't concerns about both men's durability in their 30s, as it is open to question. But if Willingham can come back from his injury-marred 2013 and keeping in mind Kubel's just a year removed from a 30-homer season for the Diamondbacks, it isn't implausible that between the left field and DH slots the Twins might get 50 home runs. That'll make up a lot of ground for low-powered lineup that put up just a .138 Isolated Power number when the AL average was .149 last year.
That's not to say there aren't lingering issues, especially in center field. It takes a good measure of faith in the tarnished prospect status of
Aaron Hicks
to think the Twins are set in center field for the time being. Resorting to journeymen like
Clete Thomas
and
Alex Presley
in the season's final third wasn't how things were supposed to wind up, and Presley doesn't really have the glove to handle the job on an everyday basis.
So right now, the Twins are best off if Hicks comes to camp and quickly shows that he's ready to bounce back from the sub-.600 OPS he put up before a demotion and injuries helped end his season early. He shouldn't be discounted: A year ago Hicks was on top 100 prospect lists after putting up an .844 OPS in Double-A, he's only just turned 24, and he can handle center. He's going to be challenged to beat out Presley in camp, a classic case of putting a modest obstacle in front of a prospect with something to prove; ideally, Hicks will rise to the challenge.
Failing that, the field opens up for desperation moves, like resigning themselves to Presley, mulling the merits of someone available on the market (defensive whiz
Sam Fuld
is still out there), or maybe even giving a non-roster guy like former A's prospect Jermaine Mitchell a look. And if that doesn't work out? Twins fans are going to have to hope that blue-chipper Byron Buxton keeps making jumps up the farm system's ladder at least two rungs at a time after tearing his way up to high Class-A in his first full season last year. Which is another way of saying that Hicks has no time to waste getting back in gear, because by 2015 the future may no longer belong to him.
Now, I admit, that's a lot of ifs and maybes; it goes with the territory at this time of year. But a lineup that should have the benefit of adding Sano and Pinto and perhaps even a redeemed Hicks would be a radical change from the recent rut the Twins have been in.
Christina Kahrl covers baseball for ESPN.com. You can follow her on Twitter.
May, 14, 2013
5/14/13
9:50
AM ET

Quick reactions from Monday's games ...


If you've seen the scary video of Bryce Harper crashing face-first into the wall at Dodger Stadium, you know the end result could have been much worse than a bloodied face. Aside from Harper needing to learn what "warning track" means, the reaction from some of the Nationals is frustrating. "That's all you can ask for as a pitcher, a guy going 110 percent," said winning pitcher Jordan Zimmermann. No, no, no. Absolutely wrong. There's rarely a good time to go crashing into a wall, especially when the score is 6-0. There is no way making that catch -- and getting ONE OUT -- is worth the risk of the injury. Sometimes you have to play this game at 99 or 95 percent. Manager Davey Johnson said, "I don't want to change him." Fine. I get it. The hustle, the energy, that's part of what drives Harper to excel. But you have to be smart. I'm pretty sure Davey's behind-the-scenes talks with Harper will be a little different than his public posturing.

The one guy who got it right was Ryan Zimmerman: "I would rather him not go all-out into the wall. Some people look at it as a bad thing. If you play that hard every day, there is something to be said about that. He's going to play a long time and you have to learn to take care of your body. As he grows, he'll learn what to do and what not to do." Zimmerman is speaking from experience, as a player who has battled injuries in his career. I love Harper's all-out play; I don't love him running into walls.
Josh Beckett left after three innings after tweaking his groin, but gave up four runs before then anyway and fell to 0-5 with a 5.19 ERA. The Dodgers can use injuries as an excuse for their 15-22 record, but Beckett has been awful, Matt Kemp has been bad, Andre Ethier is slugging under .400, their third basemen are hitting a combined .185 with a .526 OPS and closer Brandon League has a 6.28 ERA.
Great day for Aaron Hicks, whom the Twins have resisted sending down to the minors despite his slow start. He homered twice off Hector Santiago of the White Sox in a 10-3 victory and then robbed Adam Dunn of a home run. Love the big smile from Hicks as he gets up from the ground. Let's hope this gets his season going in the right direction.
The Mets signed Rick Ankiel. He had been released by the Astros because he's struck out in over half his plate appearances. He started in center field. In a related note, the Mets lost 6-3 to the Cardinals.
Travis Wood pitched seven scoreless, two-hit innings against the Rockies and has quietly put up a 2.03 ERA for the Cubs. Wood is a fly ball pitcher -- he had 12 fly ball outs on Monday, seven on the ground -- and when the ball stays in the park, he can be very effective. He's had a lot of effective outings of late. In his past 17 starts dating back to last August, he has a 2.65 ERA, .189 average and .263 OBP allowed and just eight home runs. He's a guy the advanced metrics don't love because his strikeout rate isn't high, but he could be developing into a nice 1-2 combo with Jeff Samardzija.
The Rockies, meanwhile, are starting to struggle with the bats on the road. I've touched on this earlier this season, that Colorado's problems in the past has been more about the hitters doing bad on the road than the pitchers doing bad at home. The Rockies started out fine on the road, but the bats have gone dry, getting three hits in two games against St. Louis over the weekend and now getting three-hit by the Cubs.
Joe Blanton is a guy the advanced metrics overrate, because he walks so few batters his strikeout/walk ratio is terrific. Last night, for example, he had seven strikeouts and no walks. But he gave up 12 hits and seven runs in 4.2 innings in an 11-4 loss to the Royals. Maybe there was some bad luck: "I felt like I threw the ball good tonight and my stuff was good," Blanton said. "When they made contact they found holes, broken-bat balls fell in for singles and balls bounced their way down the lines. It was one of those weird games. There were a couple of innings where I was one pitch away from it." Still. He's now 0-7 with a 6.46 ERA, and it's not that big of a surprise he's been this bad. He wasn't good last season in the National League, and there was no reason to expect him to come over to the AL, face deeper lineups, and suddenly get his ERA closer to 4.00. He's not good.
April, 14, 2013
4/14/13
11:53
PM ET
The
Atlanta Braves
sent a message this weekend: Don't forget about us.
We all know the
Washington Nationals
were prohibitive favorites to win the NL East --
38 of 43 ESPN.com experts picked them
-- and only five picked the Braves. I think the Braves' impressive sweep over the Nationals this weekend, culminating in Sunday's
9-0 shutout
, did more to showcase the talents of the Braves than to expose any particular weaknesses in the Nationals.
"We know the Nationals are supposed to be pretty good, so it was good to make a statement early," Braves shortstop
Andrelton Simmons
said after the club won its ninth game in a row. "Let them know we're going to be tough to beat."
Nationals manager Davey Johnson took the more experienced response of a manager who knows pennants aren't won in April: "We should have won the first one. We were right there on the second. We just got waffled today. I don't put too much stock in it."
The most impressive thing about the Braves is -- like the Nationals -- they're a team constructed not just for 2013 but for the long haul. What's
really
impressive is how the Braves have built this team. Astute draft picks, player development, great trades, obscure pickups and, rarely, an impact free-agent signing.
Unlike the Nationals, who benefited from years of losing records that resulted in high draft picks (especially lucky enough to own the No. 1 overall pick the years
Stephen Strasburg
and
Bryce Harper
were in the draft), the Braves developed young talent without the benefit of all those high picks. In fact, in the past 20 years, they've had just two picks in the top 15 --
Mike Minor
, No. 7 overall in 2009, and
Jason Heyward
, No. 14 overall in 2007. Minor was a polished college left-hander who some felt the Braves overdrafted; Heyward was a local high school kid who fell to 14th in part because he was pitched around so much as a senior that he had just 52 at-bats.
Credit the Braves scouting staff for not missing those guys. Roy Clark, the scouting director for the Braves when they drafted Heyward and Minor, is now the assistant general manager to Mike Rizzo in Washington. But beyond those first-rounders, the Braves have found talent later in the draft:
Simmons was a second-round pick out of Western Oklahoma State Junior College in 2010 and his meteoric rise to reach the majors was remarkable, considering few teams believed in his bat and some even projected him as a pitcher.
Closer Craig Kimbrel was a third-rounder in 2008, another junior college pick.
Starter Kris Medlen was a 10th-rounder, yet another junior college pick, and like Kimbrel is a short right-hander (both are under 6 feet tall).
First baseman Freddie Freeman, currently on the disabled list, was a second-round pick in 2007, and like Heyward reached the majors at age 20.
Brandon Beachy, also on the DL after last year's Tommy John surgery, was primarly a third baseman at Indiana Wesleyan and went undrafted. Braves scout Gene Kerns saw him pitching in relief in a college summer league and recommended the team sign him.
And then there's the quickly growing legend of Evan Gattis, who less than three years ago was a 23-year-old playing for the University of Texas-Permian Basin after having quit baseball for five years. The Braves drafted him in the 23rd round, and now he's a 26-year-old rookie catcher filling in for the injured Brian McCann, batting cleanup and hitting .324/.385/.724. Gattis, who knocked in two runs in Sunday's win, has 10 RBIs and four home runs in nine games this season.
All that young talent means the Braves had an Opening Day payroll just under $90 million -- 16th-highest in the majors and less than half of the Yankees and Dodgers.
Then, of course, there are the Upton brothers. Instead of re-signing speedster
Michael Bourn
, the Braves signed the younger
B.J. Upton
to add more power to the offense. Then came the blockbuster deal to acquire
Justin Upton
. All he's done is club seven homers -- his seventh came on Sunday off a
Gio Gonzalez
2-2 curveball that Upton hit out to right-center.
Sunday's pitching star was veteran lefty
Paul Maholm
, another astute Braves pickup, acquired last summer from the Cubs for
Arodys Vizcaino
, a youngster who missed all of 2012 because of Tommy John surgery. Maholm is a cost-effective mid-rotation starter making $6.5 million this year, the kind of pitcher who is underrated because his stuff isn't overpowering. He'd had a good year with the Pirates in 2011 and was pitching well for the Cubs.
He's added a slow curve
to his repertoire this year and hasn't allowed a run in three starts.
Maholm will give up a run eventually and the Braves' winning streak will end soon. Right now they're playing the best of any team in baseball, a fun team to watch that does everything -- play defense, pitch, hit for power and then hand the ball to Kimbrel. And the scary thing: B.J. Upton is just finally starting to hit -- he had three on Sunday to raise his average to .163 -- and Heyward is hitting .103 with just two extra-base hits.
Consider the message received.
REST OF THE WEEKEND

Three stars
1. Clay Buchholz, Red Sox.
Took a no-hitter into the eighth inning on Sunday against the Rays, finishing with 11 K's over eight scoreless frames in
Boston's 5-0 win
. Buchholz had a dominant spring training and it's carried over into April as he's 3-0 with a 0.41 ERA.
2. Hisashi Iwakuma, Mariners.
Outpitched
Yu Darvish
in a
3-1 Seattle victory
on Friday in a matchup that was certainly huge in Japan. Through three starts Iwakuma is 2-0 with a 2.18 ERA, .129 average allowed and 16/1 SO/BB ratio.
3. Matt Harvey, Mets.
Can't avoid another pitcher, but Harvey was dominant once again on Saturday against the Twins, pitching through a start-time temperature of 35 degrees. In three starts he's 3-0 with two runs allowed and six hits in 22 innings.
Clutch performance of the weekend
Albert Pujols, Angels.
Trailing the Astros 4-1 in the eighth inning on Saturday, and staring at an embarrassing 2-9 start, the Angels rallied for two in the eighth and then Pujols doubled home
Luis Jimenez
and
Mike Trout
with two outs in the bottom of the ninth. A win on Sunday pushed the Angels to 4-8; not good, but not yet a complete disaster.
Best game
Braves 6, Nationals 4, 10 innings (Friday).
The Nationals led 4-0 after two innings and starter
Ross Detwiler
departed after seven innings with a 4-1 lead. But the Nationals bullpen struggled yet again, the Braves tied it in the ninth off
Drew Storen
, and then backup infielder
Ramiro Pena
hit a two-run homer off
Craig Stammen
in the 10th.
Hitter on the rise: Evan Gattis, Braves.
What does it say about the confidence Fredi Gonzalez has in Gattis to hit him cleanup after just a few games in the majors? If Gattis is this good, it's going to create a good kind of problem when McCann and Freeman return from the DL. What do you do with him? He's catching now and started one game at first, but you can't really hide him anywhere else.
Pitcher on the rise: Jose Fernandez, Marlins
The 20-year-old rookie had his second straight solid outing, with six scoreless innings against the Phillies on Saturday. That's two starts and one run allowed, although he hasn't earned the W yet.
Move I can't understand
Oh, Dusty Baker, how we love to analyze your moves. On Sunday, the
Reds led the Pirates 6-4
entering the bottom of the eighth (and had led 5-0 entering the bottom of the seventh).
Aroldis Chapman
hadn't pitched in ... well, a week. Neither had setup man
Jonathan Broxton
, who came in and promptly gave up a walk and home run to
Michael McKenry
. And then after a groundout, another walk. But it wasn't a save situation so Chapman remained in the bullpen.
Starling Marte
then homered. Broxton then gave up a walk (to pitcher
Jonathan Sanchez
) and a single. And was still in there to give up a sac fly. (Baker blamed rust for Broxton's stuggles. OK.) Chapman was finally summoned from the pen. So Baker managed to go an entire week without getting Chapman into a meaningful situation. Meanwhile,
Johnny Cueto
left Saturday's game with right triceps pain and
Shin-Soo Choo
continues to hit but struggled defensively in center field.
Team on the rise: Pirates
The Pirates entered the weekend hitting .153 and had scored 21 runs in nine game. They swept the Reds to improve to 6-6, one game behind St. Louis in the NL Central.
Team on the fall: Twins
The Twins have lost five in a row and got snowed out on Sunday, which maybe was a good thing. Rookie center field
Aaron Hicks
may find a trip to Triple-A in his future, as after a big spring training he looks completely overmatched, hitting 3-for-43 (.047) with 20 strikeouts. And yet Ron Gardenhire continues to hit him leadoff.
March, 30, 2013
3/30/13
1:00
PM ET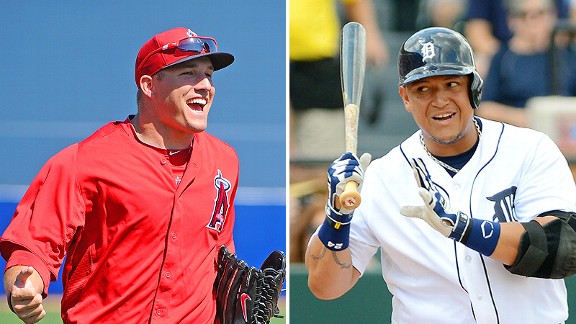 Getty ImagesThe SweetSpot bloggers predict another 1-2 MVP finish for Mike Trout and Miguel Cabrera in 2013.
Yes, it's the time of the year ... awards predictions! Here are the collective thoughts of the writers from across the SweetSpot network.
MOST VALUABLE PLAYER
Last year, the SweetSpot bloggers correctly picked
Miguel Cabrera
as the AL MVP winner. How quickly we fall in love with the new kid on the block! I'm not surprised that
Mike Trout
is the MVP favorite by the SweetSpot bloggers -- but I am surprised by his runaway vote total, as he collected 33 of the 47 first-place votes (including mine). If wisdom of the crowds proves true, it should be a landslide MVP result for Trout.
Amazingly, Cabrera only received two first-place votes (remember, he ranked ahead of Trout in our recent BBTN500 voting). This probably reflects the difference in the mind-set between the bloggers -- who are going to pay more attention to advanced metrics like WAR -- and the more conventional group of analysts (writers, announcers, former players) who voted in the BBTN500.
The network bloggers must have high hopes for the Rays since
Evan Longoria
ranked third in the balloting. And maybe the Yankees won't collapse just yet:
Robinson Cano
finished fourth in the balloting.
Points on a 14-9-8-7-6 basis.
1. Mike Trout, 574 points (33 first-place votes)
2. Miguel Cabrera, 374 points (2)
3. Evan Longoria, 268 points (3)
4. Robinson Cano, 238 points (4)
5.
Adrian Beltre
, 101 points (1)
6.
Yoenis Cespedes
, 92 points (0)
7.
Jose Bautista
, 85 points (2)
8.
Prince Fielder
, 70 points (1)
9.
Albert Pujols
, 62 points (1)
10.
Jose Reyes
, 43 points (0)
Others --
Josh Hamilton
(41 points),
Dustin Pedroia
(34),
Joe Mauer
(21),
Alex Gordon
(18),
Matt Wieters
(9),
Adam Jones
(7),
Curtis Granderson
(7),
Edwin Encarnacion
(6),
Carlos Santana
(6),
Ian Kinsler
(6),
Jacoby Ellsbury
(6)
CY YOUNG
No surprise here:
Justin Verlander
collected 28 first-place votes to easily outdistance last season's Cy Young winner,
David Price
. Keep an eye on
Yu Darvish
: He finished ahead of
Felix Hernandez
in the voting. Reigning NL CY Young winner
R.A. Dickey
is now with Toronto and he collected just one first-place vote.
Points on a 7-4-3 basis.
1. Justin Verlander, 258 points (28 first-place votes)
2. David Price, 129 points (4)
3. Yu Darvish, 81 points (5)
4. Felix Hernandez, 70 points (5)
5.
Jered Weaver
, 34 points (3)
6. R.A. Dickey, 15 points (1)
Others --
Chris Sale
(9 points),
CC Sabathia
(8),
Max Scherzer
(6),
Josh Johnson
(6),
Jarrod Parker
(6),
Jon Lester
(6),
Doug Fister
(3),
Matt Moore
(3),
Jake Peavy
(3)
ROOKIE OF THE YEAR
The rookie race is even more wide open, since most of the top rookie prospects will begin the year in the minors, including Tampa Bay outfielder
Wil Myers
, who led our balloting with 17 first-place votes. Outfielders
Aaron Hicks
of the Twins and
Jackie Bradley
of the Red Sox will break camp with their big league teams, and that helped them finish second and third in the voting.
Points on a 5-3-1 basis.
1. Wil Myers, 111 points (17 first-place votes)
2. Aaron Hicks, 71 points (8)
3. Jackie Bradley, 65 points (8)
4.
Jurickson Profar
, 46 points (4)
5.
Dylan Bundy
, 29 points (4)
6.
Brandon Maurer
, 24 points (2)
7.
Trevor Bauer
, 21 points (1)
8.
Dan Straily
, 12 points (1)
Others -- Bruce Rondon (6 points),
Mike Olt
(5), Mike Zunino (4),
Chris Archer
(3),
Avisail Garcia
(1),
Conor Gillaspie
(1), Nick Tepesch (1), Kevin Gausman (1)
March, 27, 2013
3/27/13
1:05
PM ET
Spring training consists of a lot of bunting practice and manufactured stories, false alarms and overhyped weight losses (or increases). But some news events and stories
are
potentially important. Here are the 25 biggest ones -- from on the field -- as camps finally wind down.
25. Scott Kazmir makes Indians rotation
The last time we saw Kazmir in the majors was in the fourth game of the season for the Angels in 2011. He gave up a home run, walked two batters, hit two more batters and got knocked out in the second inning. He was just 27 years old, but on the heels of a terrible 2010, his career appeared over. Even last year, pitching for Sugar Land in the Atlantic League, he went 3-6 with a 5.34 ERA. The Indians invited him to camp and Kazmir impressed by throwing in the low 90s and, more importantly, throwing strikes (one walk in 13 innings). Who knows if Kazmir will work out in the long run, but it's a great spring training story.
24. Don't worry about Albert Pujols unless you want to
The knee is apparently OK, but now he's been bothered by plantar fasciitis. He says it comes and goes. "It's nothing that's going to keep me out of the lineup,"
Pujols said recently
, "because I've played with it the whole season before."
23. Aaron Hicks wins Twins' center field job
[+] Enlarge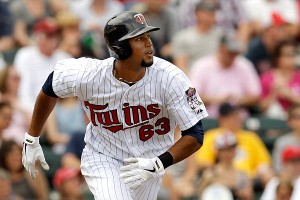 AP Photo/Elise AmendolaAaron Hicks locked down the center-field job after a big spring.
The Twins traded
Denard Span
and
Ben Revere
in the offseason to acquire some pitching, but they could afford to do so because they have a promising crop of outfielders on the way. Hicks will be the first to arrive after winning the center-field job with a big spring (.379, four homers). And how refreshing for a team to promote a player because he's one of their best 25 guys and not worry about his service time. "The guy has earned it,"
GM Terry Ryan said
. "I find it almost humorous that people are talking about service time, starting the clock. We didn't trade Span and Revere to stall the next guy."
22. Where there's fire there's Smoak
The Mariners haven't scored runs since George W. Bush was president. Well, they've scored runs, just precious few. Former top prospect
Justin Smoak
is on his last chance and after hitting well last September with a new swing has looked good again this spring, hitting .434 with four homers and eight doubles in 53 at-bats. Could it be that Smoak and newcomers
Kendrys Morales
and Mike Morse will actually give Mariners fans something to watch on days King Felix doesn't pitch?
21. Diamondbacks are banged up
Rookie of the Year candidate
Adam Eaton
is already out six to eight weeks with an elbow strain and
Cody Ross
will likely miss Opening Day with a calf sprain. Now comes word that
Jason Kubel
,
Willie Bloomquist
and
Aaron Hill
were all dinged up in Tuesday's game
. The D-backs have depth and may need it.
20. Ricky Romero can't throw strikes
When the Blue Jays traded for three-fifths of a rotation this winter -- NL Cy Young winner
R.A. Dickey
, plus
Josh Johnson
and
Mark Buehrle
from the Marlins -- they were going to join holdovers
Brandon Morrow
and Romero to help deliver the Jays to their first playoff berth since 1993. After going 15-11 with a 2.92 ERA in 2011, Romero struggled last year with a 5.77 ERA and league-leading 105 walks. His control is still an issue -- 10 walks and eight K's in 13 innings -- leaving the possibility that J.A. Happ wins that fifth spot.
19. Brandon Belt bashes
The Giants first baseman is hitting .453 with seven home runs, tied for the spring high, leading to speculation this could be the year he finds his power stroke and has that breakout season everyone anticipated last year.
18. Looking for Moore
The Rays could afford to trade
James Shields
because of their starting pitch depth. Sophomore
Matt Moore
, coming off a strong second half, was expected by many to pass
Jeremy Hellickson
and become the team's No. 2 starter behind
David Price
. But he's had a rough March, with his velocity down and struggling with his command (13 walks in 17.1 innings). Maybe he'll turn it on when the season starts, or maybe there's a problem to pay attention to.
17. Angels bullpen looks like last year's bullpen, only worse
The Angels struggled in middle relief in 2012, so they brought in
Ryan Madson
to close (pushing
Ernesto Frieri
to a setup role) and signed
Sean Burnett
. Madson hasn't pitched yet as he still recovers from Tommy John surgery, Frieri has been terrible (12 hits, only three K's in eight innings), and Burnett has been terrible (eight hits in 3.2 innings). Small sample sizes, but something to watch when the real games begin.
16. Zack Greinke's elbow
He started his first major league spring game on Monday since March 1 and said he felt fine, although he did walk three straight batters in the fourth inning. For now, he's scheduled to start the Dodgers' fourth game. "I thought I felt good, but the results didn't imply that the last inning,"
Greinke said
. "It tells me I've got some work to do and build up arm strength. I've got to fine-tune some off-speed stuff. If the arm strength is there, I can make it work. That's the No. 1 most important thing."
15. Jackie Bradley tears it up
A top prospect heading into his junior season at South Carolina in 2011, Bradley had a disappointing season and slipped to the Red Sox with the 40th pick in the draft. That looks like an absolute steal after Bradley had an impressive 2012 in the minors, earning the No. 40 spot on Keith Law's top 100 prospects list heading into spring training.
He's played so well
-- .444/.523/.667, excellent defense -- that he may crack Boston's Opening Day lineup even though he has just 61 games above Class A.
14. Tigers closer remains unsettled
Jim Leyland and GM Dave Dombrowski hoped rookie flamethrower
Bruce Rondon
-- he of the 100-mph fastball -- would make their decision easy, but Rondon has looked like the inexperienced reliever he is. In 11.2 innings, he has 18 punchouts, but he's also allowed 15 hits, two home runs and seven walks. For the Tigers, however, it doesn't matter who is closing in April, but who is closing in October.
13. Shelby Miller wins rotation spot
The Cardinals' pitching depth was on full display this spring. Even with
Chris Carpenter
going down for the season, they still had Miller and fellow youngsters
Trevor Rosenthal
and
Joe Kelly
fighting for the No. 5 spot. In the end,
Mike Matheny
went with the kid with the biggest upside in Miller, sending Rosenthal and Kelly to the bullpen. Miller had a 4.74 ERA at Triple-A but seemed to put everything together late in the season, as he had 53/4 SO/BB ratio in 37.1 innings in August, earning a September cameo in the majors.
12. Hanley Ramirez loves and hates World Baseball Classic
[+] Enlarge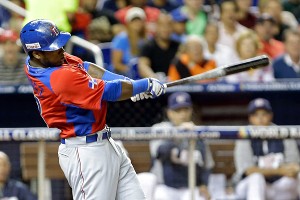 AP Photo/Wilfredo LeeHanley Ramirez is expected to miss eight weeks after injuring his thumb in the World Baseball Classic.
Ramirez is
out about eight weeks
after injuring his thumb, leaving the Dodgers scrambling at shortstop and third base. If you think more playing time for
Juan Uribe
and
Nick Punto
is a good idea, raise your thumb.
11. Julio Teheran dominates
Maybe the most impressive pitcher of the spring -- at least statically -- is Braves rookie right-hander Teheran, who has held opponents to an .082 average while whiffing 35 in 26 innings. He's earned the No. 5 slot in the rotation with an exclamation point. This is where we remind you that it is spring training and that Teheran had a 5.08 ERA in Triple-A last year, causing him to slip from No. 5 to No. 44 on Baseball America's top prospect list. But if he can keep that changeup down in the zone ... watch out.
10. Jon Lester and Clay Buchholz look good ... very good
Yes, yes, yes: Don't read too much into spring training. Did we say that already? But after lackluster performances in 2012, Boston's top two starters have both dominated this spring, with scouting reports to match the statistics. Both have ERAs under 1.00 and Lester has allowed just six hits in 20 innings, Buchholz 11 hits in 18.2 innings.
9. A's infield remains unsettled
That Oakland won 94 games last year was more than a minor miracle, in part because of the offense the A's received from three-quarters of their infield. Their second basemen hit .228/.303/.316 (27th in the majors in OPS), their third basemen hit .227/.280/.391 (27th in OPS) and their shortstops hit .203/.272/.313 (28th in OPS). Japanese free agent
Hiroyuki Nakajima
was signed to play shortstop, but he's looked so tentative in the field and so helpless at the plate that he's likely to start the year at Triple-A Sacramento. That probably means
Jed Lowrie
plays shortstop,
Josh Donaldson
returns to third and
Scott Sizemore
plays second. But
Eric Sogard
has hit .500 and
Adam Rosales
, who is out of options, had played well until landing on the DL with an intercostal strain.
Jemile Weeks
, last year's regular second baseman, has already been sent down. The infield may be unsettled, but the A's should still get more production across the board.
8. Brewers boost rotation
Slotting in
Kyle Lohse
behind
Yovani Gallardo
gives the Brewers what could be a sneaky good rotation along with
Marco Estrada
and some combo of
Chris Narveson
,
Mike Fiers
and hard-throwing rookie
Wily Peralta
. The Brewers led the NL in runs scored in 2012, so if the bullpen doesn't implode again, don't be surprised if the Brewers run with the Reds and Cardinals.
7. Yasiel Puig is Yoenis Cespedes, Bo Jackson and God wrapped into one
No player
stirred up the masses
this spring like Dodgers outfielder Puig, the Cuban signed to a controversial $42 million deal last year. The Dodgers optioned him to Double-A after he hit .526 with three home runs and four steals in 57 at-bats. But it was the smart move: Puig had 11 strikeouts and no walks, suggesting he could be exposed when the pitchers start trying harder.
6. Mike Trout is fat
And it doesn't matter. His spring training numbers (.373, more walks than strikeouts) suggest an encore performance is in order. And he
still makes this look easy
.
5. Bryce Harper will win an MVP Award some day ... maybe in 2013
IT'S SPRING TRAINING. IT DOESN'T MEAN ANYTHING. NOTHING. DON'T GET SO EXCITED, SCHOENFIELD. I know, I know. Still, Harper is hitting .476, with three home runs and five steals. Can you say 30/30 and MVP candidate at age 20?
4. Aroldis Chapman goes back to the pen
Maybe he was going to be
Randy Johnson
2.0. Now we'll never know. Hey, if Chapman didn't
want
to start, what option did the Reds really have?
3. Tim Lincecum cuts hair, doesn't perform heroic feats
Lincecum went for the reverse Samson but it hasn't rejuvenated his fastball. He's allowed 17 hits and seven walks in 10.2 "A" game innings and the reports are that he looks like the Lincecum of last year, still fighting command of the fastball. The Giants survived his rocky 2012 (10-15, 5.18 ERA), but the NL West may be a lot tougher in 2013.
2. Roy Halladay is human
Of even bigger concern may be Halladay's struggles in Phillies camp. He can't crack 90 with his fastball and recently pitched in a minor league game and retired just seven of the 18 batters he faced. Even for great pitchers,
the end can sometimes come suddenly
.
1. Yankees willingly trade for Vernon Wells
That pretty much sums up the Yankees' spring.