April, 28, 2013
4/28/13
1:15
AM ET
By
Christina Kahrl
| ESPN.com
Cody Ross
, bottom of the 10th, man in scoring position, tie game. You're supposed to bank on that, right? You plan on it, because it wasn't that long ago that Ross was a postseason hero and -- briefly, because who doesn't have ADD nowadays? -- a household name. It's why the Diamondbacks gave him big money, $28.5 million for three years. Ross plated
A.J. Pollock
with a blow that looked like it would go out, settled for the warning track, giving him his sixth career walk-off and the Snakes their sixth win in extra innings in just this one month of play.
Which is definitely not something that you plan on. While the D-backs are 14-10, very little has gone according to plan -- certainly not the one they had for themselves on Opening Day, let alone the expectations anybody else had for them. The lineup has been a work in progress all month. Slugger
Jason Kubel
may be out for just a few more days, but until
Adam Eaton
comes back sometime in late May the D-backs have yet to enjoy the benefit of their starting outfield trio in the lineup at the same time. Second baseman
Aaron Hill
is out for weeks to come.
Miguel Montero
, a key lefty OBP source in a lineup with a heavy right-wards lean, has yet to get his bat going.
But out of initial struggles opportunities are born, and here's where you have to give some measure of credit to the organization for the benefits of some of their pickups.
Martin Prado
is nobody's ideal at second base, but as a multi-positional asset he's given manager Kirk Gibson considerable lineup flexibility. Absent Hill as an everyday answer up the middle, Gibson has been adaptable, moving Prado between second, third and left. This way, he doesn't risk burning out a fragile old-timer and sporadic power source like
Eric Chavez
at the hot corner, nor does he risk going down in flames with
Cliff Pennington
as an everyday player. Even with all the injuries, the Diamondbacks are fifth in the league in runs scored.
Here, you can credit the right-now benefits of GM Kevin Towers' win-now moves. While
Justin Upton
is going to make the Snakes look bad now and likely far into the future for dealing him, we don't know what he would have done if he was still in Phoenix. For better and worse, Prado isn't somebody you acquire to win next year, he's 29 and as good as he'll ever be and as useful as he'll ever be right now -- and that's very useful. But this same win-now sensibility has taken other forms, like turning to
Didi Gregorius
as their shortstop of the present, allowing them to move Pennington to a reserve role.
That's something right out of the playbook Gibson ran in 2011 when the D-backs won the NL West: Trusting the kids you think are ready. Then, they won breaking in a relatively unheralded rookie slugger named
Paul Goldschmidt
; now, they might do the same with rookies up the middle with Gregorius at short and Eaton in center.
In large part, Gibson can afford to be creative in the lineup in the short term because his roster boasts tremendous rotation depth, and that's the kind of talent that keeps you in ballgames with any kind of offense. Youngsters like
Tyler Skaggs
or
Randall Delgado
are marking time in Triple-A, cooling their jets because the only rotation regular struggling is
Brandon McCarthy
, everybody's favorite sabermetric starter. As is, the clock's ticking until
Dan Hudson
comes back from elbow surgery after the All-Star break, so even if the D-backs blow a piston or two in this engine of success, they have replacement parts here as well.
Normally, that kind of depth suggests you're eventually make room for extra talent in the bullpen, especially one struggling as badly as Arizona's has in the early going, having blown eight saves already after
Heath Bell
gave up a one-run lead in the seventh. That's eight out of 25 opportunities if you count all save opportunities with a lead after the sixth. It's easy to mock the decision to give Bell a multi-year deal, but that money's spent -- how well Gibson makes it work and whether or not they have the freedom to rely on the same depth in pitching that has kept them afloat on offense remains to be seen.
This time of year, you can play the "if only" game with just about any ballclub. Pretty much everybody can plead a reasonable failure to anticipate early-season results, and suggest why things would be so much better if only the master plan had survived contact with Opening Day. It's a broad truth, but it's also broadly true that as much as regression is supposed to get you, there's nothing in the rule book or the law of averages that demands that you hand back the wins you notch in April. The D-backs' 6-0 start in extra innings is a fluke, it's improbable, it's the sort of thing you don't predict and it's certainly something you don't count on.
But it also isn't coming off the Diamondbacks' permanent record, not now, not ever. And if they fix their other issues, like get Hill back in full working order, or once they see McCarthy and Montero get turned around, once they get their entire starting outfield, you better believe they can be in it to the end.
Christina Kahrl covers baseball for ESPN.com. You can follow her on Twitter.
February, 8, 2013
2/08/13
1:10
PM ET
2012 in review
Record: 81-81 (86-76 Pythagorean)
734 runs scored (4th in NL)
688 runs allowed (9th in NL)
Big Offseason Moves
In three-team deal, traded
Chris Young
and acquired
Cliff Pennington
and
Heath Bell
. Traded
Ryan Wheeler
to the Rockies for
Matt Reynolds
. Signed free agents
Brandon McCarthy
,
Cody Ross
,
Eric Chavez
and
Eric Hinske
. Picked up option on
J.J. Putz
and signed to one-year extension. Traded
Trevor Bauer
,
Matt Albers
and
Bryan Shaw
in three-team deal and acquired
Didi Gregorius
and
Tony Sipp
. Oh, yeah, traded
Justin Upton
and
Chris Johnson
to Atlanta for
Martin Prado
,
Randall Delgado
and three minor leaguers. Signed Prado to four-year contract.
OK, it was a bit of an ADD offseason by GM Kevin Towers, first trading center fielder Young for a shortstop the club needed in Pennington, then later trading prospect Bauer for another shortstop. Then, after trading Young, he signed another outfielder in Ross ... but that allowed him to finally ship out Upton, who finished fourth in the MVP balloting in 2011. Oh, and he picked up a quality starter in McCarthy (albeit one more likely to pitch 150 innings than 200).
So ... how to take it all in? While most people panned the Upton and Bauer trades, it could be that those two are overrated. We don't know if Upton has improvement left in his game or whether Bauer will develop. But Prado is a good player, and Towers believes Gregorius will hit enough (nobody questions his ability with the glove). The McCarthy deal could be one of the better contracts of the offseason, even with his durability. The bullpen is deeper with Sipp and Reynolds, and the bench should be improved with Chavez and Pennington/Gregorious. I'm not giving this an A, since I think Towers gave Young away too cheaply and the consensus seems to be Upton should have brought more in return. But overall, I still like the offseason as a whole.
Position Players
Towers and Kirk Gibson said they want a lineup with versatility. They have that, especially if rookie center fielder
Adam Eaton
proves his .381/.456/.539 line at Reno wasn't completely just PCL inflation.
Gerardo Parra
is an excellent defender at all three outfield positions, Prado is a good glove at third base or left, they have multiple options at shortstop and Chavez is around to back up at third and first. Gibson can mix and match and platoon at several positions.
What this lineup lacks, however, is the Man. Now, as I wrote here, you
don't necessarily need a superstar
to build a playoff team around. It just makes it a little easier. The other issue: Who is the real
Aaron Hill
? The guy who hit .302 with 26 home runs in 2012 or the guy who hit .205 in 2010 and .246 in 2011?
Pitching Staff
Maybe this staff lacks a legitimate No. 1 --
Ian Kennedy
had such results in 2011, but his 2012 performance (4.02 ERA) is probably closer to what to expect in 2013 -- but it has quality depth.
Trevor Cahill
gives Gibson a second reliable -- if unspectacular -- 200-inning guy.
Wade Miley
had an outstanding rookie campaign, walking just 37 batters in 194.2 innings; his walk rate of 4.6 percent tied for sixth-best among all starters, and he has better stuff than the Tom Milones and Bronson Arroyos of the world. McCarthy comes over from Oakland, where he should be recovered from surgery after getting hit in the head by a line drive last September.
At the bottom of the staff, you have
Tyler Skaggs
, one of the best pitching prospects in the game, who had a six-start cup of coffee late in the season. The results weren't great (5.83 ERA), but the stuff was, and he's just 21. Delgado had a decent campaign with Atlanta, posting a 4.37 ERA in 17 starts; he's not a potential 1 or 2 like Skaggs, but if he improves his command, he has the stuff to be a solid back-end guy.
The bullpen is led not by closer J.J. Putz, but setup man extraordinaire
David Hernandez
and his deadly slider -- batters hit just .088 off it. Putz needs to be better than a 1-5 record with five blown saves.
I think it's an underrated rotation, especially once you factor in Arizona's home park. Miley gives the club the potential for a third 200-inning guy and if Skaggs is ready out of spring training, it could be a rotation that rivals the Giants and Dodgers for best in the division.
Heat Map to Watch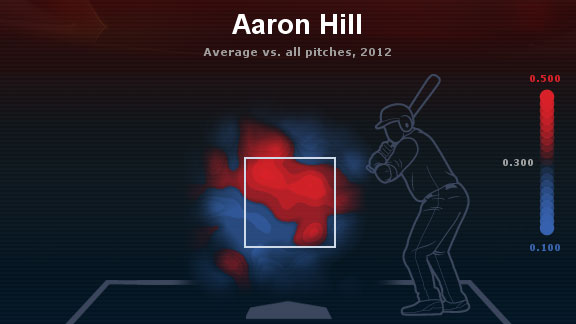 ESPN Stats & InformationAaron Hill tied for sixth in the majors in extra-base hits in 2012.
Hill had a monster 2012 season with 76 extra-base hits, the 13th-most by a second baseman since 1990. (Hill also had 73 with the Blue Jays in 2009). As you can see from the heat map, he feasted off high pitches, both hard stuff and soft stuff.
Overall Grade

A lot of people are going to be down on the Diamondbacks after trading a potential MVP candidate in Upton, but I like the construction of this roster, especially if rookies Eaton and Skaggs perform well (and I believe they will).
But the Diamondbacks don't
need
those guys to be stars right now, and that's why I like this team. I think the depth will play out, and Arizona battles San Francisco and Los Angeles for the NL West crown. What do you think?
July, 5, 2012
7/05/12
10:18
AM ET

Eric Karabell and myself debate which players deserve the final All-Star nods for each league.
July, 2, 2012
7/02/12
5:40
PM ET
The
Cincinnati Reds
are angry.
Dusty Baker is very angry
, accusing Tony La Russa of deliberately bypassing
Johnny Cueto
and
Brandon Phillips
in making his All-Star selections because of the infamous Reds-Cardinals brawl in 2010.
"A snub like that looks bad," Baker told reporters. "Johnny and Brandon were at the center of a skirmish between us and the Cardinals. Some of the Cardinals who aren't there anymore are making some of the selections."

La Russa
Look, Cueto deserved to make the team. La Russa countered Baker by saying, "If Dusty had been more interested in Cueto being on the team, then he wouldn't be pitching him on Sunday. Cueto probably would be on the team if he wasn't pitching Sunday."
Still when you go through the process step by step it's clear why Phillips and Cueto didn't make the team.
At second base, the fans voted in
Dan Uggla
as the starter and
Jose Altuve
was the players' choice. Once reserves from the players' vote were added -- guys like
David Wright
and
Ryan Braun
-- La Russa had four positions to fill. He went with Phillies catcher
Carlos Ruiz
, a clearly deserving All-Star; Marlins outfielder
Giancarlo Stanton
, the club's lone representative; Reds outfielder
Jay Bruce
; and Nationals shortstop
Ian Desmond
.
Let's debate Desmond versus Phillips. Desmond is hitting .276/.308/.484; Phillips is hitting .285/.329/.442. Similar numbers. Even if you give Phillips an edge for his glove (which is debatable), I don't see where you can argue that Phillips got the short straw here. Especially when
Aaron Hill
is probably more deserving than Phillips.
The Bruce choice is actually a bit perplexing, especially when you consider that La Russa chose him
over
Matt Holliday
or
Michael Bourn
, both of whom are having better seasons than Bruce. Holliday is hitting .307/.391/.502 compared to Bruce's .257/.326/.522. In fact, it's much easier to argue for Bruce's exclusion than it is for Phillips' inclusion.
OK, Johnny Cueto. He's 9-4 with a 2.26 ERA, a terrific ERA considering his home park. Once you get through the players' choices -- which included
Lance Lynn
-- La Russa had five spots for the pitching staff. His choices were
Clayton Kershaw
,
Cole Hamels
,
Wade Miley
,
Huston Street
and
Jonathan Papelbon
.
Miley was the Diamondbacks' lone rep. Street is the Padres' lone rep. You cannot fault for La Russa for choosing Kershaw and Hamels, obviously two of the best pitchers in the game and both having good seasons. The debatable selection is Papelbon, who isn't even having a particularly good season, and the Phillies already had Ruiz and Hamels on the roster. You can probably guess La Russa's thinking here: He'd prefer having a reliever pitching late in the game than a starter who isn't used to coming out of the bullpen. I'm not saying I agree with that, but I see the thought process, especially with Cueto scheduled to pitch Sunday.
La Russa did have a couple other options: He could have chosen
Chase Headley
as the Padres' representative -- but that would have meant over Desmond or Bruce. That would have allowed Cueto,
Zack Greinke
or
James McDonald
to be put on the roster instead of Street. He could have chosen Aaron Hill over Desmond, with one of the three starters going in place of Miley.
In the end, it comes down to difficult choices. Personally, I would prefer to see two of the deserving starting pitchers make it over the two relievers. La Russa better just hope that Papelbon doesn't lose the game.
July, 2, 2012
7/02/12
3:02
PM ET
Welcome to July episodes of the
Baseball Today podcast
. Mark Simon and I got the new week started with All-Star roster talk and much more!
1. From the good to the bad to the Dusty Baker, we tackle angles on who made and didn't make the All-Star teams, while trying to explain misplaced anger.
2. In other news, Carlos Lee stays out but Jim Thome heads to a contender.
3. In Simon Says, you can't miss the Kernel's all-same-name team!
4. Our power rankings are the same at the top, but not after the first five!
5. Emailers are curious about relievers, a one-game playoff and much more.
So download and listen to Monday's significant Baseball Today podcast, and hold the anger! Smiles for all!
June, 29, 2012
6/29/12
11:55
PM ET
It's amazing how quickly storylines can change over the course of just a couple of months.
When the season began, most people had the
Arizona Diamondbacks
pegged as the favorites to win the National League West. Of course, they got off to a brutal start, became somewhat of an afterthought, and the
Los Angeles Dodgers
were everyone's flavor of the month. Then the Dodgers cooled off and the
San Francisco Giants
got going and suddenly
Matt Cain
& Co. were the talk of baseball. Well, the D-backs haven't caught up just yet, but they're making it clear they should not be written off.
On Friday, Arizona second baseman
Aaron Hill
made history by becoming just the
second player of the modern era to hit for the cycle twice in a season
, and the D-backs thrashed the
Milwaukee Brewers
by a score of
9-3
.
Unlike their counterparts in Los Angeles and San Francisco, the D-backs have yet to really hit their stride this year. Sure, Hill (.849 OPS) and left-hander
Wade Miley
(2.19 ERA) are probably playing a bit over their heads, but a lot more has gone wrong than right for Arizona this year, which bodes well for a resurgence. For example:
1.
Stephen Drew
didn't play until this week.
2.
Ian Kennedy
hasn't been himself.
3.
Justin Upton
hasn't hit his stride.
4.
Daniel Hudson
is going to have elbow surgery.
Now, it would be easy to point to Hudson's injury as evidence that the D-backs can't win the NL West, but the one thing this club has is pitching.
Trevor Bauer
made his debut Thursday, and while it was rocky, there is plenty of reason to believe he can be a factor. And if not him, Arizona also has
Patrick Corbin
and Tyler Skaggs ready to step into the rotation. Also, as the Cardinals proved last season when they won the World Series in a year in which
Adam Wainwright
didn't pitch an inning, no pitcher is completely indispensable, and I think we can all agree that Wainwright is better than Hudson.
Now that the likes of Hill and Miley have done their part to keep Arizona alive, it's up to Upton, Kennedy and Drew to pick up the slack. Upton, who was bothered by a thumb injury earlier in the year, has been hitting about .500 over the past 10 days, which is a great sign for Arizona fans. Kennedy has an ERA of 4.20 and a
FIP
of 3.82, which suggests he's actually pitched a lot better than his traditional stats indicate. As for Drew, he'll almost certainly be an upgrade over
Willie Bloomquist
, who has actually been pretty good, but whose career .660 OPS suggests his current line of .297/.327/.407 is unsustainable.
Arizona is just four games behind San Francisco in the loss column, and considering all that has gone wrong thus far, that's a pretty good place to be.
February, 18, 2012
2/18/12
11:00
AM ET
By
You Can't Predict Baseball
| ESPN.com
Last year, You Can't Predict Baseball came up with
bold predictions
for the year. We had a lot of fun coming up with them, and then laughing at how hilariously wrong they were
at the end of the year
. This year, we're bringing these predictions to SweetSpot, along with explanations for some of them. Keep in mind, these predictions are supposed to be bold, but not insane -- even we know the Orioles aren't going to the playoffs in 2012.
Los Angeles Angels:
Kendrys Morales
stays healthy all year.
Houston Astros:
Bud Norris
is top five in K/9 in the NL.
We figured something good had to happen to the Astros, right? Norris actually has a pretty nice career K/9.
Oakland Athletics:
Yoenis Cespedes is their starting center fielder by Memorial Day.
Toronto Blue Jays:
Brandon Morrow
makes the jump to elite starting pitcher.
He's struck out more than 10 batters per 9 innings two years running, though his ERAs have remained ugly. We think this is the year his results finally match the stuff, especially considering his declining walk rate.
Atlanta Braves:
Julio Teheran
has more wins than
Tim Hudson
.
[+] Enlarge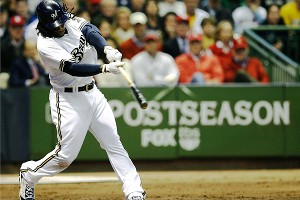 AP Photo/David J. PhillipWith Prince Fielder gone to Detroit and Ryan Braun facing possible disciplinary action, Rickie Weeks could lead the Milwaukee Brewers in home runs in 2012.
Milwaukee Brewers:
Rickie Weeks
leads the team in home runs.
He was fourth on the team last year, with 20. In front of him were Corey Hart with 26, Ryan Braun with 33, and Prince Fielder with 38. Fielder is gone, and for this prediction we'll assume Braun will miss a third of the year due to a suspension. It's not too bold to think Weeks could pass Hart in 2012.
St. Louis Cardinals:
Carlos Beltran
outproduces
Albert Pujols
from last year.
Albert Pujols was great last year, but not quite best-player-of-his-generation Albert Pujols. If healthy, it's not absurd to think of Beltran outproducing Pujols' 5.1 WAR in 2011.
Chicago Cubs:
Matt Garza
isn't their best pitcher.
It'll be Ryan Dempster, who had great peripherals but bad results last year.
Arizona Diamondbacks:
Aaron Hill
will be good again.
He was great with them in limited time, and Arizona's park is quite hitter-friendly.
Los Angeles Dodgers:
James Loney
will be a top-three first baseman in the National League.
Many thanks to Mike Scioscia's Tragic Illness for somewhat alerting us to this one. We just decided to take it semi-absurdly far.
San Francisco Giants:
Madison Bumgarner
is their best pitcher.
In terms of ERA, he already wasn't very far behind Matt Cain and Tim Lincecum, and his K/BB ratio eclipsed theirs by quite a bit.
Cleveland Indians:
They'll have the best pitching in the American League Central.
We're banking on Ubaldo Jimenez, making a major comeback to something closer to what he was in 2010, and the rest of the staff displaying the good that they did in 2011. We're also counting on the Tigers' starters not being very impressive behind Justin Verlander, which is bold but not quite insane, and the pitching of the White Sox, Twins and Royals not being able to keep up with Cleveland's.
Seattle Mariners:
Jesus Montero
catches 100-plus games.
The Mariners probably aren't going to compete, so why not try and play him where he'll accrue the most value?
Miami Marlins:
Despite all their new acquisitions and the hype, they still finish fourth in the NL East.
When you think about it, this one isn't so crazy. If Josh Johnson isn't healthy and maybe even if he is their pitching still trails that of Philadelphia, Washington, and Atlanta; even with Heath Bell, we don't think their bullpen is as good, either. Their offense might be better than some of those teams', but the Marlins were quite a bit below league average offensively last year and we're not sure how much Jose Reyes is going to make up for that.
New York Mets:
Mike Pelfrey
is the worst starter in the NL.
Pelfrey's been pretty terrible two of the past three years, and now they're moving the fences in at Citi Field. He was far better in his huge home stadium, but we're guessing with the moved-in walls he'll be significantly worse at Citi. Here at YCPB, we actually don't think the Mets are going to be quite as dire as many are saying, even if they do come in last place in the NL East - but Pelfrey won't be a bright spot.
Washington Nationals:
Stephen Strasburg
has a 17-strikeout game.
Baltimore Orioles:
Matt Wieters
is the best catcher in the AL.
A lot of people are so obsessed with Wieters not matching the hype that they didn't notice he became a plus offensive performer last year, to go along with very good defense. His taking the next step isn't that bold as predictions go, especially if Joe Mauer has to move off catcher.
San Diego Padres:
Luke Gregerson
is a top-three closer in the NL.
Philadelphia Phillies:
Cole Hamels
is their best starter.
And this isn't meant to be a slight to Roy Halladay or Cliff Lee, but considering their ages and the fact that Hamels is pretty darn good himself, plus a possible boost from a contract year...
Pittsburgh Pirates:
Charlie Morton
is their All-Star.
Texas Rangers:
Yu Darvish
isn't their best starter -- but he's still good.
And we think he'll be pretty good, we just think Derek Holland will become more consistently good, or Matt Harrison will put up numbers like his 2011.
Tampa Bay Rays:
James Shields
will have no complete games.
Predicting someone to have no complete games might not seem bold, but it is when it's a guy who was known as "Complete Game James" last season. Shields did have 11 complete games in 2011, an almost unheard-of number these days, but he had no complete games in 2009 or 2010.
[+] Enlarge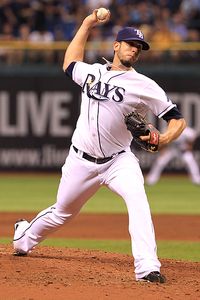 Kim Klement/US PresswireAfter none in either 2009 or 10, James Shields pitched 11 complete games for Tampa Bay in 2011.
Boston Red Sox:
No one hits 30 home runs.
This might seem crazy when you consider their great offensive numbers last year, but only one player on their team hit 30 home runs and it was Jacoby Ellsbury with 32.
Cincinnati Reds:
Brandon Phillips
is the best second baseman in the NL.
Colorado Rockies:
Jamie Moyer
will have the best HR/9 on the staff.
Kansas City Royals:
They reach .500.
While their pitching won't be great, their offense will take a big step forward this year. Combined with the rest of their division being the Tigers and some dumpster fires, it's not that difficult to see it happening.
Detroit Tigers:
They score fewer runs than they did in 2011.
Yes, that's even with Fielder. It's not improbable that Jhonny Peralta, Alex Avila and Delmon Young regress quite a bit from their numbers with Detroit last year, and that Prince Fielder's production "only" makes up for the offensive loss of Victor Martinez in 2012. They'll still have a very good offense, though.
Minnesota Twins:
Joe Mauer hits 15 home runs.
Chicago White Sox:
Robin Ventura gets ejected more times than Ozzie Guillen.
Look at the state of the White Sox. We'd get ejected too.
New York Yankees:
Hiroki Kuroda
leads the team in ERA.
You Can't Predict Baseball is an affiliate of the SweetSpot network.
August, 24, 2011
8/24/11
3:05
PM ET
We crammed an hour's worth of discussion into just more than 30 minutes on
Wednesday's Baseball Today
with Jim Bowden. Among the topics:
1. Is there actually any chance the Rockies and Astros will complete a trade for
Wandy Rodriguez
?
2. Jim breaks down the Arizona-Toronto trade and we try and figure out what Kirk Gibson will do with his new infielders.
3.
Bartolo Colon
struggled again, so how would Jim align the Yankees' postseason rotation right now? And would Detroit start
Justin Verlander
on three days' rest? Hey, it's never too early to talk about the playoffs!
4. Jim explains why the Padres are unlikely to trade
Heath Bell
.
5. How important is the final month for
Jose Reyes
?
Plus: User emails,
Jered Weaver
's new contract, can
Matt Kemp
and
Clayton Kershaw
bring home some big hardware and more, all on Baseball Today.
March, 2, 2011
3/02/11
10:57
AM ET
By
Chris Quick
| ESPN.com
I hate to say it, but when it comes to evaluating baseball players, I'm a slave to power. I love watching batters launch home runs. I love to see players like
Albert Pujols
hit tape-measure shots. Power is seductive. However, hitting for power isn't a guaranteed route to success in the majors. In fact, there have been more than just a few players who have hit for power and, at the same time, have been poor offensive players.
For this post, I wanted to rank those players who struggled while hitting for power. Using Baseball Reference's handy-dandy Play Index Tool, I ran a query with the following parameters: At least 500 plate appearances in a season, at least 25 home runs hit, and ranked by Adjusted OPS (or OPS+). I ran this search from 1950-2010.
Our top 10 list for sluggers who struggled looks as follows:
10. Chris Young
,
Arizona Diamondbacks
, 2007, 32 HR, 88 OPS+
You can probably forgive Chris Young's 2007 season depending on how you view his defense. Like most on this list, Young hit for great power but his OBP checked in at a dreadful .295. You can hit all the home runs in the world, but if you can't get your OBP over .300 you're in trouble.
[+] Enlarge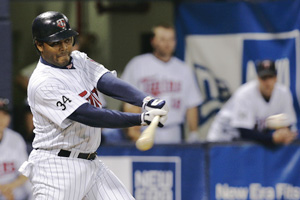 AP Photo/Ann HeisenfeltTony Batista had almost as many home runs (221) in his 11-season career as he did walks (287).
9. Tony Batista
,
Toronto Blue Jays
/
Baltimore Orioles
, 2001, 25 HR, 87 OPS+
The infamous Tony Batista. I have to admit that before I ran this list, I knew I would see a lot of Batista. His batting stance was fun to watch, but all Batista (and I mean all) did in his career was hit home runs. He might be the worst hitter in baseball's history to hit at least 200 career home runs.
8. Jeff Francoeur
,
Atlanta Braves
, 2006, 29 HR, 87 OPS+
This was Francoeur's follow-up season to his promising 2005 rookie year. The homers were nice, the plate discipline (23 walks, 686 PAs) was terrible. Francoeur never met a pitch he didn't like and he's currently set to play 2011 in Kansas City. I'm sorry, Royals fans.
7. Andruw Jones
, Atlanta Braves, 2007, 26 HR, 87 OPS+
Jones' lack of productivity, even with power, is forgivable depending on how you rate his defense in center field. And even in 2007, by most metrics, Jones was still a solid plus in center field. This was, however, the downturn in Jones' career as a hitter.
6. Brandon Inge
,
Detroit Tigers
, 2009, 27 HR, 87 OPS+
You would think that you could at least eke out league average production with 27 homers in your back pocket. Inge only batted .230 in '09 to go with a super low OBP of .314 -- that will wreck anyone's season.
5. Tony Armas
,
Boston Red Sox
, 1983, 36 HR, 85 OPS+
In '83 Armas was second in the AL in homers behind only Jim Rice. He slashed (.218/.254/.453) his way to a below-average season. Armas gets the nod for the hitter with the most homers on our list.
4. Vinny Castilla
,
Colorado Rockies
, 1999, 33 HR, 83 OPS+
I'm kind of surprised that Castilla is the only Coors Field bopper to make our list. Before the Rockies installed the humidor, Coors Field played like some weird trumped-up version of spaceball. Fun fact: Castilla hit 20 of his 33 homers at home.
3. Tony Batista
, Montreal Expos, 2004, 32 HR, 80 OPS+
Holy Batista! I stand firm by my statement that Batista is the worst hitter to ever accrue 200+ career dingers. Yet, in order to hit 200 career homers, you've got to be given the chance. Making it equally frightening is that he played 11 seasons. Ah, such is the alluring power of the homer.
2. Aaron Hill
, Toronto Blue Jays, 2010, 26 HR, 79 OPS+
Coming off a very solid 2009 (114 OPS+), Aaron Hill had a 2010 to forget. The homers mostly carried over from 2009 (36 to 26), but his OBP fell to .271 compared to a career .325. The culprit? A .196 BABIP -- the lowest among all qualified hitters in the majors. Hill seems like a nice rebound candidate next year.
1. Tony Batista
, Baltimore Orioles, 2003, 26 HR, 73 OPS+
Were you really expecting anyone else? Batista's 2003 is a masterful display of hitting for power at all costs. He didn't walk (28 BB, 670 PA), and to make things worse he hit into a career-high 20 double plays.
Tony Batista, incredible baseball player or the most incredible baseball player? You decide.
Chris Quick writes for Bay City Ball, which is part of the SweetSpot blog network.
February, 12, 2011
2/12/11
1:00
PM ET
By
Drew Fairservice
| ESPN.com
To call general manager Alex Anthopoulos a folk hero in Toronto does him a disservice. Sources tell me plans for a statue in his honor are already under way, a tribute to the Great Unloading (also known as the
Vernon Wells
trade). Despite not sniffing the playoffs in 18 years, an incredible amount of good will and buzz surrounds this
Toronto Blue Jays
team. The minor league system underwent a complete overhaul and the team hired a fleet of scouts. It is hard to argue the future isn't bright in Toronto.
[+] Enlarge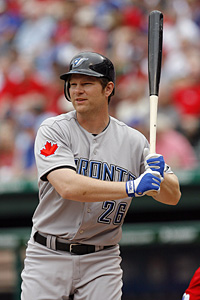 Tom Pennington/Getty ImagesThe Blue Jays are counting on a productive season from slugger Adam Lind.
Until we consider 2011, that is. The 2010 Blue Jays won a surprising 85 games, never competing seriously for a playoff spot but making a good show of themselves in the process. The young pitching staff excelled in the absence of
Roy Halladay
with
Ricky Romero
and
Brandon Morrow
jostling for the Opening Day starter role for years to come. Free-agent acquisitions
John Buck
and
Alex Gonzalez
provided best-case scenario contributions: huge power numbers for cheap before giving way to draft pick compensation (in Buck's case) and sell high/buy low trade opportunities (i.e. Gonzalez traded for
Yunel Escobar
.)
While the Jays brass keep their eyes firmly on the prize -- with 2012 pegged as the earliest possible season to make a playoff run -- the expectations of many fans jumped ahead of the intricate plan laid out by the brain trust. Fans clamber for big-name signings, hoping the elusive final piece falls into their collective lap.
For Blue Jays fans, the immediate future might be a little rockier than they expect. None of the losses suffered by the Blue Jays figure to torpedo the season. For the team to win 85 games again, far too many things must go right.
The rotation must stay healthy. While the No. 5 starter spot saw more than its share of pretenders; the top four Blue Jays hurlers toed the rubber at least 25 times apiece. A figure that would be higher had the team not shut down Morrow early in September. While replacing
Shaun Marcum
's 200 innings is tough, it won't be the first time this team filled a gaping rotation hole. Young
Kyle Drabek
has the makeup and stuff to slot into the rotation directly, but he, too, comes with innings limits.
Staying healthy is vital for every team, rebuilding or otherwise. The Jays racked up the third-most days spent on the disabled list in all of baseball,
according to Fangraphs research
. A closer look at those numbers reveals the true impact of these maladies wasn't quite so severe.
Dirk Hayhurst
,
Jesse Litsch
,
Scott Richmond
and
Dustin McGowan
spent much of or all of 2010 on the shelf. Only McGowan at his peak had an honest shot of making the rotation or any discernable impact.
The bullpen underwent a complete rebuild as well. A virtual parade of competent right-handed pitchers now lurk in the 'pen, hoping to scoop up whatever stray saves come their way. Losing versatile "setup" man
Scott Downs
is a huge blow for any team. Downs was long the team's best reliever and the man generally tasked with the highest-leveraged work.
Adam Lind
and
Aaron Hill
need to decide which season was a fluke: Was it 2009, when they powered the middle of the lineup, or their ugly 2010 seasons?
Jose Bautista
is not going to hit 54 home runs again, so the Jays need these two key players to produce runs in bunches. Maybe throw a walk in there for good measure.
The future is bright for the Blue Jays. Financial agility coupled with a renewed pipeline churning out major league-ready talent positions the Jays perfectly to make multiple runs at the playoffs. Be prepared for some growing pains in 2011.
Drew Fairservice writes the Blue Jays blog Ghostrunner on First. Follow him on Twitter.
May, 19, 2010
5/19/10
3:03
PM ET
From the ol' mailbag today:
Rob- any thoughts on the Jays? They have been one of the hottest teams the past month yet it remains a struggle to get any air time from ESPN. I recognize that it is early, and they will likely not end up contending by season's end but what does it take to at least get a blog?? Some great stories here around some young pitching, Wells re emergence and Cito all of a sudden looking like a genious again.



- Regan (Toronto)
The Jays' hitting is full of bizarre anomalies, not so surprising considering that we're still in May.
John Buck
,
Alex Gonzalez
, and
Jose Bautista
are all out of their minds, while
Lyle Overbay
,
Aaron Hill
, and
Adam Lind
are all hitting below their weight (which essentially works only if you play first base for the Brewers). I should probably throw
Vernon Wells
in there somewhere, too, if only because .627 seems like a fairly high slugging percentage even for a player with such obvious talents.
Travis Snider
might be the only guy in the lineup who's reasonably close to pegging his projections.
Leaving all that aside, the Jays are second in the league in scoring but have the 10th-best on-base percentage, and I'm not real sure that's a combination with much long-term viability. Which means the Jays' overall performance probably isn't sustainable, either. The big story has been
Shaun Marcum
and
Ricky Romero
, and there are certainly good reasons to think they both are (or will become) fine major league pitchers. But the rest of the rotation is
loaded
with question marks, as
Dana Eveland
doesn't strike out enough guys,
Brandon Morrow
walks too many guys, and
Brett Cecil
feeds too many gophers (so far, anyway).
I wish I had better news, Regan. But I just don't see these Jays as better than a .500 team, and I think they're probably more likely to finish below than above.
November, 2, 2009
11/02/09
4:29
PM ET
We don't know the Gold Glove winners yet, but do have
the Fielding Bible winners
:
P:
Mark Buehrle
(8)
C:
Yadier Molina
(9)
1B:
Albert Pujols
(9)
2B:
Aaron Hill
(6)
SS:
Jack Wilson
(6)
3B:
Ryan Zimmerman
(6)
LF:
Carl Crawford
(10)
CF:
Franklin Gutierrez
(9)
RF:
Ichiro Suzuki
(9)
Those numbers in parentheses represent the number of first- and second-place votes each winner received. As you can probably guess, most of the tallies weren't particularly close. It was fairly close at third, but Ryan Zimmerman (my choice) had six first- or second-place votes while none of the three third basemen who essentially tied for second had more than four.
Which leaves only second base and shortstop, and both were
extremely close
; in fact, there was a tie at second base:
It's the second Fielding Bible Award for Hill (he won the 2007 award), and it didn't come easily. The regular voting by the panel ended in a tie between Hill and Dustin Pedroia at 76 points with Chase Utley just three behind. For the second time in the history of the award, we went to the tie-breaker. The first tie-breaker rule is based on the player with the most first-place votes. Hill wins because he had four first-place votes from our ten panelists to only one for Pedroia.
I was one of the 10 panelists, and I'm as much to blame for the tie as anyone. I listed Pedroia first, Utley second ... and Hill
eighth
(two other panelists, Peter Gammons and "Tango Fan Poll," had him seventh).
Why eighth? I look at (among other things) whichever statistics I've got close at hand. The Fielding Bible panelists are provided with Baseball Info Solutions' fielding data, but we're encouraged to draw upon any resources we choose. According the Fielding Bible data, Hill saved 15 runs in 2009, third best in the majors. And he led the majors in Runs Saved in both 2006 and 2007, which of course suggests that 2009 wasn't a fluke. On the other hand, FanGraphs' Ultimate Zone Rating actually rates Hill as a below-average second baseman this year, and just a bit above average in 2007 and '8. Faced with this contradiction, I couldn't rank Hill above Pedroia and Utley, both of whom post outstanding defensive numbers every year.
In retrospect, though, I believe that eighth was too low for Hill. Particularly considering that Baseball Prospectus, like Baseball Info, has Hill as an outstanding fielder in 2006, 2007, and again in 2009 (he was hurt in 2008).
Frankly, I blew that one. And if Hill had lost the award, I would feel like a heel right now. He should have been in my top four or five, and there shouldn't have been any need for a tiebreaker.
The other close one was Wilson at shortstop, as he trumped
Troy Tulowitzki
by just one point, 86-85. Wilson finished first on five ballots but fourth on two ballots and sixth on the Tango Fan Poll ballot. I ranked Wilson No. 1, but not without serious misgivings because he started only 105 games at shortstop all season. But you know, George Brett started only 113 games in 1980, and he won the American League MVP Award. Wilson dominated shortstops in 2009 the way Brett dominated American League hitters in 1980.
That said, I ranked Tulowitzki fifth, lower than any other panelist; if I'd ranked him third, he would have edged Wilson by a single point.
I take my Fielding Bible ballot seriously. It takes me hours and hours to finish, and I would be willing to bet the contents of my piggy bank that I spend more time on my ballot than even the most conscientious Gold Glove voter spends on his. But I believe I made at least one mistake this time around, and it almost mattered. Next time around, I need to take my ballot even more seriously.
August, 10, 2009
8/10/09
4:49
PM ET
Is
Aaron Hill
playing just about as well this year as
Dustin Pedroia
did last year? Robert MacLeod argues that they're
a lot closer
than you probably think:
Last season Dustin Pedroia hit .326 with 83 runs-batted-in and 17 home runs while playing a pretty decent second base for the Boston Red Sox.

And for that Pedroia was chosen the winner of the American League's most-valuable-player award.

This season Aaron Hill – who also happens to play a pretty decent second base for the Toronto Blue Jays – is hitting .291 with 26 home runs and 76 RBI with roughly one third of the regular season still left to play.

The big difference with that comparison is that Pedroia played on a team that made a solid run into the playoffs, a possibility that remains a pipe dream for the Blue Jays, who will be lucky to finish the season with a .500 record.

--snip--

Canadian Justin Morneau of the Minnesota Twins leads the A.L. in home runs with 28 while Hill's 26 has pulled him into a second-place tie with Mark Teixeira of the New York Yankees and Carlos Pena of the Tampa Bay Rays.

"Don't put me in that category," Hill said with a smirk after Saturday's game when reminded of the company he is now keeping. "Those guys are proven home run hitters. I'm just getting lucky."

Lucky or not, there's no doubt Hill, who was chosen to his first all-star game this season, would be garnering some MVP support if the Jays were still in the A.L. playoff hunt.
There's no question about it: Hill is enjoying one fine season.
For him.
The comparison to Pedroia doesn't work, though. Not beyond the most basic statistics, anyway. Aside from the home runs, Pedroia did everything better last year than Hill is doing this year.
Last season, Pedroia batted .326; Hill is batting .291.
Pedroia finished last season with a .376 on-base percentage; Hill's sitting, right now, at .329.
Pedroia hit 54 doubles; Hill is going to finish with around 30.
Pedroia stole 20 bases while being caught just once; Hill has four steals this season.
Pedroia won a Gold Glove last year (and might have deserved it); it's actually Hill who's just "pretty decent."
Say what you want about the MVP process, but last year the voters -- in all their inconsistent, subjective, rationalizing glory -- went with the guy who led the American League in Wins Above Replacement.
And this year? As well as he's playing -- and again, there's that little matter of the .329 on-base percentage -- Aaron Hill this year isn't one of the dozen best players in the American League. I can't guarantee that Hill wouldn't draw some MVP support if the Blue Jays were contenders ... but then again, if they were contenders they'd probably have better MVP candidates than him.