February, 26, 2011
2/26/11
2:30
PM ET
By
Steve Buffum
| ESPN.com
As I prepare this post, the Indians are reported to have signed Phillies reliever
Chad Durbin
to a contract. On the surface, this doesn't seem all that sensible: The Indians aren't going to win this season, and they have quite a few internal candidates who would benefit from major league experience to see if they can be valuable members of Cleveland's next playoff team. Heck,
Joe Smith
was signed to a non-minimum deal to avoid arbitration, and he just got sent to Triple-A to make room for
Orlando Cabrera
. (I'm not saying I'm excited by signing O, but I understand the thinking there at least.)
[+] Enlarge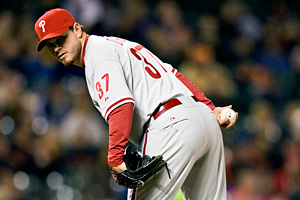 Jason O. Watson/US PresswireNew reliever Chad Durbin joins a crowded bullpen in Cleveland after a stint in Philadelphia.
Besides Smith, no fewer than eight right-handed candidates exist for the bullpen:
Jensen Lewis
,
Justin Germano
,
Vinnie Pestano
,
Frank Herrmann
,
Jess Todd
, Bryce Stowell, Zach Putnam,
Joe Martinez
and
Andy Marte
. Okay, not Andy Marte. He did have a 0.00 ERA and 9.0 K/9 rate last season, though.
(I am not including
Chris Perez
, who was excellent as a closer last season. He is the closer. Everyone else does … everything else.)
Still, even understanding the attrition rate of young relief pitchers (not to mention the fact that not one of these players looks to be elite), signing Durbin seems, well, kinda pointless.
There is one especially galling issue with Cleveland relievers from 2010, though:
Lewis: 19 BB in 36.1 IP

Pestano: 5 BB in 5 IP

Smith: 24 BB in 40 IP

Tony Sipp: 39 BB in 63 IP
Overall, Cleveland relievers walked 210 batters in 484 1/3 innings. This is simply too many free passes. And while Herrmann only walked nine hitters in 44 2/3 innings, he gave up six homers, negating much of the value of limiting walks. (Only Sipp with 12 and
Hector Ambriz
with 10 allowed more for the Tribe in relief.)
Still, a funny thing happened on the way to making a joke about the Cleveland bullpen: The bottom five guys were
Aaron Laffey
,
Jamey Wright
, Ambriz,
Kerry Wood
, and Todd. Laffey is kind of an ersatz starter/swingman: of the other four, Wright was waived, Ambriz blew out his UCL, Wood was traded (and subsequently signed with the Cubs), and Todd will go back to playing Luke on "Modern Family" in all likelihood. (Untrue, but he does look youthful, and he is unlikely to pitch much in the majors in 2011.)
Eveyone else in the bullpen had an ERA under 4.15.
Overall, the Indians sported a 3.83 ERA even
with
Woods' 8.10 ERA and Ambriz's 1.76 WHIP. In the second half, the bullpen posted an ERA near 2.50.
Still, it's probably nice to have a veteran arm: on the salary list for the Cleveland 40-man roster, two pitchers are listed as making more than $430,000, and one is
Rafael Perez
at $795,000. (
Fausto Carmona
is well-paid.) And Durbin did a better job at limiting free passes (27 in 68 2/3 IP) than most Cleveland relievers last season.
If there's a concern with Durbin, it's that he's been worked pretty hard the past three seasons. Now 33, he threw 87 2/3, 69 2/3, and 68 2/3 innings as a pure reliever over that stretch. The last time someone got aired out like that at a similar age before signing with Cleveland, he was
Juan Rincon
, and we did not care for the experience. On the other hand, Durbin gave up only four homers in 37 2/3 innings in Philadelphia's bandbox, so there's some hope than Rincon II is not forthcoming.
Cleveland's rotation really needs a lot to go right to be even average, and there are reasons to think there will be some extra innings for the bullpen to absorb. Keep in mind, though: this was, in all likelihood, the thinking behind signing Jamey Wright, too.
Steve Buffum writes The B-List, a blog about the Cleveland Indians.
May, 7, 2009
5/07/09
1:51
PM ET
Maureen Mullen writes about
the Indians' pitching shakeup
:
The problem -- an ineffective bullpen -- may be easy to identify. The solution, not quite as easy.

"I think what's most troubling is that the inconsistency in the bullpen continues to be an issue," said Indians general manager Mark Shapiro, in the visitors' dugout before Wednesday's game at Fenway Park. "We've got to take a deep look at it and be thorough in how we examine it. We got to examine how we construct it, pick our players, we got to examine our performances, our coaching, everything. We've spent time doing that already, but we need to continue to do it and we need to do it more in depth."

After watching his bullpen blow Tuesday's lead in Toronto, surrendering seven runs in the seventh inning on the way to 10-6 loss, Shapiro joined the team in Boston. Although it was a scheduled trip and not a reaction to his team's play of late, Shapiro announced a series of moves intended to shore up the shaky 'pen.

Left-hander Aaron Laffey, Thursday's scheduled starter, was moved into the bullpen before Wednesday's game against the Red Sox, left-hander Rafael Perez was sent to Triple-A Columbus and left-hander Jeremy Sowers will be recalled from Columbus to start Thursday's game in Boston.

--snip--

In 13 games this season, spanning 10 2/3 innings, Perez has allowed 18 earned runs -- including 19 hits, one home run, nine walks (two intentional), five strikeouts, a hit batter and a balk -- for a 15.19 ERA.

Shapiro said the goal for Perez in returning to the Minors would to give him "the chance to just catch his breath a little bit and get in some regular work down there."
Before checking, I didn't realize how well Perez pitched last year. Yes, his ERA jumped from 1.78 in 2007 to 3.54 in 2008. But he'd been a little bit over his head as a rookie in '07, and his strikeout rate and strikeout-to-walk ratio were still quite good last year. He entered this season, then, with as solid a résumé as you'd find in a 27-year-old lefty setup man.
Looking at Perez's Pitchf/x data, he seems to be throwing as hard as ever. My guess is that he's just going through a little run of bad luck, which perhaps isn't being helped by (now) a small crisis in confidence. If he's healthy, he'll dominate in Columbus and be back with the big club soon.
It's nice to see Sowers getting another shot. The sixth pick in the June draft five years ago, Sowers has little star potential. He just doesn't miss enough bats. But he's only 26 -- well, he turns 26 next week, and in 45 Triple-A starts he's 19-9 with a 2.53 ERA. Aaron Laffey's been good in the minors, too, and he's a few years younger than Sowers. Eventually there will be room for both of them in the rotation, as Anthony Reyes doesn't figure to last a whole lot longer in his current role.