August, 21, 2012
8/21/12
1:49
AM ET
By
Christina Kahrl
| ESPN.com
Yes, you can never have enough pitching. You win with it, you lose to it, you can't live without it and, if the margins are narrow enough, you live and die with every pitch. Welcome to Bruce Bochy's world in a Melky-free world. And welcome to the reason why he can thank his lucky stars that he's the man managing a rotation with
Matt Cain
,
Ryan Vogelsong
and Monday night's starter against the Dodgers,
Madison Bumgarner
.
Bumgarner was in perfect command against the evil SoCal boys in blue, mowing them down through eight scoreless frames while whiffing 10
in San Francisco's 2-1 victory
. Just another day at the office for one of the Giants' rotation horses, his 18th quality start on the season, and a reminder that this club is far from done where the National League West race is concerned.
But there's more to it than that. This summer, with all the talk of extending or overextending young superstar prospects on the mound during a pennant race, Bumgarner is a great example of the wisdom of not letting expectations set your timetable where young pitching is concerned. Coming into 2010, Bumgarner was supposed to be all that, flame-throwing southpaw'd greatness in cleats at the tender age of 20. And then he wasn't -- he wasn't throwing hard, having lost five miles per hour off his heat from his minor league days. He wasn't mowing people down. He wasn't greatness in cleats, or street shoes or flip-flops.
He also wasn't hurt, although preseason conditioning turned out to be an issue. But from that seeming disappointment, Bumgarner has significantly changed his repertoire from what he was when he was a top prospect. His velocity has remained in low-90s territory, but he has come to rely more and more on a devastating slider that has helped him boost his swings-and-misses to a 16 percent clip despite whatever it was he lost on his fastball. He's arguably a better pitcher as a result. He's also only just turned 23, and more than a year younger than
Stephen Strasburg
.
That deafening silence you hear over Bumgarner's birth certificate is the concern over his workload. Because without starting pitching, the Giants could be done. But if
Tim Lincecum
really does get his kinks ironed out, they may have four horses to ride all the way to the end.
If we can credit Bochy for helping keep Bumgarner saddled up and delivering, we might also credit Bochy for always being willing to wangle some extra way to score to make good on the slender margins his pitchers provide. Whatever the talent Bochy is working with, and even whatever the defensive sacrifices he might have to make behind that starting staff.
Picking between
Justin Christian
and
Gregor Blanco
to start in
Melky Cabrera
's place in the outfield is sure to make you ask where
Nate Schierholtz
got to (Philadelphia), and what's behind Door No. 3, but we'll see what Bochy's willing to risk in the weeks to come. If general manager Brian Sabean swings a waiver deal for a veteran bat, don't be surprised -- it's the sort of move he has been able to pull off in the past, and again, with this kind of pitching, a little bit of offense goes a long way.
Bochy is so hungry for runs, he's even platooning at shortstop lately, spotting
Joaquin Arias
' single-riffic plinky-ness for
Brandon Crawford
against the league's lefties. Platooning at a key up-the-middle position like short? That might work considering Arias' .818 OPS against lefties in about 200 big-league plate appearances, but it's also slightly more risky this season than in years past, because the Giants are no longer leading the league in strikeout rate, instead whiffing opponents a very league-average 20 percent of the time. That means more balls in play, and more chances the defense could cost you. The Giants are a little above-average in defensive efficiency (.696, vs. the NL-standard .690), but it's still a risk.
Then again, this is the manager who helped the Giants win it all in 2010 by coming up with one of the craziest platoons of recent memory: Splitting at-bats between first baseman
Travis Ishikawa
and center fielder
Aaron Rowand
in the lineup across first base and the outfield in July through Aug. 14, while moving
Andres Torres
and
Aubrey Huff
around to accommodate them. Rotating in Ishikawa helped launch a 27-13 Giants run that preceded their deals for
Jose Guillen
and
Cody Ross
. It had less to do with Ishikawa's greatness than it did with working with what Bochy had at his disposal and getting enough runs to win with an incredible pitching staff.
In short, Bochy has got a well-earned rep as a lineup MacGyver: Give the man some used gum, a pencil and a Topps card to be named later, and he might just give you an edge, part of the reason why Chris Jaffe's excellent book "Evaluating Baseball's Managers" described him as one of the most underrated skippers in baseball history.
One of the things Jaffe suggested in his book was the Achilles' heel that Bochy's teams had back in San Diego when he managed the Padres was that they tended to be short on pitching. Happily for him and for the Giants, thanks to Madison Bumgarner & Co. that's one problem this year's Giants don't have.
PHOTO OF THE DAY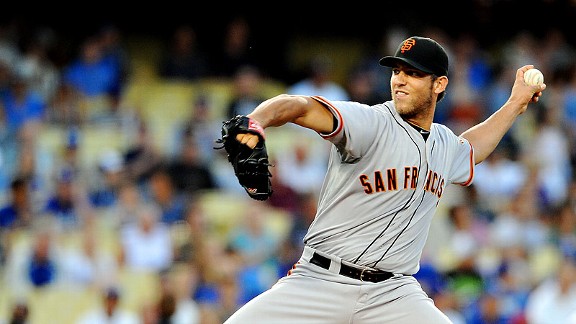 Jayne Kamin-Oncea/US PresswireOn nights like Madison Bumgarner had on Monday against the Dodgers, two runs will do.
Christina Kahrl covers baseball for ESPN.com. You can follow her on Twitter.
August, 31, 2011
8/31/11
11:13
PM ET
Baseball lesson No. 3,247: The trade deadline rarely is the cure for a team's ailments.
Oh, sure, sometimes you find the right Band-Aid.
And sometimes you trade for
Carlos Beltran
or
Ubaldo Jimenez
and the cut turns into a bleeding wound.
The Giants entered Wednesday six games behind the Diamondbacks. While the offense "burst" out with four runs and 12 hits to avoid being swept by the Cubs, Beltran went 0-for-3 with a walk, dropping his numbers with the Giants to .260 with one home run in 77 at-bats and an on-base percentage less than .300.
Meanwhile, Jimenez had one of his better starts since joining the Indians, allowing three runs in six innings. But in six starts with Cleveland, he has been homer-prone (six home runs, just four fewer than he allowed all of 2010) and has allowed 25 runs for a 5.56 ERA.
Both trades drew their share of criticism at the time: namely, that Zack Wheeler was too much of a price for the Giants to pay for a two-month rental, and that the Indians were unlikely to win the American League Central, even if Jimenez delivered down the stretch.
Truth is, the Giants' woes began long before the Beltran trade. He's not the only reason the team has hit .231 in August while averaging fewer than three runs per game. As the team saw its division lead slip away this month, GM Brian Sabean finally found a couple of fall guys Wednesday when veterans
Miguel Tejada
and
Aaron Rowand
were designated for assignment.
"We're at a spot in the season where we have to do some damage control with the roster. A couple things played into it. In both cases, there was diminished playing time, diminished roles," Sabean said.
A couple things? Like the fact that Tejada and Rowand were predictably awful? What took so long for Sabean to realize damage control was needed?
Here's what I wrote about Tejada on Opening Day, after he made a critical error: "He's 36 now, his bat is slowing and many people don't think he has the range to play shortstop anymore. The Giants took a chance, signing him to replace the departed
Juan Uribe
. Reports from spring training weren't good. ... Is he too old? His legs might not have Chipper's scars, but they're still the legs of somebody who has played more than 2,000 major league games, clocking in 150-plus games year after year."
On April 28, I wrote, "Considering Tejada isn't hitting either, how long will the Giants stick with him?" On May 25, I wrote, "What can I say that everybody else hasn't already said? With
Pablo Sandoval
back in maybe two weeks, I'm guessing Tejada's Giants career will end in two weeks."
It only took just more than three months from that point for Sabean to finally cut loose Tejada, despite a .239/.270/.326 (BA/OBP/SLG) batting line that essentially left him below replacement level.
Rowand was signed to a five-year, $60 million contract after a career-best 2007 season with the Phillies. The signing was roundly criticized at the time, and it got more disastrous with each season. In 2008, he posted a .749 OPS, below the league average hitter. In 2009, he posted a .738 OPS, barely acceptable for a starting outfielder. In 2010, he posted a .281 on-base percentage and .659 OPS, but the Giants won the World Series anyway. With Rowand making $13.6 million in 2011, the club brought him back, which is like your friends who keep acting surprised when their dog pees on the carpet. Rowand's OBP this season: .274.
Yes, the Giants got ravaged by injuries. I don't think Sabean and Bruce Bochy entered the season believing they'd give 351 plate appearances to Aaron Rowand. But here's how you make sure that doesn't happen: Don't have Aaron Rowand on your roster.
As for Jimenez, I had hopes he'd pitch better. He had been the only starter in Rockies history to have consistent success in Coors Field but had struggled there in 2011 with a 5.55 ERA. Maybe a change of scenery would be a good thing. He's had some positive results, like a 38/11 SO/BB ratio in 34 innings, and his season strikeout total of 156 in 157 innings is a good sign that his stuff is still fooling major league hitters, but the bottom line is he hasn't kept enough runs off the scoreboard.
Hey, some of this is second guessing, I admit. It's hard to fault either team for making the moves it did. The Indians were 1.5 games out of first place when they acquired Jimenez on July 30 for a package of prospects that included pitchers
Alex White
and
Drew Pomeranz
, Cleveland's No. 1 picks in 2009 and 2010. The Giants were actually four games up on the Diamondbacks when they acquired Beltran on July 28.
So it's another lesson for all of us: The trade deadline is fun.
But its impact often irrelevant.
PHOTO OF THE DAY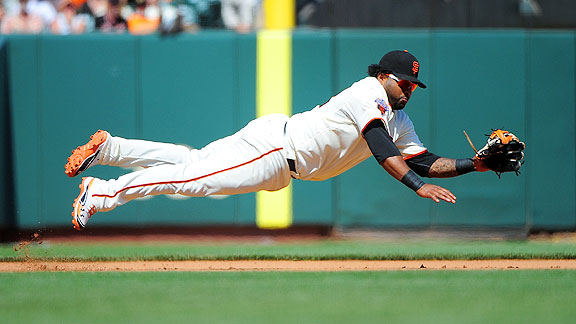 Kyle Terada/US PresswireAnd you thought Pandas couldn't fly. Well, now we know that this one can.
June, 4, 2011
6/04/11
12:00
PM ET
By
Christina Kahrl
| ESPN.com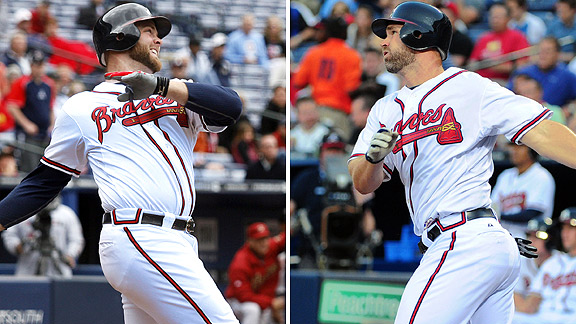 US Presswire/Getty ImagesThe lefty/righty catching platoon of Brian McCann and David Ross has been the NL's best this season.
If the American League has very few stable platoons but a few identifiable platoon players getting work, is the National League any better off? Even with today's bigger bullpens, the absence of a DH gives NL skippers and GMs a little more freedom to carry a player whose primary value is to platoon, since they have five reserves, so even if one is a catcher and another is someone who can play short, that still leaves space for the odd guy. Say, that journeyman who can knock a situational lefty right out of the box, or who can help put up a crooked number against that tiring right-handed starter in the fifth or sixth inning. And it doesn't hurt that these kinds of guys are handy for double-switches.
As in the American League, you find a few catching platoons of convenience, in which the backup backstop bats from the other side and conveniently gets his starts on the days the starter needs a rest. The Braves' setup with
Brian McCann
and
David Ross
is the best of the lot, but when Atlanta afforded itself Ross, it did so knowing it was getting more than a platoon player. The Mets' young/old and lefty/righty combo of
Josh Thole
and
Ronny Paulino
has its virtues. Charlie Manuel has the benefit of a slight inversion of the paradigm when
Brian Schneider
is healthy -- a lefty-batting backup is a lot easier to spot when
Carlos Ruiz
really does need a rest, since most pitching is right-handed -- but he's on the DL.
Stable platoons beyond those behind home plate are surprisingly limited in the Senior Circuit. I'd divide the current group of platoons in the league into three groups: committed, accidental and diffident, reflecting the level of planning and commitment that went into constructing them, and whether or not they're going to last more than a couple weeks.
Among the few we'd call committed, Clint Hurdle's stolidly running out his right-field combo of
Garrett Jones
and
Matt Diaz
. It isn't hitting all that well, but that was the plan, and so far, they're sticking with it. The Phillies anticipated a right-field platoon before the season, but
Domonic Brown
's injury kept that from becoming a reliable feature of Manuel's lineup cards until recently, pressing
Ben Francisco
back into an everyday role he handed back.
[+] Enlarge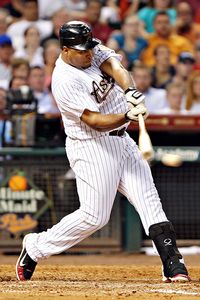 Troy Taormina/US PresswireThe Astros are 10-8 against lefties this season, which could be partly because that matchup allows them to move Carlos Lee out of left field.
In the infield, San Diego manager Bud Black has been reliably sticking with
Brad Hawpe
and
Jorge Cantu
as his first-base arrangement, but there's only so much Can'tu at the plate that even the Padres can endure. The rare multi-position platoon that's a matter of design, but also a certain diffidence is found in Houston, where Brad Mills is moving
Carlos Lee
between left and first base, but not every time out.
Brett Wallace
sits against a few lefties,
Jason Michaels
plays left and Lee moves to first and keeps getting to play every day. The 'Stros might have a 10-8 record vs. lefties, but getting Michaels into the lineup isn't the reason why. But re-potting the increasingly immobile Lee someplace other than left field might be a contributing factor.
Alone among their NL brethren, the Marlins have stuck with an infield platoon someplace other than first base, and they platoon at third without actually finding a set right-handed half of the platoon. Edwin Rodriguez has damned the defensive torpedoes to run
Greg Dobbs
out there every day against right-handers, while leaving his partner du jour as a matter of mystery -- sometimes it's
Wes Helms
, sometimes it was
Donnie Murphy
, and now sometimes it's the roving
Emilio Bonifacio
. Those happy few who root for the Teal Deal are no doubt on their seat's edge when their Fish face a lefty.
Among the accidental platoons, three NL West teams have setups they didn't necessarily expect. To the credit of both Bruce Bochy and Black, they've proven reliably willing to platoon, and they're assembling new ones on the fly after their initial designs broke down. Black got plenty of mileage out of his outfield platooning last year, but
Will Venable
flopped this spring, handing back his half of the right-field job. In his desperation, Black is pairing
Eric Patterson
with
Chris Denorfia
, which isn't helping matters.
While Bochy isn't trying anything quite as inspired as last year's mid-season lineup platoon between
Travis Ishikawa
and
Aaron Rowand
-- with
Aubrey Huff
moving to the outfield against righties and returning to first base against lefties -- he has been aggressive in getting
Nate Schierholtz
into the lineup against right-handers while playing
Cody Ross
daily. Rowand is getting platoon time with
Andres Torres
in center, but
Pat Burrell
hasn't been entirely reduced to Schierholtz's platoon partner.
Then their is the Dodgers' Don Mattingly. Some combination involving
Jay Gibbons
in left field was probably going to be part of the program at the outset, but Gibbons' spotty health, a passing interest in
Tony Gwynn
's speed, and
Marcus Thames
' breakdown opened up an opportunity for first baseman
Jerry Sands
to win the job. But like so many other thundersticks from Albuquerque in Dodgers history, his stick fell still in Chavez Ravine, and now Sands is in an accidental platoon with Gibbons until they decide there's a better alternative.
Injury created the Braves' temporary replacement platoon setup for
Jason Heyward
, as the
Eric Hinske
/
Joe Mather
platoon is working out nicely -- but it's also clear that pair will head back to pine time as soon as Heyward's healthy. In contrast, some managers look like they'd like to platoon more, but injuries have gotten in the way. The Brewers' Ron Roenicke appears committed to a
Nyjer Morgan
/
Carlos Gomez
platoon in center because of the speed 'n defense combo it provides, but Morgan's injury got in the way at the outset. If it sticks, that's the circuit's lone platoon arrangement up the middle someplace other than catcher.
The Pirates' loose platoon at the infield corners reflect what I mean by "diffident platooning." In contrast with his greater faith in his right field platoon, at the infield corners Clint Hurdle's sort of futzing around with
Steven Pearce
at both first and third vs. lefties to give him something to do, and sometimes
Brandon Wood
gets time at third. But it isn't an everyday sort of devotion, and has as much to do with
Pedro Alvarez
's career-stunting slow start and
Lyle Overbay
's offensive indifference than any abiding faith in Pearce or Wood.
I'd also chuck Kirk Gibson's first-base set-up into this category as well --
Xavier Nady
and
Juan Miranda
are platooning, sort of, but Gibson isn't exactly being a stickler about it. Since neither are hitting the people they're supposed to, and since neither plays first base all that well, it's more first base by coin toss at gunpoint than a straight platoon.
Platooning isn't automatically a good idea, after all, and if as Casey Stengel put it, "I could'na dunnit widdout the players," that's just as true today -- skippers can only use what they've got, no matter how clever they might be in how they employ it.
Christina Kahrl covers baseball for ESPN.com. You can follow her on Twitter.
February, 8, 2011
2/08/11
12:00
PM ET
Even the best teams usually need a lot of things to go their way to win the World Series, a run of good luck that can come to an abrupt end the following season, especially if you stand pat.
[+] Enlarge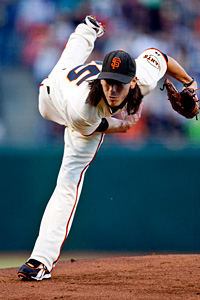 Jason O. Watson/US PresswireThe Giants are hoping for a return to Cy Young form from pitcher Tim Lincecum.
The
San Francisco Giants
mostly bring back the same team that won the title last fall. Although they no doubt peaked at the right time, there's actually room for improvement from some key personnel. Whether they can take advantage is another matter.
For starters, look no further than
Tim Lincecum
, whose 2010 ERA of 3.43 was nearly a full run higher than his 2009 mark of 2.48. Still only 26, Lincecum allowed a career-high .310 batting average on balls in play last year, creating the possibility of a bounce-back 2011 that would return him to the Cy Young Award short list.
At the plate,
Pablo Sandoval
went from the heart of the order to the butt of the bench last year.
Fangraphs
has Sandoval's wOBA (Weighted On-Base Average) falling 20 percent year-to-year, from .396 to .314. Conventional wisdom points to Sandoval's poor conditioning as the culprit, though perhaps there was also the matter of adjustments he needed to make as pitchers figured out ways to retire him. Either way, at age 24, Sandoval is anything but at the point of no return.
Then there are the young-'uns who didn't even have a chance to spend a whole season with San Francisco. Rookie catcher
Buster Posey
made his 2010 debut May 29 and sat out exactly a third of the Giants' 162 regular-season games, squeezing in an .862 OPS (.993 on the road, mind you) when he did play. While Sandoval provides a reminder of what can go wrong following a blistering start to a career, Posey has the breathing room to make himself a sophomore sensation in 2011.
Madison Bumgarner
played even less in the majors than Posey. With his first start coming June 26 (about two months shy of his 21st birthday) the 6-foot-4 lefty made 18 starts in the regular season with a 3.00 ERA, followed by a 2.18 ERA in 20 2/3 postseason innings, including his eight innings of shutout ball against the Rangers in the Fall Classic. More so than Posey, the opportunity is there for Bumgarner to increase his value just by being around in April.
San Francisco can tout a rotation that is young and talented: four reliable starting pitchers 28-or-under (their oldest,
Barry Zito
, is but 32). The Giants also have another card to play in minor-league first baseman Brandon Belt, who had a .455 on-base percentage and .620 slugging percentage as he soared from Single-A to Triple-A last summer.
Elsewhere in its lineup, San Francisco shows its vulnerability to age with returnees
Aubrey Huff
(34),
Aaron Rowand
(34),
Freddy Sanchez
(33) and
Andres Torres
(33), midseason acquisitions
Pat Burrell
(34) and
Cody Ross
(30), the offseason free-agent pickup of
Miguel Tejada
(36), and a player trying to come back from health issues,
Mark DeRosa
(36 this month). But some of those players are going to be competing for playing time.
Four that San Francisco might like to rely upon in 2011 are Huff, Sanchez, Burrell and Ross, and those four performed noticeably better for the Giants in 2010 than they had with their various teams the year before -- hinting at the lightning in a bottle that San Francisco might fear escaping this year. But when you can counter the probability that those four players will decline with the strong possibility that Lincecum, Sandoval, Posey and Bumgarner will be among those who shine even more brightly, fans of the Giants have good reason to feel that their luck hasn't yet run out.
Jon Weisman writes about the Dodgers at Dodger Thoughts for ESPNLosAngeles.com.
October, 18, 2010
10/18/10
11:30
AM ET
As if Bruce Bochy didn't have enough to worry about, now he's gotta
think about who's playing center field
? Jeff Fletcher:
Andres Torres came out of nowhere to be a revelation at the top of the order, but lately he's gone right back from where he came.

Torres was not the only goat in the Giants' 6-1 loss to the Phillies in Game 2 of the NLCS. There was also a wobbly outing by Jonathan Sanchez, team-wide defensive lapses and a bad pitch by reliever Santiago Casilla that turned into a three-run double by Jimmy Rollins, but those things were more isolated incidents that can be shrugged off. Torres' performance has been a nagging problem for weeks, and he hit rock bottom on Sunday.

Torres struck out all four times he came to the plate. He whiffed at fastballs and whiffed at breaking balls. For the postseason, Torres is now 3-for-25 with 12 strikeouts. Even worse, two of the three times he got on base, he subsequently got caught stealing.

--snip--

A little six-game blip might be excusable, especially because it has come against playoff-caliber pitching, but this slump started long before the playoffs. Torres hit .197 in the final 33 games of the regular season, with a two-week break in between to have his appendix removed.

--snip--

That was no doubt one of the questions he would ponder on the six-hour flight back to San Francisco, and on the off day on Monday. When the Giants return for Game 3 on Tuesday, against left-hander Cole Hamels, don't be surprised if Aaron Rowand is in center field. The switch-hitting Torres is even worse from the right side (.226 this season), so it's a logical move.
Today's Burning Question: What are you gonna believe?
Are you gonna believe Torres' 2010 splits or his career splits? His career platoon splits are negligible, and it's unlikely that his ADD medication has changed that.
Are you gonna believe Torres' last 39 games -- those 33 regular-season games, but six since -- or Rowand's entire season?
Rowand's entire season isn't enough? How's about two entire seasons? In 2009 and '10, Rowand batted .212/.278/.378 against left-handed pitchers.
No, I don't think Rowand is really that bad. No 33-year-old right-handed hitter
should
be that bad. But if Bochy's going to base a decision on Torres' last 39 games, he might also consider Rowand's last 237 plate appearances against southpaws.
All these numbers are just numbers, set against all the things Bochy knows about his players that we (or at least I) don't.
But for every player who gets benched in October because he hasn't been hitting, there's another guy who doesn't get benched and breaks out of his slump in a big way. In fact, it happened Sunday night with the other team's shortstop. If anything good came of the Giants' Game 2 loss, maybe it was that Bochy saw what can happen when you let your best players play.
October, 2, 2010
10/02/10
1:00
AM ET
SAN FRANCISCO -- I'm absolutely sure that I'm missing some key piece of information, but from where I was sitting, Bud Black did not have a particularly good bottom of the sixth inning.
His starting pitcher,
Clayton Richard
, had given up just one run but escaped a few jams, gave up a number of well-struck blows, and never seemed to have any real grip on the proceedings. From the beginning, he seemed to just be hanging on until the cavalry arrived; anything more than five innings would be a real bonus for his manager.
Leading off the sixth against Richard,
Buster Posey
hit an easy grounder to shortstop. But
Pat Burrell
ripped a double into the left-field corner.
Aaron Rowand
, a strong (if little else) right-handed hitter was dispatched as a pinch-hitter. Bud Black's bullpen is absolutely loaded with right-handed relievers who eat hitters like Aaron Rowand like they're M&Ms.
Black stuck with Richard. Rowand hit a two-run homer.
Black took out Richard, and summoned one of those right-handed relievers. Not his
best
right-handed reliever. Not his second-best right-handed reliever. Or his third-best. Black called on
Ryan Webb
, a fine pitcher who is the Padres' fourth- or fifth-best right-handed reliever.
Hey, it's still just the sixth inning and Black obviously didn't want burn his best relievers so early in the game.
No, it's what happened next that I couldn't quite figure.
Well, not exactly next. What happened next is that Webb walked
Juan Uribe
(no easy chore, by the way), struck out
Edgar Renteria
, and gave up a double to
Cody Ross
.
All the while, super-situational lefty
Joe Thatcher
was heating up in the bullpen.
Why?
I wondered.
Aubrey Huff
was still a few batters away, and Huff is essentially the Giants' only dangerous left-handed hitter.
After Ross's double (his second in two innings), Black took out Webb and brought in Thatcher to face switch-hitting
Andres Torres
, who has a huge platoon split this season -- .223/.303/.346 against lefties, .288/.360/.537 ... but essentially
no
real split in his career. Maybe Torres is simply a different hitter now, or maybe Black was seduced by a small sample size. You decide.
Either way, Thatcher -- one of the great lefty relievers in the game, at least this season -- was used for exactly one batter. Torres reached base (and drove in a run) with a swinging bunt, and Black yanked Thatcher in favor of
Luke Gregerson
, who finally nailed down the third out.
But the Giants scored three runs in the inning, and Black won't have his best lefty if a scary situation should arise.
I just wonder if he would do exactly the same things, if he have the bottom of the sixth to do over again.
September, 24, 2009
9/24/09
3:38
AM ET
The Giants aren't
quite
out of the running, but they're close enough that Tim Kawakami is ready to write
their epitaph
:
... But they had a very successful season, after four straight dismal campaigns. They played deep into September. They woke up some echoes. They were fun to watch, and, for the most part, they are young.

The only bad part: I'm not sure they're ever going to get better pitching than this and nobody's sure how and whether they'll significantly improve that dormant offense.

We'll see what happens with Brian Sabean and his management team. I'd guess they're all coming back, since things went so good for so long in 2009.

But when push came to shove, the Sabean Giants went back to old habits: Rely on the veterans! And the old guys were not good, just as not-good as they'd been all season.

Good thing they have No. 8-hitting Aaron Rowand signed for three more years. Batting eighth in this line-up! $12M a year!
Rowand's OPS in 2005 and '06? 740.
Rowand's OPS in 2008 and '09? 749.
These past two seasons with the Giants have been exactly in line with his career.
So why are the Giants paying him $12 million per year for three more years?
Because in 2007, Rowand put together one of the greatest salary drives we've seen. And because a lot of teams were spending crazy money that winter. Well, teams spend crazy money most winters. But Rowand was coming off a big season with the Phillies, and by gosh if he's not one of the grittiest sonuvaguns you'd ever want to meet.
That said, Rowand's not a lousy player. He's simply overpaid by a few million bucks. He's also been the Giants' second-most valuable player this season, behind only Pablo Sandoval (well behind Panda, but still). The Giants' problem really isn't Rowand. It's been their first basemen and their second basemen and their right fielders and their shortstop.
It's hard to see much of that changing next year, though it would actually be hard for the Giants to score fewer runs next season, even if they try. If, you know, the Panda keeps being the Panda.
Can they get better pitching than this? Well, it's not real likely but it's not out of the question, either. Tim Lincecum's been the best pitcher in the league for two years running and I wouldn't bet against three. Matt Cain and Barry Zito are due for a bit of regression next season, but the Giants have gotten little from their fourth and fifth starters, which might well change if Madison Bumgarner wins a rotation spot and (or) the Giants retain Brad Penny.
The bullpen ... well, it's overachieved a bit. Kawakami's probably right. The Giants are probably going to fall victim to the Plexiglass Principle next season. But there's no reason they can't be respectable, especially with Rookie of the Year candidates Bumgarner and Buster Posey presumably taking on meaningful roles at some point.
Put it this way: Two years ago, Lincecum was the only reason to watch the Giants. Today there are plenty of reasons, and there will be next year, too.
Update: A note from Jonah Keri ...
You mentioned SF's struggles at SP4. Check out Sanchez's numbers for the year - already pretty solid, about a 2-win performance.

Now check out his second-half numbers, if you buy the splits stuff.

Now check out his K rate and to a lesser extent his HR rate.

Sanchez is the classic example of a SP who needs only shave a walk a game off his performance to become really good. In many cases that's easier said than done but...here's a pre-arb guy pitching league average or a tick better, 26 years old, with one of the best K rates in the league. This is an asset.
Jonah's absolutely right. Throw in Bumgarner or Penny, and the Giants will again have an excellent rotation. And their depth might even allow them to trade for an actual, you know, hitter or something.