August, 29, 2013
Aug 29
1:31
PM ET
Ben Lindbergh of Baseball Prospectus wrote a tremendous article the other day on
Derek Jeter's defense
, which has long been a point of contention. As Ben writes,
The "best ever" argument is easy. Jeter has the hardware; only four shortstops can top his total of five Gold Gloves. He's one of the few fielders who have a signature move, the instantly recognizable Jeter jump-throw. He even has a pair of pantheon plays: the 2001 ALDS-saving maneuver commonly referred to as "the Flip," and the header he took into the stands after chasing a popup in 2004.

On the other side are the advanced statistics, which disregard Gold Gloves and treat a flashy-looking jump-throw just like any other assist. According to two historical play-by-play-based systems, Baseball Prospectus's Fielding Runs Above Average and Baseball-Reference's Total Zone, Jeter has cost his team more in the field than any other player in history, with both methods assessing the damage at 230 to 260 runs.
Now, Ben fairly points out that the Jeter is "worst" in part because he's been so good at everything else he's remained at shortstop for a long and historic career. The worst shortstops don't stay there.
Anyway, Ben reviewed Jeter's best and worst plays from 2012 and compared them to the best and worst plays from Mariners shortstop Brendan Ryan (as determined by Baseball Info Solutions' Defensive Runs Saved metric, which we use here at ESPN and Baseball-References uses for its defensive measurement that is included in players' WAR totals).
Ben's idea copied something Bill James did back for the 2006 edition of the "The Fielding Bible," comparing Jeter to then-Astros shortstop Adam Everett. Here is the link to the original
Jeter/Everett article
. James, reviewing plays from 2005, wrote:
The two men could not possibly be more different in the style and manner in which they run the office. Jeter, in 40 plays, had maybe three plays in which he threw with his feet set. He threw on the run about 20-25 times; he jumped and threw about 10-15 times, he threw from his knees once. He threw from a stable position only when the ball, by the way it was hit, pinned him back on his heels.

Everett set his feet with almost unbelievable quickness and reliability, and threw off of his back foot on almost every play, good or bad. Jeter played much, much more shallow than Everett, cheated to his left more, and shifted his position from left to right much, much more than Everett did (with the exception of three plays on which Everett was shifted over behind second in a Ted Williams shift. Jeter had none of those.)

Jeter gambled constantly on forceouts, leading to good plays when he beat the runner, bad plays when he didn't. Everett gambled on a forceout only a couple of times, taking the out at first base unless the forceout was a safe play.

Many or most of the good plays made by Jeter were plays made in the infield grass, slow rollers that could easily have died in the infield, but plays on which Jeter, playing shallow and charging the ball aggressively, was able to get the man at first. These were plays that would have been infield hits with most shortstops, and which almost certainly would have been infield hits with Adam Everett at short.

For Everett, those type of plays were the bad plays, the plays he failed to make. The good plays for Everett were mostly hard hit groundballs in the hole or behind second base, on which Everett, playing deep and firing rockets, was able to make an out. These, conversely, were the bad plays for Jeter—hard-hit or not-too-hard-hit groundballs fairly near the shortstop's home base which Jeter, playing shallow and often positioning himself near second, was unable to convert. And there was literally not one play in the collection of his 20 best plays in which Jeter planted his feet in the outfield grass and threw. There were only three plays in the 40 in which Jeter made the play from the outfield grass, two of those were forceouts at third base, and all three of them occurred just inches into the outfield grass.

In comparing Jeter in 2012 to Ryan, you can look at the gifs Ben provided and see the difference between a great shortstop and a lesser one with your own eyes. The graphic comparing the range of best plays between the two is also telling. If we did this for a variety of players -- here's why Andrelton Simmons and Nolan Arenado rate so well, for example, and here's why Miguel Cabrera rates so poorly or why Mike Trout doesn't rate as well as last year -- it would certainly help alleviate some of the concerns many have with defensive metrics.
Ben's ultimate point -- as referenced in the article's headline, "The Tragedy of Derek Jeter's Defense," -- is that Jeter actually had become a different shortstop in his later years, after Brian Cashman talked with him in the offseason following 2007. He worked on his positioning and footwork and his metrics improved -- at least until he got too old.
If there's a lesson to be learned from Jeter's defensive history, it's that sometimes there is room for improvement, even from the great players. The good organizations aren't just evaluating how good their players are on defense, but evaluating if they can get better.
November, 11, 2011
11/11/11
10:00
PM ET
By
Christina Kahrl
| ESPN.com
The Minnesota Twins'
rumored agreement
with
Jamey Carroll
for two years and $7 million is another one of those nice developments (if you're Jamey Carroll), while simultaneously proving to be yet another cause for frustration for Twins fans still wondering how they got here.
[+] Enlarge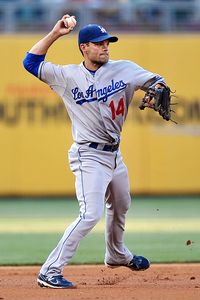 Drew Hallowell/Getty ImagesJamey Carroll might not be as effective a defensive shortstop as the Twins pitching staff needs.
Keep in mind, the Twins haven't let the position become a scar over the years. After
Cristian Guzman
left as a free agent, they replaced him with
Jason Bartlett
, who they'd stolen from the Padres in a minor deal for
Brian Buchanan
years before. Even before Bartlett got expensive, they bundled him with
Matt Garza
to get
Delmon Young
from the Rays. The Twins didn't effectively replace Bartlett for two years (mucking around with
Nick Punto
,
Orlando Cabrera
,
Brendan Harris
,
Adam Everett
and more), but finally dealt
Carlos Gomez
-- one of the keys to the
Johan Santana
trade -- to get
J.J. Hardy
. Yet a year later, with Hardy still a year removed from free agency, he was deemed too expensive, and Minnesota dealt him to the Orioles.
In all of these trades -- dealing away Garza plus Bartlett, Gomez, Hardy and Young -- the Twins have ended up on the short end, at least on every scoreboard that doesn't have a dollar sign on it. Worse yet, they lost talent that other teams have either dealt to better effect or happily retained. And all of those trades belonged to then-general manager Bill Smith. So did signing
Tsuyoshi Nishioka
and finding he was
another Japanese import who couldn't handle shortstop
in the major leagues. And the decision to move
Alexi Casilla
to short last year, despite a spotty track record there in the minors, without ever spending an entire season at the position? Another Smith move, for which you can blame penury, optimism or madness, whatever your inclination might be.
The question is whether this inaugural move for Terry Ryan's second (non-consecutive) term running the show in Minny is really that much better, or if it isn't just the latest patch slapped on a self-inflicted wound. There's no reason to believe that Carroll can play short adequately on an everyday basis. His Total Zone Fielding Runs or Defensive Runs Saved marks this year were dreadful; they were dreadful in 2005. And this is the man joining a Twins team that needs good fielding behind its pitchers, who routinely rank low in the majors in strikeout rate, touching bottom with last season's 30th-place finish.
Even if Carroll's track record as a shortstop wasn't poor, that's without getting into the number of shortstops playing the position effectively into their late 30s. Carroll will be 38 by next season, and only 25 teams have ever played a shortstop that old or older; of them, only one, the 1984 Cubs with Larry Bowa, ever made the postseason. The Yankees will be giving it a shot next year with
Derek Jeter
. Suffice to say Jamey Carroll ain't the Captain, whatever your position on Jeter's defensive performance.
It's possible that Carroll winds up at second instead of short, and that the Twins continue to employ Nishioka and Casilla and
Trevor Plouffe
at shortstop. However, a four-headed middle-infield monster where nobody can play shortstop effectively simply sounds more monstrous. Add in
Danny Valencia
's brand of relative immobility at third, and it sounds like a tough season to come for the Twins' especially defense-dependent pitching -- unless Carroll replaces Valencia, and the Twins find a shortstop.
Which leaves Minnesota with ... what? Beyond the unfortunate legacy and throwing money at the middle-infield problem, the Twins do get something for their troubles. The good news is that Carroll's perhaps Punto-plus at the plate -- his lowest OBP mark in the past four seasons was .355. And given that he's a negligible extra-base threat, Target Field's slugging-suppressing powers won't matter to him. Placed in one of the two top slots in Minnesota's order, he ought to be an offensive asset, creating plenty of run-scoring opportunities for
Joe Mauer
and … well, other people, because on the long list of problems that Ryan is going to have to fix this winter, staffing next year's lineup has to rank right at the top. Carroll's a useful part, and one who can be moved around, but if he's locked in at short, the Twins have locked in on a non-solution to their problems there.
Christina Kahrl covers baseball for ESPN.com. You can follow her on Twitter.
April, 30, 2011
4/30/11
12:37
AM ET
By
Christina Kahrl
| ESPN.com
Because analysts like to worry about sample size and caution against "too much, too soon" when it comes to drawing conclusions about April outcomes, let's put the shoe on the other foot and identify an instance of an April result that has made a difference: the Indians' infield.
The specific action that brought this to mind today was the activation of
Jason Donald
from the DL -- and his immediate dispatch to Columbus. This was especially a step down for him because less than two months ago Donald was the early favorite to win the Tribe's open third-base job. It wasn't necessarily a permanent opportunity he'd be winning for himself -- already in his age-26 season, Donald's opportunities at third or second are either going to come now, or perhaps never, especially with a bat projected to deliver OBPs south of .330 while slugging less than .400. Lacking the range you ideally want from a shortstop, his every-day options were limited, and his bat rates are below ideal at the hot corner.
[+] Enlarge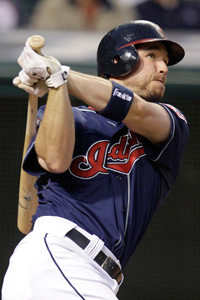 AP Photo/Amy SancettaJack Hannahan, a career .360 slugger, currently has a slugging percentage of .507.
Unfortunately for Donald, he hurt his left hand in the first week in March in Arizona, and his opportunity started to get away from him, a turn of events he could ill afford. That's because his future is now, limited not only by his own possibilities, but also because long-term the Indians are going to want to turn to a series of prospects at second or third, starting with Lonnie Chisenhall, and followed by Jason Kipnis, Cord Phelps, and perhaps Jared Goedert.
One of the great complaints about spring training performance is that it doesn't mean anything, so managers shouldn't make substantive decisions based on it. However, in a case like Donald's, there wasn't anything else to work with as far as his winning much loyalty from his manager, Manny Acta. Once Donald went down, Acta had to turn to the temporary alternatives available to him. As a result, veteran journeymen
Jack Hannahan
and
Adam Everett
got chances that, without spring training's turn of events, would never have existed. They made the most of it, both making the team as non-roster players, and now that veteran tandem is operating in a loose job-sharing arrangement at third base for the Indians.
Now, swapping in Hannahan and Everett for Donald should be far from earth-shattering in terms of the offensive value you would expect. Using True Average to aggregate their offensive contributions, none of them are projected to be anything like an average third baseman (.268), since Hannahan and Donald projected in the .230s, and Everett was down around the Mendoza Line. Hannahan and Everett are no more likely than Donald to hold the job at third for a full season. Even if you're the sort of cynic who thinks that Chisenhall's time in a
Columbus Clippers
uni is directly tied to his potential super-two arbitration eligibility after 2013, both halves of the Hannaverett combo are over 30 years old, and neither half is likely to keep cranking with OPS clips north of .800. Hannahan and Everett are both good fielders, and both have their uses, but even a platoon between the pair seems short-lived.
However, both had good Aprils, and because of that plus Donald's injury, it's going to be that duo that will be manning the Indians' infield for the next few weeks before Chisenhall's case for the job becomes too obvious to avoid. Hannahan and Everett can fend off that future for some time, like Donald might have, but Hannahan is a career .360 slugger (.131 ISO) -- betting on his keeping his SLG north of .500 is "would you also like the Brooklyn Bridge?" territory.
If the Indians are to continue winning, they must not get overly sentimental when the time comes to swap out players who got off to hot starts. That will mean accepting that Hannahan is the same hitter he's been over most of his career, and that they'll be better off with people who deliver more at the plate over the season's long march. The Tribe's front office is more than smart enough to know all this, but in the meantime, whatever possibilities Hannahan possesses have come directly at Donald's expense.
Christina Kahrl covers baseball for ESPN.com. You can follow her on Twitter.
April, 7, 2011
4/07/11
3:09
PM ET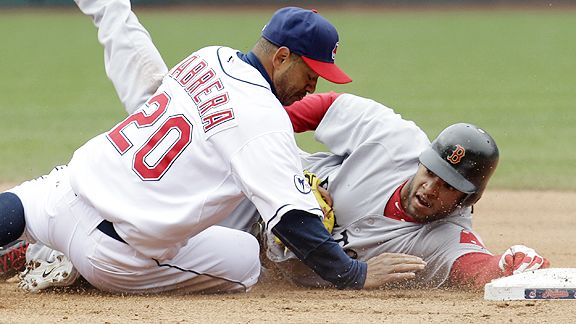 AP Photo/Tony DejakThe Red Sox can't catch a break as Orlando Cabrera tags out Darnell McDonald to end the game.
Welcome to Cleveland. It's a foggy, misty day, something out of a Stephen King novel. The lights are on, the stands are empty and it looks like a completely miserable day to be playing baseball.
Especially if you're 0-5.
Fausto Carmona
is starting for Cleveland. He gave up 10 runs on Opening Day. We don't see pitchers give up that many runs too often -- only 15 times in 2010 (including four times by Brewers pitchers). If Boston's offense is to get on track, this may be the pitcher to do it against, although Carmona had a pretty solid 2010 (13-14, 3.77 ERA, 4.11 FIP).
Jon Lester
goes for Boston. A popular Cy Young pick, Lester gave up five runs in his first start and didn't strike out a batter. He had just one start with fewer than four K's last season, a one-strikeout game when he got knocked out in the second inning.
Let's follow along with a running diary. How often do you get to write about the presumed best team in baseball when it's off to an 0-5 start?
Top first:
Carmona gets two quick ground balls (his specialty) and then strikes out
Dustin Pedroia
. That gives Pedroia five K's against zero walks so far, odd since he entered the season with more career walks than strikeouts.
Bottom first:
Lester strikes out
Asdrubal Cabrera
and
Shin-Soo Choo
. He needed just 11 pitches. Nice start.
Top second:
It's cold enough -- 38 degrees -- that the pitchers are allowed to breathe on their hands while on the mound, and Carmona is going to his mouth before nearly every pitch. Carmona gets
Kevin Youkilis
to line out softly on one of his hard sinkers. Can't be a fun pitch to hit on a chilly day. That's the big pitch in his arsenal -- a 91 mph darting sinker that he really has no idea where it's going. He threw it for strikes often enough last season and in 2007, when he had that great playoff start against the Yankees, but couldn't locate it in 2008 and 2009, when he had a 5.89 ERA.
Top fourth:
NESN tries to kill Heidi Watney by making her try the fried-chicken-and-waffle sandwich that is sold at Progressive Field. I know this is shocking, but she reports that it wasn't very good.
Bottom fourth:
Nice diving stop by
Adrian Gonzalez
to take a hit away from Choo. Let's just say that
Prince Fielder
wouldn't have made that play.
Lester has
Carlos Santana
0-2, thought he struck out him out on a 2-2 pitch and then walks him. Santana -- remember, he had knee surgery in August -- tries a surprise steal and almost makes it, but Pedroia makes a nice tag on a short-hop bad throw from
Jarrod Saltalamacchia
. As they say, that's a little thing that doesn't show up in the box score. I liked the play from the standpoint that this Cleveland lineup is going to have trouble scoring today off Lester.
Except
Shelley Duncan
just walks. Could have been first and second with one out; instead, it's one on and two outs.
Lester gets out of it but has to run up his pitch count. Now at 71 through four. Carmona has 72. Although they've allowed only three hits combined, neither looks as though he'll last past the seventh. You can't watch a baseball game these days without being a slave to pitch counts, and I don't know whether that makes me feel smarter or sadder.
Top fifth:
Jerry Meals rings up Saltalamacchia on an outside pitch. Salty gives a glare. David Ortiz had a few words the previous inning after getting rung up. C'mon, Meals is cold! Or maybe he's just hungry for a chicken-and-waffle sandwich. Which has me thinking: Do umps eat anything during games? Do they carry a Power bar in their back pocket for a burst of energy in the seventh inning? Considering the average Red Sox game lasts about four hours, it may be wise to do so.
Top sixth:
Carl Crawford
pokes a long fly to right-center that doesn't reach the warning track. Tough day for hitters, with the wind blowing in and the cold air. That's probably a home run in June.
Bottom sixth:
Two more strikeouts for Lester, giving him nine. This is the pitcher everyone expected to see this season.
Top seventh:
Another 1-2-3 inning for Carmona. Comment from my friend Mike, a Red Sox fan: "Two hits for $160 million? At least we have the eventual bullpen collapse to look forward to."
Bottom seventh:
Duncan leads off with a double into the gap. I'd pinch-run here. How many chances are you going to get? Salty makes a diving catch on a foul bunt attempt behind him. Nice play. Jason Varitek couldn't have made that catch since 2003. Lester gets out of it.
Top eighth:
Rafael Perez
enters with two on and one out to face the $160 million man. And Crawford grounds out softly to third. But at least he moved the runners up! That's just good baseball. Perez gets ahead 0-2 on Pedroia, then we get: foul ball on slider, foul ball that trickles foul, nice block by Santana on a slider in the dirt, foul tip on another pitch in dirt, ball low, trickler back to the mound, nice job by Perez to gun down Pedroia.
[+] Enlarge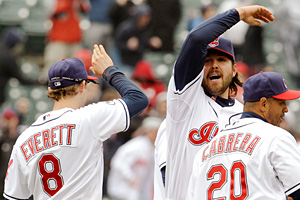 AP Photo/Tony DejakChris Perez and the Indians swept the Red Sox as Boston loses its sixth game in a row.
Bottom eighth:
Daniel Bard
comes on and walks
Adam Everett
. I mean ... Adam Everett? He wasn't that good when he was good. Everett steals second. The Red Sox, of course, couldn't throw anybody out last season, so we'll see how Salty does throwing out runners. He airmails this one into center field, so he's 2-for-2 on bad throws.
Orlando Cabrera
gets the bunt down after Bard falls behind 2-0 on Cabrera. On NESN, Jerry Remy points out that Bard is getting underneath a lot of his fastballs. He throws a 2-0 fastball down the middle that Cabrera fouls off.
Squeeze! Perfect bunt. Right count, right pitch. (With Bard, you knew a fastball was coming behind in the count.) Love it. Great baseball.
Top ninth:
Cleveland's closer is
Chris Perez
. Why wouldn't you leave the lefty Rafael Perez in to face Gonzalez to lead off the inning? No offense to Chris Perez, but he's not exactly
Mariano Rivera
or even
Jose Mesa
in his good Cleveland years. As nice as the squeeze call was, this was a bad decision by Manny Acta.
Take that, Schoenfield! Gonzalez grounds out into the shift, 4 to 3.
Youkilis grounds to shortstop.
Perez works carefully to Ortiz and walks him on five pitches.
Darnell McDonald
in to run.
Wow ... stunning ending. This may not be Boston's year. J.D. Drew lines the first pitch off the knee of Perez; it bounces to Everett at third base. McDonald rounds second base too sharply and slips, Everett fires back to Cabrera and McDonald is out on a bang-bang play. McDonald may have gotten his hand on the bag, but Dan Iassogna calls him out. Safe or not, it was bad baserunning.
As Remy says, "Everything that could go wrong has gone wrong. This is unbelievable."
And the mighty Red Sox fall to 0-6. I wonder what kind of reception the Fenway faithful will give their heroes in their home opener on Friday.
Follow David Schoenfield on Twitter at
@dschoenfield. Follow the SweetSpot blog at @espn_sweet_spot.
April, 10, 2009
4/10/09
11:32
AM ET
Thursday afternoon's
Jays-Tigers game
featured two starters making their major league debuts, and it was mildly surprising when Toronto's No. 8 prospect out-pitched Detroit's No. 1 prospect. Really, though, was it any wonder that Ricky Romero looked so good? The Tiger lineup yesterday featured the following hitters, Nos. 6 through 9:
Brandon Inge -- .304 OBP (career)
Matt Treanor -- .321
Ramon Santiago -- .310
Adam Everett -- .297
And then there's No. 2 hitter Marcus Thames, whose .302 career on-base percentage fits in nicely with those other fellows'. Granted, it was getaway day and Treanor and Santiago are hardly regulars, but still. There is a tradeoff, usually. Management decided to bolster the defense this season, and that decision is highly defensible. I like Everett. And if the Indians don't get it together soon, the Tigers will quickly become the default favorite in the American League Central. But those Tigers who scored almost 900 runs in 2007 and were supposed to score 1,000 runs in 2008?
Those Tigers are gone. It doesn't mean these Tigers can't win, though.