March, 12, 2012
3/12/12
11:36
AM ET
Buster Olney had a note in
his Sunday blog

that the Dodgers may open the season with 13 pitchers.
Not to pick on the Dodgers, because they won't be the only team to carry 13 pitchers, but I just don't understand this trend. Seven relief pitchers seemed like a lot, but eight? There are barely enough innings available to keep seven relievers busy.
What's even more odd about the Dodgers potentially keeping eight relievers is they threw the second-fewest relief innings in the National League last season. There are 26 weeks in the regular season. Dodgers relievers threw 439 innings, or about 17 innings per week. That's about two innings per reliever per week, or 52 innings per season. Of course, your best relievers will pitch more than 52 innings.
Matt Guerrier
pitched 66 a year ago.
Kenley Jansen
should approach 70, assuming he has no further complications with his heart palpitations. Closer
Javy Guerra
will pitch more than the 46.2 he threw last season when he wasn't recalled until May 15. A good manager will figure out how to get all three of those guys around 70 innings -- or 54 total innings above and beyond the 52-inning average if you carry eight relievers.
In other words, there is no room for an eighth guy if you properly manage your pen. And considering the Dodgers only have one lefty reliever in
Scott Elbert
likely to make the team, this isn't a case of carrying three lefties for the sake of carrying three lefties.
But the bigger problem is it limits your flexibility in managing your bench. If you carry 13 pitchers, that means four bench players -- two hitters you need to keep handy to pinch-hit for pitchers, your backup catcher, and a utility guy like Jerry Hairston who can double-switch into just about any position. It leaves manager Don Mattingly with essentially no ability to hit for a player in the starting lineup. That means no pinch-hitting for
James Loney
, who hit .213/.254/.307 against left-handers in 2011. It means no hitting for
Andre Ethier
, who hit .220/.258/.305 against lefties (and is just .242 with little power in his career). It means you can't really hit for
Tony Gwynn
Jr.,
Juan Rivera
or
Adam Kennedy
with an opposite-side hitter except in maybe the eighth or ninth innings, and even then only if you haven't already hit for the pitcher.
It basically means opposing managers will
always
get the matchup they want against the Dodgers. The tactical advantage for carrying 13 pitchers is so small it actually becomes a tactical disadvantage, especially for a team like the Dodgers that should be hitting regularly for its starting eight.
This is a theme you'll likely see me pound home time and again. One small reason scoring has gone down in recent seasons is the trend to bigger bullpens. That may be great for the platoon edge on defense, but it makes most teams ill-equipped to make a countermove.
December, 6, 2011
12/06/11
12:16
AM ET
DALLAS -- The Dodgers are kind of like that guy you invited into your fantasy league in 2006 who hadn't followed baseball in 10 years and immediately traded three players for Ken Griffey Jr.
Name recognition? Check.
Rigorous analysis of the players involved? Umm ...

Besides signing MVP runner-up
Matt Kemp
to a $160 million contract, the Dodgers have signed the following six players this offseason:
Give GM Ned Colletti credit for being quick with the trigger finger. He identified the glaring holes on his team and moved to fill them. Sure, he overpaid and he's deferred the salaries, but now he has a second baseman! And two third basemen! A quick review of these signings:
Ellis:
He hit .316 in 2005. He hit 19 home runs in 2007. But he'll turn 35 in 2012 and his home runs have declined from 19 to 12 to 10 to five (and back up to seven in 2011, although five of those came in Colorado). At one point, he was an underrated fielder with excellent range, but while he's still sure-handed, he doesn't cover as much ground as he used to.
Capuano:
In his first full season in a major league rotation since 2007, he posted a 4.55 ERA for the Mets. Decent season? Well, among 75 NL pitchers who threw at least 100 innings, that ERA ranked 61st. Pitching in a favorable park for a left-handed flyball pitcher, he still served up 27 home runs (17 on the road). He comes with some positives, namely a 168/53 strikeout/walk ratio, but the home run rate is a potential red flag.
Rivera:
A poor defensive outfielder with a .315 on-base percentage since 2007 who will turn 34 in July.
Harang:
Reports have him coming to L.A. on another two-year deal. Harang had a nice comeback year with the Padres, going 14-7 with a 3.64 ERA -- in the best pitcher's park in baseball. Dig deeper into the numbers and you see Harang allowed a .684 OPS at Petco Park, but an .878 OPS on the road. His strikeout rate, which peaked at 8.7 K's per nine innings in 2007, has dropped to 6.5 per nine, a strong indicator that 2011 wasn't a resurgence so much as a pitcher benefiting from the Petco canyons.
Hairston:
He's scrappy and managers love his attitude (Ron Roenicke said Monday that he loved having him on the Brewers), but in the end he's still a 36-year-old utility player. A nice guy to have on a team, but at $6 million for two years?
Kennedy:
Hey, he had that big playoff game for the Angels back in 2002.
The collective problem with these signings is that they have little chance of making the Dodgers better in 2012. Only Capuano has much of an upside, but even that is unlikely to match what
Hiroki Kuroda
produced in 2011 (3.07 ERA over 202 innings). Worse, there is a good chance all five players contribute little more than a replacement-level signing would accomplish ... but instead of at league minimum wages, they'll cost the Dodgers $29 million plus Harang's deal.
Somewhat problematic as well: The Dodgers have backloaded the contracts (Hairston will get $3.75 million in 2013, Ellis $5.25 million in 2013, Capuano $6 million plus a $1 million buyout in 2013). The new owner will be saddled with contracts of these mediocre, declining veterans (not to mention that
Juan Uribe
is owed $16 million over the next two seasons).
The Dodgers have Kemp and Cy Young winner
Clayton Kershaw
. Shortstop
Dee Gordon
could become one of the most exciting players in baseball.
Kenley Jansen
should step in and become a dominant closer. That's a great foundation for a new owner to take over.
Unfortunately, that foundation now has the cracks of a group of players who won't push the club past the 82 victories of 2011. It looks like another season of Dodger Stadium sitting half empty, a once-proud franchise and its fans only hoping the right group of buyers purchases the club. It better have some deep pockets and a large supply of patience.
May, 10, 2011
5/10/11
10:22
AM ET
Six major league players have been arrested for DUI since Jan. 1:
Miguel Cabrera
,
Coco Crisp
,
Austin Kearns
,
Derek Lowe
,
Shin-Soo Choo
and
Adam Kennedy
. Law enforcement is doing its job. Major League Baseball and the players' association is not. After the tragic death of Cardinals pitcher Josh Hancock and the unfortunate death caused in an accident involving former Yankee Jim Leyritz in Fort Lauderdale, Fla., haven't we learned our lesson?
How many more deaths will it take before baseball does something about this problem? Do we have to lose our children, parents, siblings or friends before we take action? Enough of the problem. Let's find a solution.
Here are my ideas:
1. If convicted of a DUI, you receive the same punishment as testing positive for performance-enhancing drugs: a 50-game suspension without pay the first time; 100-game suspension for the second violation; and if there's a third offense, you are banned for life. That is more than fair in an effort to save lives.
2. Bring parents who have lost their children to drunken driving accidents into each of the 30 clubhouses. Show the players pictures and videos of the 8-year-old children playing baseball the night before they were killed. Let the players see the parents crying while telling the story. Let them feel the lifetime of pain and agony that they have to live through.
3. Provide players with the phone numbers of cabs, town car or limo services in every city.
4. Implement a club rule: No drinking and driving, period. No exceptions.
In April 2006, I was arrested for DUI, and although the charges were later dropped, the process was a learning experience that changed my life. I spent considerable time learning the negative effects of drinking and driving, and never again will I have a single glass of wine, or a single bottle of beer and get behind the wheel of the car. It's not worth it. I owe it to your family and friends, and you owe it to mine. I'm a proponent of saving lives and using cars as transportation, not as potential weapons.
April, 15, 2011
4/15/11
12:59
AM ET
Hey, I love blaming the manager. You love blaming the manager. It's as much a part of baseball as peanuts, Cracker Jack and questioning every home run hit from 1993 to 2005, except those hit by
David Eckstein
.
So let's go around one night in baseball and play the newest SweetSpot game, coming soon to GSN, "I Could Do A Better Job, If Only I Weren't Sitting On My Couch Blogging Instead."
The move:
Marlins manager Edwin Rodriguez brings in
Leo Nunez
to close out a 6-5 lead against the Braves.
What happened:
Nunez got the job done, giving up a leadoff line-drive single to
Alex Gonzalez
, but escaping further damage.
My take:
Nunez is a mediocre reliever (4.37 career ERA) who lucked into the Marlins' closer role a couple seasons ago -- and held on to it despite allowing 13 home runs. I would have kept
Clay Hensley
in the game. Hensley, so dominant last season (2.16 ERA, 1.11 WHIP, only three home runs), threw five pitches in the eighth inning in recording the game's two biggest outs,
Dan Uggla
and
Jason Heyward
, leaving the bottom of the order for Nunez. Even then, Nunez was lucky to escape without a blown save. After Gonzalez's single,
Freddie Freeman
laced a liner into deep right-center that
Scott Cousins
made a nice running catch on. A couple more feet and it's a tie game.
The move:
Twins manager Ron Gardenhire takes out
Carl Pavano
after eight shutout innings, brings in
Joe Nathan
to protect a 2-0 lead against the Rays.
What happened:
Double, walk, two-run double, game tied. Twins lose in the bottom of the 10th when
Matt Capps
blows another lead.
My take:
Two years ago, before Nathan blew out his elbow, this move wouldn't have been questioned, of course, as Nathan was one of the most dominant closers around. But he's not Joe Nathan anymore. His fastball, 93-94 mph before the injury, has been averaging 91 this season. Pavano had thrown just 104 pitches and allowed four hits and two walks. He'd retired the side in order in the eighth, including a strikeout of
Johnny Damon
. He's a workhorse. Leave him in.
The move:
Buck Showalter has
Mike Gonzalez
pitch to
Nick Swisher
with runners at second and third and one out in the bottom of the 10th inning.
What happened:
Swisher hits a sac fly to give the Yankees a 6-5 win.
My take:
I wholeheartedly agree with this move. Not a big fan of the intentional walk to set up the double play, as it forces the pitcher to throw a strike -- and the hitter knows it. (Last season, batters hit for a higher average and more power with the bases loaded than with runners on second and third.) Plus, in this specific case you have a high strikeout batter (Swisher struck out 139 times in 2010) and a pretty good strikeout pitcher in Gonzalez. The argument for walking Swisher would be to set up a double play with
Jorge Posada
, but last season Posada grounded into a double play in only 7 percent of his possible opportunities (14 percent in 2009). And Gonzalez isn't a groundball pitcher, so a double play would have been unlikely. Sometimes the right move just doesn't work. (Now, if you want to argue whether
Kevin Gregg
should be Baltimore's closer. …)
The move:
Eric Wedge hits
Adam Kennedy
cleanup for the Mariners. Kennedy had started at cleanup once before in his career.
What happened:
Kennedy drives in Seattle's lone run in a 5-1 loss to Kansas City! Shockingly, a lineup with Adam Kennedy hitting cleanup struggled to score runs.
My take:
Look, I know why Eric Wedge did this: He doesn't want to bat
Justin Smoak
cleanup, presumably to take "pressure" off him. Hey, I don't know if Smoak is going to be any good. He's easily been Seattle's best hitter so far (cough) and whether he turns out to be a big-time hitter will have nothing to do with where he bats in the lineup. Either he can hit major league pitching or he can't. And I know this: the only way Seattle will ever be a good team again is if Justin Smoak develops into a cleanup hitter. At some point you have to take the training wheels off and let the kid ride or fall.
So there you go. One night in baseball. Sometimes the moves work, sometimes they don't, and sometimes they just confuse us. But in the end I tend to believe it's the ballplayers who win and lose the games.
It's just more fun to blame the manager.
PHOTO OF THE DAY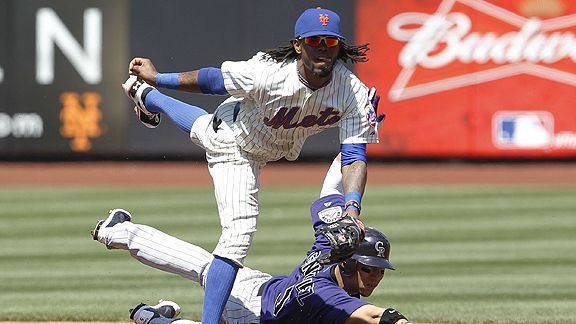 William Perlman/THE STAR-LEDGER/US PresswireJose Reyes was able to get out of the way of CarGo. The Mets couldn't avoid the Rockies, though.
July, 29, 2009
7/29/09
10:53
AM ET
As the Cardinals enter the home stretch of what might become a death match against the Cubs, FanGraphs' Erik Manning remembers some players who might have helped this season, if only the Cards' manager hadn't
driven them away
:
Tony La Russa has more managerial wins to his credit than anyone not named Connie Mack or John McGraw, probably making him a lock for Cooperstown. While measuring a manager's worth is a murky task, one thing we know just from reading the news on a regular basis is that some managers can earn their keep by making good players feel comfortable and causing them to want to stick around. Or in La Russa's case, there can at times be the opposite effect.

--snip--

Appeasing La Russa has been said to be one of the big motives for the Cardinals to gut their farm system to get [Matt] Holliday and Mark DeRosa. He's in the last year of his contract and wants to see some commitment from ownership before considering signing an extension. Maybe if he didn't run off his players with these sort of immature personality clashes, the trades never would have been necessary. The Cardinals' short-sided attempts to assuage La Russa has razed their farm system and driven away productive big league players. I can only fear what will happen to the Cardinals if they keep him around longer.
Well, yeah.
I reproduced here the first and last grafs of Manning's essay, and thus left out the parts about the Cardinals jettisoning Scott Rolen and Adam Kennedy, both of whom would presumably have fit nicely into the lineup this season, and perhaps obviated the impulse to trade for DeRosa and Holliday.
Fair enough. But hiring (and employing) a manager isn't like ordering a car from the factory; it's like finding one on the lot that you like: Maybe it's not exactly what you want, but it'll get you around and people won't laugh when they see you driving it.
OK, maybe that's not the greatest analogy. La Russa fights with some of his headstrong players; Neyer needs to work on his similes. We get it (or I do, anyway). My point is that La Russa's going to wind up in the Hall of Fame, and at this point in his career we should probably just accept him for who he is (at least until he starts losing). You know, warts and all.
And that's assuming that his positions regarding Rolen and Kennedy were actually warts. Isn't it possible that La Russa's my-way-or-the-highway approach benefits his teams in ways that we simply can't understand?
Yes, I'm talking about intangibles, which are, by their very nature, not quantifiable. So I'm not saying that Manning is wrong, or that the Cardinals wouldn't be better off with Rolen and Kennedy. What I'm saying is that La Russa, after 2,516 wins, may have earned the benefit of the doubt on personnel matters.