March, 10, 2013
3/10/13
7:53
PM ET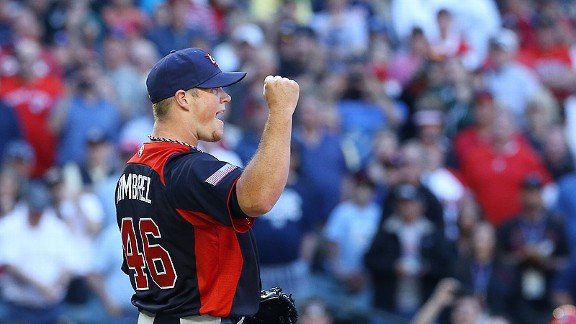 Mark J. Rebilas/USA TODAY SportsCraig Kimbrel worked a one-two-three ninth to secure the win over Team Canada.
They call this the World Baseball Classic and Sunday's United States-Canada game certainly qualifies as a classic, with a David-versus-Goliath storyline, several questionable lineup and managerial decisions made by Joe Torre, a late-inning rally and maybe some respect earned for this tournament.
The final score read
9-4 in favor of the United States
, and the U.S. moves on to the second round next weekend in Miami. But the game was much more tense than the score indicated. Some quick thoughts:
Let's begin with Torre's lineup. He inserted Shane Victorino into left field and Ben Zobrist into right field, moving Ryan Braun to the DH spot, Joe Mauer to catcher and benching Giancarlo Stanton. While that added two switch-hitters to the Team USA lineup against Canadian right-hander Jameson Taillon, it meant sitting one of the game's premier sluggers for Victorino, who isn't the same presence in the lineup. I understand that Torre wanted to get Victorino into a game, but this isn't tee ball; there are no trophies and cookies handed out to the losing team for trying your best.
Torre then had a strange sacrifice bunt attempt in the second inning with two runners on and no outs after David Wright doubled and Canada third baseman Taylor Green dropped an infield pop-up. Instead of going for a big inning against a 21-year-old who has pitched three games above Class A, Torre had Adam Jones bunt. It made no sense to play little ball there instead of trying to blow the game open against a pitcher who didn't exactly dominate the Florida State League in 2012. The bunt worked but Taillon worked out of the jam without a run. Play for one, get none.
The U.S. fell behind when Mariners outfielder Michael Saunders continued his hot WBC streak with a two-run home run to right, yanking a terrible hanging slider from Derek Holland. Saunders had shown bunt on the first pitch, a ball in the dirt, then swung away. That's what can happen when you don't bunt.
Down 2-0 in the fourth, Torre then bunted again with two on and no outs. The bunt "worked" when Green hesitated on Zobrist's bunt down the third-base line and Zobrist beat the throw to first. How rare is a bunt when trailing by two runs? Torre managed the Yankees from 1996 to 2007 and the Yankees had 13 sacrifice bunts when down two runs -- one by a pitcher, three by Miguel Cairo and the others by weak hitters other than two by Derek Jeter in 2004. In other words, Torre almost never bunted in that situation. It's like Torre was watching all the small ball played by the Asian teams and forgot he has the best lineup in the tournament. If Green makes the play, the U.S. scores only one run that inning instead of two. Good outcome, but the wrong call.
In the eighth inning, after Jones delivered a big go-ahead double to give the U.S. the lead, Torre turned to Diamondbacks righty David Hernandez even though the heart of the Canada lineup -- Joey Votto, Justin Morneau and Saunders, all left-handed hitters -- was due up. I can't quibble too much with that decision, even though lefty Jeremy Affeldt was available. I would have used Affeldt, as all three players had sizable platoon splits last year, but Hernandez was one of the game's best relievers in 2012 (although he held righties to a .145 average and lefties to a .240 mark). After Votto reached on an infield, Morneau struck out and Saunders laid down a perfect bunt single. Chris Robinson then singled to load the bases and Adam Loewen grounded out to make the score 5-4. Torre then brought in Marlins reliever Steve Cishek (of course, using Craig Kimbrel, the most dominant reliever in baseball with your tournament on the line was apparently out of the question) and had him intentionally walk Pete Orr (!) to load the bases. I never like that move, which gives a pitcher no room for error. Canadian manager Ernie Whitt also pinch-hit lefty Tim Smith to face the sidearmer. The intentional walk also guaranteed Votto would bat in the bottom of the ninth. Anyway, Cishek got Smith to ground out to second in what turned out to be the game's crucial at-bat.
The U.S. broke it open in the ninth, with Whitt waiting too long to bring in Brewers closer John Axford, who served up a three-run double to Eric Hosmer. In the end, the U.S. bullpen depth proved key, as many expected it would before the game.
One thing that needs to stop is the guarantees made to general managers that if their guy is selected to a squad, he needs to play. I'm not sure if Torre used Hernandez because he hadn't pitched in the previous two games -- and again, it wasn't that strange of a move, not like the two bunts -- and needed to get him some work. Same thing with Cishek. Or maybe Torre just wanted to get them into a game. But this isn't exactly an All-Star Game. It's not an easy job, but I'd like the U.S. managers to treat this a little more seriously and not guarantee playing time. It's easy enough for a reliever to throw on the side after a game and Victorino's season isn't going to be ruined by not playing for three days.
Part of the fun of the World Baseball Classic is rooting for guys from your team, no matter which country they're playing for. As a Mariners fan, it was exciting to see Saunders have another big game. It was a rough day for Brewers fans, however. Green went 0-for-5 and his two miscues in the field led to at least two U.S. runs, Jim Henderson couldn't hold the 4-3 lead in the eighth, and then Axford let the game get away in the ninth. Even Braun went a quiet 1-for-5.
September, 7, 2011
9/07/11
2:43
PM ET
It wasn't raining in the bucolic Bristol studios as Keith Law and I talked about the greatest sport in Wednesday's
Baseball Today podcast
. Here are a few of the highlighted topics:
1. OK, so I guess that
Stephen Strasburg
guy is pretty good, eh?
2. The
New York Yankees
and
Baltimore Orioles
played a baseball game on Wednesday morning. We discuss.
3. Do catchers make for good future managers? Or is it just catchers that didn't hit well?
4. Who is the next
Rick Ankiel
… and does someone want to be the next Rick Ankiel?
5.
You
are
Kansas City Royals
GM Dayton Moore. What do you do with the Royals?
Plus: Excellent emails, conjunction junction,
Mariano Rivera
and the saves record, appreciating
Livan Hernandez
and a look at Wednesday's schedule, all on Baseball Today!
April, 8, 2009
4/08/09
10:41
AM ET
Tom Verducci on who should be worried this year about
this year's Year After Effect
:
Mike Pelfrey was ready for me in the Mets spring training clubhouse, as if he knew I was coming.

"Look at me," the Mets right-hander said one day last month. "I'm a pretty big guy." Yes, sir. Pelfrey is 6-foot-7. Thankfully, he is a rather pleasant, mild-mannered guy.

I didn't feel threatened, but my theory about young pitchers getting overworked was precisely in Pelfrey's crosshairs. Pelfrey was familiar with my rule of thumb that pitchers 25 and under are at risk of injury or significant regression in the year after their clubs boost their workload by 30 or more innings.

--snip--

So I agreed with some of what Pelfrey presented. He turned 25 in January and is a big guy, so maybe he withstands his 48-inning jump better than someone younger and smaller. That said, I'm still not taking him off my list of the most at-risk young pitchers of 2009 based on the Year After Effect. There is a reason why the Mets had an innings threshold in mind for Pelfrey, a reason why the Yankees have treated Joba Chamberlain with kid gloves and a reason, going further back, why Oakland was very careful to manage the innings growth of its young starters almost a decade ago when I first learned about this growing trend: Too much too soon is risky stuff.

This year I red-flagged 10 pitchers -- and the list includes some of the greatest young arms in the game. Here are those pitchers and the innings jumps that put them on the list ...
The list:
Jon Lester
,
Cole Hamels
,
Chad Billingsley
,
Tim Lincecum
,
Clayton Kershaw
,
Dana Eveland
, Mike Pelfrey,
John Danks
,
Jair Jurrjens
, Jon Niese.
Verducci:
How much should those guys be worried? Over the previous three years I red-flagged a total of 24 young pitchers at the start of those seasons. Of those 24 at-risk pitchers, 16 were hurt in that same season. Only one of the 24 pitchers managed to stay healthy and lower his ERA: Ubaldo Jimenez of Colorado, a guy I said would be less at risk because of his powerful body type.

In the early years of my tracking the Year After Effect, the Royals notoriously pushed young pitchers to awful results (Jose Rosado, Chris George, Runelvys Hernandez, Mac Suzuki, etc.). The Pirates have supplanted the Royals as the worst offenders (Zach Duke, Paul Maholm, Tom Gorzelanny). It's one thing for the Mets to push Pelfrey with a playoff spot at stake, but it's hard to explain why a rebuilding franchise would put young starters at risk in meaningless games in September.

Last year I red-flagged seven pitchers: Jimenez, Gorzelanny, Ian Kennedy (Yankees), Dustin McGowan (Blue Jays), Chad Gaudin (Cubs), Yovani Gallardo (Brewers) and Fausto Carmona (Indians). Except for Jimenez all of them broke down with injuries -- some of them serious, not all arm-related -- and combined to go 29-32. None won 10 games. Previous blowouts that were red-flagged included Francisco Liriano, Gustavo Chacin, Anibal Sanchez, Adam Loewen and Scott Mathieson.
I'm sure you see the gap in this analysis ... Where's the control group? We know -- we've known for a long, long time -- that young pitchers who pile up innings are susceptible to injuries. The Holy Grail of baseball is something that will keep young pitchers from ruining those oh-so-valuable gears and levers and pulleys that allow them to somehow perform their superhuman feats. But are young pitchers who boost their workload by 30 innings more injury-prone than pitchers who boost their workload by 20 innings? Is a 24-year-old pitcher who goes from 120 innings to 150 innings more likely to get hurt than a 22-year-old pitcher who goes from 175 innings to 190 innings? Do pitch counts matter, at all?
Verducci's method strikes me as terribly arbitrary. That doesn't mean it doesn't work. But without a control group -- without some basis for comparison -- we can't really know if pasting the photos of a bunch of young pitchers on the wall and throwing darts wouldn't work just about as well. And one thing I'm sure about: the Red Sox and Rays and Cardinals and Indians and Padres and another half-dozen (at least) teams aren't throwing darts.
Not exactly.