SweetSpot:

Adeiny Hechevarria
May, 7, 2014
May 7
12:17
PM ET
Take a look at the list on the right and a pattern emerges.
Of the top 11 teams in Defensive Runs Saved this season, 10 are from the National League.
The
Los Angeles Angels
of Anaheim are the only AL team in the bunch. The next-highest AL team is the Kansas City Royals, with 1 Defensive Run Saved. Twelve of the 15 AL teams rate negatively in that stat (the Athletics are at zero).
Granted, it's early in the season and defensive numbers fluctuate plenty over the course of a calendar year. In each of the last three seasons, at least seven AL teams posted a positive Runs Saved total, so this probably will change in the near future.
But it certainly is possible we have an imbalance here. With regards to individual players, there are 30 with at least four Defensive Runs Saved this season. Twenty are on National League teams.
Of the 33 players with -4 Runs Saved or worse, 21 are in the American League.
We wanted to get some type of answer on this, so we turned to former manager and current "Baseball Tonight" analyst Manny Acta.
"Overall, the middle infielders currently playing in the NL are younger and more athletic than those in the AL," Acta said. "Plus most of the best defensive center fielders are there too -- (Andrew) McCutchen, (Carlos) Gomez, (Juan) Lagares, (Peter) Bourjos. I also think that the weaker contact by the pitchers at bat can help that rating some."
Acta's point about the NL teams and their younger middle infields was right on. Of the 35 players (minimum 50 at-bats) whose primary position is middle infield and are in their age 28 or younger season, 21 of them are in the National League.
We're not sure that this necessarily means anything. Perhaps it's just a fluke. But it struck us another of those stats to keep an eye on as the season continues.
Who's improving?
We asked a couple of members of the "Baseball Tonight" crew to give us a player whose defense has improved noticeably from last year.
Both
Chris Singleton
and Acta gave us the same name -- Dodgers second baseman
Dee Gordon
, who has made the smooth transition from shortstop, where he often struggled.
"He seems to be learning the angles, making better throws to (Adrian) Gonzalez at first, and (using good) footwork around the second-base bag," Singleton said. "He told me the first weekend of the season that he had to forget about all of the technical things they were telling him about turning the double play, like using the bag for protection or taking the ball on one side or the other. He said he told himself to just be athletic around second base and once he started doing that, he really started to find his own rhythm."
Acta also cited Marlins shortstop
Adeiny Hechavarria
.
"He looks more under control and his footwork is better," Acta said. "It also helps to have Perry Hill as the infield (coach)."
Spotlighting: Brian Dozier (and Kyle Gibson)
Last week, we gave Orioles outfielder
David Lough
props
for his penchant for leaping catches
.
This week, we wanted to offer a salute to
Minnesota Twins
second baseman Brian Dozier for his ability to make the diving play, with a little bit of help from his friends.
The most recent was one in the Twins' 1-0 win over the Indians on Monday, which required an equally good (and rather unusual) dive by pitcher Kyle Gibson to complete the putout. It currently ranks as "Baseball Tonight"'s
"Best of the Best"
for 2014.
[+] Enlarge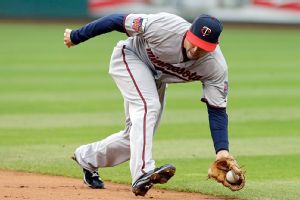 AP Photo/Mark DuncanBrian Dozier can cover a lot of ground.
Dozier was rather modest about his contribution.
"Those are plays where you've gotta get rid of it quickly," Dozier said. "That's basically Kyle's play. He made a tremendous scoop and slide to the bag. I said to him in the dugout afterwards, heck of a scoop. He said, no, I caught it on the air. I saw it on ESPN and he definitely scooped it. I don't think even he knew where he was at at the moment (of the play). But a great play by him."
This was the second straight Gibson start in which he and Dozier combined on a special play. They also teamed for
this one
, an
Adrian Gonzalez
deflection off Joe Mauer's glove, on which Dozier flipped the ball with his glove to Gibson for the out.
Dozier makes this sort of play a lot.
To this point in the season, UZR likes Dozier a little bit more than Defensive Runs Saved. He rates first at second base in the former (with a value of 3.4 runs). His 14 out-of-zone plays (plays outside the area in which second baseman turn more than half of batted balls into outs) ranks first at that position.
Dozier is similar to Rockies third baseman Nolan Arenado in that there is a high-risk, high-reward component to his play. He leads second basemen in both Good Fielding Plays (think "Web Gem nominee") with 22 and Defensive Misplays & Errors with 11 this season.
"Great instincts," said one scout we talked to about Dozier. "He anticipates very well, plays from the ground up, and is trustworthy. And he continues to improve."
May, 5, 2013
5/05/13
11:19
PM ET
There are worse ways to spend a Sunday afternoon than watching
Yu Darvish
and
Justin Verlander
pitch. Especially if you're not at the ballpark and you can set up a laptop outside, put up your feet, soak in those first warm rays of early May and imagine what it's like to throw a baseball like these two guys.
Darvish faced the Red Sox and struck out 14 batters in his seven innings -- and in some ways this was a bad start for him, as he gave up two home runs and three runs. But he showed why he's been so tough this season: four strikeouts on his fastball, six with his slider, three on his curve and a 14th on a pitch classified as a splitter (a 93-mph pitch that
David Ortiz
swung through in the sixth inning). Who knows; it could have been a gyroball or some other exotic pitch Darvish made up on the spot. On his 127th and final pitch, he fanned
Pedro Ciriaco
on a 3-2 slider that moved wickedly away from the plate. Rangers manager Ron Washington took him out, and he ended up with a no-decision in
Texas' 4-3 victory
, but I have no doubt he could have pitched another inning or two.
Verlander, meanwhile, cruised through the Triple-A lineup known as the
Houston Astros
,
taking a no-hitter into the seventh
while rarely pumping up the velocity on his fastball. He didn't need to. He averaged 92.8 mph on his heater, but on this day that was enough. He pitched seven scoreless frames, allowing two hits and striking out nine.
With apologies to
Clay Buchholz
(great start but inconsistent career),
Matt Harvey
(too soon),
Jordan Zimmermann
(getting there),
Adam Wainwright
(amazing control so far) and a few others, the battle for best right-handed starter in baseball right now is between Darvish, Verlander and
Felix Hernandez
, who
pitched his own must-watch gem
on Friday, shutting out the
Toronto Blue Jays
over eight innings.
Let's take a quick look at how the three have fared in 2013.
The statistics
Darvish: 5-1, 2.56 ERA, 45.2 IP, 27 H, 15 BB, 72 SO, 3 HR, .169 AVG
Verlander: 4-2, 1.55 ERA, 46.1 IP, 38 H, 13 BB, 50 SO, 1 HR, .222 AVG
Hernandez: 4-2, 1.60 ERA, 50.2 IP, 39 H, 7 BB, 51 SO, 3 HR, .212 AVG
Hernandez has pitched the most innings; Verlander and Hernandez have the lower ERAs; but Darvish has been the most dominant, averaging 14.1 strikeouts per nine innings, a mark that would shatter Randy Johnson's record for starters of 13.4, set in 2001. Darvish has also been the toughest to hit with that .169 batting average against and has to pitch in the best hitter's park of the three. Hernandez, however, has faced a slightly tougher slate of offenses, mostly because he's had to pitch against the Rangers and Tigers while the other two haven't. All three started once against Houston ... and none allowed a run.
Edge:
We can't put too much emphasis on ERA this early in the season. Hernandez has the edge in durability and command, but Darvish's strikeout rate has been off-the-charts phenomenal. Edge to Darvish.
Issues entering the season
Darvish: Command, especially of fastball; he must prove he can be a 200-inning workhorse (threw 191.1 in 29 starts last season).
So far, it's mixed reviews on this. His walk rate is down from 11.9 percent to 8.4 percent, so that's good. His percentage of fastballs in the strike zone, however, is actually just 42 percent, down 10 percent from last season. He has the killer wipeout pitches when he gets to two strikes -- 20 K's in 31 plate appearances ending with his curve, 29 K's in 69 plate appearances with his slider -- which makes it scary that he's been so good without consistently throwing his fastball for strikes. In part, this works to his advantage -- kind of an effective wildness that makes it hard for hitters to attack his fastball (or his cutter, which hasn't been a great pitch for him) but can lead to some high pitch counts and fewer innings.
Verlander: Durability after leading AL in innings the past two seasons and throwing 50 more in the postseason. Would there be a letdown after two great seasons?
I'd say a 1.55 ERA answers the second question. He hasn't pitched more than seven innings yet, which is unusual for him, but that's not just because of a tight leash. He's had games of 126, 116, 114, 111 and 111 pitches. He did throw 120-plus in nine regular-season starts in 2012, so Jim Leyland has maybe been a little conservative so far, but Verlander has also pitched in a lot of cold weather. Plus, Leyland may hold back a bit, trying to make sure Verlander remains stronger for a possible October run.
Hernandez: Concerns about declining fastball velocity and late slump last season (0-4, 6.62 ERA in six September starts).
So far, his average fastball is down one mph from last season (92.1 to 91.1), which, in turn, is down two mph from 2011 and down from the 93.9 he averaged in his 2010 Cy Young season. Put it this way: His fastest fastball this season was 94.1 -- pretty much his average just three seasons ago. That said, he's been as good as ever, thanks to that Wiffleball changeup and showing that whatever happened last September was an aberration.
Edge:
Even though he doesn't throw as hard as he once did, Hernandez looks
better
than ever with one of the best stretches of his career. Sure, it helps pitching in the dead air of the West Coast ballparks, and maybe some day the lack of separation betweeen his fastball and changeup will catch up to him, but we're not there yet.
Stuff
Darvish: Off the charts. He is basically unhittable when he gets to two strikes, thanks to that curveball/slider combo. In 112 plate appearances with two strikes, batters are hitting .088 with 72 strikeouts, eight walks and two extra-base hits. Ouch.
Verlander: Speaking of fastball velocity, Verlander has yet to unleash one of his famous 100-mph heaters and has averaged just 92.2 mph with a peak velocity of 97.1. That doesn't mean it's been any easier to hit: Batters are hitting .192/.289/.256 against his fastball, which is actually worse than the .215/.291/.362 line in 2011.
Hernandez: There might not be a better pitch in the game right now than Hernandez's changeup, which moves away from lefties and jams righties. Batters are hitting .130 off it. He mixes in some sliders and curveballs, making him a four-pitch guy with great command of all four pitches.
Edge:
It's hard to suggest somebody has better stuff than Verlander, but right now that's the case with Darvish's deep arsenal of weapons. Verlander doesn't necessarily have to crank it up 95-plus regularly -- we know that he's learned to conserve that until he needs it -- but until he
does
start doing that more often, nobody can match the electric arsenal of pitches that Darvish possesses.
Who is the best?
This is like picking between Mays and Mantle at their peaks. There's only one way to answer: If all three are pitching at the same time and you can watch only one -- and you don't have a rooting interest in one of the specific teams -- who are you watching? Right now, I'm watching Darvish. Put him in a neutral park and I think he's the best right-hander in the game.
But I might change my mind next week.
REST OF THE WEEKEND

Three stars
1. Marcell Ozuna, Marlins.
A
controversial call-up
earlier in the week, considering he'd played just 10 games in Double-A (although he hit five home runs), Ozuna didn't look overmatched his first week in the majors, hitting .478 with five extra-base hits in his first six games. He
hit his first home run
off
Cole Hamels
in Saturday's 2-0 win -- a nice easy swing off a 92-mph fastball -- and then went 4-for-5 with two doubles, three runs and three RBIs on Sunday.
2. Jeremy Guthrie, Royals.
Guthrie's three-year, $25 million free agent deal with Kansas City was widely panned, but so far, so great. Guthrie threw a four-hit shutout in Saturday's 2-0 win over the White Sox -- yes, a manager who let a pitcher go the distance in a close game! -- and improved to 4-0 with a 2.40 ERA.
3. Jon Jay, Cardinals.
A few days ago, Jay was hitting .204 and he'd lost his leadoff spot in the lineup. Now he's had four straight two-hit games and is batting a respectable .252/.339/.393. He drove in two runs on Friday, hit a three-run homer off
Yovani Gallardo
on Saturday and scored two more runs on Sunday. The Cardinals won all four in Milwaukee.
Clutch performance of the weekend
Rangers pitching staff.
The Red Sox entered the weekend leading the AL in on-base percentage, slugging percentage and wOBA (weighted on-base average) -- in other words, the best offense in the league.
Derek Holland
,
Alexi Ogando
and Darvish held the Red Sox to four runs in 21 innings, striking out 27, as the Rangers swept. That's an impressive three starts against any lineup, but especially against a red-hot lineup in a pitcher's park like Texas'. The Rangers moved into a tie with the Red Sox for the best record in the AL, and it's been all about their pitching -- they've allowed the fewest runs in the AL. Kudos once again to pitching coach Mike Maddux for building a staff that appeared to have some holes entering the season (and especially when
Matt Harrison
underwent back surgery).
Best game
Giants 10, Dodgers 9, 10 innings (Saturday).
On Friday night,
Buster Posey
hit
a walk-off home run
off
Ronald Belisario
on a 3-2 fastball to give the Giants a 2-1 win. On Saturday night, it was an unlikely hero for the Giants: Backup catcher
Guillermo Quiroz
lined a pinch-hit homer
on an 0-2 pitch from
Brandon League
to give the Giants a 10-9 victory. The crazy game included the Giants blowing 5-0 and 6-1 leads, the Dodgers scoring seven runs in the fifth inning, the Giants tying it up, the Dodgers turning a 4-3 double play on Posey with the bases loaded in the bottom of the ninth and then Quiroz hitting that sinker from League just over the fence in left for his third career home run and first against a right-hander. It wasn't a terrible pitch from League, as you can see from the pitch location map below; sometimes, the hitter just gets good wood on a good pitch.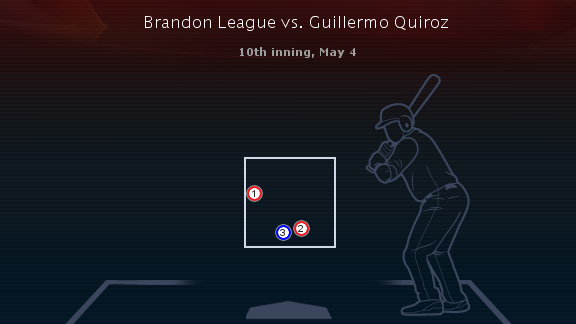 ESPN Stats & InformationBrandon League's 0-2 sinker wasn't that bad of a pitch.
As for the Giants, they continue to win despite poor performances from the rotation.
Ryan Vogelsong
was the victim in the seven-run inning, and he is 1-2 with a 7.20 ERA with just one quality start in six games.
Matt Cain
has a 5.57 ERA (
lowered
from 6.49 after Sunday night's win), thanks to nine home runs allowed. And
Tim Lincecum
has scuffled along with a 2-1, 4.41 ERA mark. Vogelsong and Cain should fare better -- their strikeout/walk ratios are good -- if they curb the home runs. But it's time to recognize that the 2013 Giants -- like the 2012 Giants -- are built as much around an underrated offense and bullpen (second-best ERA in the majors) as they are around their starting pitchers.
Hitter on the rise: Mark Trumbo, Angels
Miguel Cabrera
had a monster RBI week (and even
played some sweet D
) and
Ryan Raburn
had an amazing three-game stretch during which he went 11-for-13 with two two-homer games, but we already know Miggy can hit and we know Raburn will revert back to being a role player off the bench. The Angels had another bad week, but don't blame Trumbo, who blasted five home runs. Importantly, he also drew six walks, a sign that perhaps he's gaining some respect (and that
Albert Pujols
and
Josh Hamilton
have not been on base much in front of him) but also that he's laying off those pitches outside the strike zone. We know Trumbo has big-time power -- 29 home runs as a rookie in 2011, 32 last season -- but low on-base percentages have held down his value. He has too much swing-and-miss to ever hit .300, so he needs to draw some walks to increase his overall offensive value.
Pitcher on the rise: Hisashi Iwakuma, Mariners
It's time to start believing in Iwakuma as the real deal. With wins over the Angels and Blue Jays this week (one run allowed in each game) he's now 3-1 with a 1.61 ERA and hasn't allowed more than three runs in a start. Since he joined Seattle's rotation on July 2, only
Kris Medlen
and
Clayton Kershaw
have a lower ERA than Iwakuma's 2.32 mark. Check out the heat map on his splitter -- hitters just can't distinguish from his two- and four-seam fastballs as they're 9-for-51 (.176) against it with 23 strikeouts, one walk and two extra-base hits.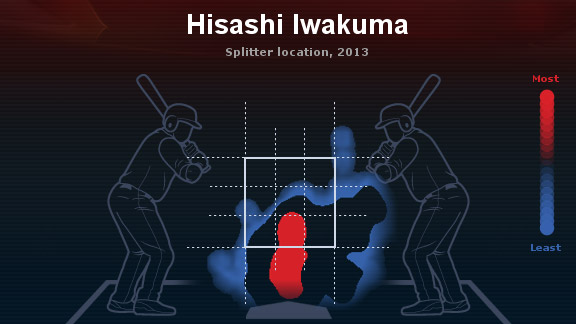 ESPN Stats & Information Hitters have not been able to read Hisashi Iwakuma's low splitter.
He can't hit but, he sure can field
The obligatory
Brendan Ryan
defensive play of the week
.
Team on the rise: Cardinals
The Rangers sweeping the Red Sox at home was big, I'll rate the Cardinals' four-game sweep in Milwaukee as the weekend's most impressive series. The Brewers are tough at home -- 9-6 before this series, 49-32 in 2012, 57-24 in 2011 -- so the Cards made a big statement by hitting .322 and scoring 29 runs and twice holding Milwaukee to one run. With the Braves just 3-7 over their past 10 games, the Cardinals have staked their claim as the NL's best team. Besides the NL's best record and best run differential, the Cards' bullpen is starting to sort itself out, with
Edward Mujica
as closer,
Trevor Rosenthal
in the eighth and
Mitchell Boggs
now back in the minors. Here's how good the rest of the team has been: St. Louis is 19-6 when the relievers don't get the decision.
Team on the fall: Phillies
Two losses to the Marlins can make a team look bad. First, rookie
Jose Fernandez
threw seven one-hit innings in a 2-0 win on Saturday for his first major league victory (tell him that pitcher wins don't matter). That was followed by Sunday's embarrassing 14-2 loss in which
Roy Halladay
got battered around by what is essentially another Triple-A lineup.
Adeiny Hechavarria
tripled to drive in three and then
hit a grand slam
(video review changed the call from a double to a home run), part of his seven-RBI day. Let's say that again: Adeiny Hechavarria knocked in seven runs against Roy Halladay. Halladay used to go entire months giving up seven runs. With his ERA at 8.65, it appears the shoulder
is
a problem and he may be headed to the DL. But, hey,
Delmon Young
is back, so that should fix the 14-18 Phillies.