SweetSpot:

Al Alburquerque
April, 26, 2013
4/26/13
10:52
PM ET
You have to feel for
Jordan Zimmermann
, he of the Friday evening one-hitter, and
Kyle Kendrick
(three-hit shutout) a little bit. On any other night, either of those two would have been the story. But they were both upstaged by
Anibal Sanchez
, who set a
Detroit Tigers
franchise record by striking out 17 batters in a
10-0 victory
against the
Atlanta Braves
.
That's right, a current member of the Tigers holds the franchise record for strikeouts in a game,
and it's not
Justin Verlander
or
Max Scherzer
.
Sanchez isn't in the class of Verlander or Scherzer as a strikeout pitcher (few are), but he did whiff 202 batters while pitching for the Marlins in 2011. So that got me thinking: Could the Tigers' pitching staff set the record for most strikeouts in a season?
The record is just 10 years old, and it was set by the 2003
Chicago Cubs
; the Mark Prior/Kerry Wood-led staff fanned 1,404. Through 21 games, the Tigers have 211 strikeouts, which is a hair more than 10 per game and puts them on pace to shatter the record with 1,628.
That figure is a bit misleading due to the fact that the season is in its infancy, and Sanchez's performance is being given too much weight as a result.
Rick Porcello
and his 2.1 strikeouts per nine innings are set to take the bump for the Tigers on Saturday, and if Detroit's pitchers only rack up five strikeouts, for example, that strikeout "projection" would drop to 1,583.
Nonetheless, this staff has what it takes to threaten the record. Verlander and Scherzer are in the upper echelon of strikeout pitchers, and it wouldn't be unheard of for each of them to surpass 230 Ks apiece, as they did last season. For context, Wood and Prior had 266 and 245 for the Cubs, respectively, in 2003. The Cubs club didn't have another pitcher crack the 200-K plateau, which is where Sanchez can give the Tigers an edge.
Assuming Sanchez can surpass 200 punchouts, the Tigers would be halfway to the record before any of their other starters or relievers entered the equation. Thus far, the Tigers' relievers are doing their part, as
Al Alburquerque
(15.2 strikeouts per nine),
Darin Downs
(13.0),
Joaquin Benoit
(10.5) and
Phil Coke
(10.4) are all fanning more than a man per inning. And the recently promoted
Bruce Rondon
throws 100 mph and should pull his weight in the strikeout department. As you might recall, the 2003 Cubs featured two relievers who racked up a ton of strikeouts, with
Kyle Farnsworth
fanning 92 and Mike Remlinger whiffing 83.
When it comes down to it, the Tigers' chances of breaking the record will be dictated by two factors: health (duh) and Porcello. While his current strikeout rate is lower than his career rate of 4.9 per nine, he's never been a guy who misses a lot of bats. If he remains in the rotation all season, he will make it difficult for Detroit to pass the Cubs.
Of course, Porcello might pitch himself out of the rotation if he can't get his ERA into single digits posthaste, and the Tigers' chance of breaking the record would almost certainly get a boost from whomever his replacement might be. (It would likely be
Drew Smyly
, who is fanning 10.2 per nine as a reliever this season and has a career mark of 8.7.)
With the way strikeout rates have been rising over the lpast decade, it's only a matter of time before the team strikeout record falls. With Anibal Sanchez in top form, the Tigers are equipped to make it happen.
October, 25, 2012
10/25/12
12:00
AM ET
They call him Kung Fu Panda. Now they can call him a World Series legend.
Pablo Sandoval
, a batter who rarely sees a pitch he doesn't like, found three pitches he loved in the World Series opener and entered his name alongside three of the biggest names in the history of the game.
Ruth. Reggie. Pujols. Pablo. The only four players to hit three home runs in a World Series game.
Here's the thing: The first three guys didn't hit two homers off the reigning best pitcher in the world. The San Francisco Giants beat
Justin Verlander
and the Detroit Tigers
8-3
but the score was secondary to one of the great individual performances in World Series history (Sandoval would later add a line-drive single to finish 4-for-4). His trip into the record books:
Home run No. 1: An 0-2 95-mph fastball that Verlander tried to elevate but Sandoval jacked to dead center, a 421-foot rocket of a line drive with two out in the first. It wasn't necessarily a bad pitch -- eye level -- but Sandoval has the hand-eye coordination to extend the strike zone like few batters. In that regard, he's similar to two great World Series performers of the past, Yogi Berra and Kirby Puckett, notorious bad-ball hitters. And at least in Puckett's case, even the similar stocky build.
How unlikely was the home run? Not surprisingly, Verlander hadn't served up an 0-2 home run all season and only four in his career.
Home run No. 2: After
Angel Pagan
had doubled off the third-base bag with two out in the third and scored on
Marco Scutaro
's sharp single up the middle, Verlander threw Sandoval two changeups in the dirt, prompting a quick visit from pitching coach Jeff Jones. The next pitch was a 95-mph fastball on the outside corner that Sandoval drove to left field, just clearing the fence for a two-run homer. Again, not a terrible pitch, just a terrific swing. Of Sandoval's 12 regular-season home runs, just two went to left field or left-center, but he hit nine in that direction in 2011, so he has legit opposite-field power.
[+] Enlarge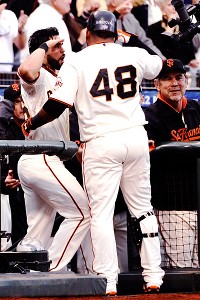 Robert Hanashiro/USA TODAY SportsAngel Pagan, who went 2-for-4 himself, salutes Pablo Sandoval after his first homer as Giants manager Bruce Bochy looks on.
Home run No. 3: Now facing reliever
Al Alburquerque
in the fifth, Sandoval golfed a 1-1 slider that was barely off the ground into a long, beautiful arc over the center-field fence, sending Giants fans into a communal roar of joy. Is there a better sound than a ballpark erupting?
The amazing thing: None of the three pitches was grooved. Two were outside the strike zone. It was simply three swings for the ages for Kung Fu Panda.
* * * *
It's easy to say after the fact that Verlander didn't have it, but the first two batters of the game were an indication this would be tougher going than when he faced the Oakland A's and New York Yankees. Verlander required six pitches to retire Pagan, who fouled off three fastballs before finally grounding out on a curve. Scutaro grounded out on a 2-1 slider, laying off a tough 1-1 curveball.
The Giants have a completely different approach than the two teams Verlander faced in the American League playoffs. The A's are a swing-from-the-heels team that set a league record for strikeouts. The Yankees clearly were in midst of a team-wide offensive meltdown. But the Giants play in a tough home run park -- fewer home runs were hit at AT&T this season than any other park -- and play a style that suits their home stadium. Only the Phillies struck out fewer times in the National League, as the Giants work the count, put the ball in play and make the opposing defense make plays.
As dominant as Verlander was in his three previous playoff starts, and even though he was working with plenty of rest, it's worth noting he was worked hard down the stretch. He has had 12 games of 120-plus pitches this year, including the postseason, and six of those came on Aug. 28 or later. His three starts against the A's and Yankees featured pitch counts of 121, 122 and 132.
I'm not saying that's the reason he struggled; give credit to the Giants for a lot of quality at-bats. Pagan and Scutaro are locked in right now and the Tigers will have to figure out a way to keep those two off the bases. Maybe Verlander was also too amped-up, as he was in the All-Star Game. In fact, only twice in the past two years has Verlander failed to pitch at least five innings (other than the rain-delayed playoff game against the Yankees a year ago): Game 1 of the 2012 World Series and Game 1 of the 2011 American League Championship Series. Questions about his ability to stay focused and in the right frame of mind will be there out until his next start.
* * * *
Defense could still play a major factor in this series. Pagan's double off the bag wasn't
Miguel Cabrera
's fault, although even if he fields that ball I'm not sure he throws out Pagan.
Delmon Young
was playing left field pretty much over in Oakland, even for weaker hitters such as
Gregor Blanco
, which made no sense. It didn't really come into play in this game, although he may have had a chance to throw out
Brandon Belt
at home plate on
Barry Zito
's RBI single in the fourth. Instead, he chunked one of the worst throws you'll ever see. With
Madison Bumgarner
starting Game 2, I'm sure we'll see Young out there again. Beware, Tigers fans, beware. Meanwhile, Blanco made two diving catches in left field, an example of the Giants' edge at several positions.
* * * *
Finally, Zito did what he had to do. Bruce Bochy got him out of the game as soon as he got into trouble in the sixth, with
Tim Lincecum
again looking like a guy who can be a big weapon out of the bullpen. The winners of Game 1 have won eight of the past nine World Series and 13 of 15. But as Wednesday night showed, those are just numbers. We have no idea what is going to happen.
October, 15, 2012
10/15/12
1:09
PM ET
Detroit Tigers
have allowed 15 runs in seven postseason games.
Jose Valverde
has allowed seven of those. So, in 62.1 innings the rest of the Detroit staff has allowed eight runs; in 2.1 innings, Valverde has allowed seven. Those seven runs include memorable blow-ups against the A's in Game 4 of the Division Series and then against the Yankees in Game 1 of the ALCS.
Despite those numbers, Jim Leyland says
Valverde will remain his closer
. "I guess that sounds like I am mud watching, but I am really not," Leyland said. "We will do some work with him."
No, I don't have any idea what "mud watching" means.
Jose Valverde
The case for: He's been their closer all season, saved 35 of 40 games, allowed just three home runs in the regular season and was perfect in 2011, in case you really want to bring up 2011.
The case against: His 6.3 K's per nine is way below the standards you expect from a closer these days. Had a large platoon split -- .515 OPS against right-handers, .754 against left-handers -- and Yankees roll out a lot of lefties and switch-hitters. He stinks.

Phil Coke
The case for: The lefty got the save in Sunday's 3-0 victory by getting the final six outs. Yankees have all those lefties and switch-hitters so Coke is maybe the best matchup out of the pen. He gets the platoon advantage against
Ichiro Suzuki
,
Robinson Cano
,
Curtis Granderson
and
Raul Ibanez
and flips
Nick Swisher
to his weaker side.
The case against: He's not really that good. He allowed 71 hits in 58 innings during the regular season and right-handers hit .396 off him. LOOGY? Sure. Closer? Are you kidding?
Octavio Dotel
The case for: The veteran has closer experience and had the best numbers of any Detroit reliever -- allowed a .230 average and .276 OBP and his SO/BB ratio of 5.17 was sixth-best among AL pitchers with at least 50 innings.
The case against: Has historically had big platoon splits. Righties hit .197 off him this year but lefties hit .288. Using him against a string of left-handers is just asking for trouble.
Al Alburquerque
The case for: Maybe the best stuff in the Detroit bullpen but pitched just 13.1 innings after returning from elbow surgery. In 56.2 career innings, opponents are hitting .140 off him with just two extra-base hits and 85 strikeouts. Would be worth it
just to see Mike Francesa's reaction
.
The case against: His slider is near unhittable but he can also be wild. Has never saved a game. While he's never allowed a regular-season home run, the Yankees touched him up for three runs in one-third of an inning in last year's Division Series.
Update: Obviously, I forgot to mention Joaquin Benoit, which was just stupid of me. I added him to the poll. Of course, he's just as dicey as everyone else, considering the 14 home runs he allowed were the second-most of any reliever in 2012 -- with only ancient Livan Hernandez allowing more. As I write this, the "committee" idea was winning the poll in a landslide anyway. I suspect -- despite what he said -- that is probably what Leyland will end up doing.
The
January, 26, 2012
1/26/12
8:30
AM ET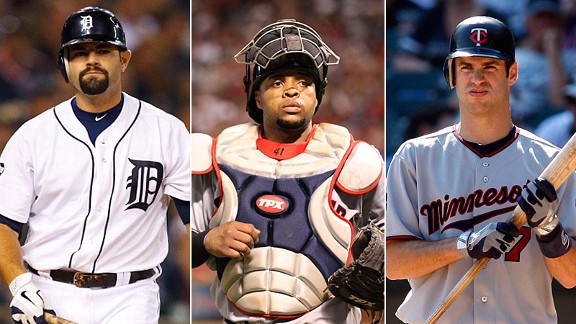 US PresswireWith Alex Avila, Carlos Santana and Joe Mauer, the AL Central is loaded at catcher.
We're back with more divisional position rankings for 2012. You can scream, you can holler, you can protest and call me names. But just because I rated your player lower than you think he deserves doesn't mean I hate your team.
(Here are the
NL East
and
NL West
rankings.)
Catcher
1.
Alex Avila
, Tigers
2.
Joe Mauer
, Twins
3.
Carlos Santana
, Indians
4.
Salvador Perez
, Royals
5.
A.J. Pierzynski
, White Sox
The AL Central might not be baseball's glamor division, but it may have three of the top five catchers in the game if Mauer bounces back from his injury-plagued campaign. Since we're not certain of his health, I'm going to give top billing to Avila, who had the best hitting numbers of any catcher outside of
Mike Napoli
and plays solid defense. I wouldn't be surprised if Santana explodes; with his power-and-walks combo, all he has to do is raise his average 30 points and he'll be one of the most valuable players in the game. Considering that his average on balls in play was .263, there is a good chance of that happening. Perez hit .331 in 39 games; OK, he won't do that again, but he doesn't turn 22 until May and puts the ball in play. There's no shame in being fifth in this group but that's where I have to place Pierzynski, who keeps rolling along and is now 36th on the all-time list for games caught.
First base
1.
Prince Fielder
, Tigers
2.
Paul Konerko
, White Sox
3.
Eric Hosmer
, Royals
4.
Justin Morneau
, Twins
5.
Matt LaPorta
, Indians
In 2009, when Morneau played 135 games, he hit .274 AVG/.363 OBP/.516 SLG. Even if he replicates that line, he may rank only fourth. Konerko has hit a combined .306 with 70 home runs the past two seasons. He's 104 home runs from 500 but turns 36 in March, so he's probably four seasons away; not sure he'll hang on that long, but who knew he'd be this good at this age. If Hosmer improves his walk rate and defense and Konerko declines, Hosmer could climb past him. If it doesn't happen this year, it will happen next. The most similar batter to him at age 21: Eddie Murray.
Second base
1.
Jason Kipnis
, Indians
2.
Gordon Beckham
, White Sox
3.
Johnny Giavotella
, Royals
4.
Alexi Casilla
, Twins
5.
Ramon Santiago
, Tigers
Well, this isn't exactly a
Robinson Cano
/
Dustin Pedroia
/
Ben Zobrist
debate, is it? Kipnis' bat is a sure thing, as evidenced by his excellent play after his call-up (.272 average and .507 slugging in 36 games). His glove was once a question mark but now appears solid enough that he looks like a future All-Star to me. Can anybody explain what has happened to Beckham? He's second mostly by default; he's gone downhill since his superb rookie season in 2009 but is only 25, so there's hope that he'll find those skills again. Giavotella has some potential with the bat (.338/.390/.481 at Triple-A), which is more than you can say for Casilla and Santiago.
Third base
1.
Miguel Cabrera
, Tigers
2.
Mike Moustakas
, Royals
3.
Lonnie Chisenhall
, Indians
4.
Danny Valencia
, Twins
5.
Brent Morel
, White Sox
We'll go with the idea that Cabrera is Detroit's starting third baseman, although I predict he'll end up starting more games at designated hitter. Manager Jim Leyland will end up doing a lot of mixing of his lineups, but for this little exercise we have to choose a starter. Moustakas didn't tear up the league as a rookie and I worry about his ability to hit lefties (.191, homerless in 89 at-bats), but he showed more than fellow rookies Chisenhall and Morel. Valencia doesn't get on base enough and he rated poorly on defense in 2011. I hope he's at least good in the clubhouse. Morel was terrible all season and then exploded for eight of his 10 home runs in September and drew 15 walks after drawing just seven the previous five months. Maybe something clicked.
Shortstop
1.
Asdrubal Cabrera
, Indians
2.
Alexei Ramirez
, White Sox
3.
Jhonny Peralta
, Tigers
4.
Alcides Escobar
, Royals
5.
Jamey Carroll
, Twins
Peralta had the best 2011 season, but he's a difficult guy to project. He had an .804 OPS in 2008 but dropped to .691 in 2009. He had a .703 OPS in 2010 and then .823 in 2011. I just don't see a repeat season, at the plate or in the field. Cabrera didn't rate well on the defensive metrics, and after a strong start he wore down in the second half. Ramirez has turned into a nice player, with a good glove and some power, and he even draws a few walks now. Escobar is a true magician with the glove. Carroll is actually a useful player who gets on base (.356 career OBP), but he's pushed as an everyday shortstop and he'll be 38. He'll be issued the honorary
Nick Punto
locker in the Twins' clubhouse.
Left field
1.
Alex Gordon
, Royals
2.
Alejandro De Aza
, White Sox
3.
Ben Revere
, Twins
4.
Michael Brantley
/
Shelley Duncan
, Indians
5.
Ryan Raburn
/
Don Kelly
, Tigers
I'm not sure what to do here. After Gordon, I just get a headache. We'll pretend to believe in De Aza after his impressive stint in the majors (171 plate appearances, .329/.400/.920). He's hit in Triple-A for three seasons now, and while he's not going to post a .400 OBP again, he should be adequate. Revere is one of the fastest players in the majors, but he's all speed and defense; he hopes to grow up to be
Brett Gardner
, which isn't a bad thing, but he'll have to learn to get on base at a better clip. Brantley doesn't have one outstanding skill so he'll have to hit better than .266 to be anything more than a fourth outfielder; Duncan provides some right-handed pop as a platoon guy. The Tigers have
Delmon Young
, but I'll slot him at DH. That leaves supposed lefty masher Raburn and utility man Kelly to soak up at-bats; both had an OBP below .300 in 2011, although Raburn has hit better in the past.
Center field
1.
Austin Jackson
, Tigers
2.
Denard Span
, Twins
3.
Grady Sizemore
, Indians
4.
Lorenzo Cain
, Royals
5.
Alex Rios
, White Sox
I can't rate Sizemore any higher since he's played just 104 games over the past two seasons, and he hasn't had a big year since 2008. Rios was terrible in '09, OK in '10 and worse than terrible in '11. I'm not betting on him.
Right field
1.
Shin-Soo Choo
, Indians
2.
Brennan Boesch
, Tigers
3.
Jeff Francoeur
, Royals
4.
Josh Willingham
, Twins
5.
Dayan Viciedo
, White Sox
Choo would like to forget 2011, but there's no reason he shouldn't bounce back and play like he did in 2009 and 2010, when he was one of the 10 best position players in the AL. I don't expect Francoeur to deliver 71 extra-base hits again, but maybe he'll surprise us. Viciedo is apparently nicknamed "The Tank," which makes me wonder how much ground he can cover. He did improve his walk rate last season in the minors and turns 23 in March, so there's still room for more growth.
Designated hitter
1.
Billy Butler
, Royals
2.
Travis Hafner
, Indians
3.
Ryan Doumit
, Twins
4. Delmon Young, Tigers
5.
Adam Dunn
, White Sox
Has there been a bigger prospect disappointment than Young in the past decade? I mean, yes, there were complete busts like
Brandon Wood
and
Andy Marte
, but those guys had obvious holes in their games, while Young was viewed as a
sure thing
, a consensus No. 1 overall prospect. But his bat has never lived up to its billing. Other than one decent year in Minnesota, he has low OBPs and he clearly lacked range in the outfield. His career WAR on Baseball-Reference is minus-0.2 (1.6 on FanGraphs), meaning he's been worse than replacement level. He's just not that good, Tigers fans.
No. 1 starter
1.
Justin Verlander
, Tigers
2.
John Danks
, White Sox
3.
Justin Masterson
, Indians
4.
Luke Hochevar
, Royals
5.
Carl Pavano
, Twins
Masterson was better than Danks in 2011, and I do believe his improvement was real. He absolutely crushes right-handers -- they slugged an anemic .259 off him. Danks had two bad months but has the longer track record of success. Even in his "off year" he had a higher strikeout rate and lower walk rate than Masterson. If you want to argue about Hochevar versus Pavano, be my guest.
No. 2 starter
1.
Doug Fister
, Tigers
2.
Ubaldo Jimenez
, Indians
3.
Gavin Floyd
, White Sox
4.
Francisco Liriano
, Twins
5.
Jonathan Sanchez
, Royals
Yes, sign me up for the Doug Fister bandwagon club. Jimenez's fastball velocity was down a couple miles per hour last season but the positives are that his strikeout and walk rates were identical to 2010; he'll be better. Floyd isn't flashy but he's now made 30-plus starts four years in a row, and he'll become a very rich man when he becomes a free agent after this season. Sanchez won't have the luxury of pitching in San Francisco (and to eight-man NL lineups).
No. 3 starter
1.
Max Scherzer
, Tigers
2.
Scott Baker
, Twins
3.
Philip Humber
, White Sox
4.
Bruce Chen
, Royals
5.
Josh Tomlin
, Indians
I could be underrating Baker, who was excellent last season, but only once in his career has he made 30 starts in a season. Tomlin's fans will disagree with this ranking, but he's a finesse guy who relies on the best control in baseball (21 walks in 26 starts). He's the kind of guy you root for, but the league seemed to figure him out as the season progressed.
No. 4 starter
1.
Felipe Paulino
, Royals
2.
Rick Porcello
, Tigers
3.
Jake Peavy
, White Sox
4.
Derek Lowe
, Indians
5.
Nick Blackburn
, Twins
Scouts still love Porcello's arm and I know he's just 23, but he's made 89 big league starts and shown no signs of getting better. His WHIP has increased each season and his strikeout rate remains one of the lowest in baseball. Paulino has an electric arm -- he averaged 95 mph on his fastball -- and
is
getting better. How could the Rockies give up on him after just 14 innings? How could the Astros trade him for
Clint Barmes
? Anyway, kudos to the Royals for buying low on the guy who may turn into their best starter. Peavy can't stay healthy. Lowe has led his league in starts three out of the past four seasons, but I'm not sure that's a good thing anymore. Blackburn is a poor man's Lowe, and I don't mean that in a good way.
No. 5 starter
1.
Chris Sale
, White Sox
2.
Jacob Turner
, Tigers
3.
Aaron Crow
/
Danny Duffy
, Royals
4.
Fausto Carmona
/
David Huff
/
Jeanmar Gomez
, Indians
5.
Brian Duensing
/
Jason Marquis
, Twins
Welcome to the AL Central crapshoot. Turner and Sale have the most upside, but one is a rookie and the other is converting from relief. Crow will also be given a shot at the rotation, but his difficulties against left-handed batters (.311 average allowed) don't bode well for that transition. Even if the artist formerly known as Carmona gets a visa, what do you have? A guy with a 5.01 ERA over the past four seasons. Duensing is another typical Twins pitcher, which means he at least throws strikes. His first full season in the rotation didn't go well, so of course the Twins brought in Marquis, yet another guy who doesn't strike anybody out.
Closer
1.
Jose Valverde
, Tigers
2.
Joakim Soria
, Royals
3.
Matt Thornton
, White Sox
4.
Chris Perez
, Indians
5.
Matt Capps
, Twins
Four good relievers plus Matt Capps. I do admit I'm a little perplexed by Perez, however. In 2009, he struck out 10.7 batters per nine innings. In 2010, that figure fell to 8.7 but he posted a pretty 1.71 ERA. In 2011, it was all the way down to 5.9, but without much improvement in his control. Perez blew only four saves but he did lose seven games. He survived thanks to a low .240 average on balls in play. He's an extreme fly-ball pitcher but didn't serve up many home runs. Bottom line: I'd be nervous.
Bullpen
1. Indians --
Vinnie Pestano
,
Rafael Perez
,
Tony Sipp
,
Joe Smith
,
Nick Hagadone
2. Royals --
Jonathan Broxton
,
Greg Holland
,
Louis Coleman
,
Tim Collins
,
Jose Mijares
3. Tigers --
Joaquin Benoit
,
Octavio Dotel
,
Phil Coke
,
Daniel Schlereth
,
Al Alburquerque
4. White Sox --
Jesse Crain
,
Jason Frasor
,
Will Ohman
,
Addison Reed
,
Dylan Axelrod
5. Twins --
Glen Perkins
,
Alex Burnett
,
Anthony Swarzak
,
Kyle Waldrop
,
Lester Oliveros
If you're starting to think I'm not high on the Twins for this season, you would be correct.
Intangibles
1. Royals
2. Indians
3. Tigers
4. White Sox
5. Twins
I like the youthful exuberance of the Royals, plus the likelihood of improvement from the young players and the possibility of some midseason reinforcements from the minors. The depth of the bullpen will help bolster a shaky rotation, and this just feels like an organization that is finally starting to believe in itself. The Indians are riding last year's positive results and enter the season knowing they might get better production from Choo and Sizemore and full seasons from Kipnis and Chisenhall. I'm not knocking the Tigers here, but they do lack depth in the pitching staff and the pressure is on them.
The final tally
1. Tigers, 65 points
2. Royals, 55 points
3. Indians, 54 points
4. White Sox, 46 points
5. Twins, 35 points
No surprise here: The Tigers will be heavy favorites to win the division with a lineup that should score a ton of runs. I don't think it's a lock that they'll win -- Verlander, Avila, Peralta and Valverde will all be hard-pressed to repeat their 2011 campaigns, for example. But the Royals and Indians appear to have too many questions in the rotations, the White Sox have serious lineup issues, and the Twins have a beautiful ballpark to play their games in.
September, 5, 2011
9/05/11
11:03
PM ET
When
Josh Beckett
left Monday's start in the fourth inning with a sprained ankle, Red Sox Nation took a deep breath and tried to hold down its Labor Day hot dogs and hamburgers.
Beckett will get checked out on Tuesday but his first words weren't the most encouraging response: "It's always concerning. That's my power leg," Beckett said. "It felt like it was locked up and then it popped in and out of the socket or something."
Considering Boston's rotation has kind of turned into a shambles behind Beckett and
Jon Lester
--
Erik Bedard
will miss his next start with a sore knee -- Beckett suddenly becomes one of the key pitchers to watch down the stretch. Here are a few others.
Alexi Ogando, Rangers
:
Scott Feldman
started in place of Ogando on Monday, as the Rangers decided Ogando needed a break. It's understandable: Ogando is up to 155 innings, 84 more innings than he pitched last season, so the fatigue that everyone was worried about has perhaps set in. In his past six starts, he's allowed 21 runs in 22.2 innings and got knocked out before the fifth inning three times. Ron Washington hasn't determined if Ogando will make another relief appearance before starting again, but this much is clear: If the Rangers hold off the Angels for the AL West title, Ogando will need to make a couple good September starts to earn a spot in the playoff rotation.
Freddy Garcia, Yankees
: Garcia has made two starts since his return after almost four weeks on the disabled list, both against the Orioles, and with mixed results. He allowed two hits over six innings last week, but on Monday got rocked for nine hits and seven runs in 2.2 innings. After
CC Sabathia
and
Ivan Nova
, the Yankees' rotation is still wide open:
Phil Hughes
has been hit around his past two starts;
A.J. Burnett
has a 7.39 ERA going back to July, with just one win in 11 starts;
Bartolo Colon
hasn't won in six starts, allowing a 5.00 ERA and eight home runs. Will any of these guys step up?
Max Scherzer, Tigers
: Don't let the 14-8 record mislead you -- Scherzer continues to battle inconsistency and gopher balls. Only
Colby Lewis
and Burnett have allowed more home runs among AL pitchers. Scherzer tossed seven scoreless innings against the White Sox on Sunday and the Tigers need their No. 2 starter to show he can do that over two or three outings in a row. Without the good Scherzer, even
Justin Verlander
may not be enough to carry the Tigers out of the first round.
Al Alburquerque, Tigers
: He was just activated from the DL on Monday, and the Tigers need the rookie righty to perform like he did early in the season, when he blew away hitters with his nasty slider. The Detroit bullpen has been a key to the team's second half: After posting a 4.68 ERA in the first half, the relief corps has a 3.15 ERA since the All-Star break. Alburquerque could be another weapon to use before closer
Jose Valverde
.
Jair Jurrjens and Tommy Hanson, Braves
: Both right-handers received some positive news over the weekend, but their potential playoff status remains up in the air. Jurrjens received a second opinion on his knee, with confirmation that it is a bone bruise and not anything more severe, but he probably won't be able to throw off a mound for two more weeks. Hanson felt better after a long-toss session. "I'd like to get a start or two in the regular season, if I can," he told the Atlanta Journal-Constitution. "We've just got to wait and see. I don't want to push it like last time and then be done [because of a re-injury]. But at the same time, I don't know to go too slow and then not have enough time to come back." The Braves have excellent depth with
Tim Hudson
,
Brandon Beachy
,
Derek Lowe
and
Mike Minor
, but you know they'd like at least one of these two guys to show he's healthy before the postseason.
Ian Kennedy, Diamondbacks
: Kennedy has matched his career high of 194 innings, so he's entering uncharted territory. If anything, however, he's been looking even stronger: Since the All-Star break, his ERA is 2.05, his opponents' batting average is .217 and he hasn't allowed more than three runs in a game. If he continues like that in September, Arizona will have an ace to match up with the Phillies, their likely first-round opponent.
Vance Worley and Roy Oswalt, Phillies
: Who will be the Phillies' No. 4 starter in the postseason? Worley continues to impress, but you know Charlie Manuel is loyal to his veterans. A strong finish from Oswalt probably pushes him into the October rotation.
Zack Greinke, Brewers
: Who is Milwaukee's No. 1 starter? It's a crucial decision for the first round, as the ace may be the only guy to draw two starts. I'm not convinced it's Greinke, who's pitched more than seven innings just twice all season. Greinke isn't wild (only 34 walks in 23 starts), and he leads the NL in strikeout rate (10.7 per nine innings), and that lack of economy means he doesn't pitch deep into the game often enough. Considering postseason hitters will be more patient than his usual NL Central fodder, is he the guy you want starting the playoff opener? Keep an eye on him down the stretch though, as he's also the Milwaukee starter most likely to get hot.
PHOTO OF THE DAY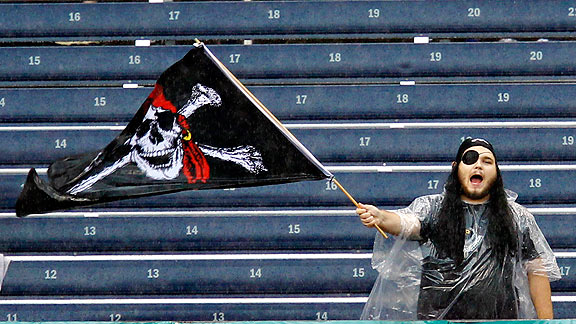 AP Photo/Gene J. PuskarBut I don't want to be a Pirate! Actually, this guy very much wants to be a Pirate.
June, 29, 2011
6/29/11
12:45
PM ET
One of the most unheralded performers of the season has been Yankees reliever
David Robertson
, who is 1-0 with a 1.15 ERA and 15 holds. Wonder how the Yankees feel now about that $35 million they gave
Rafael Soriano
. Most impressively, Robertson is striking out 14.4 batters per nine innings. Only nine times has a pitcher (minimum of 50 innings pitched) fanned 14 or more per nine innings. Not surprisingly, all were relievers, and
Billy Wagner
did it three times:
There have been calls for Robertson to make the All-Star team. It's a possibility, although due to 20 walks in 31.1 innings, his WHIP is an unimpressive 1.34 -- a total that doesn't him place him among the top 50
starters
, let alone relievers.
In fact, the best argument for an AL middle reliever to make the All-Star team may not belong to Robertson, but to Tigers rookie
Al Alburquerque
. He's 5-1 with a 1.95 ERA and he's averaging
15.0 strikeouts
per nine innings. Like Robertson, he hasn't allowed a home run. In fact, he hasn't allowed much of anything: Alburquerque has allowed just one double and is holding batters to a .126 average. Like Robertson, he's been wild -- 19 walks in 27.2 innings -- but the strikeouts are countering the free passes for now.
June, 9, 2011
6/09/11
11:55
PM ET
Sabermetricians are not big fans of
Brennan Boesch
, with a full host of reasons. He doesn't walk enough. He doesn't have enough power for a corner outfielder. He's not a very good defensive player. He doesn't exactly run like
Austin Jackson
. He just had a couple hot months in 2010. He's got a weird reverse platoon split that he won't be able to maintain.
Maybe they're right, but on the other hand ... well, maybe Brennan Boesch isn't so bad. After wrapping a two-run homer around the foul pole in Thursday's 4-1 victory over Seattle, Boesch is hitting .281 with eight home runs on the year. He's drawing enough walks and hitting for enough power to produce an .805 OPS, a figure that may not have had you writing epic poems about Boesch a decade ago but is good enough for 24th in the American League. He's eighth in the league in runs and tied for 18th in RBIs. In 2011 you can win division titles with players like Brennan Boesch.
Which gets us to our issue of the night. The Tigers have the best pitcher in the AL Central. They have the best hitter in the AL Central. Do they have the best team?
With
Justin Verlander
striking out a season-high 10 (yes, Thursday was his first double-digit strikeout game), the Tigers won for the ninth time in 11 games. They kind of snuck up on us, and now they're just one game behind Cleveland, which isn't simply looking at Detroit in its rear-view mirror but seeing the Tigers race by at 85 mph.
The Tigers scored barely four runs per game in April, but several guys had extremely slow starts:
Magglio Ordonez
hit .169, Jackson .178 and
Brandon Inge
.198.
Will Rhymes
won the second-base job out of spring training but hit .211 with no power to lose the job.
Now the Tigers are starting to mash.
Miguel Cabrera
and the Brewers'
Ryan Braun
are the only two players in the majors with at least 45 runs and 45 RBIs. Catcher
Alex Avila
hit two triples -- yes, two -- deep into the right-center gap on Thursday, and is now hitting .297/.359/.564 and looking more legit by the day. Shortstop
Jhonny Peralta
is having his best season in years, hitting .313 with eight homers.
Victor Martinez
is hitting better than .300.
But Boesch is a potentially critical component. If he's the guy who is going to hit in front of Cabrera in Jim Leyland's lineups, then Boesch has to produce -- he's going to get pitches to hit and Miggy needs guys on base to drive in. Boesch is hot right now, hitting .400 in June to raise his average from .254 to. 280. He hit a long two-run homer off
Edwin Jackson
last weekend in a 4-2 win over the White Sox, went 5-for-6 with two homers Monday in Texas, and then homered again on Thursday against Seattle. If he keeps producing, that gives the Tigers five big threats in the lineup, the kind of offensive depth that is matched by just the Red Sox and Yankees in the AL. (I don't put that Rangers up there, as many of their offensive totals are park inflated.)
For the Tigers, I see five keys:
Lineup selection. Jackson's recent streak has raised his average to .243, but his OBP remains a substandard .302. Leyland seems determined to turn Jackson into a leadoff hitter, but I'm not sure it's in the cards. He strikes out way too much (73 times in 62 games) and doesn't draw many walks. Thursday, Leyland had Peralta and Avila buried in the seventh and eighth spots in the order, while hitting Jackson leadoff and Don Kelly (.303 OBP) second, which makes no sense. It's not 1988 anymore; you don't have two fast, scrappy guys who don't get on base batting one and two in the order. The Tigers lack a classic leadoff hitter, and Jackson is really the speed on the team, but why hit these two guys in front of Cabrera? Why not go Peralta, Boesch, Cabrera, Martinez and Avila, and bunch your best hitters together?
The return of Magglio Ordonez. Does he have anything left? And if he does, where does he play? With Avila mashing, Martinez has basically become the team's everyday DH. Considering Mags plays right field about as well as Al Kaline -- and I mean the statue outside the ballpark -- he may not have a job beyond platooning in the outfield with Andy Dirks.
What's on second? Five guys have played there so far. Ryan Raburn started Thursday, but after a couple good years at the plate, he's lost all semblance of the strike zone with a 63/8 K/BB ratio. Ramon Santiago offers a better glove; if Raburn doesn't start hitting soon, Santiago may become the regular by default.
How good is the bullpen? Jose Valverde comes in with his goggles, shaggy goatee, meat-and-potatoes girth and two-step antics on the mound, but he usually gets the job done as the closer. But the rest of the pen is thin. High-priced setup man Joaquin Benoit has been better of late but remains a question. Rookie Al Alburquerque has 35 strikeouts in 19 2/3 IP but a minor league track record that suggests he won't be able to sustain this. Outside of that, they'll need some of these rookie call-ups, such as Adam Wilk and Charlie Furbush, to surprise and pitch.
Justin Verlander is great, but how good is the rest of the rotation? The Tigers entered Thursday eighth in the AL in ERA among starters, seventh in innings and tied for sixth in quality starts. In other words, decidedly middle of the pack.
In the AL Central that may be enough to win. And if Brennan Boesch continues to defy the skeptics, the Tigers may be the team to beat in the division.
PHOTO OF THE DAY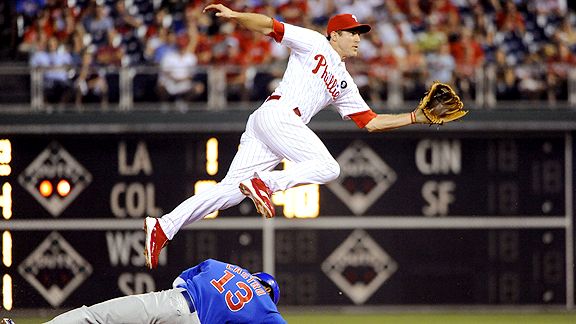 Howard Smith/US PresswireSometimes stealing second can be a heads-
down
play.
May, 10, 2011
5/10/11
1:05
AM ET
The Minnesota Twins and Boston Red Sox battled for 11 innings on Monday night, and in the end,
Carl Crawford
's double high off the Green Monster plated
Jose Iglesias
with the winning run in a 2-1 victory.
Twins manager Ron Gardenhire, apparently waiting to take the lead before using closer
Matt Capps
, and not wanting to use
Joe Nathan
on back-to-back days, was left with somebody named
Jim Hoey
on the mound. With one out, Hoey walked
Jed Lowrie
-- not necessarily a surprise since Hoey walked 34 in 52 2/3 innings in the minors last season. Iglesias came in as a pinch-runner and Crawford hit a 3-2 pitch off the wall.
We're going to see a lot of games like that this season: low-scoring affairs decided in the late innings. With scoring down, games will be tight, and with close games, late-inning bullpen work may be more important than ever. And if you're relying on Jim Hoey in tie games, chances are you may be 12-21.
Let's do a quick overview of the state of 'pens around baseball.
Three best bullpens on contenders
1. San Francisco Giants: The unheralded secret weapon of last year's champs, the bullpen has picked up where it left off, with
Javier Lopez
,
Sergio Romo
,
Ramon Ramirez
and
Guillermo Mota
throwing lights-out. Closer
Brian Wilson
blew his first save chance but has since converted 11 in a row, despite a little wildness. The team has lefty-righty balance, with lefties
Jeremy Affeldt
and
Dan Runzler
adding solid depth.
2. Florida Marlins: Several arms were added to the Marlins' 'pen after last season's shaky performance and so far they have a 2.59 relief ERA, second only to San Diego's. I believe in this group, although stellar setup man
Clay Hensley
was just placed on the DL with a bruised rib. Closer
Leo Nunez
appeared in 17 of the team's first 32 games, so watch his usage carefully.
3.
New York Yankees
: Yes,
Mariano Rivera
had that little burp, but he's back on track. Setup man
Rafael Soriano
has struggled, but I project he'll turn it around.
Joba Chamberlain
is throwing better than he has in years, and underrated
David Robertson
has one of the nastiest curves you'll see. The 'pen has allowed just five home runs in 95 innings. The big question is whether
Boone Logan
will prove to be a reliable lefty in the absence of
Pedro Feliciano
.
Bullpen doing it with smoke and mirrors right now
Tampa Bay Rays: The Rays have a 2.69 bullpen ERA, third-best in the majors, and have allowed opponents a .203 batting average. They've allowed just 61 hits in 87 innings despite a poor 51/34 strikeout/walk ratio. Some of that is attributable to their defense, but the low strikeout rate means that .203 average will be difficult to maintain. And maybe you believe in
Kyle Farnsworth
more than I do.
Three bullpens I'm worried about
1. Texas Rangers: The Rangers will be fine at closer once
Neftali Feliz
returns, but the rest of the 'pen looks shaky, as it has allowed 16 home runs in just 94 innings and has a poor 66/43 strikeout/walk ratio. Forty-somethings
Darren Oliver
and
Arthur Rhodes
are looking more their age and have surrendered three home runs apiece, and
Darren O'Day
is on the 60-day DL with a torn labrum in his hip.
2. Detroit Tigers: The team's best reliever has been
Al Alburquerque
, and with a name like that, he'd better be good, because we want him to last a long time. Closer
Jose Valverde
is always a tightrope, but the rest of the setup crew, including high-priced free agent
Joaquin Benoit
, has looked inconsistent.
3. Milwaukee Brewers: Brewers relievers already have nine defeats. They have a few good arms in closer
John Axford
and
Zach Braddock
and
Brandon Kintzler
, but control issues have been a problem so far and lack of depth could be an issue.
Two awesome bullpens if you only need two guys
1. Atlanta Braves:
Craig Kimbrel
and
Jonny Venters
are dominant (and
Eric O'Flaherty
provides a nice third guy). We'll have to see whether Venters holds up after pitching 79 games and 83 innings last year, but so far he's been even better than he was in 2010, with a 0.70 WHIP.
2. Boston Red Sox:
Daniel Bard
's raw numbers are great (well, except that 0-3 record, which is not exactly a non-important notation).
Jonathan Papelbon
is back with an 18/2 strikeout/walk ratio. But new acquisitions
Bobby Jenks
and
Dan Wheeler
have been disastrous, leaving a gaping hole after the top two.
Bullpen that may actually be OK
St. Louis Cardinals: The Cards are tied with the Brewers with nine bullpen losses, three by deposed closer
Ryan Franklin
. And while the team may not have a set closer (
Fernando Salas
has the role for now), there are some good arms here.
Jason Motte
,
Mitchell Boggs
and rookie
Eduardo Sanchez
all average more than 93 mph with their fastballs, and Salas throws strikes. Mix in LOOGYs
Trever Miller
and
Brian Tallet
, and I think Tony La Russa will figure out roles that turn this into one of the better 'pens in the NL.
PHOTO OF THE DAY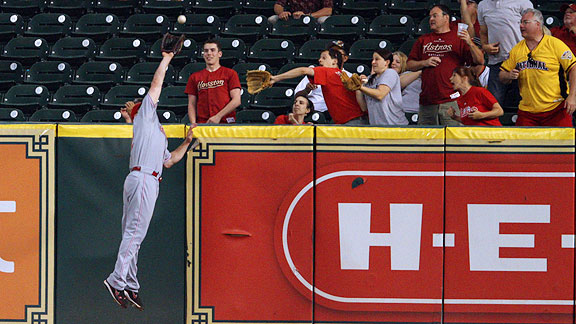 Thomas Campbell/US PresswireStretch! Jay Bruce reached as high as he could, but no dice. That one's gone.