August, 22, 2013
8/22/13
10:15
AM ET
So much for Miguel Cabrera resting. He played Wednesday and went 1-for-4, including a bases-clearing double in the eighth inning of the Tigers' 7-1 win over the Twins.
From ESPN Stats & Information, highest career batting average with the bases loaded, last 50 seasons:
Tony Gwynn -- .444
Miguel Cabrera -- .418
Felix Millan -- .410
Mark Grace -- .402
Carlos Guillen -- .402
Felix Millan? The guy who held the bat
like this
? Yes, he
really did
.
Cabrera is 4-for-9 with the sacks juiced this year, with one grand slam. For his career he's 56-for-134 with four grand slams. I'm not sure what cutoff the Stats & Info folks used, since their list doesn't include Pat Tabler, who hit .489 in 109 career plate appearances (88 at-bats) with the bases loaded.
Here are the leaders over the past 50 years in slugging percentage with the bases loaded, minimum 100 PAs (via
Baseball-Reference.com Play Index
):
Albert Belle -- .833 (13 grand slams)
Richie Sexson -- .781 (15 grand slams)
Eddie Murray -- .739 (19 grand slams)
Jason Kubel -- .734 (8 grand slams)
Willie McCovey -- .713 (18 grand slams)
Cabrera appears to go more for base hits than home runs in these situations; despite the high batting average he's only 48th in slugging percentage at .627 (although just ahead of Barry Bonds' .624 mark). Alex Rodriguez has hit the most grand slams with 23 (tied with Lou Gehrig for most ever), followed by Manny Ramirez with 21 and Murray with 19. Don Mattingly and Travis Hafner hit six in one season for the all-time single-season record.
From ESPN Stats & Information, most 3-RBI games in a season, Detroit Tigers:
Hank Greenberg, 1935 -- 23
Hank Greenberg, 1938 -- 20
Hank Greenberg, 1937 -- 20
Rudy York, 1938 -- 19
Miguel Cabrera, 2013 -- 18
Rudy York, 1937 -- 17
What's the record most 3-RBI games in a season? Not surprisingly, Hack Wilson shares the mark:
Hack Wilson, 1930 -- 27
Babe Ruth, 1927 -- 27
Babe Ruth, 1921 -- 25
Lou Gehrig, 1934 -- 25
Alex Rodriguez, 2007 -- 24
Al Simmons, 1930 -- 24
Jimmie Foxx, 1938 -- 24
As you would expect, most of the leaders are from the high-scoring 1920s and '30s.
OK, two more notes about hitting with the bases loaded. Here are the
lowest
batting averages over the past 50 years (100 PAs minimum):
Rick Dempsey -- .136
Gorman Thomas -- .170
Jose Cruz Jr. -- .170
Rick Monday -- .174
Pete Incaviglia -- .177
Getting into very small sample size data, the highest single-season batting average since 1963 with the bases loaded, at least 15 PAs, was Mike Stanley in 1995, who went 9-for-11 (.818) with four walks and three sac flies (driving in 27 runs in those 18 PAs). Justin Morneau in 2013 has the second-highest average -- he's 10-for-13 (.769) with a walk and two sac flies this season.
January, 10, 2012
1/10/12
11:30
AM ET
With the Hall of Fame voting still on our minds, I thought it would be fun to look at which non-Hall of Famers fared best in MVP voting, and which Hall of Famers have fared worst.
Modern MVP voting began in 1931 so we'll focus on players whose careers began after that. We'll also limit our scope to position players. We'll use award shares, a metric invented by Bill James that
Baseball-Reference tracks
. If you're a unanimous MVP winner, meaning you've collected 100 percent of the possible maximum points, your award share is 1.00. If you get 80 percent of the possible maximum points, your award share is 0.80. You can than add up individual seasons to reach a career total.
[+] Enlarge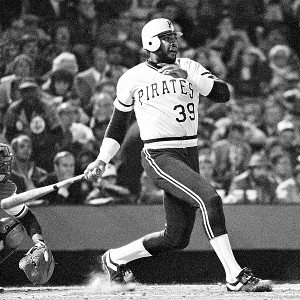 AP Photo/FileDave Parker won the MVP award in 1978.
Not including active players, those yet to have appear on the Hall of Fame ballot (like Barry Bonds or Frank Thomas) or those ineligible for Hall of Fame selection (we mean you, Pete Rose), the player with the most award shares
not
in the Hall of Fame is ...
Dave Parker
. With 3.19 career award shares, he's 28th all time. Parker was an amazing player with the Pirates from 1975 to 1979, compiling 30.1 WAR and winning MVP honors in 1978 when he hit .334 to win the batting title, led the league in slugging percentage and hit 30 home runs with 117 RBIs. He also finished third in MVP votes in '75 and '77 and 10th in '79. After that, he got fat, dabbled in drugs and ruined his career for a few years. He bounced back with the Reds and on the basis of a league-leading 125 RBIs in 1985, finished second in the MVP vote. Another big RBI season in 1986 got him up to fifth in MVP voting. Parker never fared well in the Hall of Fame voting, peaking at 24.5 percent in his second year but holding at around 15 percent after that.
Parker, by the way, had a slightly higher award shares total than Jim Rice (3.15), a similar player from the same era who did make the Hall of Fame in large part due to his success in MVP voting.
Here are the next five:
Jeff Bagwell (2.89 award shares):
The unanimous MVP in 1994, Bagwell also had a second-place and third-place finish and three other top-10 finishes.
Juan Gonzalez (2.76 award shares):
A two-time MVP, although his 1996 win was one of the worst MVP selections ever.
Steve Garvey (2.46 award shares):
Garvey won the NL MVP in '74 with a pedestrian-looking .312/.342/.469 line. It was a good line for the time, but not
that
good -- he ranked 14th in the NL in OPS. But he was third in the league in RBIs and the Dodgers won the division.
Albert Belle (2.38 award shares):
From 1991 through 2000, he hit .300 and averaged 39 homers and 122 RBIs per season. He had a second and two thirds in MVP voting. Despite his peak value, his Hall of Fame support was approximately equal to Herman Cain's in the Iowa caucus.
George Foster (2.37 award shares):
The 1977 NL MVP when he hit 52 home runs and drove in 149 runs for the Reds, Foster had a nice run from '75 to '81. Just don't ask Mets fans what happened after that.
Some Hall of Famers with low award shares:
Wade Boggs (1.20 award shares):
I was surprised Boggs' total wasn't higher. His best MVP finish was fourth in 1985. He wasn't an RBI guy, so was underrated to some extent during his time, although he cruised into the Hall of Fame. Baseball-Reference rates him as the best player in AL in 1986, '87 and '88.
Tony Perez (0.93 award shares):
Despite being a big RBI guy, the kind of player MVP voters have historically loved, he had just one top-five MVP finish in his career.
Ozzie Smith (0.65 award shares):
He finished second in 1987 but that was his only top-10 MVP finish. The MVP vote has always been about offense, but it's interesting that the player widely regarded -- even while active -- as perhaps the greatest defensive player ever fared so poorly, especially since he did became a solid offensive contributor in the mid-'80s.
Richie Ashburn (0.62 award shares):
A Veterans Committee selection in 1995, Ashburn was a gifted center fielder with a career .308 average but only 29 home runs. He twice finished seventh in the MVP vote, his only top-10 appearances.
Bill Mazeroski (0.19 award shares):
A Veterans Committee selection, he was the Ozzie of second basemen, except even less valuable with the bat. He received MVP votes in just two seasons: One eighth-place finish and one 23rd.
New Hall of Famer Barry Larkin finished with 1.10 award shares, including a 0.72 for his 1995 win. Alan Trammell, a similar player who hasn't fared well in the Hall of Fame voting, recorded 1.22 award shares.