July, 29, 2014
Jul 29
11:47
PM ET
This is the
Tampa Bay Rays
team I predicted before the season would win the World Series. Oh, they're still missing a few key parts --
Matt Moore
is out for the season and
Wil Myers
is still on the disabled list until mid-August or so after breaking his wrist -- but we're finally seeing the Rays play like the team we've grown to appreciate since 2008.
You know what those teams have been about: starting pitching, defense and enough offense to win 90 games in five of the past six seasons.
For much of the season, the Rays' rotation struggled, beginning with Moore's Tommy John surgery. In early June, the Rays had the worst record in the majors. They were 24-42 on June 10, had lost 14 of 15 and Rays fans must have had visions of
Dewon Brazelton
and
Doug Waechter
. On that date, the Rays ranked 22nd in the majors with a 4.10 ERA; the starters ranked 20th with a 4.08 ERA.
Since then, however, the Rays have gone 29-12, including 11 wins in their past 12 games. The pitching staff ranks third in the majors since June 10 with a 2.85 ERA and the starters own a 2.90 ERA, second only to the Padres.
Alex Cobb
pitched the latest gem in
Tuesday's 5-1 win
over the
Milwaukee Brewers
: 8 IP, 3 hits, 1 run, 2 walks, 12 strikeouts, 101 efficient pitches in dominating a solid lineup. Cobb was a key to Tampa's playoff run last year, going 11-3 with a 2.76 ERA, his season interrupted by a concussion after getting hit by a line drive. This year, he missed six weeks with a strained oblique, but in his past two starts (10 strikeouts and no runs in his previous outing) his changeup has been dancing and diving again like 2013.
[+] Enlarge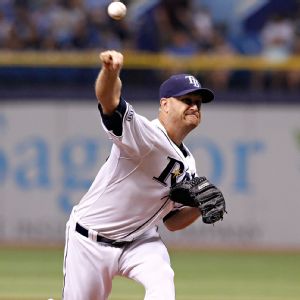 Brian Blanco/Getty ImagesAlex Cobb's in-season turnaround has helped the Rays recover their ambitions for this season -- and next.
Against the Brewers, eight of his 12 strikeouts came with his changeup. He threw the pitch 44 times, will throw it on any count and the Brewers went 1-for-9 against it. It dives away from left-handers and in to righties and it's a wipeout pitch -- batters are hitting .167 against it this season.
With Cobb back in a groove, the Rays now feature a rotation of
David Price
, Cobb,
Chris Archer
and
Jake Odorizzi
, with
Jeremy Hellickson
, who has made two starts after missing most of the season, back as the fifth guy. Right now, I'd argue it's as good a group as any in the majors.
And it should remain that way. In other words, the Rays need to keep Price.
I get it. We've been talking about Price getting traded ever since the Rays hit rock bottom. They were 15 games out of first place; we
should
have been talking about Price being traded. We know how the Rays operate; they have to constantly churn their best players for younger, cheaper players. Price is a free agent after 2015, they won't be able to afford him, so they have to trade him. Or so everyone says.
Then they got hot. Now it's clear: They're in the playoff hunt. When the night began, the FanGraphs/Coolstandings playoffs odds that we also run here at ESPN gave the Rays a 7 percent chance of winning the AL East and a 14.7 percent chance of making the playoffs. Those aren't great odds, but those odds are good enough to warrant keeping Price and giving your team a chance. In 1914, we had the Miracle Boston Braves, who went from last place on July 18 to a World Series title. In 2014, why not the Miracle Tampa Bay Rays?
I'd even suggest this: Keep Price -- and
Ben Zobrist
, another free agent after 2015 -- for next season as well. I think of it this way: What gives the Rays the best chance of winning a World Series this year and next? A team with two of their three best players or a team without two of their three best players? Pretty obvious.
"But the future."
To which I say: Worry about the future when the future arrives. Plus, the Rays are kind of in a unique situation anyway. It's not as if winning 90 games every season has driven their attendance to new levels; they're last in the majors in average attendance this year, they were last in 2013 and they were last in 2012. The Rays don't depend on winning for revenue as much as they rely on revenue sharing, which will come whether the team is good or bad.
The perpetual churn is necessary to keep winning and Joe Maddon and the front office have the pride to stay competitive every year, but does the turnover give the Rays the
best
chance at winning? Not in 2014 and not in 2015. Plus, there's no guarantee a Price trade will work out or that the Rays won't fall apart in three years regardless of what happens to Price.
It reminds me of when the Twins traded
Johan Santana
when he had one year left before free agency. That trade ended up not helping the Twins, and in 2008, minus Santana, they lost the AL Central to the White Sox in a tiebreaker game. If they had kept Santana, they probably would've won the division and maybe would have ridden Santana to a World Series title.
The Rays can do that with Price and the other young pitchers behind him in the rotation. Go for it. Try to win now. Imagine that.
July, 23, 2014
Jul 23
11:54
PM ET
By
Tommy Rancel
| ESPN.com

On June 9, the Tampa Bay Rays entered play with a record of 24-40. Earlier that day the team's eccentric manager, Joe Maddon, unleashed Bobby Henry, a Seminole medicine man who throws turtles in the air hoping to anger the gods into making it rain, on Tropicana Field in an effort to chase away the bad vibes. Shortly after Henry was done, the Rays lost to the Seattle Mariners 3-0. They lost the next night too, this time 1-0 to the St. Louis Cardinals. It was their 14th loss in 15 games.

Sitting at 24-42 on June 11, the Rays were 15 games behind in the American League East and 11 games out of the second wild-card slot. That evening they fell behind the Cardinals 3-0 and appeared to be on the fast track to another loss.

Perhaps baseball gods are slower to react than the ones who bring rain, but something awoke the Rays' bats in the bottom of the fourth inning. The offense put together four runs on four hits and two walks to take the lead. They would add on two more runs en route to a 6-3 victory.

Since then, the Rays have been one of the best teams in baseball, with a 24-11 record since June 11. The run has taken them from the worst team in baseball to 4 1/2 games behind the Seattle Mariners in the wild-card chase. The much-maligned offense has produced the third-best team OPS over the stretch without much in the way of star power. Reigning American League Rookie of the Year Wil Myers has been sidelined with a fractured wrist while their franchise player, Evan Longoria, is having his worst season at the plate. In their stead have been players like Logan Forsythe -- traded for this offseason -- and Kevin Kiermaier, a 31st-round pick in the 2010 draft. The latter has been particularly impressive, hitting .306/.360/.553 in 53 games.

The Rays' pitching staff also has picked it up, holding teams to around three runs a game while striking out more batters than any other club in baseball. David Price, the subject of constant trade rumors, has been the tip of the spear. The ace has allowed just three earned run in 31 2/3 innings this month. Any plans to trade Price and/or Ben Zobrist have been put on hold, at least temporarily.
[+] Enlarge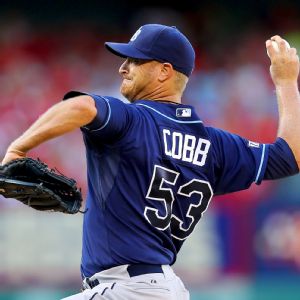 Dilip Vishwanat/Getty ImagesAlex Cobb's performance on the mound could be a big part of the Rays' second-half comeback.

On Wednesday night, the Rays met the same Cardinals team they faced when they started to turn things around. This time, Tampa Bay entered the game on a six-game winning streak and winners of 15 of their last 18, including a 7-2 victory over St. Louis on Tuesday.
Alex Cobb has been one of the Rays' best pitchers since joining the rotation full-time in 2013, but oddly enough, he has not been much of a factor during the team's resurgence. In his last five starts coming into Wednesday's game, he carried an ERA above 5.00 and was averaging less than six innings per start.

Locking horns with Lance Lynn, Cobb turned a much better performance on Wednesday. He tossed seven shutout innings while scattering five hits and striking out 10 batters without issuing a walk. The 26-year-old used his fastball and curveball to get ahead of the Cardinals' hitters before turning to his off-speed pitch to end plate appearances. The split-change was responsible for 14 of the 20 outs he recorded (a caught stealing was the 21st), including seven of the 10 strikeouts. St. Louis swung at the pitch a combined 33 times and came up empty on 13 of those swings.

Pitching in a National League park, Cobb was afforded the rare opportunity to contribute offensively. With Yunel Escobar on second base in the second inning, the right-handed pitcher lined an RBI double down the right-field line. It was his first career hit and run batted in. It also turned out to be the game winner.

Cobb was hit by a pitch on his right elbow in his second at-bat. After crumbling to the ground in pain and a lengthy check by team trainer Ron Porterfield, he remained in the game. He took the mound in the bottom half of the fourth inning and didn't miss a beat.
Brad Boxberger relieved Cobb in the eighth inning before passing the baton to the club's new-but-not-officially closer Jake McGee. The righty-lefty tandem affectionately known as "Jake in the Box" has become one of the most potent bullpen duos over the past month. No reliever in the AL posted a higher percentage of strikeouts than Boxberger over the past six weeks (47.1 percent); he added two more punchouts Wednesday. Not far behind him is McGee, the owner of a 99 mph fastball that he commands with ease, who struck out the side in the ninth inning to preserve the shutout.

Even with the current run, the Rays' odds of making the playoffs are long. Aside from still being four games under .500, they are in heavy competition for a postseason spot in a crowded middle of the pack with upwards of six teams vying for one of two spots not held by the Oakland A's, Los Angeles Angels or Detroit Tigers.

But after a clean 5-0 road trip to start the second half of the season, Tampa Bay returns home this weekend for a three-game set with a wild-card competitor and division rival: the Boston Red Sox. Although all of the games will be played under the cover of Tropicana Field's roof, perhaps another visit from the rain man is in order.
Tommy Rancel blogs about the Tampa Bay Rays at the SweetSpot network affiliate The Process Report. You can follow him on Twitter at @TRancel.
April, 9, 2014
Apr 9
12:45
AM ET
By
Christina Kahrl
| ESPN.com
Let's start off with the obvious: The news for
Matt Moore
is far from a death sentence as far as his 2014 season is concerned.
An inconclusive MRI and a trip to Dr. Andrews' office
are both ominous, but in themselves they are not the end.
The more basic concern is that Moore has had to be shut down for elbow trouble before. Last year, the power southpaw missed 31 games (or about five starts) to inflammation to this same left elbow, and Joe Maddon understandably didn't sound thrilled the day after Moore had to leave his Monday start early, admitting that the elbow was "worse than what we thought before."
It's easy to speculate about how losing Moore for an extended period of time could be disastrous for the Rays' annual bid to be underdog contender in 2014. Consider who's in their rotation beyond staff ace
David Price
;
Alex Cobb
has yet to notch a 30-start season in the majors, after all. Neither has
Chris Archer
. Rookie
Jake Odorizzi
has seven career big league starts; he's expected to become a midrotation horse in time, but absent Moore they might need that time to be now.
[+] Enlarge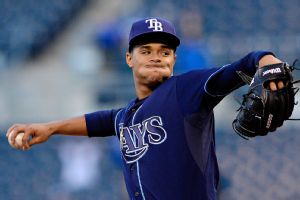 John Sleezer/Kansas City Star/MCT/Getty ImageThe Rays can't blow off losing Matt Moore for any length of time, but Chris Archer is ready to help.
The thing is that's by design. This year's rotation isn't saddled with a willful science experiment like the comeback of
Roberto Hernandez
(the mound artist formerly known as Fausto Carmona). It was instead a quintet picked because of their bright futures and readiness. Price is the old man of the group at 28, a man who could add another Cy Young Award or two to his mantel before hitting free agency after 2015. Cobb (4th round, 2006) and Moore (8th round, 2007) are reminders that picking high school arms really can pay off in terms of upside, taken at a time when it seemed as if everyone was overreacting to less-remembered object lesson of "Moneyball," that you should rely on college-groomed arms. Archer (25) was part of the package received for
Matt Garza
, Odorizzi, a former first-rounder and an egregious bit of ballast bundled into the
Wil Myers
-
James Shields
deal with the Royals.
It's a cadre of talent carefully accumulated and prepped to pick up where that old Rays rotation of Price, Garza and Shields. Heck, it's a group so good and so young you might be forgiven for pegging them as the gaggle most likely to do a '90s Braves impression in the back half of the decade. But that's only on paper, and only if they stay healthy, and as with almost every rotation this side of the '90s Braves (or the Aughties White Sox), that's never a sure thing no matter how smart they might be in getting them, and no matter how carefully you manage their workloads.
Asking about whether the Rays have a serious problem depends on your time frame and whether you're an optimist or a pessimist. For the time being, it looks like they might turn to journeyman
Erik Bedard
, no stranger to the DL himself, and not a guy you can count on to get through opposing lineups three times. If it's
Cesar Ramos
instead, you can still ask yourself if the bullpen lefty will do that much better beyond a second time through the order. Either of them will add to the middle-inning load of the bullpen. It's nothing Joe Maddon hasn't had to manage around before, but full, healthy seasons from Cobb, as well as Price, would certainly help.
The good news is that the Rays might not have to resort to those kinds of patches in their rotation for long. In the nearer term,
Jeremy Hellickson
is slowly making his way back from February surgery to remove bodies in his pitching elbow. If he heals on the short side of his recovery plan, he might be back in action in the second half of May, while the long side might involve sometime in June. So the Rays' window of need in the worst-case scenario might close no later than June -- if Moore has to miss the season, and if Hellickson takes the maximum amount of time to recuperate and gear up, barring any setbacks.
But that's Hellickson comes back to pitch the way he did before 2013, and while you can hope so, we'll need to see it happen first. Even though metrics like FIP and xFIP cheerily proposed 2013 was his best season yet because his strikeout rate went up, suggesting he was almost a full run per nine better last year than his 5.17 ERA. While Hellickson earned plenty of top-talent touts in his first two seasons and while he is still just 27 years old, last year he notched just 11 quality starts in 31 turns, his power allowed to opposing batters spiked up to a .176 Isolated Power, and his innings pitched per start dropped to 5.5. The cavalry won't come if this horse comes back hobbled by that kind of hard-hit, liner-happy ineffectiveness.
This early in a season, it's easy to be negative. It's easy to be positive. You can hope Moore will be back in action after two weeks or as many as five (like last year), because last year, Price, Cobb and Moore all spent time on the DL, and the Rays nevertheless made it to the postseason. But that was then, and this is where the rubber meets the road. The last bit of good news is that, even with the defending champion Red Sox in the division, nobody from among the East's tough quintet of teams looks like they'll be running out ahead anytime soon. We'll see if the Rays can roll with this latest injury as effectively as they've adapted in the past, but I wouldn't bet against them, whatever Doc Andrews says to Matt Moore on a day TBNL.
Christina Kahrl writes about MLB for ESPN. You can follow her on Twitter.
October, 2, 2013
10/02/13
11:53
PM ET
Don't let the final score fool you: This was an interesting game, from
Danny Salazar
looking like the second coming of Bob Feller to sabermetric whipping boy
Delmon Young
hitting another postseason home run to the
Cleveland Indians
creating one scoring opportunity after another after falling behind, only to come up empty in every single one of them.
In October baseball, we love to dissect the strategies and the percentages and the bullpens and everything a manager has a pulse on, but what makes the postseason so exciting are the individual showdowns: Pitcher versus batter, fans on their feet, ducks on the pond, game potentially on the line.
In this wild-card game, there were three huge at-bats that allowed the
Tampa Bay Rays
to survive and beat the Indians 4-0.
[+] Enlarge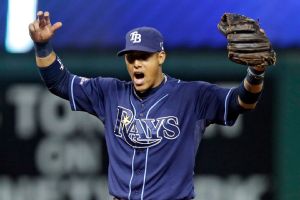 AP Photo/Tony DejakYunel Escobar and the rest of the Rays' D can celebrate a decisive effort.
Let's set the stage. Salazar, the rookie with the upper-90s gas and just 10 career starts, looked unhittable for two innings, but then Young tagged him for a home run in the third inning, a first-pitch 95 mph fastball low and in, a pitch Young rarely does damage against. In the fourth, Salazar fell behind
James Loney
two balls and Loney singled off a 97 mph fastball; he fell behind Longoria two balls and Longoria singled off a 96 mph fastball; after getting the second out, he fell behind
Desmond Jennings
with a changeup and then Jennings doubled down the left-field line on a 97 mph fastball to score two runs.
One thing about the Rays: You know no team is going to be more prepared. Others may be
as
prepared, but no team is going to out-prepare them. Salazar had 24 2-0 counts in his limited action this season and threw 24 fastballs. He had 93 1-0 counts and threw 77 fastballs. Major league hitters can hit 97 mph fastballs if they know they're coming.
So the score is 3-0, with the wind sucked out of Indians fans like it never was Tuesday night in Pittsburgh.
Big at-bat No. 1: Bottom of fourth, bases loaded with one out, Alex Cobb versus Asdrubal Cabrera.
Cabrera didn't have a good season for Cleveland. A productive hitter the previous two seasons, he hit just .242/.299/.402. Terry Francona kept giving him a chance to get going and he was hitting cleanup even into August before finally moving down in the order.
Cobb posted a 2.76 ERA in 22 starts (he missed time after getting hit in the head with a line drive) and a good strikeout rate despite lacking an overpowering fastball. But he expertly mixes speeds and has a sharp, downward-breaking "spike" curveball and excellent changeup.
Cabrera actually handled changeups very well, hitting .297/.354/.582, with six of his 14 home runs. Left-handers hit just .214 against Cobb's changeup. Strength against strength. Cobb started with a curveball for a ball and then threw a changeup that was actually a little flat and up in the zone. But Cabrera rolled over on it and slick-fielding first baseman Loney turned a 3-6-1 double play to escape the inning.
Big at-bat No. 2: Bottom of fifth, runners at the corners, no outs, Cobb versus Michael Bourn.
Yan Gomes
doubled and
Lonnie Chisenhall
singled, bringing up Cleveland's leadoff hitter. Bourn is a speed guy, but one who strikes out too much for a speed guy. Still ... at least put the ball in play on the ground and you score a run and likely avoid the double play because you're a speed guy.
But here's the genius of Cobb: Two-seam fastball for a strike, a swinging strike on the curveball, a two-seamer for a ball ... and then another curveball, biting into the dirt, for a swing and miss. Bourn may have been looking for the changeup and got the curve. Great pitch, both in thought process and execution, probably his best pitch of the night.
Big at-bat No. 3: Bottom of the seventh, runners at first and second, two outs, Joel Peralta versus Nick Swisher.
Joe Maddon had gone surprising deep with Cobb, 107 pitches and even let him face the tying run in Bourn with one out (Bourn flied out to deep left-center). That brought up the switch-hitting Swisher, a guy with a miserable postseason history, a .169 average in 46 games entering this game.
Maddon went to Peralta, keeping Swisher on his weaker left side (.220/.310/.370 versus .295/.397/.521). Peralta had some bad outings in September and can give up the long ball, but it's understandable why he'd use Peralta there instead of lefties
Jake McGee
or
Alex Torres
. (If anything, it's a little surprising that Cobb was left in to face Bourn.)
Swisher swung from his heels on a curveball and splitter, missing with two wild, go-for-the-fences swings, stumbling across home plate on the second one. He then swung through an inside 93 mph fastball. If Reggie Jackson is Mr. October, Swisher is the opposite.
There were a couple other key plays -- in the fourth,
Ben Zobrist
made a diving play on an infield hit to prevent a run before Cabrera's double play; an error and hit/error off Swisher's glove led to Tampa's fourth run in the ninth. But, really, this came down to those crucial one-on-one battles, and the Rays won those.
In the end, I think the better team won. Tampa Bay came from the tough AL East; the Indians had gone just 36-52 against teams over .500 this season. It was a magical ride the final two weeks for Cleveland to get here and it's a shame it had to end so quickly for a city so desperate for a championship in any sport.
But the Rays are moving on to face the Red Sox and their left-handed pitching can perhaps match up with the lethal Boston lineup.
Matt Moore
will likely start Game 1 but with two off days in the series,
David Price
could start Game 2 and Game 5, if necessary, on regular rest.
Let the showdown begins.
October, 1, 2013
10/01/13
1:00
AM ET
Heading into the final few games of the season, I heard an interview with Joe Maddon where he was asked what it will take for the Rays to get through these next few games and into the postseason.
Part of his response: "You need your best players to perform." (Or something of that ilk.)
The two best players in this tiebreaker game were
David Price
and
Evan Longoria
, especially with
Yu Darvish
having pitched Sunday for the Rangers and
Adrian Beltre
playing on a sore hamstring. We spend a lot of time these days breaking down everything that goes into a baseball game, and that's fun and informative and interesting, and dissecting all the numbers and strategies and potential strategies are part of what makes baseball so appealing to many of us.
[+] Enlarge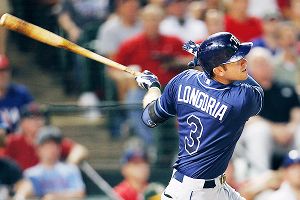 AP Photo/Tim SharpWas Evan Longoria's big night in Game No. 163 a preview of his postseason potential?
But sometimes the analysis is simple. Sometimes you just need your best players to perform. Price was outstanding, Longoria homered with one of his three hits, and the Rays beat the Rangers
5-2
to keep their season alive.
For Price, he exorcised some personal demons of sorts. He had defeated the Rangers just once in 11 career starts, including three postseason starts. His career ERA in Texas was over 10.00 in four games. He wasn't necessarily dominant, striking out just four in throwing a complete game. He had pretty good command of his fastball, however, and basically challenged the Rangers to hit it. He threw fastballs on 73 of his 118 pitches, and while the Rangers swung and missed at just one fastball all game, they didn't do any severe damage against it, or at least not enough damage. (Price actually induced just four swing-and-misses the entire game.)
The Rangers didn't exactly throw out a strong lineup. With
Jeff Baker
sidelined with a sports hernia, Ron Washington's starting nine included three lefties -- Price held left-handed batters to a .195 average with just two home runs -- and two of those,
Leonys Martin
and
Mitch Moreland
, are pretty weak against lefties.
Nelson Cruz
hadn't played in two months due to his suspension, Beltre hurt his hamstring on Sunday and
Elvis Andrus
had just 25 extra-base hits on the season. It was a game where the Rangers shouldn't have expected to score many runs.
It didn't help that Andrus got picked off in the first inning and
Ian Kinsler
got picked off in the third. Washington had apparently stressed to his club to play aggressive, but in the end those were two costly mistakes.
Once the Rays took a 4-2 lead, the key at-bat against Price came in the eighth after Kinsler doubled down the third-base line with one out. Price was over 100 pitches, and you could have expected to see
Joel Peralta
in the game to face the right-handed threesome of Andrus,
Alex Rios
and Beltre. Peralta was warming up, but he can be a little home run-prone (seven home runs) and Maddon might have been thinking of the four outings in September where Peralta allowed two or more runs.
Sometimes you just go with your best.
Andrus laid down a near-perfect bunt down the first-base line on an 0-1 pitch, but Price made a terrific play (especially for a lefty), flipping the ball with his glove to first to get Andrus. Rios grounded out to shortstop to end the threat. What if Andrus had hit away? We'll never know, which is the beauty of "what if" in baseball. With a little more cushion after
Sam Fuld
created a run in the top of the ninth, Maddon let Price begin the bottom of the ninth. Why not? One-two-three, game over.
As for Longoria, he lined a single to right-center in the first inning off rookie lefty
Martin Perez
to send
Wil Myers
to third; Myers would score on
Delmon Young
's sac fly. In the third, Perez faced Longoria with two outs and a runner on first. Longoria took an inside 94 mph fastball and drilled it into the wind tunnel in right-center, just clearing the fence for a two-run homer.
[+] Enlarge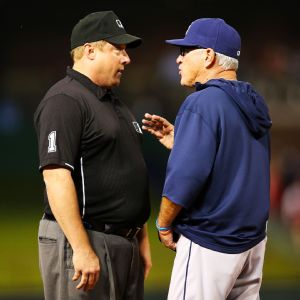 Ronald Martinez/Getty ImagesThe umpires cost the Rays a run when they incorrectly ruled Leonys Martin had caught Delmon Young's line drive.
I can't really fault Washington too much in this game. His bullpen had been worked hard in the final few days (although he inexplicably used closer
Joe Nathan
for a fourth straight game on Sunday to close out a 6-2 lead), and while you could argue for a
Matt Garza
or
Alexi Ogando
earlier in the game, Garza hasn't been good and Ogando started on Friday.
Perez settled down after the Longoria home run, and Washington correctly yanked him with one out in the sixth when Longoria came up again. Ogando just didn't have much in this game. Longoria doubled off him, and with two outs, pinch hitter
David DeJesus
doubled him home (you could argue that
Neal Cotts
should have been brought in there).
In the end, the Rays are the better team. The AL East was easily the best division in the majors this year and the Rangers made it this far in large part due to their 17-2 record against the lowly Astros, an opponent the Rays didn't get to face 19 times.
Now the Rays get the Indians, and while the game will be in Cleveland, the Rays have to like their chances with the underrated
Alex Cobb
, who went 11-3 with a 2.76 ERA in 22 starts, on the mound. Cobb throws an excellent changeup that dives away from left-handed hitters -- they hit .214/.245/.325 off it -- but he changed the grip on his curveball last summer and it's given him a second out pitch alongside the changeup. Cobb learned the grip from former teammate
James Shields
and batters have hit .260 off it, but with just one home run in 100 at-bats.
The Rays will face another rookie in hard-throwing
Danny Salazar
, who has made 10 career starts, but averages 96 mph on his fastball and has reached 100. The Indians have held him to tight pitch counts, going more than 89 pitches just once and held under 80 in five of his starts, so Terry Francona will likely tell Salazar to cut it loose for as long as he can go and turn it into a bullpen game early on.
Thanks to Price, Maddon will also enter with a rested bullpen, so there should be plenty of pitching changes and possible pinch-hitting moves to discuss and argue about.
Of course, it could be that it will come down to the best player. The Indians are good and they're hot, having won 10 in a row, but Longoria will once again be the best player in this game.
FYI: He's hit 22 of his 32 home runs off fastballs.
August, 16, 2013
8/16/13
12:09
AM ET
When the
Tampa Bay Rays
look back at the 2013 season, they may look back to Aug. 14 as a key game. Riding a six-game losing streak, the Rays trailed the Mariners 4-3 entering the bottom of the ninth but rallied to win and end the skid.
When the Tampa Bay Rays look ahead to their future, they may look back to Aug. 15 as a key date. At the MLB owners' meeting in Cooperstown, N.Y., commissioner Bud Selig and Rays principal owner Stuart Sternberg addressed the media about the stadium situation in Tampa Bay, which
Selig called "very discouraging."
The Rays continue to be a huge success on the field, as they have been since 2008. They also continue to struggle off the field, ranking 29th in the majors in attendance and, according to Sternberg, relying upon revenue sharing to survive.
On Thursday, the
Rays beat the Mariners 7-1
as
Alex Cobb
returned from the DL to pitch five strong innings.
Evan Longoria
, who had been hitting .197/.295/.365 since July 1, delivered two hits, including a two-run homer.
Wil Myers
went 3-for-4 with two doubles and four RBIs.
Cobb's biggest out was his final one, striking out
Nick Franklin
with the bases loaded to end the fifth. The Rays broke open the 1-1 tie with four runs in the bottom of the inning. While Cobb, making his first start since getting hit by a line drive in the head on June 15 and suffering a concussion, should provide a nice lift to the rotation if he pitches like he did before the concussion, it's Longoria's bat that needs to heat up for the Rays. He was an MVP candidate the first three months of the season. They can't rely on the rookie Myers to carry the offense.
While the Rays are focusing on what they need to do on the field to catch the Red Sox, the long-term viability of the team in St. Petersburg remains a concern. The Rays would like to move, but St. Petersburg city officials have threatened legal action against other municipalities. As Sternberg told MLB.com, other owners are getting tired of supporting the Rays. "The key here is to recognize that without the revenue-sharing dollars, we wouldn't even be able to compete or do what we're doing. The other owners are looking at this and saying, 'How many years is this going to be? How much money is this going to be to a failing situation?'"
The difficult question: Would the team be better supported if the ballpark were located in Tampa or another neighboring city? Or does the region just lack the fervor to better support the franchise? Thursday's game drew 13,299 fans; as a comparison, the horrible Brewers, playing in a smaller metro market, drew more than 36,000. The Tampa-St. Pete region is larger than St. Louis, Baltimore, Denver, Pittsburgh, Cincinnati or Cleveland.
So if it's not the size of the market, it's either the ballpark, the location of the ballpark, or a community that just hasn't supported a winning team like you would expect. Trouble is, the Rays' lease runs through 2027. They might be stuck if no solution arises.
Where they're not stuck is on the field. They trail the Red Sox by two games, but are tied in the loss column. They've played fewer games than Boston, however, and have just two off days the rest of the season. It will be important for the starters to pitch deeper into games than the five innings Cobb pitched on Wednesday, or manager Joe Maddon risks burning out the bullpen. They return to AL East play this weekend, hosting Toronto, heading to Baltimore for a short three-game road trip, and then returning to the Trop to host the Yankees. They have only one series left against Boston (Sept. 10-12), so there will be a lot of scoreboard watching down the stretch.
Which is certainly more fun than ballpark searching.
Oh, the ugly …
this
. The Rays are known for thinking outside the box. So the Rays are 1-0 with the python. New team mascot?
May, 1, 2013
5/01/13
9:00
AM ET
Quick thoughts on a Tuesday night that featured a lot of home runs across this great land ...
September, 4, 2012
9/04/12
11:51
PM ET
On July 18, the
New York Yankees
blanked the
Toronto Blue Jays
6-0 in a rain-shortened game.
Hiroki Kuroda
pitched the seven-inning shutout,
Mark Teixeira
homered and the Yankees ripped 12 hits off
Ricky Romero
. The Yankees were cruising, having won nine of 11 and 16 of 22 games, and were leading the American League East by 10 games, on pace for 95 wins.
The hated rivals up in Boston already were turning into a bad joke, barely a rival anymore after the Yankees had taken three of four a few days before. The upstart
Baltimore Orioles
had won that day but had lost 13 of their pevious 19, slowly drifting into their usual pathetic irrelevance. The
Tampa Bay Rays
? Hey, never discount them -- they'd made a big comeback in 2011, after all -- but this wasn't their year, the lineup wasn't any good and the rotation wasn't as dominant as expected.
Yes, the Yankees were going to cruise to another division title. Print the playoff tickets.
* * * *
Perhaps the most impressive aspect of the modern Yankees dynasty is their numbing consistency. Sixteen playoff appearances in 17 years. Twelve division titles. Twelve 95-win seasons in the past 15. Yes, they have more money than Zeus, but money is no guaranteed road to success.
Just look at their neighbors to the north, who are going to miss their third postseason in a row and have won just one division title in 16 years. Look at the
Philadelphia Phillies
, the team with the second-highest opening-day payroll. The Phillies had a nice run, five National League East titles in a row, but age and injuries caught up to them this season, and they're struggling to finish .500. The Angels will have spent more than $300 million the past two seasons and another $104 million in 2010, and might have no playoff appearances to show for that.
The Yankees have kept their dynasty going, defying age and bad luck. They did miss the playoffs in 2008, a season in which they won 89 games. Yes, that was the season they gave 20 starts to
Darrell Rasner
and 15 to
Sidney Ponson
. That offseason, they reloaded with Teixeira,
CC Sabathia
and
A.J. Burnett
, and then they won the World Series.
Still, this can't go on forever, can it?
* * * *
The
Yankees lost 5-2 to the Rays
on Tuesday as Tampa slugged three home runs off
Freddy Garcia
, and a lineup that featured
Raul Ibanez
,
Jayson Nix
,
Chris Dickerson
and
Chris Stewart
failed to do much against
Alex Cobb
. The
Orioles pounded the Blue Jays 12-0
on Tuesday as
Zach Britton
pitched seven scoreless innings and
Mark Reynolds
belted his fifth home run in five games.
The Orioles are now tied with the Yankees for first place.
"We're just having a good time and we're not putting pressure on ourselves," Reynolds said after the game. "Everybody knows the situation we're in but we're just taking it day by day and having fun."
Something tells me the Yankees aren't having a lot of fun right now.
Here's some data from Katie Sharp of ESPN Stats & Information:
Since July 19:
Yankees: 19-25, run differential of plus-3
Orioles: 29-15, run differential of plus-37
Rays: 28-16, run differential of plus-84
As Katie points out,
Nick Markakis
returned from an injury after the All-Star break and the Orioles' offense has been vastly improved since. The O's hit .240/.302/.402 (BA/OBP/SLG) in the first half and .253/.322/.423 in the second (entering Tuesday's game). Markakis' .343 average and .902 OPS in the second half rank fifth and 13th, respectively, among AL hitters (before he went 3-for-5 on Tuesday). In their past 11 games, Orioles starters have nine quality starts and a 2.22 ERA.
Why not Baltimore?
* * * *
If the Orioles and A's are this year's miracle teams, that means we now have to consider the Rays grizzled vets, even if their $64 million payroll is higher than that of just five other teams. The Rays were a miracle in 2008 and a mini-miracle in 2011. We are no longer surprised.
Since the All-Star break, the Rays have a 2.45 staff ERA, which would be the second-lowest second-half ERA by an AL team since the first All-Star Game in 1933 (the 1972 Angels had a 2.37 ERA).
Pitching, my friends, pitching. The Yankees are relying on Sabathia's elbow to hold up, and the retread Garcia, and the inconsistent
Phil Hughes
, all the while hoping 40-year-old
Andy Pettitte
will return to offer a lifeline.
The Yankees look old, mediocre and beaten up.
Why not Tampa Bay?
* * * *
From 10 games ahead to pure panic. Yankees fans
should
be worried. Right now, they're the third-best team in the AL East. They're even with the Orioles, and the Rays are 1.5 games back, with a chance to cut the deficit to a half-game with a win Wednesday.
Sure, injuries. Sure,
Alex Rodriguez
just returned and
Robinson Cano
didn't play Tuesday and Teixeira is out. But that's what happens when you get old. Ibanez is old.
Ichiro Suzuki
is old.
Andruw Jones
is old.
Curtis Granderson
isn't old but has morphed into Dave Kingman in the past couple of months, a guy who hits home runs and strikes out.
The Yankees are struggling. The Yankees are not going to win the AL East.
The playoffs? Hey, it's still the Yankees; you never want to count them out. They have four games left with Tampa Bay and a four-game series this weekend in Baltimore, but the rest of the schedule is soft other than one series with Oakland -- six games against the sinking Red Sox, seven against the banged-up Blue Jays, three against the Twins. Even if the Orioles and Rays rise past the Yankees, New York can make the wild card if it can hold off the Tigers/White Sox loser and the A's and Angels.
I want to say the Yankees won't make it, that they're too old, overpaid and overrated. People in baseball often talk about digging deep. It's just something they like to say.
But I'll say this: Get out your shovels, Yankees.
PHOTO OF THE DAY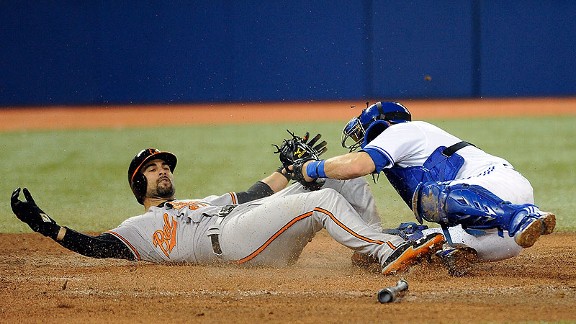 Brad White/Getty ImagesNick Markakis slips in the same way the Orioles tied for first: Stealthily and safely.
June, 26, 2012
6/26/12
9:00
AM ET
By
Christina Kahrl
| ESPN.com
First:
One might be the loneliest number and all that, but it was enough on the scoreboard to turn rookie
Tommy Milone
into an eight-game winner, as he combined with
Grant Balfour
and
Ryan Cook
to spin a shutout.
[+] Enlarge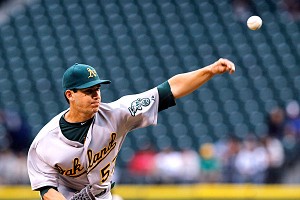 AP Photo/Elaine ThompsonTommy Milone pitched 190 innings last season, the most on the A's staff.
Now sure, you can kibitz over it being a shutout of the Mariners, or a shutout thrown in pitcher-friendly Safeco. And maybe that's because it's easy to pick on Milone because he's one from that legion of lefties who "just" throws strikes, changes speeds (averaging just 87 mph in his case), and mixes in the odd curveball. And he's a fly-ball guy. And in a world full of analysts happily harping on the virtues of power ground-ball pitchers, there's not going to be a ton of love for a soft-tossing lefty armed with little more than the proverbial guts of a burglar.
But for all that, sometimes it's worth remembering what a guy does and can do, and not treat player performance with cavalier disdain for less than perfection. Look at what Milone is, and there's a lot to like: He's bold when it comes to working inside despite his less-than-overpowering stuff; he attacks weaknesses aggressively, having learned to live low in the zone from three seasons pitching in USC's rotation in college; and with his Bugs Bunny-like slowball delivery, his low-temp heat plays up.
Most importantly, Milone has given the A's an innings-eater capable of pitching into the seventh inning or later, having done so in seven of his last nine turns. That's especially handy in an A's rotation that has lost
Bartolo Colon
to a strained oblique and
Brandon McCarthy
to his latest injury (a shoulder this time, for the second time this year, the fourth season he's had shoulder woes in his run of seven straight seasons with DL service).
So A's fans can thank their lucky stars for Tommy Milone, even if he's "just" a finesse lefty whose FIP bleats regression. He may not reliably dent bread with his fastball, but if you wanted to assemble a list of key features for any pitcher's success, Milone owns at least two: the ability to throw strikes and health. It's something lots of teams like to work with.
Second:
If you want a line score you won't see every day, check out
Alex Cobb
's
eight-inning, eight-run disasterpiece
against the Royals, the sort of game you might expect from the sports pages a century older. But the reasoning wasn't that shabby: The Rays had played a Sunday doubleheader with a pen start led off by
Cesar Ramos
in the second. He'd thrown just 53 pitches through the first three frames despite being down 6-0, so why tax your 'pen just then? It's a losing cause and just one ballgame you can't lose more than once no matter how bad it gets, so why not see if Cobb can give the relievers some rest? Cobb took a bullet for the team, but that's going to be worth something in the Rays' games to come this week.
Third:
With Tuesday marking
Anthony Rizzo
Day in Wrigleyville, one thing that might have missed your attention unless you're punishing yourself with Cubs boxscores first thing in the morning is how many platoons, strict or loose, that Dale Sveum's running these days.
Bryan LaHair
's move out to right field to platoon with
Reed Johnson
already gave them a second outfield platoon, with
David DeJesus
moving over to form the lefty half of a center-field platoon with
Joe Mather
. OK, that's semi-cool, but it was also semi-cool about the 1987 Cubs, who platooned Jerry Mumphrey and Brian Dayett in left while platooning Dave Martinez and Bob Dernier in center. (This did not lead to bigger and better things for any of them, but it was cool, even as it made for a busy scorecard.)
However, Rizzo is probably looking at the occasional day off against tough lefties so that
Jeff Baker
can fulfill the lefty-mashing role that has defined his career, so that's a loose trio of platoons in a single lineup. Heck, maybe Sveum will use
Steve Clevenger
often enough behind the plate, spotting for
Geovany Soto
to make it four platoons.
That's no easy feat in the age of seven-man bullpens. However, that's Sveum's bench in a nutshell: Everyone has his uses, even newly-minted fifth outfielder
Tony Campana
-- as a ready defensive replacement for DeJesus or LaHair.
Bringing it home:
Our own Eric Karabell has the tweet of the night, on the subject of forgiveness when it comes to closers after the Marlins' late-inning loss to the Cardinals …
To be fair to Heath Bell, he hadn't allowed a run in a month, covering 10 outings. He had 16 Ks and 2 walks in last 9.1 innings. Keep him.

— Eric Karabell (@karabellespn) June 26, 2012
June, 7, 2012
6/07/12
12:56
AM ET
"Show us some respect," yell Baltimore Orioles fans. Or maybe they're politely demanding. But I've seen the complaints in the Power Rankings comments, read the emails sent to "Baseball Today," been asked the question in my chats: Why doesn't anyone believe in the Orioles?
The Orioles traveled to Fenway Park this week in a precarious situation. They've lost two of three in Tampa. They've been swept in Toronto. They've lost two of three at home to Kansas City. They've lost two of three at home to Boston. They haven't won a series since the big weekend showdown in Washington from May 18-20.
So, yes, the concerns all of us "experts" had been raising -- it's a long season, let's see what happens to the rotation, let's find out if some of the hitters can keep up their hot starts, the bullpen can't keep its ERA under 2.00 all season -- were proving true. The O's were 27-14 after winning the second against the Nationals but had gone 3-10 since, with the staff posting a 4.95 ERA while the offense scored 3.5 runs per game.
These were the Orioles we all expected. And then they beat the Red Sox in extra innings on Tuesday. And then they
beat the Red Sox 2-1
on Wednesday behind a solid effort from
Wei-Yin Chen
and scoreless innings from
Pedro Strop
and
Jim Johnson
. They're 5-0 at Fenway in 2012 and Chen is now 5-2 with a 3.49 ERA. The key moments came in the seventh inning after the Red Sox threatened with a pair of singles to start the frame. But after a sacrifice bunt, Chen struck out
Marlon Byrd
and induced
Mike Aviles
to pop out to first base.
Normally, Buck Showalter might have turned to his stellar bullpen, but after Tuesday's victory, in which the bullpen threw five innings, he left Chen to escape the jam. He set up Byrd with three fastballs and then got him swinging on a beautiful changeup. He threw three more fastballs to Aviles that he couldn't get around on. Don't underestimate Chen. His stuff plays up big, with his four-seamer reaching 94 mph. His last pitch to Aviles was clocked at 93. In 11 starts, he allowed two or fewer runs seven times and I think this outing will give Showalter more confidence to stretch Chen a little deeper into games.
So the Orioles remain in first place for another day, half a game ahead of the Yankees. Is it time to show them a little respect, to give Orioles fans what they crave? Let's do some position-by-position rankings to help sort out this tightly packed division. Rankings are simply listed in order of who I would want the rest of the season.
(Season-to-date Wins Above Replacement from Baseball-Reference.com, before Wednesday's games, listed in parenthesis.)
Catcher
1.
Matt Wieters
, Orioles (1.6 WAR)
2.
Jarrod Saltalamacchia
/
Kelly Shoppach
, Red Sox (1.6)
3.
Russell Martin
, Yankees (0.7)
4.
J.P. Arencibia
, Blue Jays (0.2)
5.
Jose Molina
, Rays (0.1)
There is a case to be made that Boston's duo is more valuable since they've combined for 14 home runs and an OPS over .900. But Wieters brings elite defensive skills and I also don't believe Salty is going to slug .583 all season. For the second consecutive season, the Rays are essentially punting offense at catcher. Rays catchers have the worst OPS in the majors.
First base
1.
Adrian Gonzalez
, Red Sox (0.8)
2.
Mark Teixeira
, Yankees (0.6)
3.
Mark Reynolds
, Orioles (-0.6)
4.
Carlos Pena
, Rays (0.4)
5.
David Cooper
/others, Blue Jays (incomplete)
Gonzalez is still struggling to get his stroke going, but he's the best of a weak group. Yes, I just called Mark Teixeira weak, but at this point he's a low-average guy who pops a few long balls, doesn't draw as many walks as he once did and isn't as great on defense as Yankee fans believe. But in this group that's good enough to rank second. Reynolds has a low WAR but he's missed time and that includes his bad defense at third base, a position we've hopefully seen the last of him playing. The Jays, meanwhile, need to quit fooling around at first base and find a legitimate hitter, or move
Edwin Encarnacion
there and find a designated hitter. You hate to waste a potential playoff season because you can't find a first baseman who can hit. (No, David Cooper is not the answer, although he's hit well so far in 11 games.)
Second base
1.
Robinson Cano
, Yankees (2.1)
2.
Dustin Pedroia
, Red Sox (1.8)
3.
Kelly Johnson
, Blue Jays (2.1)
4.
Ben Zobrist
, Rays (0.7)
5.
Robert Andino
, Orioles (0.6)
I love Ben Zobrist almost as much as two scoops of Vanilla Heath Bar Crunch from Ben & Jerry's, but a .199 average isn't going to cut it in this group, even if you are on pace to draw 100-plus walks. Zobrist has actually play more right field so far, but should be back at second on a regular basis with
Desmond Jennings
back.
Third base
1.
Evan Longoria
, Rays (1.4)
2.
Brett Lawrie
, Blue Jays (3.1)
3.
Alex Rodriguez
, Yankees (1.2)
4.
Kevin Youkilis
/
Will Middlebrooks
, Red Sox (0.5)
5.
Wilson Betemit
/
Steve Tolleson
, Orioles (-0.1)
Lawrie's WAR is boosted by defensive metrics that treat him like he's the second coming of Brooks Robinson. He's a good player but don't I think he's been the second-best position player in the American League. Longoria hopes to
return at the end of the Rays' current road trip
. As for A-Rod, his health is always a question at this stage of his career, but Youkilis has health questions and I'm not a believer in Middlebrooks' ability to hit .321 with power all season. His 29/4 strikeout/walk ratio is something pitchers should learn to exploit. As for the Orioles ... third base is an obvious concern. But don't expect a rare intra-division trade to acquire Youkilis.
Shortstop
1.
J.J. Hardy
, Orioles (2.1)
2. Mike Aviles, Red Sox (2.2)
3.
Derek Jeter
, Yankees (0.9)
4.
Yunel Escobar
, Blue Jays (1.9)
5.
Sean Rodriguez
, Rays (1.9)
Wait ... Jeter has been the
least
valuable of this group so far? The other four all rate as excellent fielders -- in fact, Baseball-Reference rates them all in the top 13 fielders in the AL. Jeter, meanwhile, ranks 310th in the AL on defense -- out of 313 players.
Left field
1. Desmond Jennings, Rays (1.2)
2.
Daniel Nava
/
Carl Crawford
, Red Sox (1.7)
3.
Brett Gardner
/
Raul Ibanez
, Yankees (0.3)
4.
Eric Thames
/
Rajai Davis
, Blue Jays (-0.1)
5.
Endy Chavez
/
Xavier Avery
/
Nolan Reimold
, Orioles (-0.3)
Not to keep picking on the Orioles, but this is another problem position, especially if Reimold's disc problems lingers all season. Nava has quietly been a huge savior for the Red Sox, batting .305 with a .438 OBP. He's drawing walks at a crazy rate. He should slide some but he's provided the kind of depth the Orioles don't have.
Center field
1.
Adam Jones
, Orioles (2.5)
2.
Curtis Granderson
, Yankees (1.3)
3.
B.J. Upton
Rays (0.9)
4.
Jacoby Ellsbury
/
Scott Podsednik
/Marlon Byrd, Red Sox (0.5)
5.
Colby Rasmus
, Blue Jays (1.3)
Ellsbury might be the biggest wild card in this race, because the Red Sox can't survive much longer with the Podsednik/Byrd platoon. When will he return? How will he hit? He just started throwing and could
return by the end of the month
. I've conservatively put him fourth, which seems fair considering the unknown. And please note, Orioles fans, that I believe in Mr. Jones.
Right field
1.
Jose Bautista
, Blue Jays (0.9)
2.
Matt Joyce
, Rays (2.2)
3.
Nick Swisher
, Yankees (-0.1)
4.
Cody Ross
/
Ryan Sweeney
, Red Sox (1.6)
5.
Nick Markakis
/others, Orioles (0.3)
Markakis is out three to four weeks with a broken bone in his wrist, an injury that once again reflects Baltimore's lack of depth. But all five teams are solid in right field. Ross is about to return from his broken foot; we'll see if he pounds the ball like he was before the injury (.534 slugging).
Designated hitter
1.
David Ortiz
, Red Sox (1.4)
2. Edwin Encarnacion, Blue Jays (1.6)
3. Revolving Door, Yankees
4.
Chris Davis
, Orioles (0.3)
5.
Luke Scott
, Rays (0.0)
No respect for Davis? OK, he's hitting .295/.333/.494. And he has 53 strikeouts and eight walks. Sorry, call me skeptical, O's fans. Yankee designated hitters have actually fared well, hitting a combined .279/.354/.467 with 10 home runs.
No. 1 starter
1.
David Price
, Rays (2.2)
2.
CC Sabathia
, Yankees (1.9)
3.
Ricky Romero
, Blue Jays (0.3)
4.
Josh Beckett
, Red Sox (0.5)
5.
Jason Hammel
, Orioles (1.9)
Look, Hammel has been terrific so far thanks to a career-high strikeout rate
and
a career-high ground-ball rate. But this is tough group and the question is who is going to be best moving forward? My biggest concern is that Hammel has never pitched 180 innings in a season. Can he pitched the 210 to 220 that you need from a No. 1?
No. 2 starter
1.
Brandon Morrow
, Blue Jays (1.1)
2.
James Shields
, Rays (-0.4)
3.
Andy Pettitte
, Yankees (1.5)
4. Wei-Yin Chen, Orioles (0.7)
5.
Jon Lester
, Red Sox (-0.4)
I like Chen. Heck, right now I like him better than Jon Lester, which tells you how much I like him. But he averaged just 172 innings in Japan over the past three seasons. Can he hold up over 32 starts?
No. 3 starter
1.
Jeremy Hellickson
, Rays (1.0)
2.
Hiroki Kuroda
, Yankees (1.4)
3.
Felix Doubront
, Red Sox (0.4)
4.
Brian Matusz
, Orioles (0.2)
5.
Henderson Alvarez
, Blue Jays (0.4)
Matusz is holding his own at 5-5, 4.41, but he's still walking a few too many, allowing a few too many hits, a few too many home runs. The velocity is solid, averaging 91 on his fastball. We're talking minor upgrades needed in his command, getting the ball down in the zone more often to get more groundballs. If the Orioles are to have any chance, Matusz's improvement may be the single most important aspect.
No. 4 starter
1.
Matt Moore
, Rays (-0.6)
2.
Ivan Nova
, Yankees (0.3)
3.
Jake Arrieta
, Orioles (-0.4)
4.
Clay Buchholz
, Red Sox (-1.2)
5.
Kyle Drabek
, Blue Jays (-0.1)
Five pitchers who have struggled, but Arrieta's peripheral numbers are actually pretty solid. Like Matusz, there is hope for improvement. On the other hand, he's been awful since pitching eight scoreless innings against the Yankees on May 2, giving up 29 runs in 31.2 innings. His BABIP was .243 through May 2; it's .361 since. The truth is probably right in the middle, leaving Arrieta third on our list of fourth starters.
No. 5 starter
1.
Alex Cobb
/
Jeff Niemann
, Rays (0.3)
2.
Drew Hutchison
, Blue Jays (0.1)
3.
Phil Hughes
, Yankees (0.2)
4.
Daisuke Matsuzaka
/
Aaron Cook
/
Daniel Bard
, Red Sox (-0.3)
5.
Tommy Hunter
, Orioles (-0.5)
Hunter isn't really a major league starter, but I'm not sure
Jamie Moyer
-- just signed to a minor league contract -- is exactly a solution. The Orioles need to upgrade here.
Bullpen
1. Yankees (2.76 ERA)
2. Orioles (2.48 ERA)
3. Red Sox (3.66 ERA)
4. Rays (3.43 ERA)
5. Blue Jays (4.39 ERA)
If you watched Pedro Strop and Jim Johnson close out Wednesday's win, you'll realize the back of the Orioles' end has two guys with filthy stuff.
Darren O'Day
and
Luis Ayala
are strike-throwing machines and
Troy Patton
is a lefty who isn't a LOOGY. It's a good pen and it's deep. But the reliability of the pen ties into the rotation's inability to pitch deep into games -- Orioles relievers have already thrown 39 more innings than Yankees relievers, for example.
OK, let's add it up … one point for ranking first, five points for ranking fifth. Hey, this isn't meant to be scientific, so don't overanalyze this too much. The totals:
Yankees: 36 points
Rays: 40 points
Red Sox: 45 points
Blue Jays: 51 points
Orioles: 53 points
Not the respect Orioles fans are seeking. Sorry about that; it's nothing personal. Look, I don't think the Orioles are going to fade away anytime soon. I worry about the rotation's ability to hold up all summer and the bullpen's workload. They lack depth on offense and have a couple of obvious holes. Hey, you never know, and the Orioles are certainly due for a winning season. I would love to see it happen.
PHOTO OF THE DAY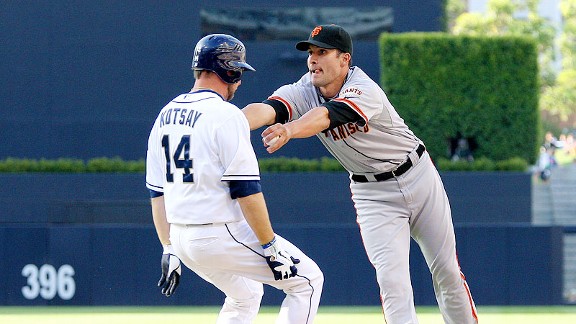 Jake Roth/US PresswireJavier Lopez is sending a message to Mark Kotsay: Tag, you're out!
May, 24, 2011
5/24/11
12:49
AM ET
I was at a family function over the weekend and spent much of it talking baseball with my wife's uncle, a huge Yankees fan. The short version of his analysis: He's not too concerned about the state of the team because he's convinced the Yankees will make a few trades.
You know ... like for
Felix Hernandez
. Everybody in New York still thinks the Yankees can just trade for Felix because ... well, I guess because they're the Yankees. Now, let's repeat something we've said several times:
The Mariners aren't going to trade Felix Hernandez.
Repeat:
The Mariners aren't going to trade Felix Hernandez.
Now, my wife's uncle says that's OK, because the Yankees will just acquire
Mark Buehrle
instead. Now, maybe the White Sox will eventually fall far enough out of the race that trading Buehrle will make sense. But it doesn't now. But these five trades ... well, they
do
make sense.
Mets trade Carlos Beltran and $5 million to the Mariners for 2B Kyle Seager.
Considering genius Fred Wilpon just torpeded Beltran's value by suggesting he's not close to the player he used to be, the Mets can't expect a top prospect in return for their right fielder, a free agent after the season. Plus, his $18.5 million contract is a problem for most teams. The Mariners' current hot streak (granted, it's come against the punchless Twins and Padres) suddenly put them in the thick of the AL West race despite their offensive struggles. Designated hitter
Jack Cust
just hit his first home run and
Carlos Peguero
and
Mike Wilson
are hardly the short-term (or long-term) solutions in left field. Beltran could play left and DH, and Seattle has the ability to pick up some additional payroll. (Beltran would have to waive his no-trade clause.)
Seager was a teammate of
Dustin Ackley
's at North Carolina, but with Ackley set as Seattle's second baseman of the future, he doesn't have a spot. After hitting .345 with 40 doubles and 14 home runs in the California League, he's proving himself in the tough transition to Double-A, hitting .302/.371/.477. He has a nice line-drive stroke, although there are some doubts about his range. Then again, this is a team playing
Daniel Murphy
at second base.
Reds trade C Ryan Hanigan to Rays for P Alex Cobb and C Kelly Shoppach.
The Rays are getting no production from their
John Jaso
/Shoppach platoon. The Reds' 4.71 ERA from their rotation ranks 14th in the NL. Thus, a perfect trade matchup.
Hanigan is probably the best backup catcher in the majors. He doesn't have much power, but takes a walk and rarely strikes out (he has more walks than strikeouts in his career). More importantly for the Rays, he's signed to a cost-friendly contract of $4 million
total
through 2013.
Cobb is an underrated pitching prospect who doesn't wow scouts with his stuff, but he gets great results. He throws strikes and led the Southern League with 9.6 Ks per nine innings last season. He had a 1.31 ERA in seven Triple-A starts with a 45/10 SO/BB ratio and made his major league debut on May 1. The Reds can afford to trade Hanigan with two excellent catching prospects in the minors (Devin Mesoraco and Yasmani Grandal) and
Ramon Hernandez
still on the big league roster. Who gets bumped from the rotation? Take your pick.
Bronson Arroyo
and
Edinson Volquez
have both been terrible.
Padres trade P Mike Adams to Tigers for 3B Francisco Martinez.
The trade speculation with the Padres revolves around closer
Heath Bell
, an impending free agent, but they could possibly extract more in a trade by dealing setup man supreme Adams, who has a 1.25 ERA, 21/2 SO/BB ratio and .55 WHIP.
The Tigers make perfect sense: They have the worst bullpen ERA in the majors (5.97) and the highest batting average allowed (.287). Closer
Jose Valverde
has been the team's only reliable reliever. Martinez is a 20-year-old third baseman currently hitting .261 with five home runs in Double-A. He's a bit of a project, but scouts like his tools and the Padres need to take some chances in hopes of finding some offense.
Astros trade OF Hunter Pence to Phillies for OF Domonic Brown and P Jarred Cosart.
Why should the Astros trade their best player? For several reasons: (1) He's good, but not
that
good; he does a lot of nice things on a baseball field, but a mediocre OBP prevents him from being a true star. (2) He's starting to get expensive. He won $6.9 million in arbitration for 2011 and will likely get at least $10 million next season. (3) He's 28, and while he's at his peak right now, he may not be at his peak as he turns 30 ... aka, by the time the Astros are likely to be good again.
As for the Phillies, they are in win-now mode. Sure, Brown and Cossart are arguably their top prospects, but the jury remains out on how much Brown will contribute this season. They risk giving up a future All-Star, but Pence gives them a much-needed dependable bat for the middle of the lineup. With $24 million of
Raul Ibanez
and
Brad Lidge
coming off the books after this season, the Phillies can also afford to pick up Pence's future salary.
Royals trade 3B Wilson Betemit to Rockies for CF Dexter Fowler and P Esmil Rogers.
Colorado third basemen have been beyond awful, hitting .169 with two home runs. Betemit is hitting .315 with a .379 on-base percentage, but with Mike Moustakas soon to arrive in the big leagues, Betemit looks like perfect trade bait for the rebuilding Royals.
Jose Lopez
and
Ty Wigginton
aren't the answer at third, so unless you think
Ian Stewart
can rebound from his 3-for-47 start and banishment to Triple-A, Betemit looks like a nice fit to play third and take over Colorado's leadoff spot.
The man currently holding that position is Fowler, but the former top prospect just hasn't developed as expected. His game has regressed this season with too many strikeouts, a lack of power and just two steals in eight attempts. He needs a change of scenery and maybe a wake-up call. Rogers is a power arm in need of refinement.
So there you go. Five trades that make sense from all angles. And I didn't even mention
Jose Reyes
or
Prince Fielder
or ...
PHOTO OF THE DAY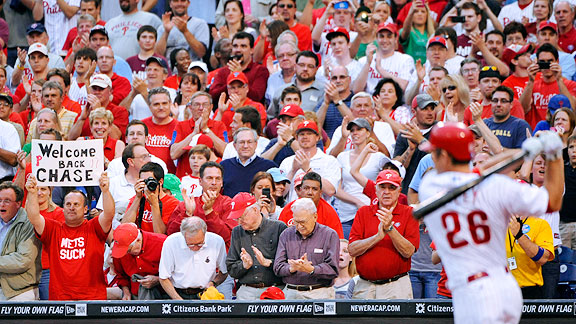 Howard Smith/US PresswireThink Phillies fans were kind of waiting for Chase Utley to return? Well, yes, yes they were.