March, 10, 2013
3/10/13
1:09
AM ET
We've had a brawl, we've had upsets, we've had dramatic late-inning rallies and, thanks to one big swing from
David Wright
, we now get a monumental showdown between bitter enemies Canada and the United States to stay alive in the World Baseball Classic.
OK, maybe it's not quite Sidney Crosby and the Canadians taking on Ryan Miller and the Americans in the 2010 gold-medal hockey game at the Vancouver Olympics, and maybe Canada and the U.S. aren't exactly enemies on the diamond, but Sunday's game at Chase Field in Phoenix is probably the biggest baseball game for Canadians since the Blue Jays won their second straight World Series in 1993.
Baseball fans in the U.S. are still warming up to the whole idea of this tournament, and while a major goal is to help increase popularity of the sport in countries such as Brazil and China and Italy and the Netherlands, don't be fooled: The organizers want U.S. fans to get as passionate about the World Baseball Classic as those in Japan and Latin America. In large part because second-round games will be held in Miami, with the semifinals and finals in San Francisco, and the organizers want sold-out ballparks -- something more likely to happen if the U.S. keeps advancing.
With that possibly in mind, the U.S. was given a soft pool. While the Dominican Republic, Venezuela and Puerto Rico were all placed together in Pool C, the U.S. drew lighter-weights Mexico, Canada and Italy. But when Italy beat Mexico and Canada, and then Mexico upset the U.S. on Friday night, it suddenly put pressure on the U.S. to win its final two games of pool play. Joe Torre's squad was actually helped when Canada beat Mexico earlier Saturday -- a game that featured a bench-clearing brawl in the ninth inning -- meaning the Americans now controlled their destiny.
That destiny took a turn for the worse when the surprising Italians took a 2-0 lead against
Ryan Vogelsong
, who didn't have his usual excellent fastball command. Most of the Italian players are from the U.S., including big leaguers
Anthony Rizzo
,
Chris Denorfia
and
Nick Punto
, but cleanup hitter
Alex Liddi
of the Mariners was born and raised in Italy and 23-year-old starting pitcher Luca Panerati is an Italian who played a few years in the Reds system, topping out in A-ball. Panerati nevertheless shut down the U.S. with his 86 mph fastball and offspeed pitches, leaving after three scoreless innings; he can tell his grandkids someday about the time he shut down a lineup of major league All-Stars. But the U.S. rallied with five runs in the fifth inning, capped by Wright's two-out grand slam off Matt Torra, an American who pitched in Triple-A for Tampa Bay's organization last year.
[+] Enlarge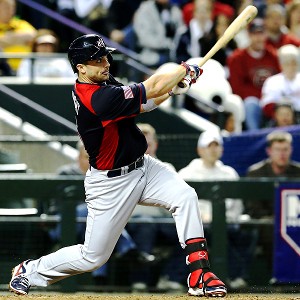 Mark J. Rebilas-USA TODAY SportsDavid Wright turned one around from Italy's Matt Torra for the key fifth-inning grand slam.
That
6-2 win
means U.S. versus Canada, winners move on to Miami, losers go home (or back to spring training). Considering the way this tournament has gone -- Italy advancing, Venezuela out after losing its first two games, 2009 runner-up South Korea failing to advance out of the first round, the Netherlands beating Cuba in a second-round game -- don't count out the Canadians.
First, their lineup has some guys you've heard of: Former MVPs
Joey Votto
and
Justin Morneau
. Mariners outfielder
Michael Saunders
went 4-for-4 in the
10-3 win
over Mexico. The lineup was hurt by
Brett Lawrie
's injury in spring training and we'll have to see if
Pete Orr
and
Rene Tosoni
, ejected after the brawl, will be suspended or not; the pitching is thin without guys such as
Ryan Dempster
,
Scott Diamond
and
Erik Bedard
participating. Still, Pirates prospect Jameson Taillon will start against the U.S., and while he hasn't reached the major leagues yet (he pitched in Double-A last year), he has major league stuff, ranking as Keith Law No. 20 preseason prospect. He's certainly capable of shutting down the U.S. lineup for his 65-pitch limit. After that, however, Canada's pitching thins out in a hurry, with Brewers closer
John Axford
and Phillies reliever
Phillippe Aumont
the two biggest names in the bullpen.
The U.S. will start
Derek Holland
, a good strategic move by Torre to get the lefty Holland in there to try to neutralize Votto, Morneau and Saunders. With
Ross Detwiler
throwing four scoreless innings of relief against Italy, that means the U.S. bullpen is well-rested. Look for Torre to use lefties
Jeremy Affeldt
and
Glen Perkins
against the middle of the lineup in the middle innings, and he still has
Craig Kimbrel
waiting to get some action.
The U.S. will be heavy favorite to advance. To use another Olympic hockey analogy, the Americans are the Soviets. Do the Canadians have a miracle in store? I'll be watching to find out. After all, it's about time we settle this border war with Canada.
February, 27, 2013
2/27/13
5:15
PM ET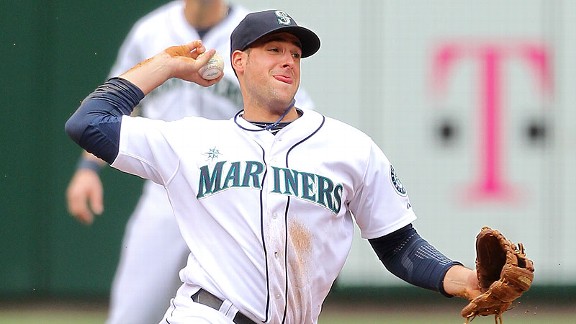 Otto Greule Jr/Getty ImagesAlex Liddi has played just 53 games in the majors, but he's an important part of the WBC.
The most important player in baseball has a career triple-slash line of .224/.282/.397. He was never a truly significant prospect in the way that
Bryce Harper
or
Mike Trout
were, or even a flameout like
Justin Smoak
, but what little shininess he has as a potential big league contributor is quickly wearing off.
But if you step back from team allegiance for a moment, and look at the overall health of the sport going forward, nobody currently on a 40-man roster can do as much to grow the game of baseball as
Alex Liddi
of the
Seattle Mariners
.
It's not because Liddi is a particularly exciting player -- he's kind of a run-of-the-mill four-corners type whose greatest asset is his bat, and whose bat isn't good enough to break into the starting lineup for even the Mariners. Nor is it because Liddi's personality is particularly exciting -- it may be, but I can't say I've ever read an interview with him or a profile about him, so I don't know.
Liddi is so important because he's the first major league baseball player ever to be born and raised in Italy, and if baseball is going to grow in Europe, it's going to be because of people like him.
On July 4, 1988, FIFA, the world governing body of soccer, granted the 1994 World Cup to a country with no particular affinity for the game, one that had never won its continental championship, had no full-time professional league and hadn't qualified for a World Cup in 38 years.
But that World Cup in the United States was a rousing success, breaking almost every attendance record for the tournament, and it led to soccer growing into a major-league sport in the U.S. in the course of a generation. The U.S. reached the quarterfinals of the World Cup in 2002 and the final of the Confederations Cup in 2009. Americans have played in almost every significant league in Europe, including the Europa League and Champions League tournaments, and have captained clubs in England and Germany. The U.S. is hardly a global soccer superpower, but it's a significant player, and American soccer is a model for how baseball might catch on in Europe.
One of the keys to growing baseball in Europe is showing Europeans playing at the highest level. Liddi doesn't have to win an MVP award in order to make an impact, particularly in the age of worldwide MLB.tv. He just has to catch enough eyes back home to make playing major league baseball seem like a viable option for a young Italian athlete.
[+] Enlarge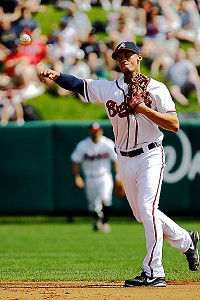 AP Photo/David J. PhillipWould a run in the WBC by Andrelton Simmons and the Netherlands help fuel baseball popularity in Europe?
The greatest strength of American soccer is its grassroots support. Long before anyone had even considered MLS, and long before John Harkes made his English Premier League debut, millions of American children were playing organized soccer. It was already the unofficial youth sport of suburban middle-class America when MLS and the World Cup brought the professional game back to the U.S. in the mid-1990s. And while there are professional baseball leagues across mainland Europe today, no country offers baseball the same kind of cultural foothold that soccer had here 30 years ago.
Which makes finding the John Harkes and Cobi Jones and Alexi Lalas of Italian and German and Dutch baseball all the more important.
If baseball is going to get a foothold in Europe, the obvious starting place is the Netherlands. The Dutch have not only sent a handful of players to the major leagues already (most notably Hall of Famer Bert Blyleven), plus their World Baseball Classic team advanced to the knockout round in 2009, beating the Dominican Republic along the way, and is considered a fringe contender for the 2013 edition of the tournament. But the biggest names on the Dutch team aren't actually European.
Jonathan Schoop
,
Andrelton Simmons
and
Andruw Jones
are all Curacaoan. Xander Bogaerts is Aruban. Even Blyleven, who was born in Zeist, was raised largely in California.
Even so, many of the Dutch players are actually from the Netherlands and play in the top Dutch league, the Honkbal Hoofdklasse. Now, that the Dutch call baseball "honkbal" really ought to be reason enough for you to root for the Netherlands in the WBC, but if the Dutch make a run in this year's WBC, it will strengthen the credibility of the sport in the Netherlands and grow interest, a few curious fans at a time, the way professional soccer grew here.
At the moment, if you want to play major league baseball, you have to go to either the United States (plus Toronto) or Japan. Dozens of other countries have professional leagues, but the level of competition and the financial organization of those leagues is more like what you might see in independent minor league baseball. Worse, before a few years ago, there was no real scouting mechanism in mainland Europe, so even if a player like Liddi had the ability to play in the majors, he might spend his entire career in the Honkbal Hoofdklasse or the IBL without ever really getting a chance to make the jump across the Atlantic.
The establishment of a credible Dutch (or Italian or pan-European) major league would allow a bigger platform for European players to showcase their skills, as well as another avenue for North American and Asian players to play professionally if their domestic options have run out. As we've seen not only in soccer, but in basketball and ice hockey as well, the more decentralized the structure of the professional game, the more movement of players, expertise and money we'll see across international borders.
It's not enough for Europeans to see baseball played at the highest level. Sure, a guy in Milan might enjoy his MLB.tv subscription, but will he go to the ballpark to see his local team, even assuming that there's a local ballpark and a local team to support? Will he sign his children up for Little League? Probably not. A foreign curiosity doesn't breed passionate fanhood. Professional soccer only took off in the United States when a distinctly American culture was created -- American players playing for American teams at a level that is at least within sight of "world class."
And that won't happen to baseball in Europe until the Asian and American monopoly on the game's culture and resources is eased. That means Major League Baseball and its corporate partners investing in youth and professional leagues in Europe. That means finding and developing players like Liddi and the late Greg Halman, who came of age in European baseball, cultivating them into major league-quality players and using them like missionaries to promote the game in Europe. That means, probably, staging part of the WBC itself (not just the qualifying round) in Europe and sending a marquee national team -- Venezuela, the United States, the Dominican Republic -- to play the group stage in Amsterdam, for instance, to give the fans a glimpse of top-flight baseball in person.
These investments will take many years, many millions of dollars and, perhaps most importantly for an often-reactionary baseball brass, many instances of deviating from established practices and incurring a momentary inconvenience to reap a long-term benefit.
With that in mind, it's worth asking the question: Is a concerted investment in European baseball worth it for the current establishment? To that I'll say this: The first professional leagues started as an enterprise for white American men only. And every time it's reached out to expand its constituency -- to African-Americans, to Latin America, to the Far East -- it has been rewarded with tactical and cultural innovation, a broader fan base and a higher quality of play. Every move baseball has made to expand to new geographic areas has paid off tenfold. Why should this be any different?
But baseball's global conquest has to start somewhere. It might as well start with Alex Liddi.
Michael Baumann writes at Crashburn Alley, the SweetSpot Network's Phillies affiliate. You can follow him on Twitter at @MJ_Baumann.
June, 3, 2012
6/03/12
1:00
AM ET
By
Christina Kahrl
| ESPN.com
Another game, another double-digit Mariners outburst on the scoreboard? This makes it three in their past four games, and while it's way too soon to talk about the Mariners offense terrorizing anybody, after scoring 31 runs in their last two games in Texas and then 14 in their first two in Chicago, things are certainly taking a turn for the better in terms of Mariners offense.
In Saturday's
10-8 victory
over the White Sox,
Ichiro Suzuki
ripped two home runs,
Michael Saunders
avenged his Friday night game-losing error to rap out four hits (including a homer) and
Justin Smoak
'd his team-leading 10th shot into the cheap seats.
Has sad-sack Seattle suddenly busted out to become a slugging powerhouse? Well, let's not get ahead of ourselves. After all, one of the benefits of breaking out on offense is that you get the twin benefits of getting to take your chances against the bottom of a bullpen -- giving your batters more opportunities to hit against guys who aren't the best starters, relievers or anything in between -- and you force opposing managers to use multiple relievers on consecutive days ... and not every fireman has his A-game working without rest. If anything, in the age of the seven-man bullpen, your chances of catching a reliever at less than his best improve, as busy skippers run through every guy they've got.
So how are the Mariners doing it? It isn't simply a matter of finally coaxing Ichiro out of the third slot and having him bat leadoff, although getting his limited power output out of a slot usually associated with cashing in baserunners with extra-base sock can't hurt. His reputation for incomparable batsmanship aside, Ichiro has only plated 11.9 percent of his baserunners, behind four other regulars plus
Alex Liddi
,
John Jaso
and
Casper Wells
. This isn't a recent development -- last year, Ichiro ranked behind six other regulars, not to mention
Milton Bradley
and
Jack Cust
, both of whom didn't last the year in Seattle because they didn't do enough on offense to outstrip their assorted liabilities.
It also isn't a matter of putting
Chone Figgins
back on the bench or getting
Mike Carp
and
Miguel Olivo
back from the disabled list, or even of riding the hot hand and sticking
Kyle Seager
in the No. 3 hole, although all of those are good things. Certainly, the Mariners are also enjoying the benefit of seeing Smoak and
Dustin Ackley
get on track and deliver the way that they're expected to, especially relative to expectations for a pair of former top prospects. All of these things are helpful, all worthwhile, but perhaps not all crucial, not by themselves.
Instead, perhaps the Mariners are benefiting most lately from the three of the most important words in performance: location, location and location. That's because getting away from Safeco Field is important, not least this year. Exacerbated by early-season injuries? Perhaps. And what about the Mariners getting dragooned into yet another MLB junket to cash in on the bounty of letting Opening Day occur in Japan -- which, considering MLB's nine-digit payoff from licensing and more from Japan, has its incentives? Whatever the reasons, the Mariners' hitting rates at home are beyond awful: just .193/.278/.305 in their triple-slash stats.
After Saturday's four-pack of clouts off
Gavin Floyd
in the Cell, the Mariners have hit 39 homers on the road in 33 games to the 12 they've managed in their 22 contests in front of the home folks. They're now slugging .423 on the road, better than 100 points higher than at Safeco.
How unlikely, improbably, and unsustainably awful is the Mariners' .584 team OPS at home? It would be the lowest home OPS in the era of divisional play (1969 to the present) if it lasted. Only two teams have ever finished a full season below .600 in OPS, the 1972 Padres (.586) and the '72 Rangers (.595) -- not a Padres team playing in Petco, and no Astros team playing in the infamous old Astrodome managed it. These are raw and unadjusted OPS marks, of course, and both the Pads and the Rangers were pre-designated hitter.
However, unlike this year's early-season pleas for fence-shifting in Miami, that's just the way it is: The Mariners play in a pitcher's park, and they've long since gotten used to it, because it has been true, year after year. Inevitably, they're going to go home, and the bats will cool off -- somewhat, but not all the way down to a sub-.600 OPS. The Mariners' home woes are unsustainably awful, unless they decide to put Figgins back in the everyday lineup or the like.
When the Mariners get back to Seattle on Friday to host the Dodgers, Padres and Giants in the latest spin with interleague entertainment, we'll see if they bring their hitting gloves back with them. But even with Safeco's well-earned rep as a pitcher's park, if one thing is sure, you can probably bet that they will.
PHOTO OF THE DAY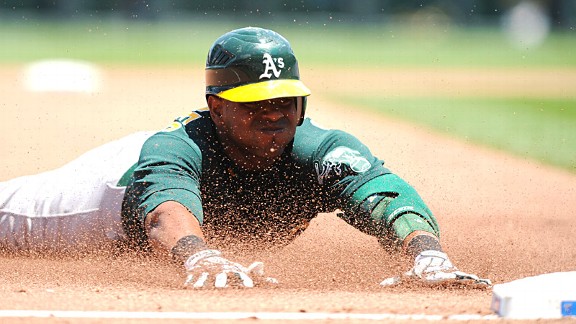 John Rieger/US PresswireNow that he's back, Yoenis Cespedes must be happy to see third base, right?
May, 8, 2012
5/08/12
6:00
PM ET
Random trade idea that popped into my head during
Tuesday's chat
:
Brendan Ryan
from the
Seattle Mariners
to the
Milwaukee Brewers
for
George Kottaras
and
Taylor Green
.
With
Alex Gonzalez
out for the season, the Brewers need a shortstop.
Cesar Izturis
can't hit and
Edwin Maysonet
is a Triple-A veteran who was hitting .214 at Nashville. Ryan is one of the best glove guys in the business; since 2009, he leads all fielders
in Defensive Runs Saved
. Even if you're not a big believer in defensive metrics, there is solid evidence that Ryan is a top-level shortstop.
Ryan is off to a slow start with the bat, but he's been better in recent seasons than Izturis. The Brewers improve their defense and don't lose anything at the plate.
With
Jonathan Lucroy
, backup catcher Kottaras is a luxury the Brewers could deal. Yes, the Mariners already have
Jesus Montero
,
John Jaso
and the currently disabled
Miguel Olivo
, but Montero will still spend a lot of time at DH and Olivo isn't any good. Kottaras does have a similar skill set to Jaso (left-handed hitter), but is maybe a little better. With
Mat Gamel
also injured, the Brewers may give Green playing time at first base or third base (with
Aramis Ramirez
moving to first), but if they're more committed to
Travis Ishikawa
, Green may be expendable. The Mariners get another first base/third base guy to throw into the
Justin Smoak
(starting to look like he can't hit)/
Alex Liddi
(we'll see if he can hit)/
Chone Figgins
(we know he can't hit)/
Kyle Seager
corner mix. Seager is probably stretched defensively at shortstop, but he can move over for now, at least until prospect Nick Franklin is ready in a couple years. The Mariners also have Japanese veteran
Munenori Kawasaki
who can play there.
You could actually argue that those two players aren't worth Ryan, who has accumulated 9.5 Baseball-Reference WAR since 2009. Kottaras is a solid backup while Green grades as a marginal corner guy. If you're looking at prospects, the Milwaukee system is pretty thin. You'd be looking at one of their Class A pitching prospects -- Taylor Jungmann or Jed Bradley -- but the Brewers would be unlikely to trade one of those two.
Still, seems like a potential match here. Ryan is an underrated asset, but exactly the kind of player the Mariners should be looking to flip if they can find a team which values his defense.
September, 6, 2011
9/06/11
5:37
PM ET
It won't come with the same level of celebration as, say, a World Cup title, but the
Mariners are recalling
third baseman
Alex Liddi
, who was born and grew up in Italy. He'll be the first Italian-born major leaguer in nearly 50 years, and just the sixth ever, but the first one who didn't move to the United States or Canada at an early age.
Liddi is a legitimate prospect, a 23-year-old with big power potential. He hit .259 with 30 home runs at Triple-A Tacoma, but the 170 strikeouts in 138 games indicates plenty of holes in his swing. His glove reportedly needs works, although he fielded .943 at third base and actually played 24 games at shortstop. Liddi also will become the first graduate of Major League Baseball's European Academy to reach the majors.
In honor of Liddi's recall, let's produce a list of the best players born in Europe. There have been many European-born major leaguers, although almost all of the recent ones were sons of U.S. military personnel stationed in Europe. For example, Bruce Bochy was born in France and Ron Gardenhire was born in West Germany. Ireland has produced 46 major leaguers -- but nearly all were born before 1900 and immigrated to the U.S. The last Irish-born big leaguer was Joe Cleary, who graduated from high school in New York City and pitched one game for the Senators in 1945.
C Eddie Ainsmith (Russia).
He wasn't much of a hitter, but he played from 1910 to 1924.
1B Jack Doyle (Ireland).
He was known as Dirty Jack, which I think is all he needs to make this team. On his SABR bio page, Lyle Spatz writes, "Always a fierce competitor, Doyle engaged in brawls and fistfights with umpires, fans, opposing players, and even his own teammates. Two of his more notorious assaults were on umpires Tom Lynch in August 1897 and Bob Emslie on the 4th of July 1900. On several occasions he went into the stands to battle fans, including a spring training game in Norfolk in 1896. He made another foray into the stands in 1901 on his first visit to the Polo Grounds after having been traded from the Giants to the Cubs. More than once these battles led to his being arrested." He was good enough to last 17 seasons.
2B Glenn Hubbard (West Germany).
Born on Hahn Air Force Base, Hubbard was a slick-fielding second baseman known mostly for his bushy beard while playing for the Braves in the late '70s and '80s. He had his best season in 1983 when he drove in 70 runs and made the All-Star team.
3B Jimmy Austin (Wales).
Austin's father was a shipbuilder who moved to Ohio in 1885 and brought his family over in 1887. Austin was older than most of the Europeans immigrants, 8 years old when he came over. He reportedly didn't see his first baseball game until he was 14. Austin worked as a machinist and didn't begin a professional career until he was left jobless when the union went on strike. He didn't reach the majors until he was 29, but played into his 40s.
SS Steve Jeltz (West Germany).
His father was in the military and Jeltz was a terrible hitter for the Phillies in the '80s, but I'm having troubling finding another shortstop with a significant career.
OF Bobby Thomson (Scotland).
Yes, the most famous home run in major league history was struck by a Scotsman. Thomson was born in Glasgow but grew up on Staten Island, and the Giants signed him out of high school for $100. He hit 264 home runs and drove in 1,206 runs.
OF John Anderson (Norway).
One of three major leaguers born in Norway, "Honest John" played in the majors from 1894 until 1908, one of the few switch-hitters of his era and, 6-foot-2, one of the era's biggest players. Powerful enough to once lead the NL in slugging percentage, he fashioned more than 1,800 hits in his career.
OF Elmer Valo (Czechoslovakia).
Valo's family emigrated to the U.S. when he was 6. He had a 20-year career in the majors, batting .282 with 1,420 career hits.
OF Patsy Donovan (Ireland).
Born in County Cork in 1863, Donovan's family moved to Lawrence, Mass., when he was 3 years old. Like many in the area, he eventually dropped out of school to work in the town's cotton mills, but later pursued a professional baseball career. A fleet-footed right fielder, he hit .301 in his career with 2,256 hits. He also managed 11 years in the majors, many years in the minors and even coached at St. Phillips Academy in Andover, Mass., where one of his players was George H.W. Bush.
P Bert Blyleven (Netherlands).
Born in Zeist, Blyleven's father moved the family to Canada when Blyleven was 2 and then to California when he was 5.
P Tony Mullane (Ireland).
Known as "The Apollo of the Box," Mullane won 284 games from 1881 through 1894. Mullane threw primarily right-handed, but on occasion would throw left-handed, apparently possible in part because he didn't wear a glove. He later became a Chicago police officer.
P Jack Quinn (Austria-Hungary).
Quinn was one of the great old pitchers of all time, appearing in his final game in 1933 when he was 50 years old. He won 248 games in the majors, and more than another 100 in the minors. What's even more interesting is that nobody seems completely sure of his ancestry, age or even real name -- in part, because Quinn was purposely elusive about his background. Researcher Michael Scott published evidence in 2008 that
Quinn was born in Stefurov in 1893
, now part of Slovakia, but then part of Austria-Hungary.
P Tommy Bond (Ireland).
One of the first stars of the National League, Bond led the circuit in wins and strikeouts in 1877 and 1878. He died in 1941, when he was 84 years old -- the last survivor of the NL's inaugural season in 1876.
P Moe Drabowsky (Poland).
Born in 1935, Drabowsky escaped Poland in 1938, settling in Connecticut. Pitching mostly out of the bullpen, he went 88-105 with a 3.71 ERA over 17 seasons.
Manager: Harry Wright (England).
The Hall of Famer was born in Sheffield in 1935. His family moved to New York when he was 3 and his father found work as a bowler, coach and groundskeeper at the St. George's Cricket Club. Wright moved to Cincinnati where he eventually helped build the first professional team and he later managed the Boston Red Stockings of the National Association and National League, as well as Providence and Philadelphia.